Meltingly soft plump grilled nectarines swimming in sweet buttery sauce all nestled inside an individual foil package. A perfect BBQ dessert!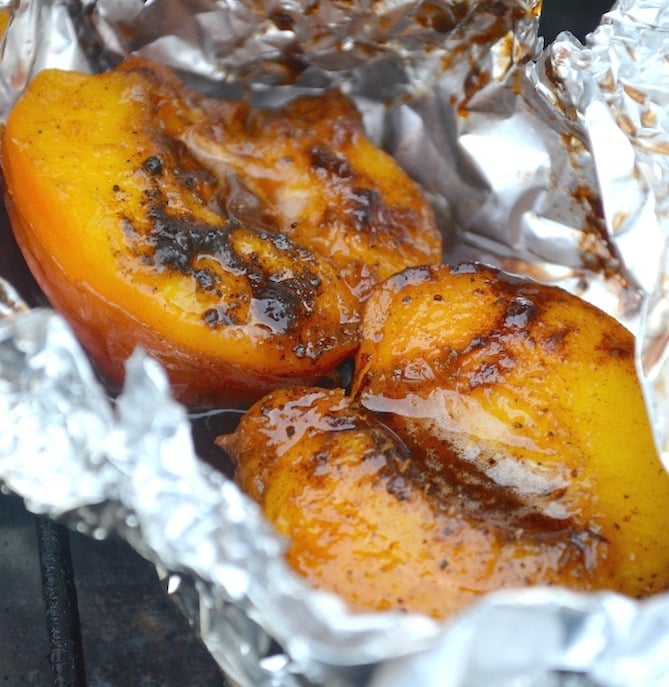 I had my first vegan BBQ tonight and as I had to work today my husband prepared the food. I know he won't mind me saying that he's not much of a cook but he does enjoy grilling.
What is it with men and grills?
It must be their cave man instinct ;O) Give them fire, a pile of food to cook and a few beers and they are happy!
As I was working I didn't have time to make any veggie burgers so I had some from the grocery store. They were pretty dry and I didn't really enjoy them.
Note to self....make your own next time!
I did however have time to make a lovely big salad and prepare some nectarines for grilling.
These grilled nectarines took all of two minutes to throw together and were the highlight of the BBQ.
If you aren't going to be grilling anytime soon then you can also cook these nectarines in the oven. I would bake them at 400 for about 15-20 mins.
You can prepare your nectarines the day before and leave them wrapped in their foil in the fridge until you are ready to cook them.
Peaches give just as good results so feel free to use them instead of nectarines.
The recipe is just for one grilled nectarine but is so easy to duplicate, and I suggest you do cook plenty as they will be a big hit at your BBQ!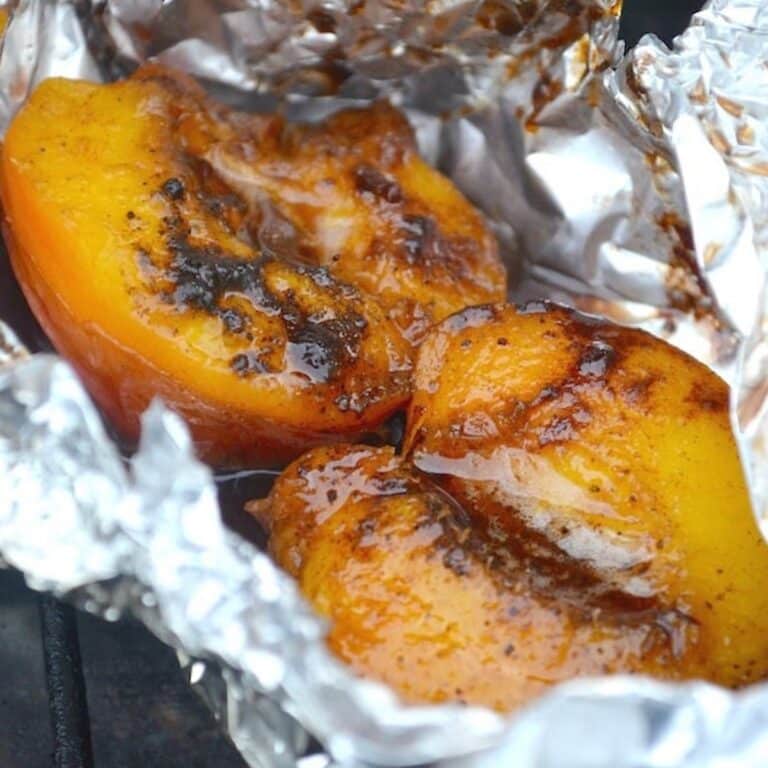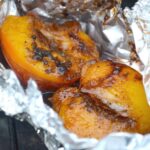 Grilled Nectarines
Author:
Meltingly soft plump nectarine swimming in sweet buttery sauce all nestled inside an individual foil package.
Ingredients
1

ripe nectarine

, or peach

½

teaspoon

coconut oil

(plus extra for greasing the tin foil)

1

tablespoon

coconut sugar

(brown sugar would work too)

¼

teaspoon

ground cinnamon

⅛

teaspoon

vanilla bean powder

Tin foil for wrapping
INSTRUCTIONS
Grease 1 sheet of tin foil with coconut oil.

Cut your nectarine in half and remove the stone.

Place the nectarine halves in the middle of the foil cut side up.

Sprinkle over the coconut sugar, cinnamon and vanilla bean powder then put the ½ teaspoon of coconut oil on top.

Draw the foil up around the nectarine and pinch together firmly at the top. The seal needs to be at the top so the contents cannot leak out.

Put your foil packages on the grill/BBQ over a medium heat for 15-20 mins with the lid down. If you don't have a lid then just cook them for a few minutes longer.

Remove from the grill/BBQ and open the foil package very carefully as the liquid inside will be very hot.

Eat as it is or top with some whipped coconut cream or dairy free ice cream.
NUTRITION
Serving:
1
nectarine
Calories:
133
kcal
Carbohydrates:
28
g
Protein:
1.5
g
Fat:
2.7
g
Sodium:
0.1
mg
Fiber:
3.3
g
Sugar:
23
g
Vitamin A:
500
IU
Vitamin C:
10.7
mg
Calcium:
20
mg
Iron:
0.5
mg
Nutritional information is provided for convenience & as a courtesy. The data is a computer generated estimate so should be used as a guide only.
Tried this recipe?
Rate it & leave your feedback in the comments section below, or tag @avirtualvegan on Instagram and hashtag it #avirtualvegan