This Strawberry Mug Cake is quick, easy, super soft and squidgy and stuffed to bursting with sweet, juicy strawberries. Then for extra decadence, it's drizzled in super simple, free-flowing, thick, sweet frosting!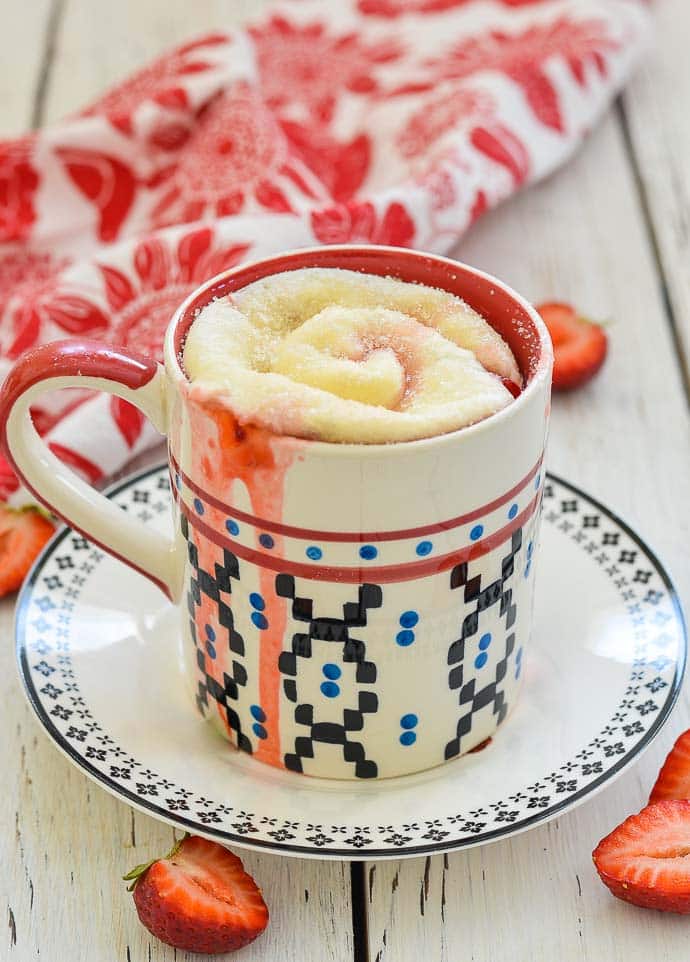 Is it just me or is it a Strawberry Mug Cake kind of day? And OMG. This strawberry sweet roll in a mug made in minutes and cooked in a mug then drizzled in free-flowing, thick, sweet, white frosting is just amazeballs.
Do you remember my Cinnamon Roll In A Mug? The recipe that totally surprised me and went completely and utterly viral? Well, this vegan mug cake recipe is an adaptation of that, only this is better. It's actually kind of a cross between that recipe and my Strawberry Rolls.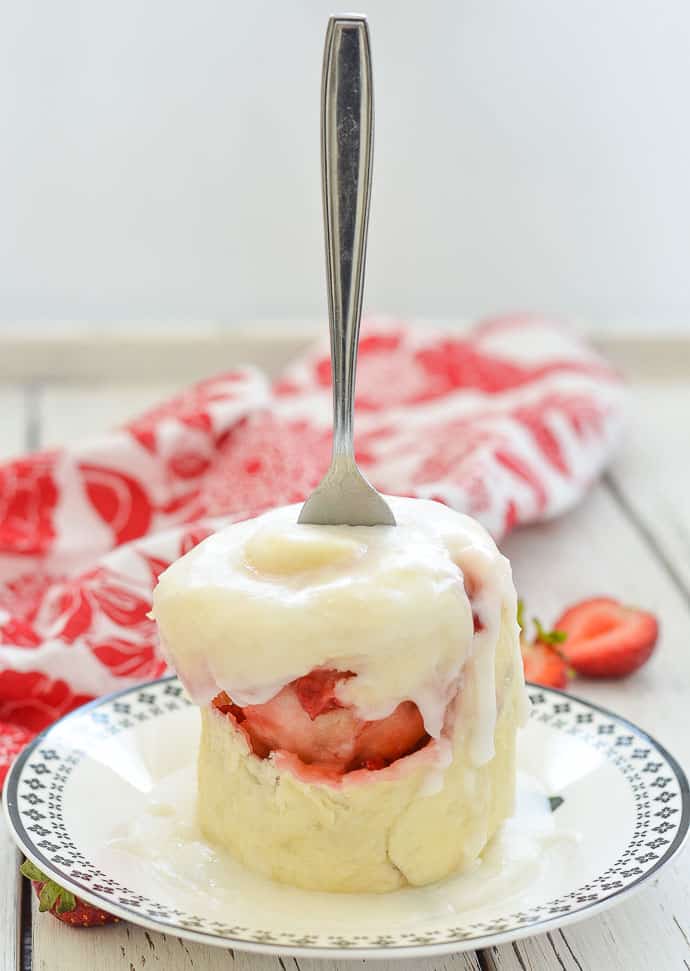 This Strawberry Mug Cake is big, soft and squidgy and stuffed with sweet, juicy, fresh strawberries. It takes only about 5 minutes to prepare and a little over 1 minute to cook in the microwave and it is completely yeast-free.
It is the recipe that you need up your sleeve for when you get an unstoppable decadent dessert craving but don't have the time or energy to make anything super complicated. Plus because you cook it in the microwave your house doesn't get all heated up and uncomfortable like it does when you use the oven to make vegan strawberry muffins in the middle of summer.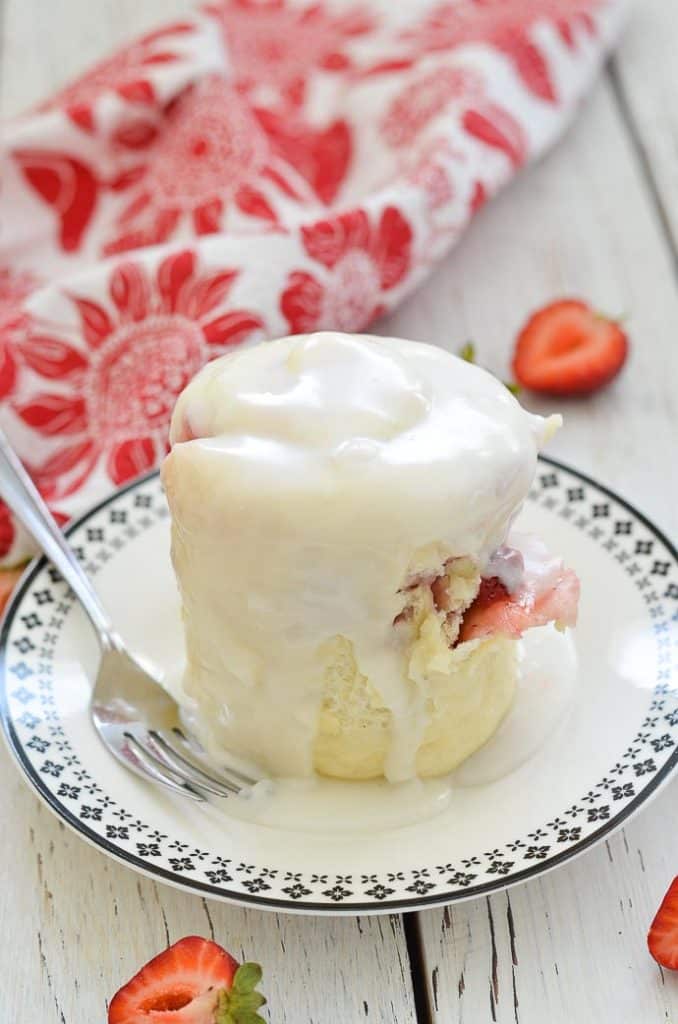 This is baking for people that don't bake, or baking for people that do bake but want to make one individual decadent sweet roll in a fraction of the time a whole batch takes in the oven. (If you do want a whole batch though be sure to check out my Strawberry Rolls).
Vegan mug cake recipes for the win!
Honestly, this is all just too easy and too yummy for words. The sweet jammy awesomeness of this Strawberry Mug Cake will be happening in your kitchen very soon.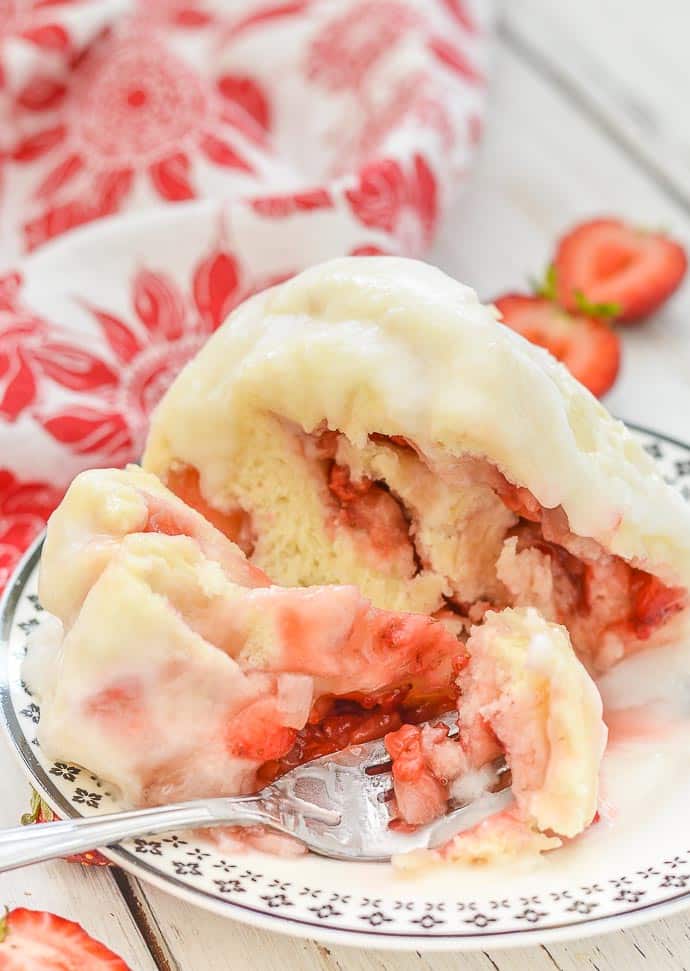 For more vegan mug cake recipes check out these great options:
If you try this recipe, let me know how you like it by leaving a comment and rating below! And be sure to join my mailing list for more deliciousness!
Recipe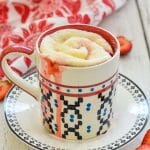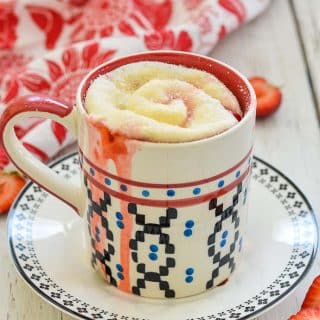 Strawberry Mug Cake
Author:
This Strawberry Mug Cake is quick, easy, super soft and squidgy and stuffed to bursting with sweet, juicy strawberries. Then for extra decadence, it's drizzled in super simple, free flowing, thick, sweet frosting! 
Ingredients
9

tablespoons

all purpose flour (strong white flour in the UK)

, plus more for dusting your surface. I like to use unbleached flour

¾

teaspoon

baking powder

2

tablespoon

sugar

, lighter coloured varieties are best

1

pinch

salt

enough

water

, to bring the dough together into a non sticky dough. It will vary depending on your flour brand and humidity. I used 4 tablespoons

3

medium

fresh strawberries

, chopped into small pieces. (Frozen strawberries work too - not defrosted just chopped and rolled up in the dough while still frozen. The flavour will be better with fresh strawberries though).

3

tablespoons

natural powdered sugar

a

few drops

water, plant-based milk or lemon juice

, no more than a teaspoon

a

a tiny dab

of oil for greasing the mug

, I used coconut oil (OPTIONAL _ omit to make oil-free)
INSTRUCTIONS
Grease a mug and set aside. Straight sided mugs work best for this recipe.

First make the frosting. In a small bowl mix the powdered sugar with either water, plant-based milk or lemon juice. Add the liquid a tiny bit at a time. It doesn't take much at all. Literally a few little drops. You need much less than you will think you do so do it very gradually drop by drop. The most you will need is ¾ teaspoon of water, perhaps a tiny drop more if you are using milk. Stir well until smooth and pretty thick like in my video then set aside. If you accidentally add too much liquid add a little more powdered sugar to thicken it up again.

In a small bowl add the flour, baking powder,

1

tablespoon of the sugar and salt. Add the water gradually stirring between each addition to form a slightly tacky dough. Use your hand to knead it a couple of times to bring it together . If you need a tiny drop more water because it's too dry just add it little by little. If you accidentally go too far and it's a bit sticky add a small sprinkle of flour. 

Sprinkle a little flour on your surface and some on the dough ball. Roll the dough out into a long strip about 4 inches wide and a couple of millimetres thick. Don't be afraid to add a little more flour if you need to. (If you don't have a rolling pin a clean wine bottle or beer bottle will do).

Sprinkle the strawberry pieces all along the dough leaving a clear margin of about an inch all around the edges. Then sprinkle the strawberries with the remaining sugar.

Fold the long edges inwards to seal the strawberry pieces inside and stop them all falling out when you roll it and put it into the mug. (Watch my video above to see how I did it if you aren't sure). You will be left with a long narrow strip.

Roll the strip up (see my video above) then gently lift it and put it into the mug.

Pour over

½

a teaspoon of water then place in the microwave uncovered and cook on full power for around 1 min 10 seconds. My microwave is 1200 watts. You will need to adjust the time a bit up or down depending on the strength of your microwave and the first time you make this it will be a bit of a case of trial and error. All microwaves are different so be careful not to overcook it. If you overcook it it will become tough so be sure to check how powerful your microwave is first and adjust accordingly. The very maximum time it will need is about 1 min 25 seconds and that is only if you have a really low powered microwave. A tiny bit under done is better than overdone as then it will go tough. If it needs longer cook in 5 second increments to avoid over cooking it.

When done it will have swollen up nicely and will still appear a little damp and doughy on top. That is normal. It will be cooked in the middle and it will continue to cook for a little while once removed from the microwave. Don't make the mistake of thinking it's not done and cook it for too long.

Turn out of the mug onto a plate. You might need to give it a little hand with a knife up the side of the mug if it swells a lot but it should come out really easily.

Pour over the frosting and serve immediately. Do not leave it to cool. It needs to be eaten freshly cooked, and be careful (especially when serving it to children) because the strawberries will be very hot.
NOTES
Please realize that if you cook this sweet roll for too long, it will become tough, as anything does in the microwave if you overcook it. I am only able to tell you how long it takes in my microwave. They are all very different and you need to adjust the cooking time to suit as per my directions. I can not be held responsible for you cooking it for so long it ends up like a hockey puck. As I explain in the directions it is better to slightly undercook then blast it in 5 second increments to finish it off. Microwaves are very powerful things and this is a very small item to be cooking. Even 10 seconds too much makes a lot of a difference.
NUTRITION
Serving:
1
sweet roll
|
Calories:
437
kcal
|
Carbohydrates:
99
g
|
Protein:
8.2
g
|
Fat:
1.1
g
|
Sodium:
202
mg
|
Fiber:
3
g
|
Sugar:
48
g
|
Vitamin C:
28.9
mg
|
Calcium:
210
mg
|
Iron:
4.1
mg
Did you make this recipe?
Rate it & leave feedback in the comments section below. I love seeing your remakes too. Tag @avirtualvegan on Instagram! 🌟