A bed of creamy orzo with piles of sweet zucchini slices, golden, crunchy panko crumbs, and chewy, melty cheese. This Creamy Orzo with Zucchini is rich, easy, and super delicious. Grab a glass of wine and live your best dinner life!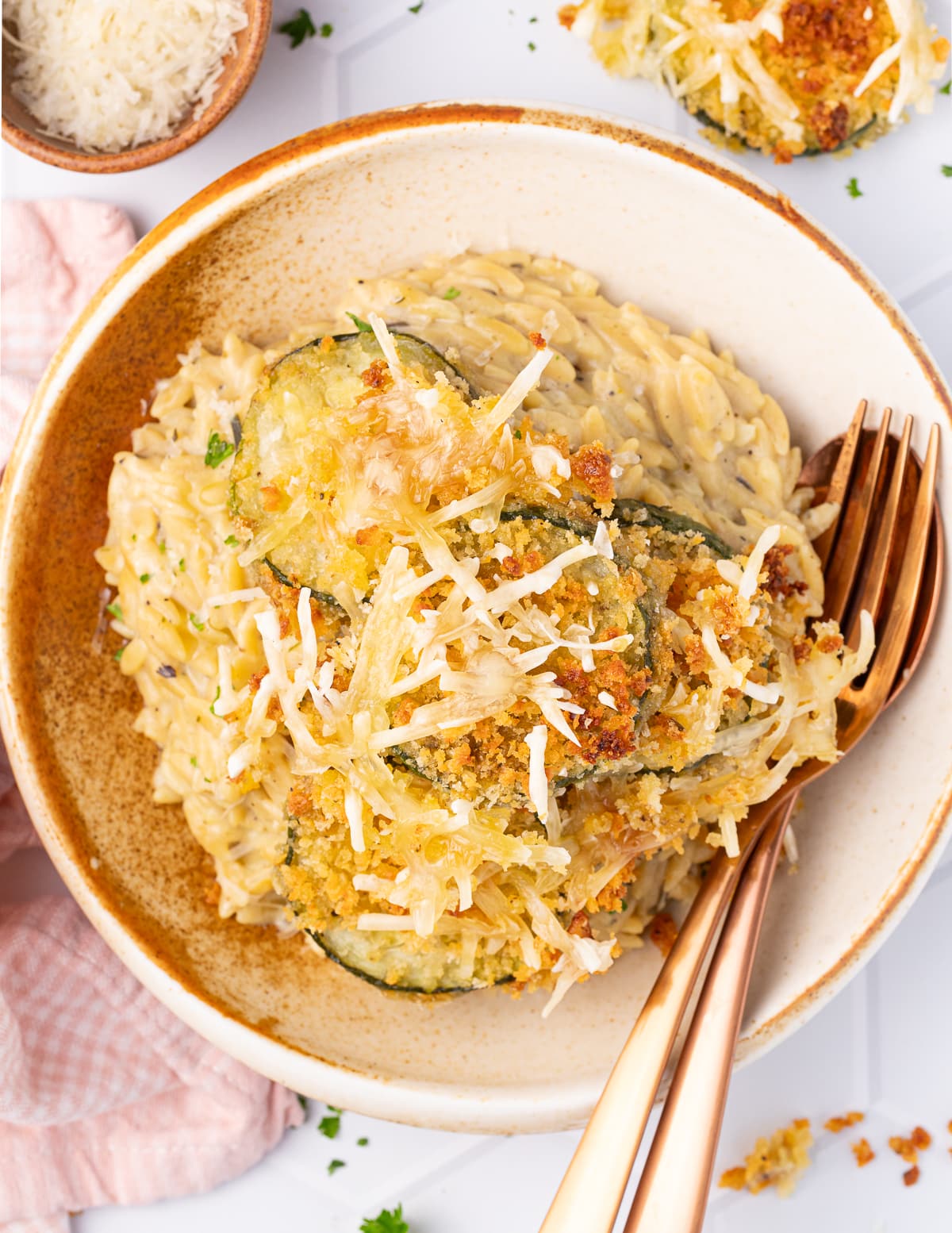 Beautiful, simple, and big on flavor. That's the general mood of this Creamy Orzo with Zucchini. It's easy enough for weeknights while being rich and delicious enough for date nights or dinner parties.
With incredibly decadent vegan orzo risotto and a mountain of Crispy Baked Zucchini, you've got yourself vegan dinner perfection. The contrasting textures and flavors are on point with the lusciously creamy orzo, soft, sweet, roasted zucchini, chewy, melty vegan cheese, and golden, crispy, panko crumbs.
Ingredients
Here is exactly what you need at a glance, along with some ingredient notes and substitution ideas (see the recipe card for full and detailed ingredients & instructions):
For the creamy orzo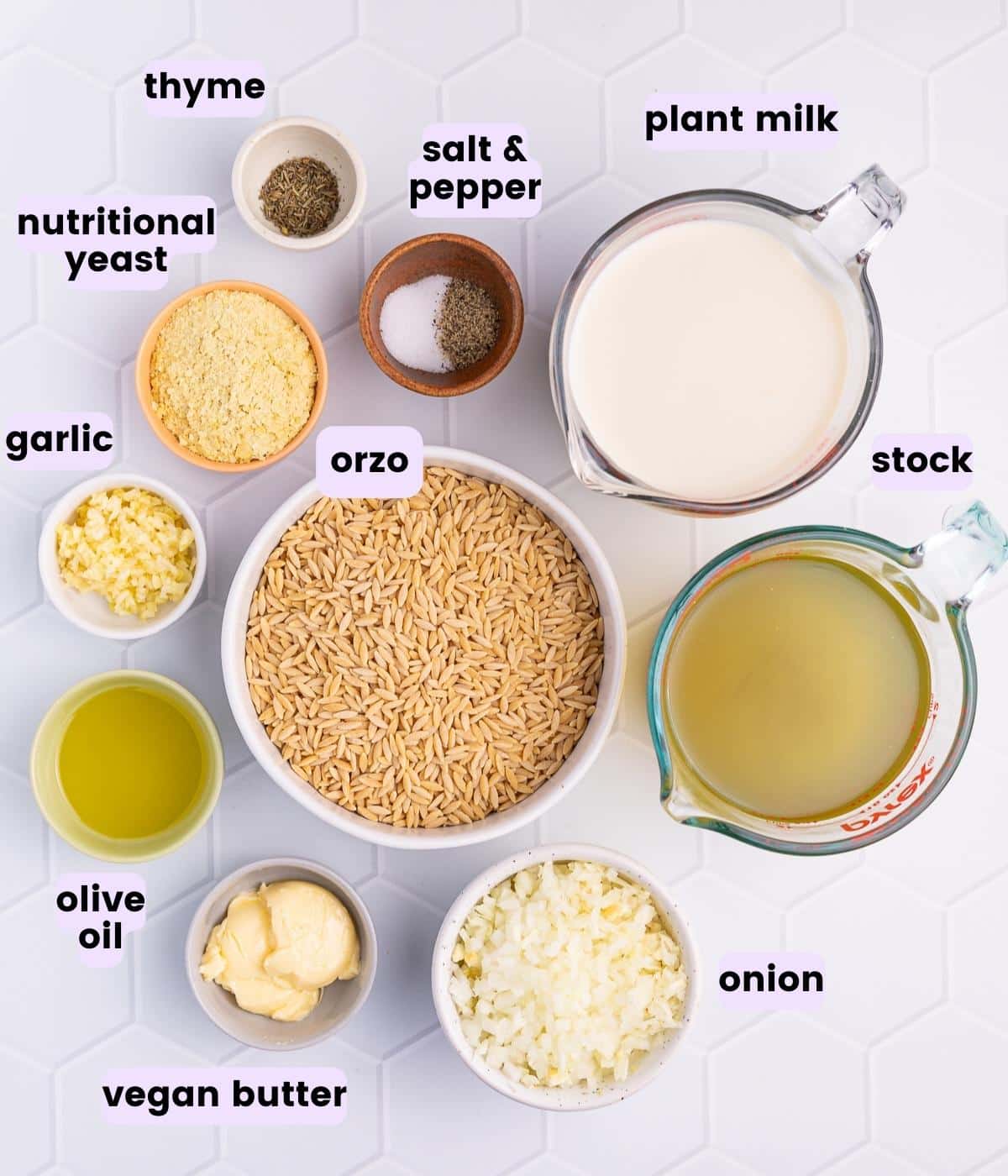 Orzo - If you've never had orzo before, it's sort of like pasta meets rice, as in it is actually a type of pasta but is shaped like grains of rice. This means it cooks really quickly and is easy and comforting to eat. Just perfect for this vegan orzo risotto-type situation. You'll find orzo in almost all grocery stores with the dried pasta. Gluten-free orzo is easy to find too. Got some leftover after making this? Give my Lemon Orzo Salad or Baked Orzo a try!
Thyme - This can be dried or fresh. Oregano works well instead.
Nutritional yeast - This is for umami, depth, and cheesiness. This is such a simple recipe that it can't really be omitted without affecting the overall flavor greatly.
Dairy-free milk - Any plant milk such as cashew milk, soy milk, or almond milk will work in this recipe but make sure it is unsweetened and unflavoured, and don't use homemade oat milk (storebought is fine).
Stock - This is a simple recipe and a good quality stock is important for flavor.
Vegan butter - Just like when making risotto, we finish this creamy orzo with butter for richness, flavor, and a silky mouthfeel.
For the crispy zucchini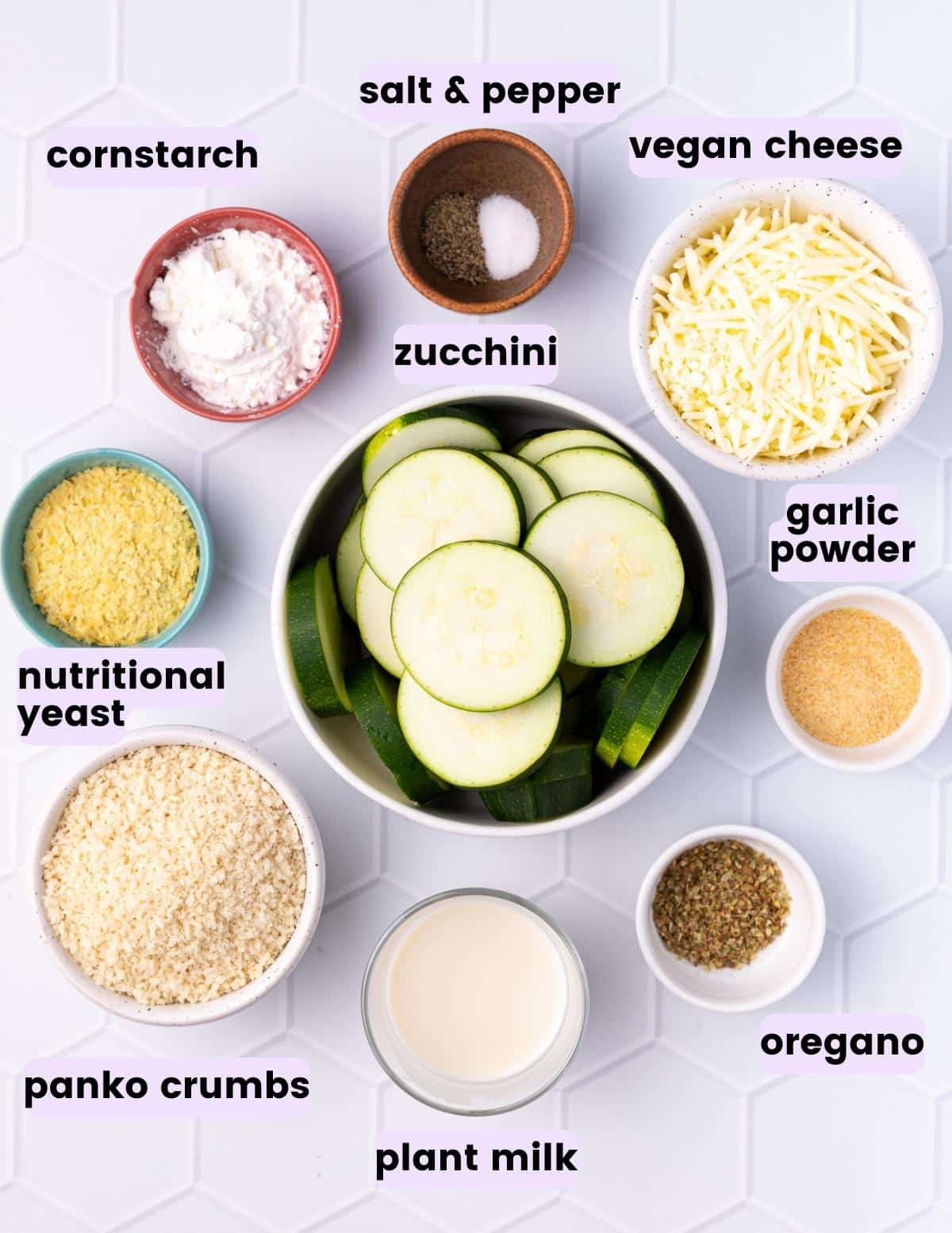 Zucchini - 1 large or 2 smaller ones. No need to be exact here. Green or yellow zucchini is fine.
Cornstarch & plant milk - These are combined and used to stick the seasonings to the zucchini.
Garlic powder, oregano, salt & pepper - Our seasonings. You could use onion powder instead of garlic powder, and Italian seasoning instead of oregano.
Nutritional yeast - This adds so much flavor! Vegan parmesan cheese would be a great sub though. Homemade or a store-bought one.
Panko crumbs - I recommend these over regular breadcrumbs. They just don't get the same uber-nubbly, crispy, crunchy, texture as the panko.
Vegan cheese - Any that you love that will get melty. I used Violife Mozzarella.
How To Make Creamy Orzo With Zucchini
Can't wait to make it? Here's a quick rundown of how it's done. See the recipe card for the full and detailed version, and if you're a visual learner check out my recipe video: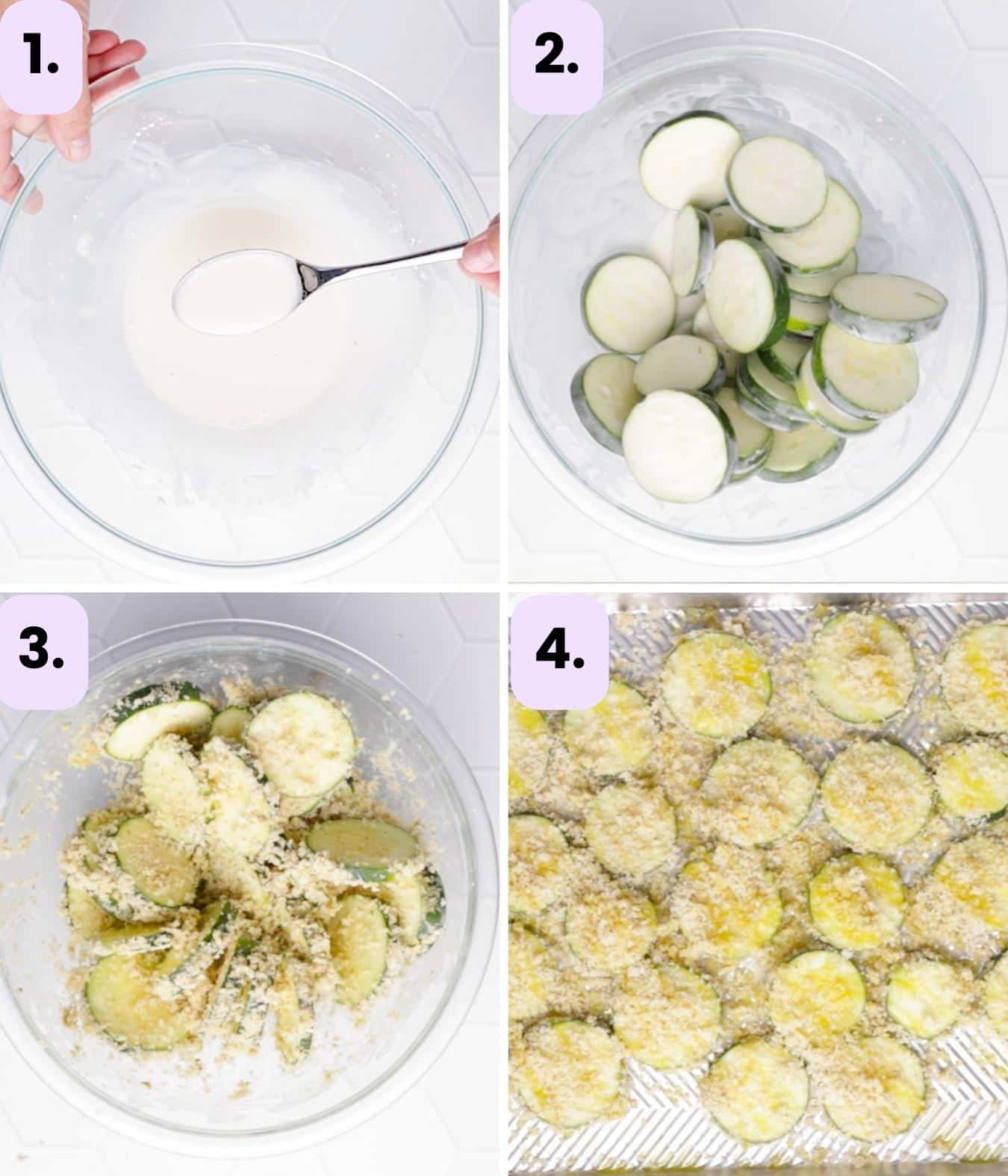 Mix the cornstarch with the plant milk to make a thin cream-type consistency.
Toss the zucchini in it.
Add the seasonings and toss, then the panko and toss again.
Spread out on a baking sheet. Keep to one side until your orzo ingredients are prepped and ready to go, then pop it in the oven. It takes about the same time to bake as the orzo.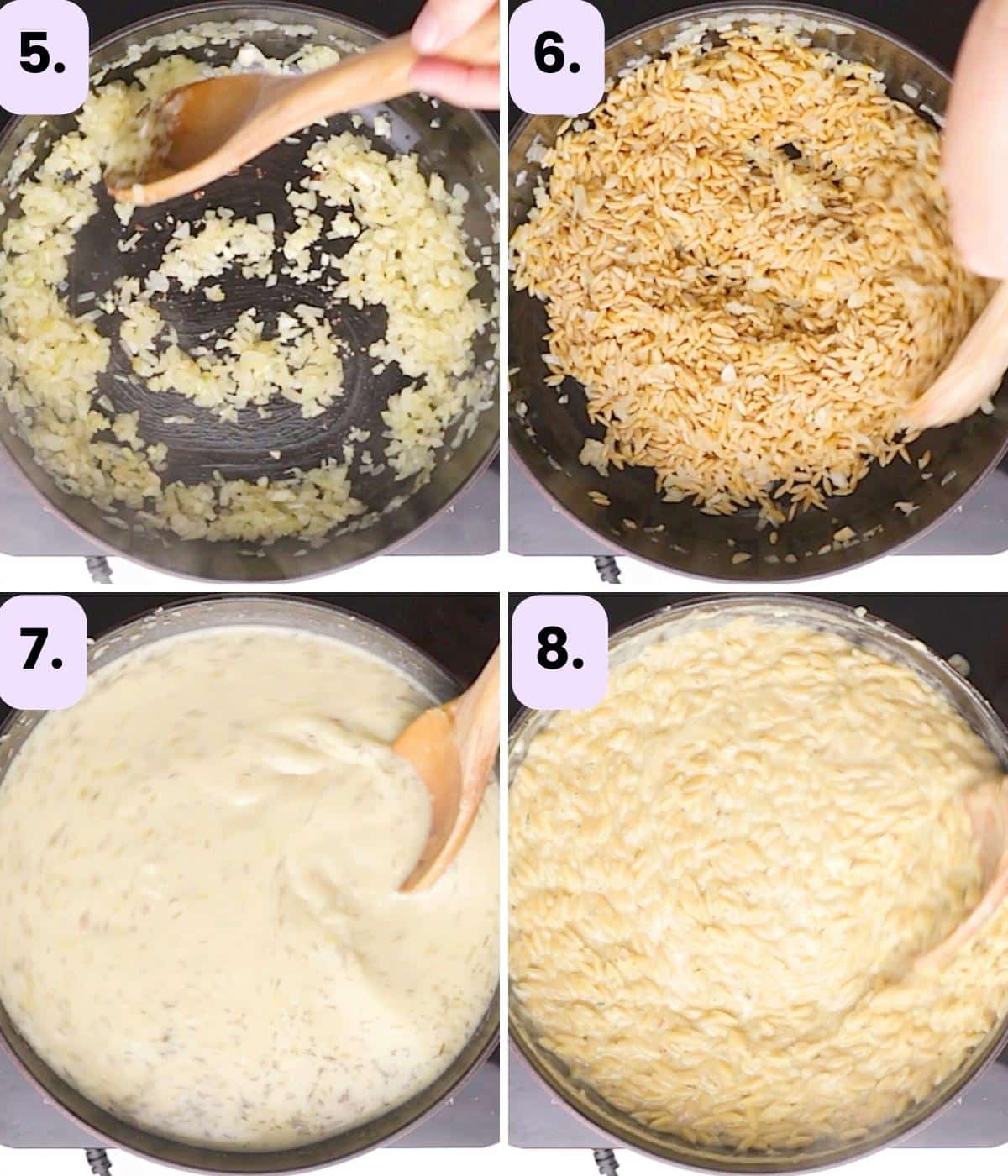 Saute onions and garlic in a pan.
Add the orzo and allow to toast until it starts to make popping noises.
Add everything else except the vegan butter and stir well.
Cook, stirring frequently, until thick and creamy, turn off the heat then finish with butter.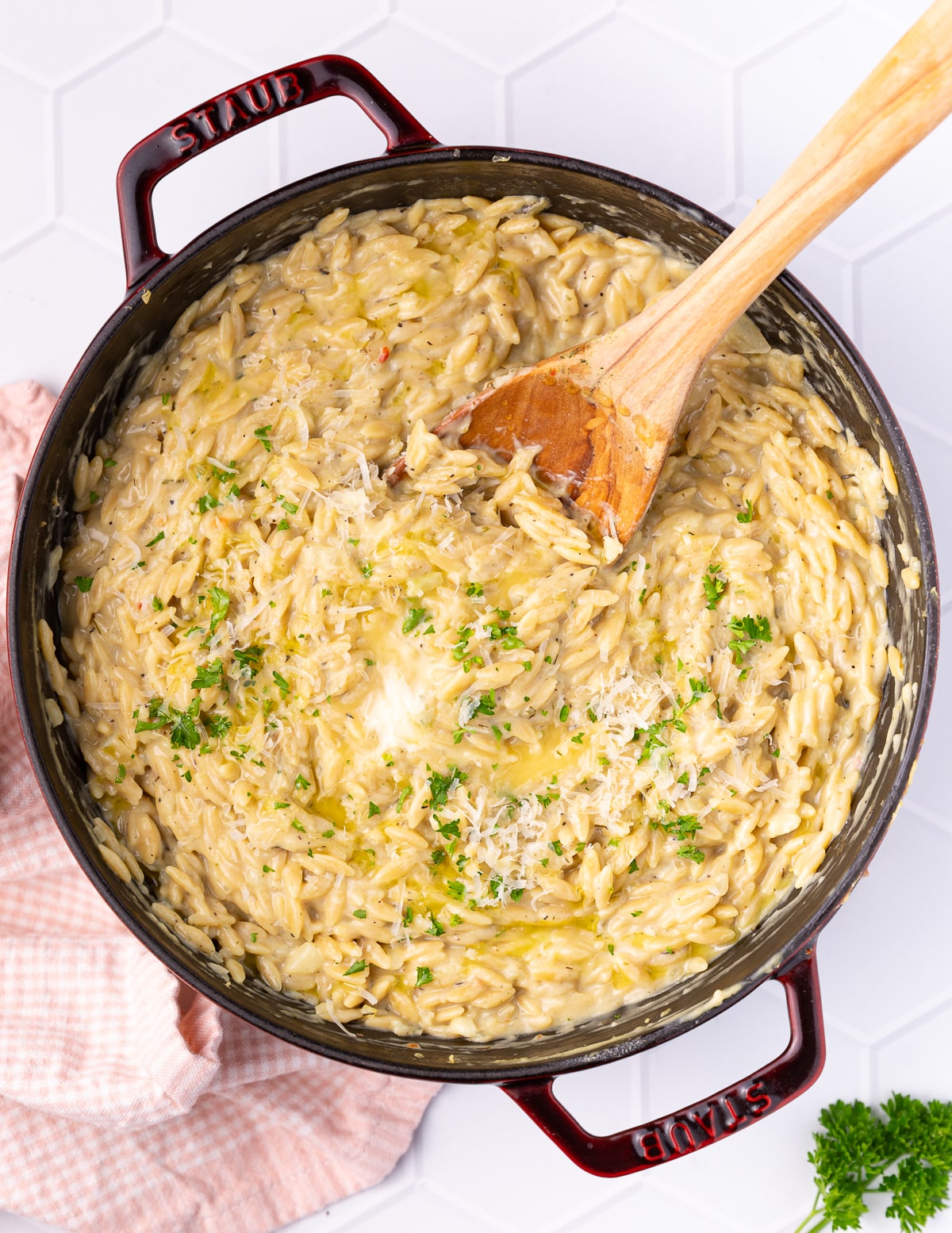 And then there's nothing else to do except pile that creamy orzo into deep bowls and top with a mountain of crispy zucchini!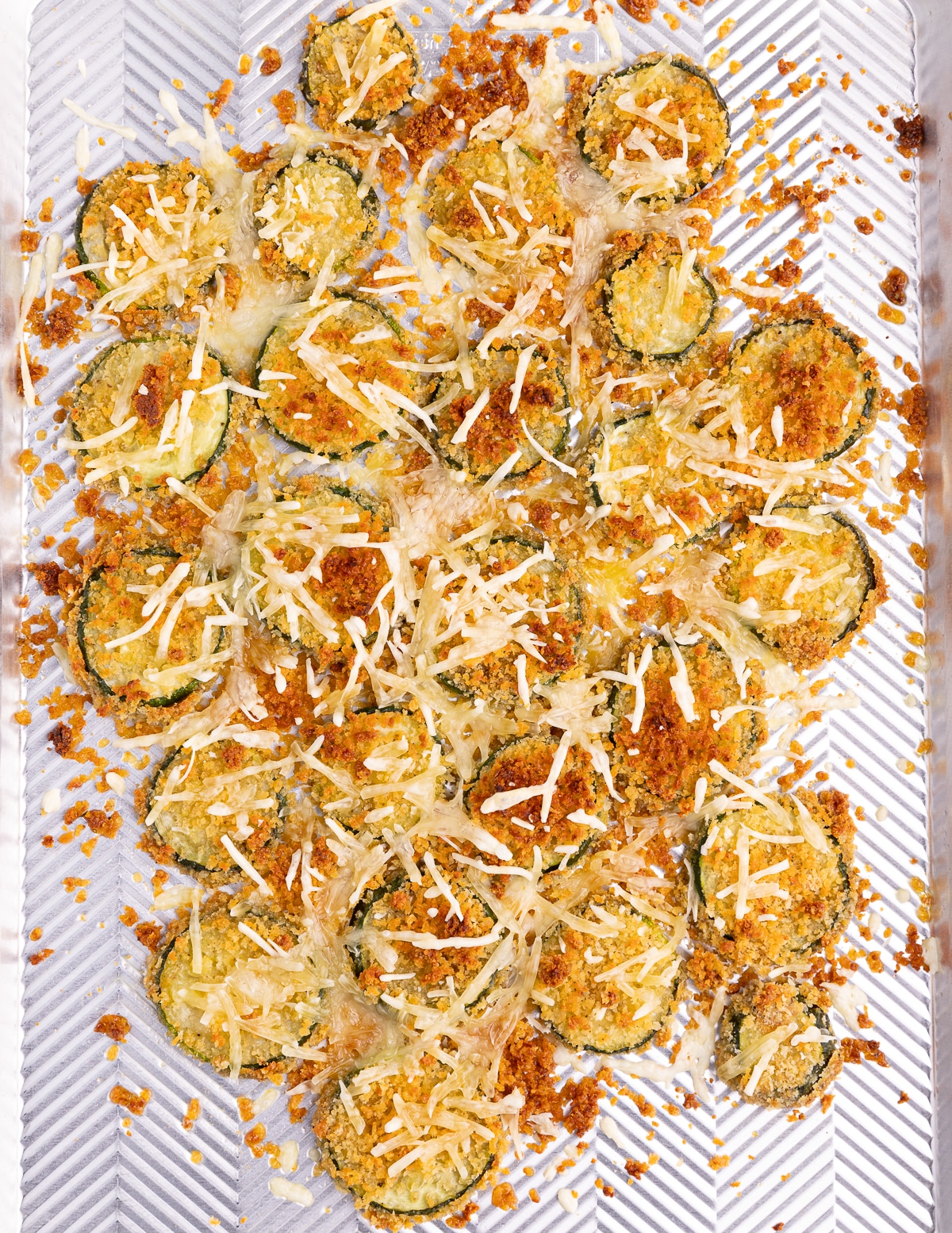 Serving Suggestions
This dish needs little else except a sprinkle of fresh parsley or basil, and vegan parmesan, although a simply, crisp salad complements it nicely. As does a glass of good wine and a big chunk of no knead focaccia!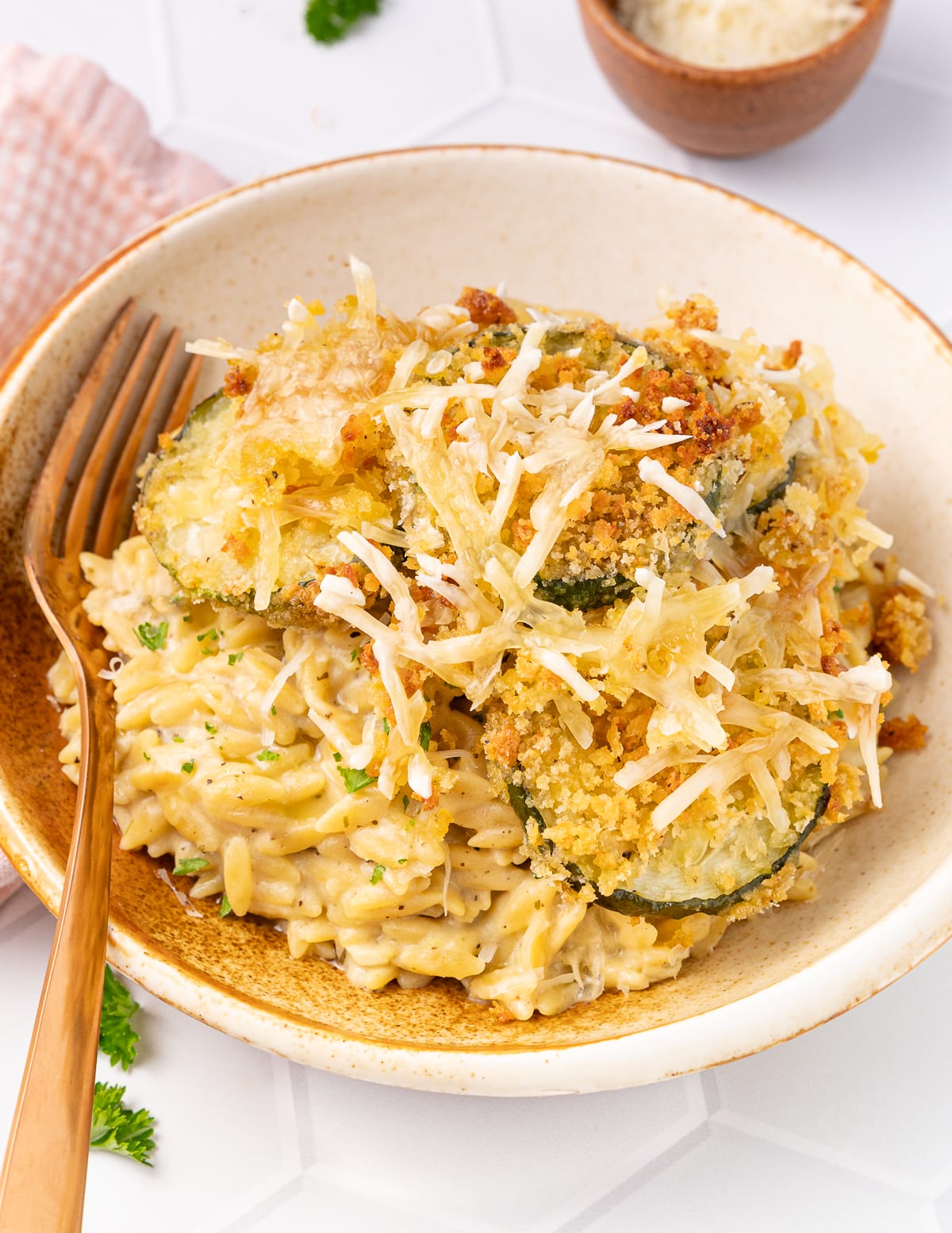 If you try this recipe, let me know how you like it by leaving a comment and rating below! And be sure to join my mailing list for more deliciousness!
Recipe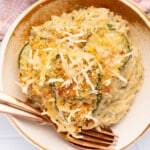 Creamy Orzo With Zucchini
Author:
A bed of creamy orzo with piles of sweet zucchini slices, golden, crunchy panko, and chewy, melty cheese. This Creamy Orzo with Zucchini is rich, easy, and super delicious. Grab a glass of wine and live your best dinner life!
INSTRUCTIONS
For the zucchini
Preheat oven to 400°F (200°C) and line a large baking tray with parchment paper.

In a large mixing bowl, mix the cornstarch with about 1½ tablespoons of milk to make a slurry. You might need to add an extra ¼ to ½ a teaspoon if it won't blend together well but use the smallest amount possible.

Toss the zucchini slices in the cornstarch mixture. Unstick any slices that stick together so they get coated properly.

Add the nutritional yeast, salt, pepper, oregano, and garlic powder and toss to coat. I find it easiest to use a clean hand.

Now add the panko and toss it all around again. It won't stick well. Don't worry, that's fine.

Tip the zucchini rounds on the baking tray, spread into a single layer, then scatter the damp crumbs all over and around them.

Drizzle generously with olive oil. Set aside while you prep the orzo ingredients.

Put the zucchini in the oven when you are about to start cooking the orzo. Bake for 15 to 20 minutes until golden brown, then remove from the oven, sprinkle over the cheese, and bake again for about 5 minutes until really melty, bubbly, and golden.
For the orzo
Immediately start the orzo when the zucchini goes in the oven. Heat a large saute pan or skillet over medium heat and add the olive oil.

Add the onion and saute for about 7 minutes until just turning very lightly golden on the edges, then add the garlic and cook for 1 minute more.

Pour in the orzo and cook for a couple of minutes, stirring frequently, until it starts to make little popping noises.

Pour in the stock, milk, nutritional yeast, salt, and pepper. Stir really well and allow to come to a simmer.

Keep at a very gentle simmer and stir frequently (making sure to scrape right into the bottom because the orzo will try to stick), until thick, creamy, and tender. Spoon a little bit of orzo out and test it by biting it. It will take 10 to 15 minutes.

Turn off the heat, add the butter, and stir well to combine.

Serve the orzo in bowls with the crispy zucchini piled on top and the loose golden crumbs scattered all over.
NOTES
STORING LEFTOVERS - Transfer leftover creamy orzo to an airtight container and store in the fridge for up to 4 days. Add a little plant milk, water, or stock to loosen it up then reheat in a pan on the stovetop or in a microwave. The zucchini is best eaten immediately, although you can store leftovers for a day or 2 in an airtight container, then reheat on a tray in the oven for 5 to 7 minutes, or in a skillet over medium heat. 
NUTRITION
Serving:
1
serving
|
Calories:
704
kcal
|
Carbohydrates:
105
g
|
Protein:
25
g
|
Fat:
20
g
|
Saturated Fat:
5
g
|
Polyunsaturated Fat:
4
g
|
Monounsaturated Fat:
5
g
|
Trans Fat:
0.03
g
|
Sodium:
1882
mg
|
Potassium:
849
mg
|
Fiber:
10
g
|
Sugar:
10
g
|
Vitamin A:
1139
IU
|
Vitamin C:
21
mg
|
Calcium:
275
mg
|
Iron:
4
mg
Did you make this recipe?
Rate it & leave feedback in the comments section below. I love seeing your remakes too. Tag @avirtualvegan on Instagram! 🌟