This vegan meatloaf is easy to make and super tasty! It has a deep & savoury flavour and comes with a great gravy recipe too!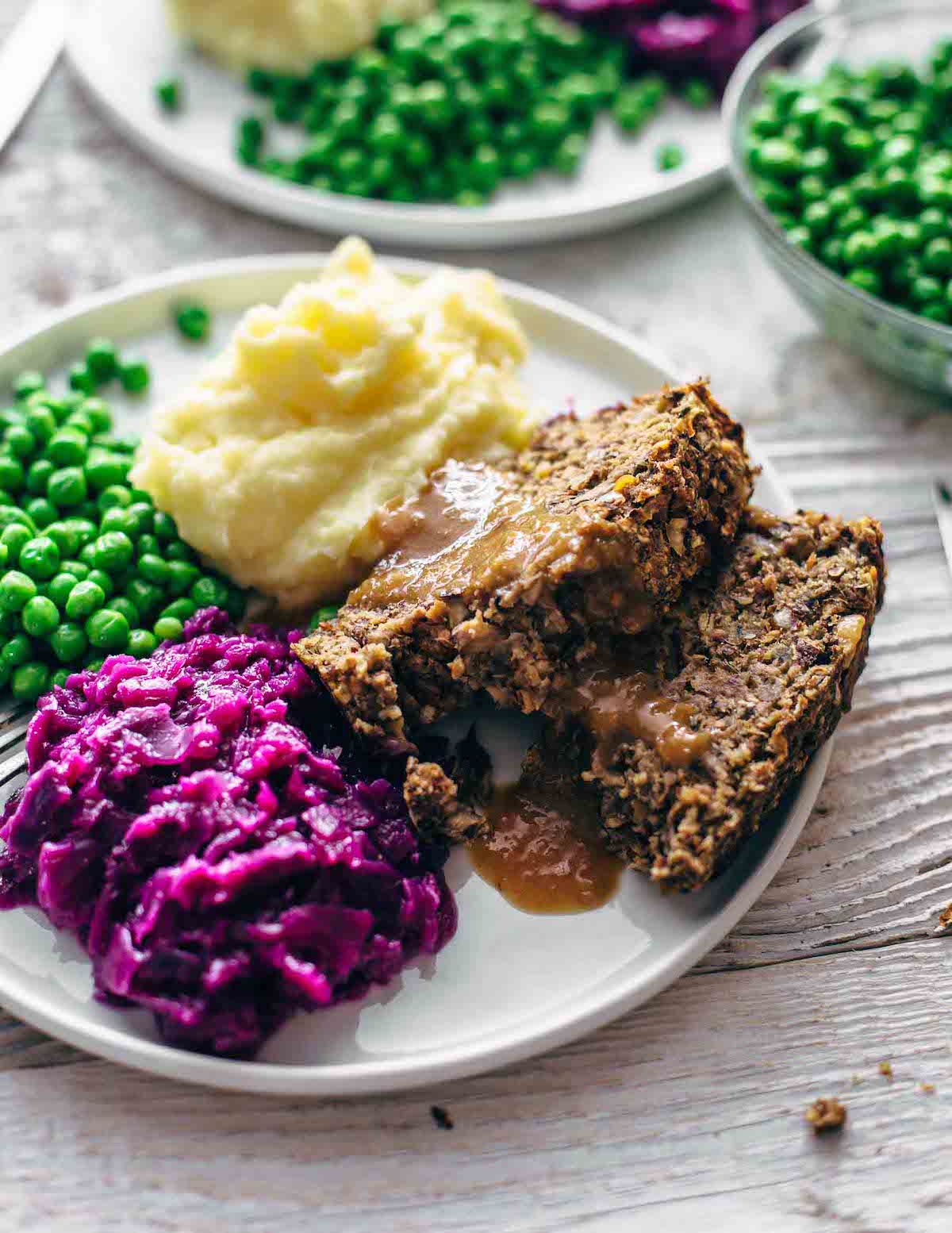 By popular reader request, here is a fantastic vegan meatloaf recipe. It's a favourite in our house for sure and when I crave comfort food it really hits the spot, especially when served with a pile of creamy vegan mashed potatoes and my roasted red cabbage.
This meatloaf is incredibly full of flavour and texture. The mushrooms give it amazing depth but not in an obviously mushroomy way. In fact, my husband who does not like mushrooms happily ate this two nights in a row and thoroughly enjoyed it. He was shocked when I told him that they were the main ingredient.
How to make vegan meatloaf
Vegan versions of recipes like meatloaf can be just as tasty as non-vegan versions and don't have to be complicated to make. My Beyond Meat Meatloaf is so easy to make and this Vegan Meatloaf is really straightforward too. Here's how it's done:
Chop the onions, garlic and mushrooms. If you can I suggest taking the lazy way out and doing all the chopping in a food processor. It's then super quick and easy.
Mix the chopped mushrooms, onions and garlic with all of the other ingredients in a big bowl and press tightly into a loaf pan before baking.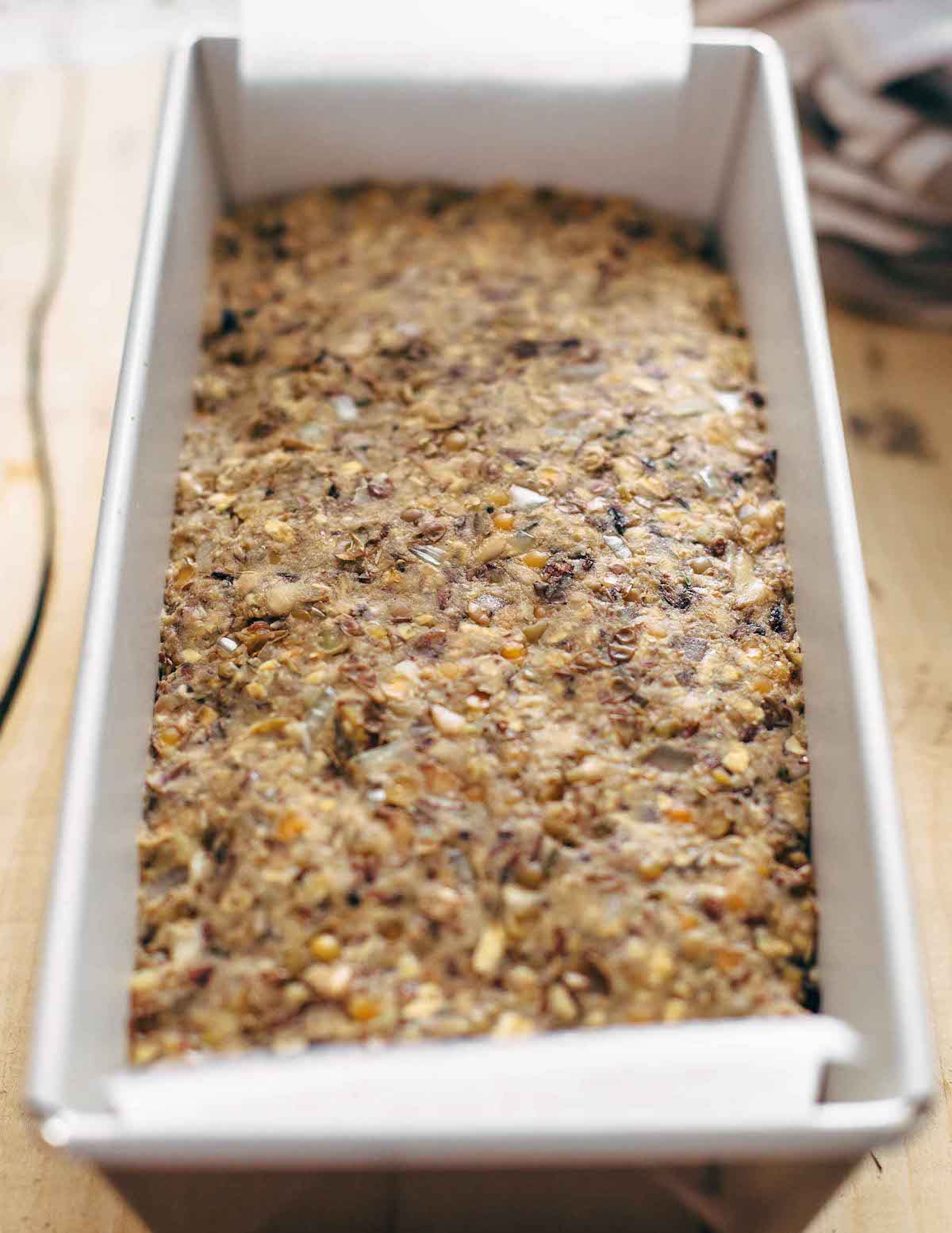 Make the really quick, super tasty vegan gravy while the vegan meatloaf is cooking.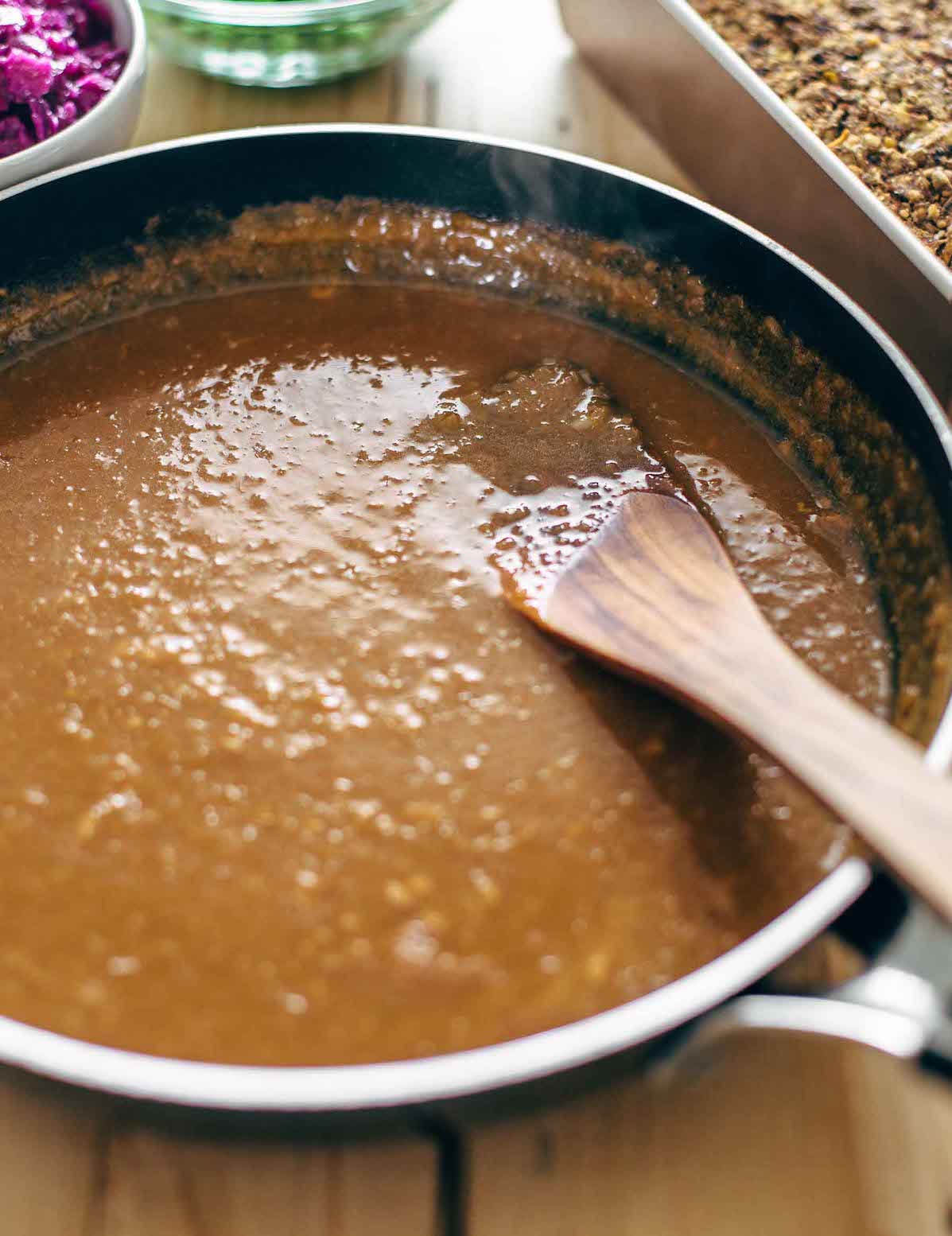 Rest the meatloaf for a few minutes before slicing.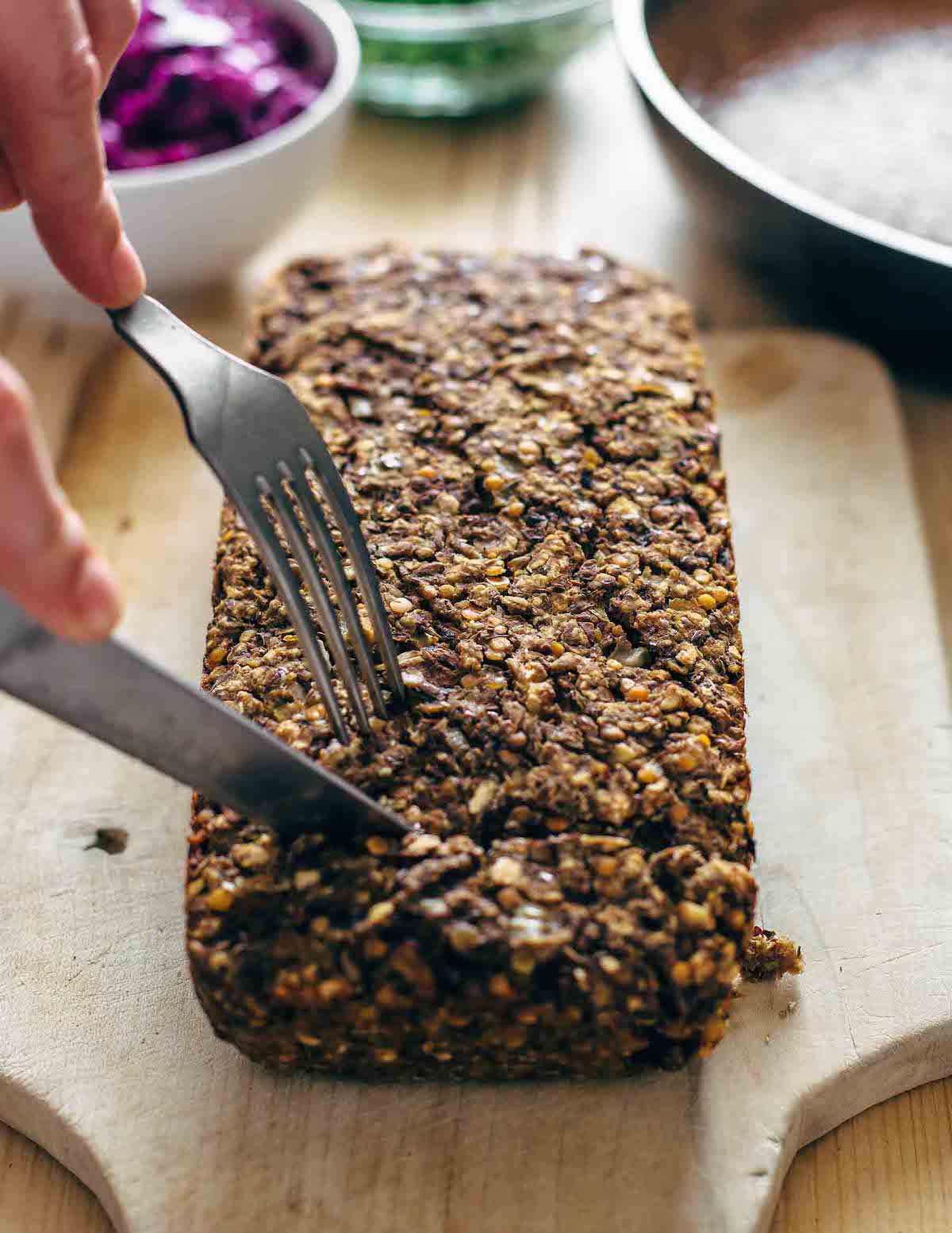 How to serve
I have included a recipe for a quick and tasty gravy to make as an accompaniment to this Vegan Meatloaf but you could make my vegan red wine gravy instead.
A couple of thick, hearty slices make the perfect partner to vegan yorkshire puddings, crispy roast potatoes or vegan mashed sweet potato. And some vegan green bean casserole on the side will take your meal right over the top!
Or a huge, fluffy pile of vegan mashed potatoes and some delicious steamed vegetables, all drizzled with gravy. I have also made it and smothered barbecue sauce all over the top before baking, then served it with more for drizzling. It works so well! Comfort food at it's best!
Variation
Try skipping the gravy and serve the meatloaf with my homemade vegan BBQ sauce instead. Brush some on the top before baking and serve it on the side too.
What to do with leftovers
Vegan Meatloaf leftovers are absolutely fantastic when stuffed inside the mushrooms in this Easy Vegan Mushroom Pie recipe instead of the caramelized onions. Seriously, seriously good! I highly recommend you try it!
They are also great sliced thinly in sandwiches or just reheated again and served with potatoes and gravy as before. I could easily eat this a few days in a row.
Leftovers reheat perfectly too. Just wrap individual slices or a wedge of it in lightly greased tin foil and bake in the oven.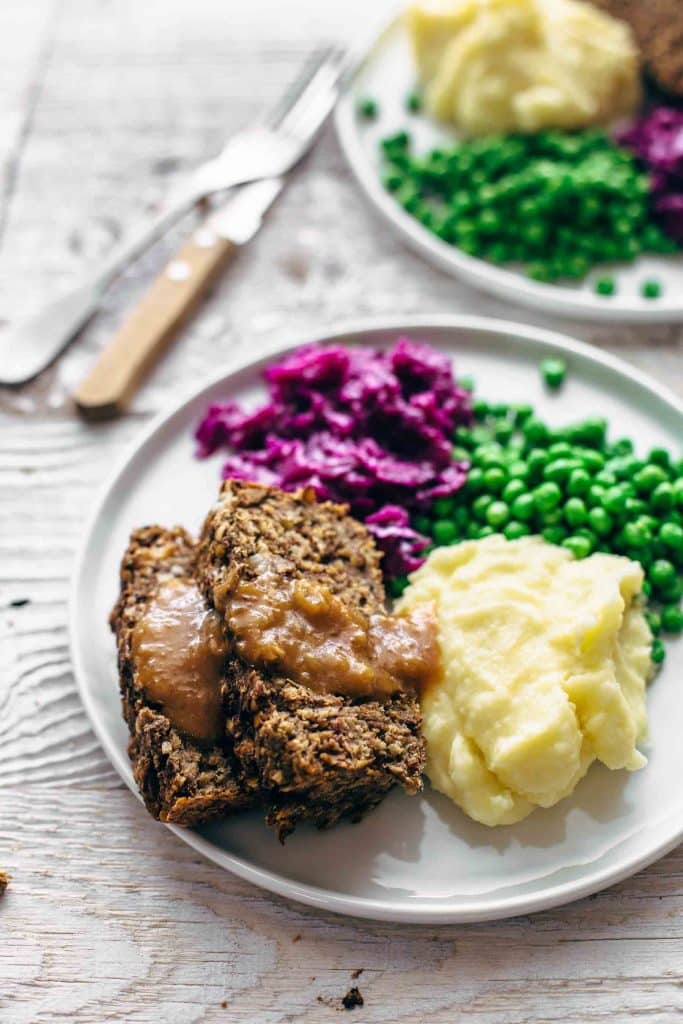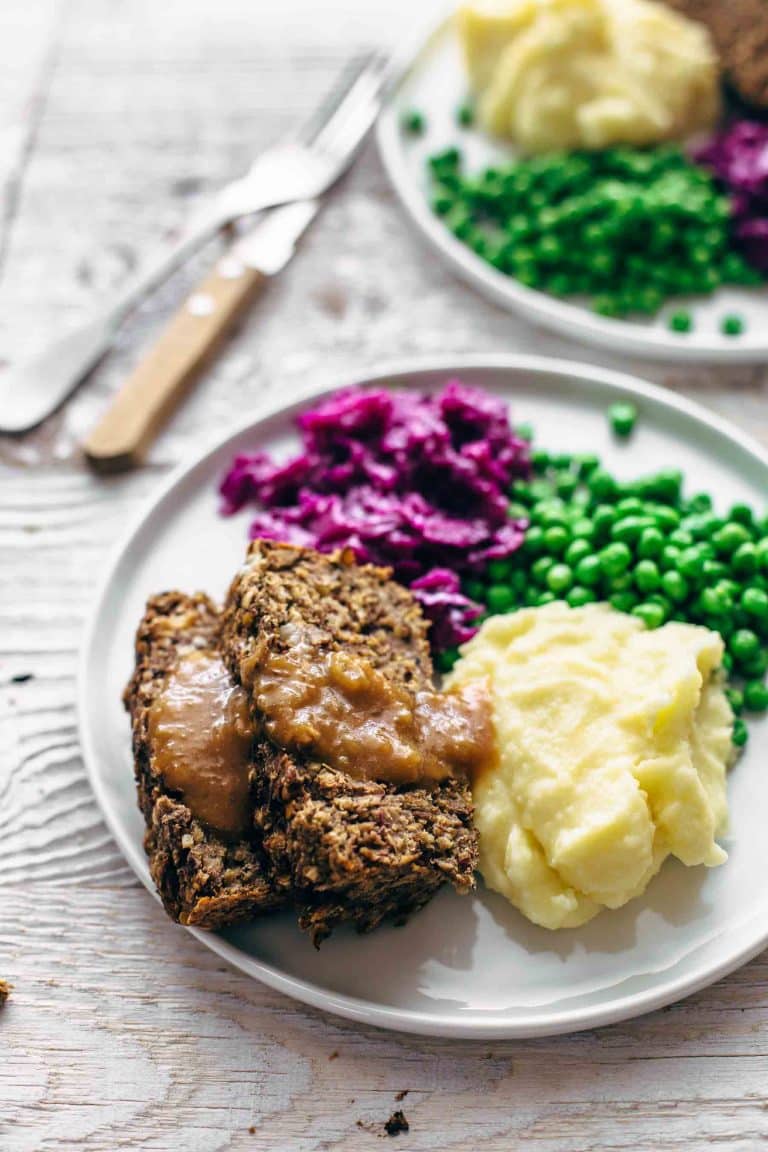 How to make in advance
This Vegan Meatloaf recipe be made ahead and stored in the fridge for a few days before baking so is great if you like to batch cook or prepare food at the weekends ready for the week ahead. At holiday time it's always lovely to have things like this made up ahead so on the day you can enjoy more time with your family rather than in the kitchen.
You can also bake it, cool it and keep in the fridge, then reheat the whole thing in the pan wrapped in tin foil. That way you can bake it in advance then warm it through just when you need it.
Recipe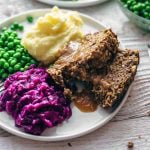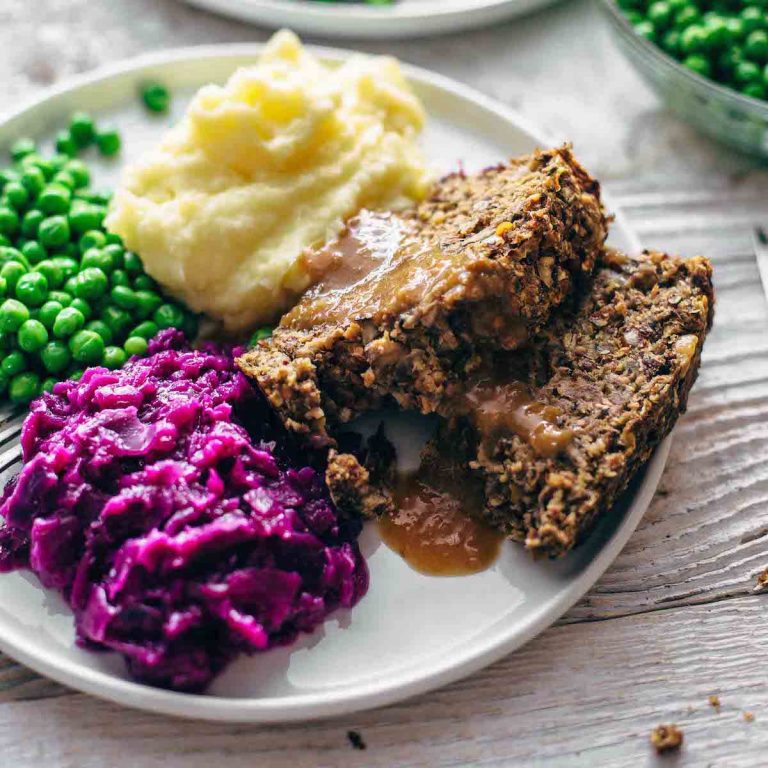 Vegan Meatloaf with Gravy
Author:
This vegan meatloaf is incredibly easy to make & is sure to please with it's deep & savoury flavour. Serve sliced & smothered in rich, thick gravy for a truly satisfying meal!
Ingredients
For the vegan meatloaf
1

small

onion

, finely chopped, golf ball size

2

large

cloves of garlic

finely chopped

198g / 1

cup

cooked split red lentils

(measured after cooked)- do not overcook the lentils. They should be just soft. Red Lentils don't take long to cook at all and if they are overcooked and soggy it will make the meatloaf soggy. For tips on cooking see recipe notes.

198g / 1

cup

cooked green lentils

(measured after cooked)- do not overcook the lentils or the meatloaf will end up soggy. They need to be just tender. For tips on cooking see recipe notes.

226g / 3

cups

mushrooms

, finely chopped (measured after chopping). White, button, cremini (brown) or portobello are all fine to use.

62g / ½

cup

walnut pieces

, To make nut-free you can sub the walnuts for half a cup of oats or half a cup of sunflower seeds

4 tablespoons / ¼

cup

ground flax seeds

1 cup / 108

g

bread crumbs

, made from a stale loaf of bread, or use panko crumbs, or gluten-free breadcrumbs

90 g / 1

scant cup

flour

, all purpsoe, rice, spelt or wholewheat flour (see recipe note for how to make oat flour)

1

tablespoon

Tamari

(or coconut aminos , or soy sauce)

1

teaspoons

salt

1

teaspoons

pepper

2

teaspoons

dried thyme

up to 120mls / ½

cup

water

, you might not need any at all
For the gravy
2

medium

onions

, chopped

1

tablespoon

nutritional yeast

2

tablespoons

tamari

, or soy sauce

1

tablespoon

arrowroot or cornstarch

(or just regular all purpose flour)

480mls / 2

cups

vegetable stock (I like to use mushroom stock)

, (or blend 2 cups of water and 3 small mushrooms)
INSTRUCTIONS
Preheat oven to 370°.

Make sure the onion, garlic & mushrooms are chopped finely. If you have a food processor you can do this in there with the regular blade.

Put them in a large bowl then add all other meatloaf ingredients except the water.

Mix very, very well together. There is a lot of it and it is hard to mix with a spoon so it's much easier to get your hands in there and squidge it all together well.

You need it so that it sticks together nicely when you squeeze it with your hands. If it does this easily then don't add any water. If it's still a little crumby and wont come together add water very gradually until it just starts coming together. I often need no water at all. Definitely don't add more water than it needs or it will make the loaf soggy.

Lay a strip of parchment paper down the length of a

loaf tin

with enough length either end to act as handles for pulling the finished loaf out ( my tin is 8.5 x 4.5 x 2.75 inches. Any tin roughly that size will be fine)

Spoon in the meatloaf mixture and pack down really tightly.

Bake in the preheated oven for 50-60 minutes. Keep an eye on it towards the end. You want it to go a bit crusty and brown on the top but not too dark. You can cover it with a piece of foil if it does start going too brown.

Remove from the oven and leave to cool in the tin, covered tightly in foil for at least 15 minutes but up to 30 is ok. Then remove and slice.
For the gravy
Sauté the onion slowly over a low heat until a deep golden brown.

Transfer to a

blender

with all of the other ingredients and blend until very smooth.

Pour into a pan and stir over a medium heat until thickened and piping hot.

If you prefer your gravy a little thinner just add some boiling water from a kettle and stir well until you get the consistency you like.

Serve the meatloaf sliced and doused in gravy.
NOTES
If you wish your loaf to be gluten free use gluten free certified oat flour. Oat flour can be easily made by just blending or processing rolled or quick oats until they are a fine powder.
This meatloaf can even be made ahead and stored in the fridge for a few days before baking so is great if you like to batch cook or prepare food at the weekends ready for the week ahead. Leftovers also reheat perfectly. I wrap them in foil and warm through in the oven.
A few readers have said that the leftovers are extra good if sliced then pan fried until golden. I haven't tried it but it sounds good!
Tips for cooking lentils: 
Don't soak them prior to cooking.
Rinse in a sieve with fresh water to remove any dust or debris.
Cook on a stovetop, using 3 cups of liquid (water, stock) to 1 cup of dry lentils. Be sure to use a large enough saucepan as the lentils will double or triple in size.
Bring to a boil, cover tightly, reduce heat to low and simmer until they are tender.
For whole lentils, cook time is usually about 15-20 minutes.
For split red lentils, cook time is typically only about 5 minutes.
Spoon a couple out and taste them to check done-ness periodically and as soon as they are ready, drain and leave to cool.
Any leftover cooked lentils will keep for 5-6 days in a sealed container in the fridge and they also freeze really well.
NUTRITION
Serving:
1
77g slice
|
Calories:
172
kcal
|
Carbohydrates:
21
g
|
Protein:
10
g
|
Fat:
6
g
|
Sodium:
712
mg
|
Potassium:
391
mg
|
Fiber:
9
g
|
Sugar:
1.4
g
|
Vitamin C:
3.3
mg
|
Calcium:
30
mg
|
Iron:
4.1
mg
Did you make this recipe?
Rate it & leave feedback in the comments section below. I love seeing your remakes too. Tag @avirtualvegan on Instagram! 🌟
This recipe was originally published on April 15th 2016 and updated with new photographs and a video on Sept 6th 2018.