One-pot Vegan Italian Sausage Pasta Soup! It's hearty, rustic and comforting, with a creamy tomato-y soup base, lots of herbs and garlic, vegan sausage chunks and pasta. Ultimate vegan comfort food!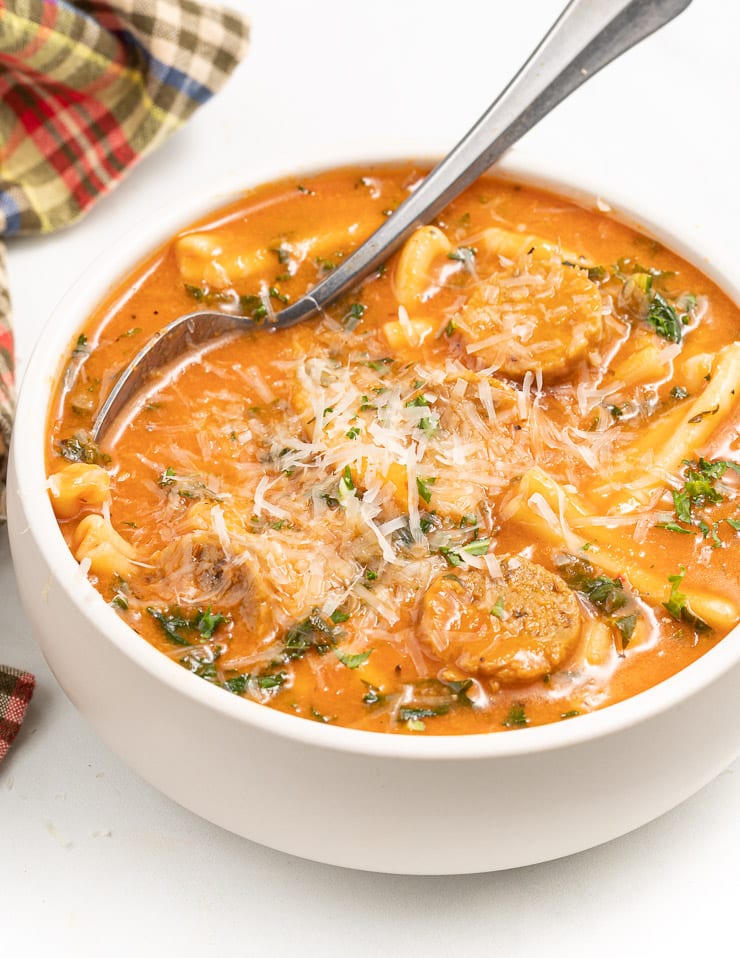 It's time to bust out the giant soup pot because you NEED this Vegan Italian Sausage Pasta Soup in your life.
Like Risi e Bisi and vegan carbonara, it's humble, hearty and rustic and has just about everything you could ever need going on. We're talking creamy, thick tomato soup, lots of garlic, vegan Italian sausages and pasta.♡
And even more than most vegan soup recipes, we're talking comfort to the max. I just want to dive in headfirst.
Jump to: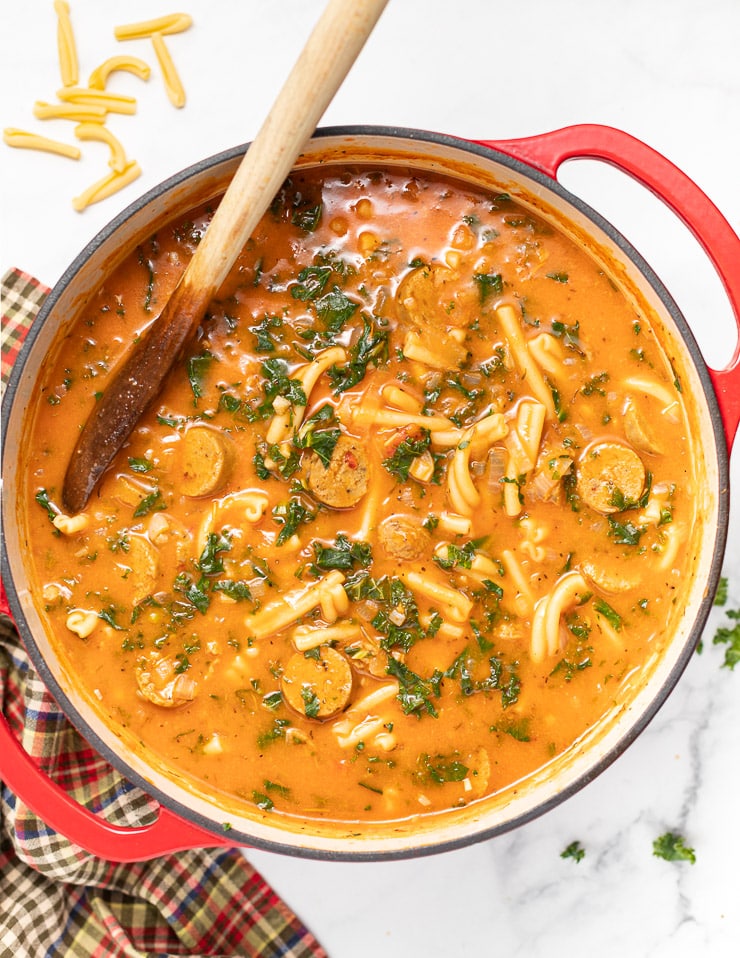 How to make Vegan Italian Sausage Pasta Soup
(For detailed measurements and instructions, see the printable recipe card).
So, here's what's going in that big ol' soup pot:
Onion, garlic, dried herbs, salt and pepper - Flavour, flavour, flavour. It's important to be generous with them all.
Vegan sausages -I love to use either my homemade vegan sausage recipe or Field Roast Italian if at all possible. If you can't get them Tofurkey Italian Sausages would be my second choice. And if you can't get those either, any other preferably herby vegan sausages.
Tomato paste - And lots of it for creaminess and tomato flavour. Don't use canned tomatoes or tomato sauce instead. They don't have the same concentration of flavour or texture.
All purpose flour - For thickening. This soup is really thick and hearty and creamy thanks to the flour.
Light coconut milk (from a can) - It must be "light" and not full fat so that you don't get a coconut flavour. Canned because of the creamy, velvety richness which other plant-based milks in a carton do not have. You can use another creamy plant-based milk if you have to, but the soup won't be as creamy and rich tasting. See the recipe notes for my suggestions.
Dried Pasta - It's cooked right there in the soup and makes it so hearty and rustic and delicious. It also thickens because it's starchy.
Stock - There seems like an awful lot of liquid in this recipe but don't worry. It's not a typo. The pasta absorbs some of it as it cooks and along with the flour, thickens it all perfectly.
Kale - The perfect green for soups because it doesn't get too soft and keeps some texture as well as it's lovely green colour. If you are a kale hater please give it a chance in this soup. It is so great in it and doesn't taste obviously kale-y once it's all cooked up. I recommend Tuscan Kale (otherwise known as Cavolo Nero, Italian Kale or Dinosaur Kale) to keep the Italian theme going but if you can't get that regular curly kale will do just fine. Don't consider subbing it for anything else.
Sugar - Just a tiny bit and something I nearly always add to tomato-based recipes. It really makes the tomato flavour pop and makes a massive difference.
So now you know what's going in your beautiful Italian Vegan Soup, here's how you make it:
Step 1: Sauté the onions and garlic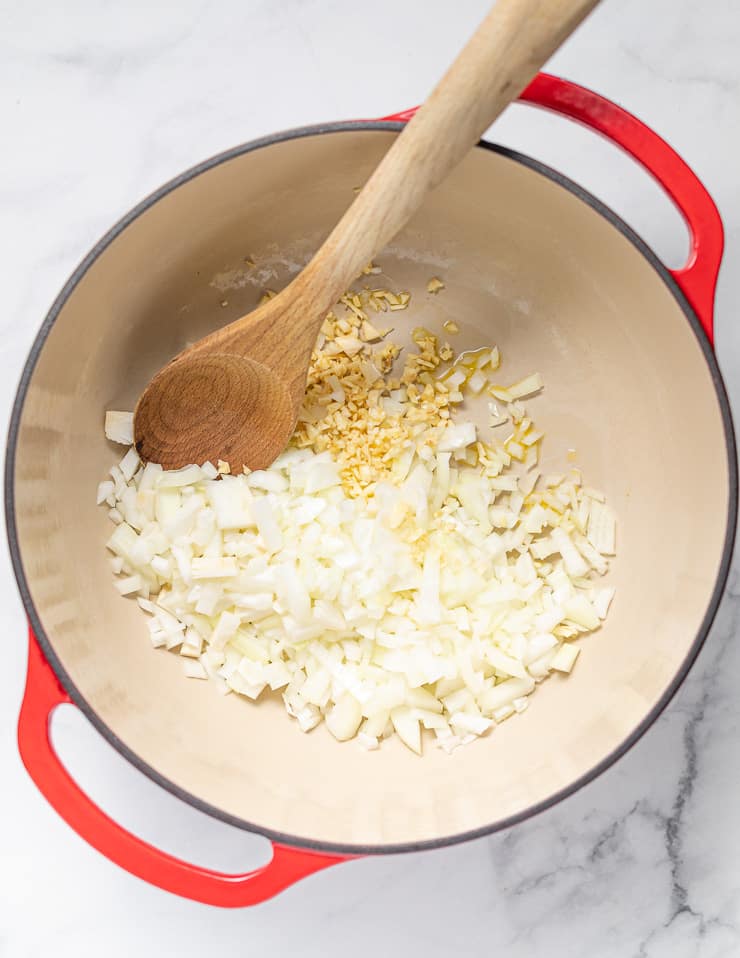 Step 2: Add the herbs and flour and cook them out for a minute or two.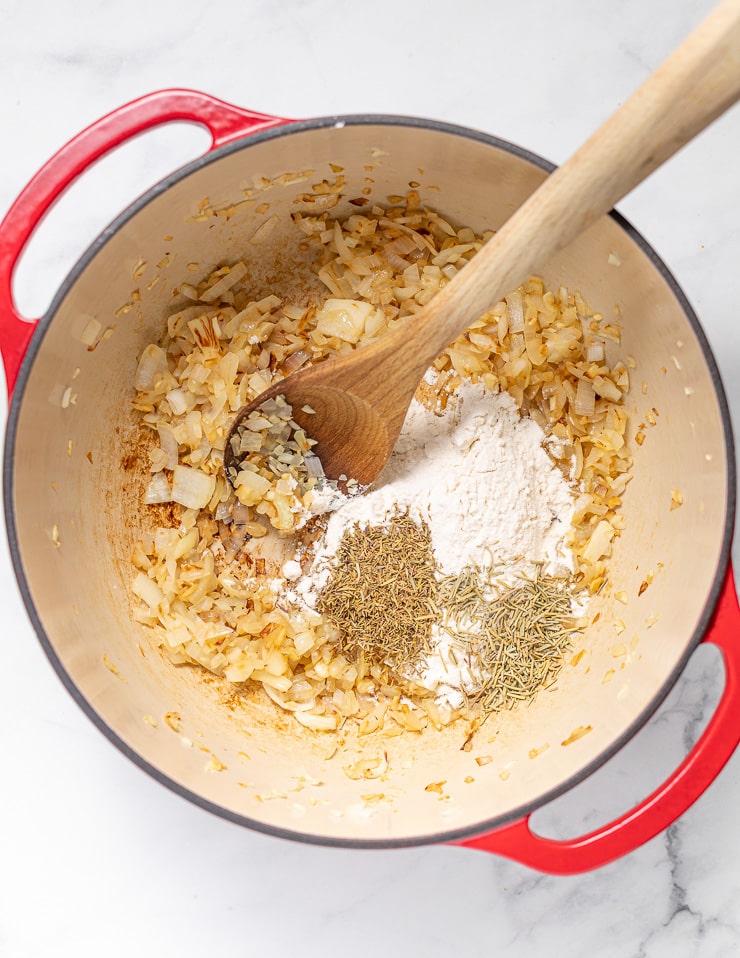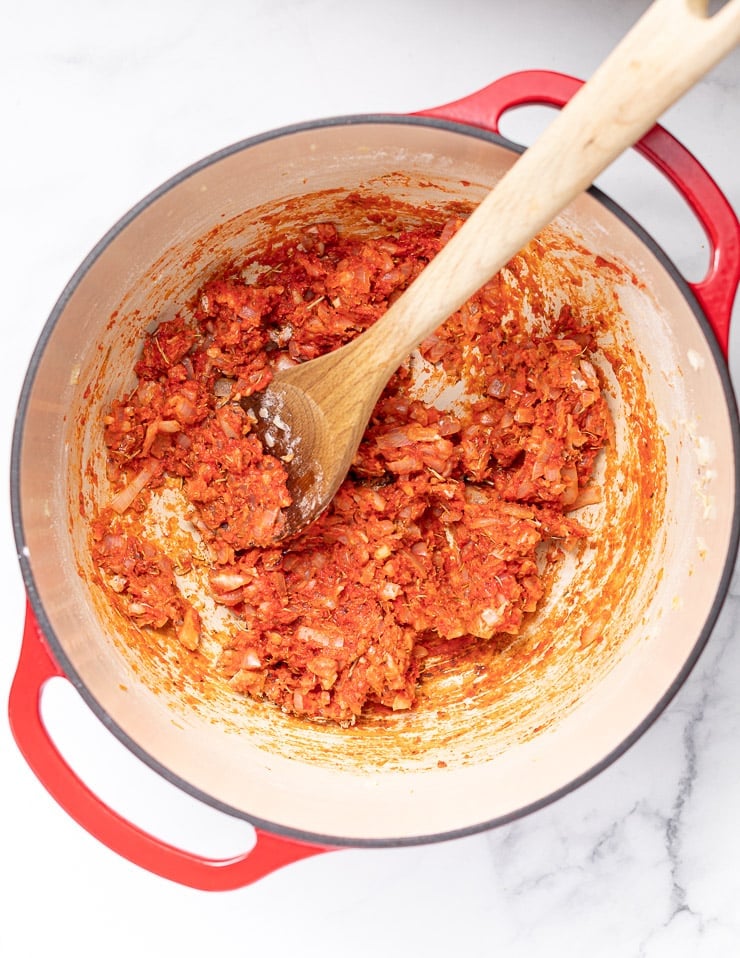 Step 3: Add the seasoning and tomato paste and stir it all up.
Step 4: Gradually add the stock, working out any lumps as you go, then cook until just starting to thicken.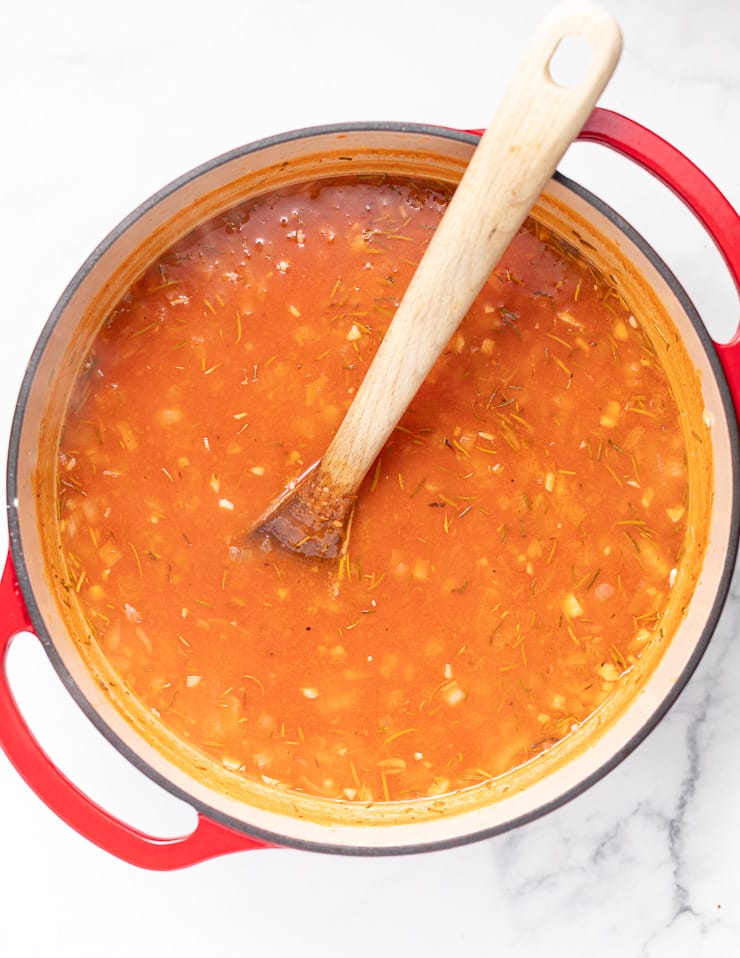 Step 6: Add the dried pasta.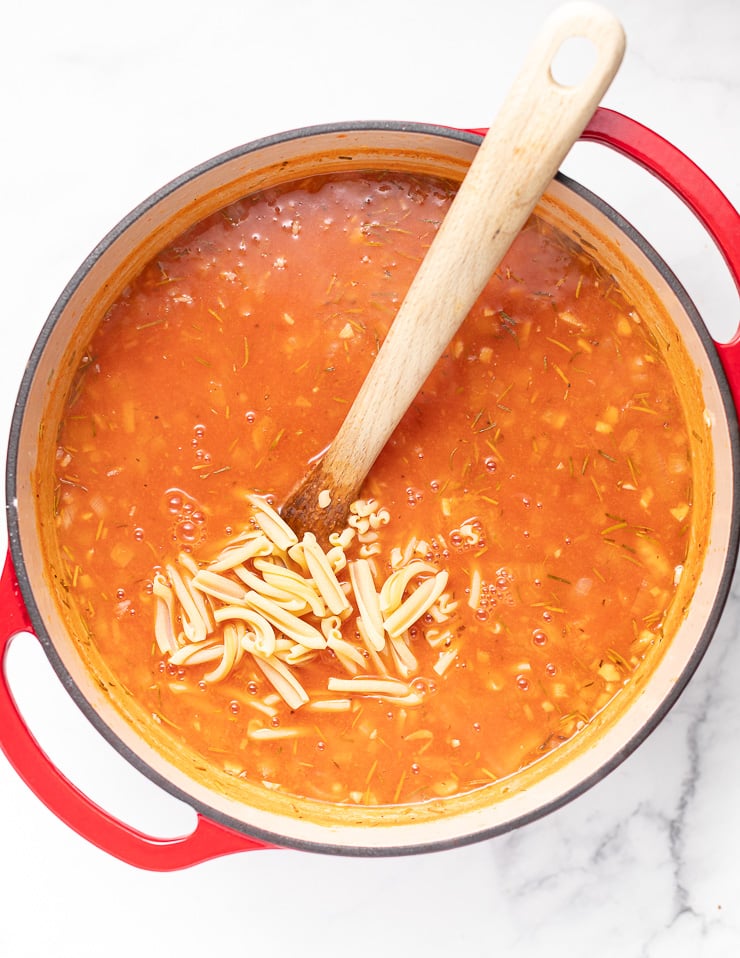 Step 7: Then the kale and vegan sausage slices.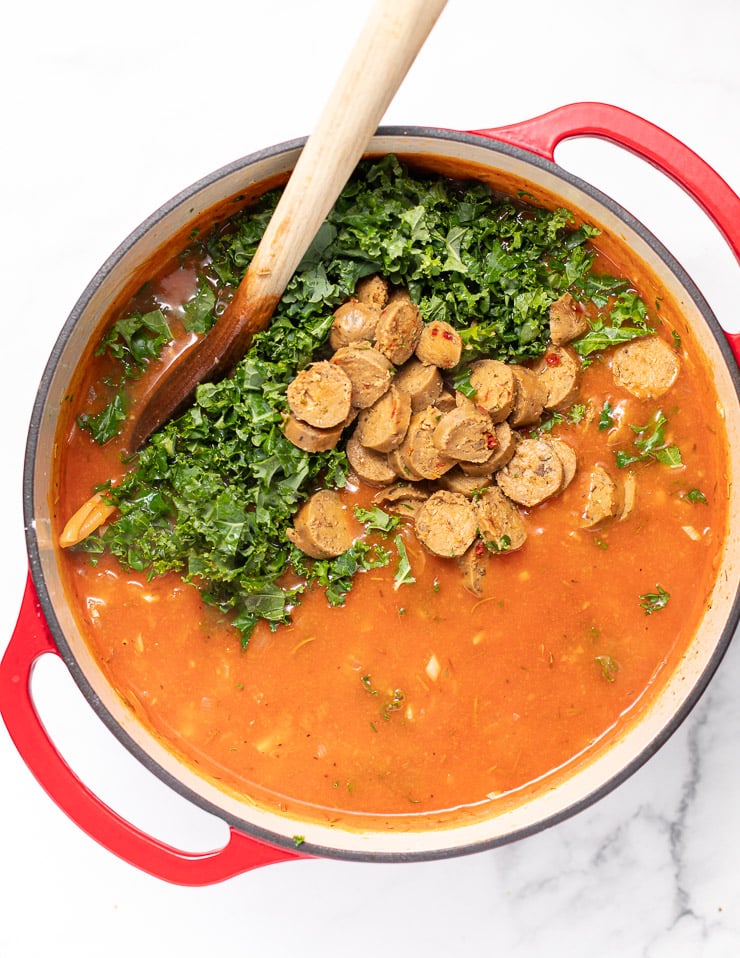 Step 8: Lastly add the coconut milk and allow to cook until the pasta is al dente ( just tender).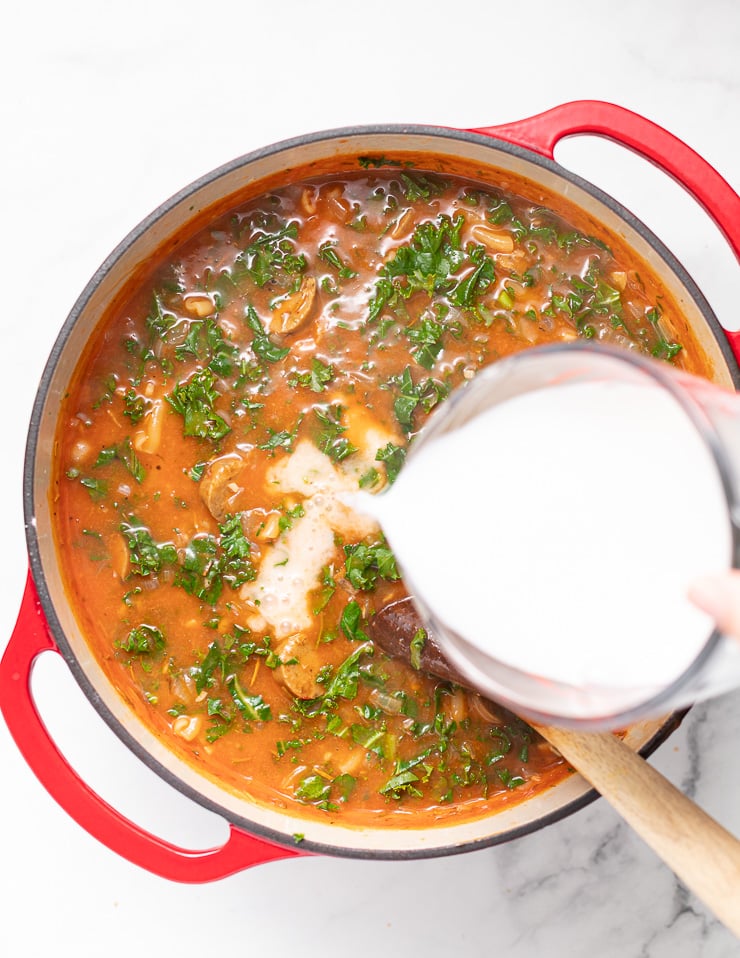 Success Tips
- Make sure your pot is big enough before you start. It needs to hold at least 6 quarts / 5.5 litres.
- Don't reduce the amount of pasta because it will affect the thickness of the finished soup
- Your choice of sausage is crucial for this recipe. They must be a flavourful with good texture. I recommend Field Roast Italian above any other. See the recipe notes for more info.
- Don't overcook the pasta. Serve as soon as it's al dente.
- Don't skip the sugar. It really makes a huge difference to the flavour of tomato-based recipes.
How to serve
This is such a hearty soup that you don't need any accompaniments, except maybe some fresh basil, vegan croutons, and vegan parmesan? My vegan ricotta would also be amazing with it, as would my Vegan Feta Cheese.
If you're extra hungry, bread is always a good option with soup. My No Knead Focaccia Bread works really well with it.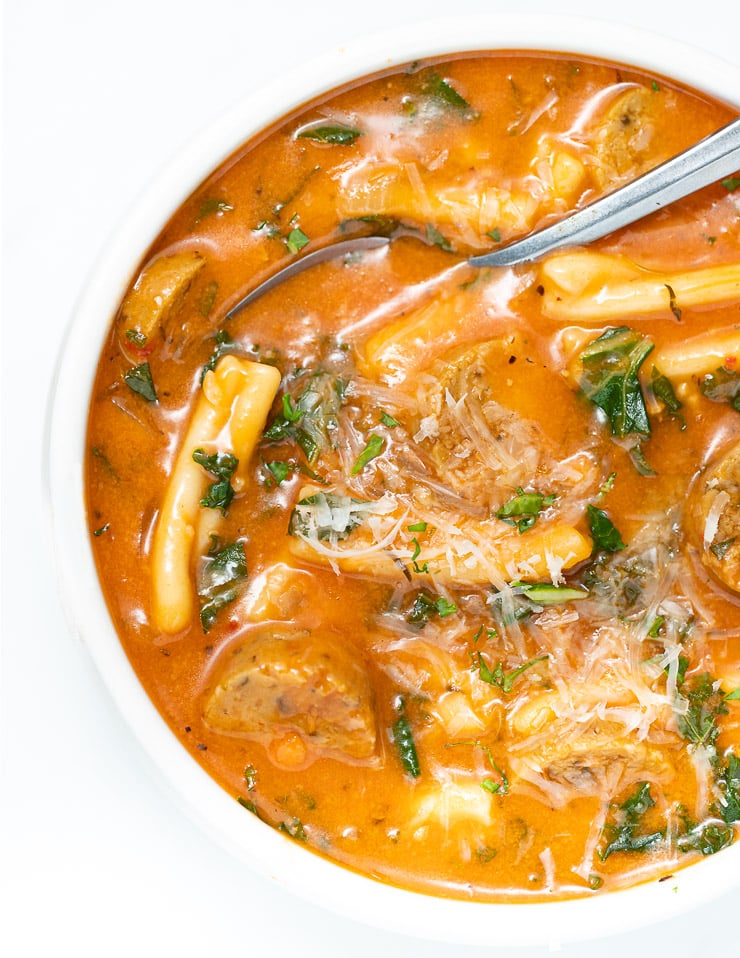 How to store leftovers
Because of the pasta this soup is at it's best when served immediately. Leftovers are still great but the pasta does become very soft once it's been reheated again.
Store leftovers in a sealed container in the fridge for up to 4 days and warm only as much as is needed in a pan on the stove top or in a microwave. Be sure to heat until piping hot, but not for any longer to avoid cooking the pasta more than is necessary.
I haven't yet tried freezing this soup yet. if you do let me know how it goes in the comments section.
---
And so to recap. This Vegan Italian Sausage Pasta Soup is:
Rustic and hearty
Filling
Easy to make
Full of tomatoe-y, herby, sausage-y flavour
Creamy and velvety
Ultra-cozy
Very family friendly (don't all kids and big kids like tomato soup and pasta and sausages?)
Hungry for more?
Love sausages? Be sure to try my Vegan Sausage Casserole and Sausage Broccoli Rice Casserole too!
Recipe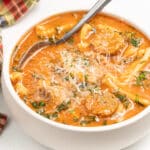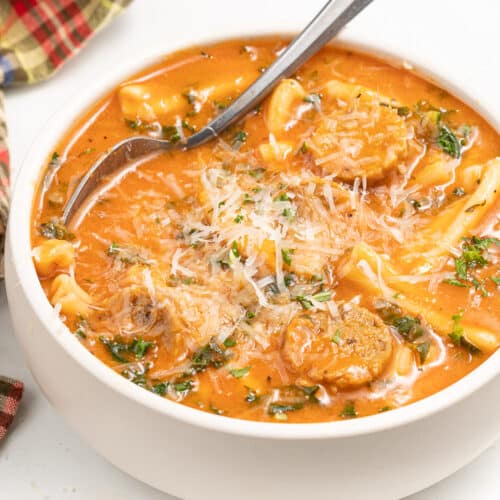 Vegan Italian Sausage Pasta Soup
Author:
One-pot Vegan Italian Sausage Pasta Soup! It's hearty, rustic and comforting, with a creamy tomato-y soup base, lots of herbs and garlic, vegan sausage chunks and pasta. Ultimate vegan comfort food! 
Ingredients
1

tablespoon

olive oil

, or use a few tablespoons of water to sauté with instead

1

medium

onion

, peeled and diced

4

cloves

garlic

, peeled and chopped finely

2

teaspoons

dried rosemary

, or use mixed Italian style herbs instead of rosemary & thyme

2

teaspoons

dried thyme

½ cup / 63

g

all purpose flour

, (plain flour in the UK)

2

teaspoons

salt

1

teaspoon

freshly ground black pepper

¾ cup / 180 g

tomato paste

, (tomato puree in the UK)

4 cups / 32 fl oz / 946

mls

vegetable or mushroom stock

5 cups / 40 fl oz / 1200

mls

water

12 oz / 350

g

dried pasta

4

big

kale leaves

, with stem removed. Chopped into small pieces.

4

vegan sausages

, (such as Field Roast Italian style or Tofurkey Italian Sausages) cut into chunky rounds * see notes RE other sausage varieties

1

tablespoon

sugar

1 can / 13 oz / 400

ml

canned light coconut milk

, or any other creamy plant milk
INSTRUCTIONS
Add the oil to a large soup pan or Dutch Oven (the pan needs to hold 6 quarts / 5.5 litres or more to make this soup comfortably), and warm over a medium heat.

Add the onions and sauté for about 5 minutes or until turning golden. Then add the garlic and cook for another minute, stirring frequently.

Add the herbs and flour, stir well and cook for about a minute. Add the salt, pepper and tomato paste and stir well again. it will be really thick and lumpy looking. Gradually add the stock about a cup at a time, stirring between each addition to work out any lumps. Then add the water all at once. It seems like a lot of liquid but don't worry. It's how it's supposed to be for now.

Bring to a simmer stirring frequently. It will start to thicken a little but still be very liquidy. Once simmering add the dried pasta, kale, sliced sausages, sugar and coconut milk. Be sure to add the coconut milk last as the other ingredients will drop the temperature a little and prevent it curdling.

As the pasta cooks in the soup it will thicken everything up nicely. It is ready to serve as soon as the pasta is tender which takes about 10 minutes.

If the soup gets too thick, just boil some water in a kettle and add as much as needed to get the soup to the consistency you like.
NOTES
SAUSAGES - The flavour of my vegan sausage recipe or Field Roast Italian sausages are incredible in this soup and I highly recommend you use them if they are available in your area. Tofurkey Italian sausages would be my 3rd choice. Because they are already cooked you can slice them up and add them at the end just to heat through. If you choose to use a different variety like Beyond Sausages which aren't firm and pre-cooked, you will need to cut them up into rounds and sauté them separately until cooked before adding them to the soup. 
LEFTOVERS
Store leftovers in a sealed container in the fridge for up to 4 days. It will become very thick when cool. Reheat in the microwave or in a pan on the stove top, but add a little water to thin it out a bit first. 
NUTRITION
Calories:
405
kcal
Carbohydrates:
54
g
Protein:
14
g
Fat:
8
g
Saturated Fat:
4
g
Cholesterol:
1
mg
Sodium:
875
mg
Potassium:
365
mg
Fiber:
3
g
Sugar:
8
g
Vitamin A:
665
IU
Vitamin C:
7
mg
Calcium:
33
mg
Iron:
2
mg
Nutritional information is provided for convenience. The data is a computer generated estimate and should be used as a guide only.
Tried this recipe?
Rate it & leave your feedback in the comments section below, or tag @avirtualvegan on Instagram and hashtag it #avirtualvegan