The perfect Vegan Carrot Cake! It's perfectly spiced with a super moist crumb and is smothered in decadent, ultra-creamy vegan cream cheese frosting.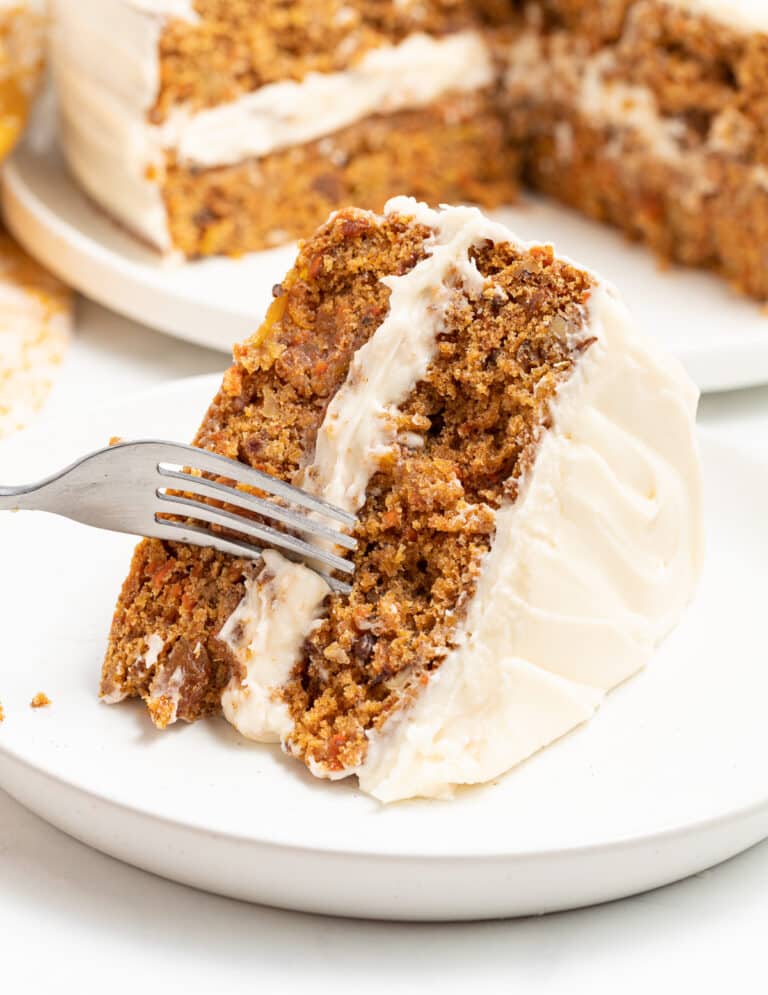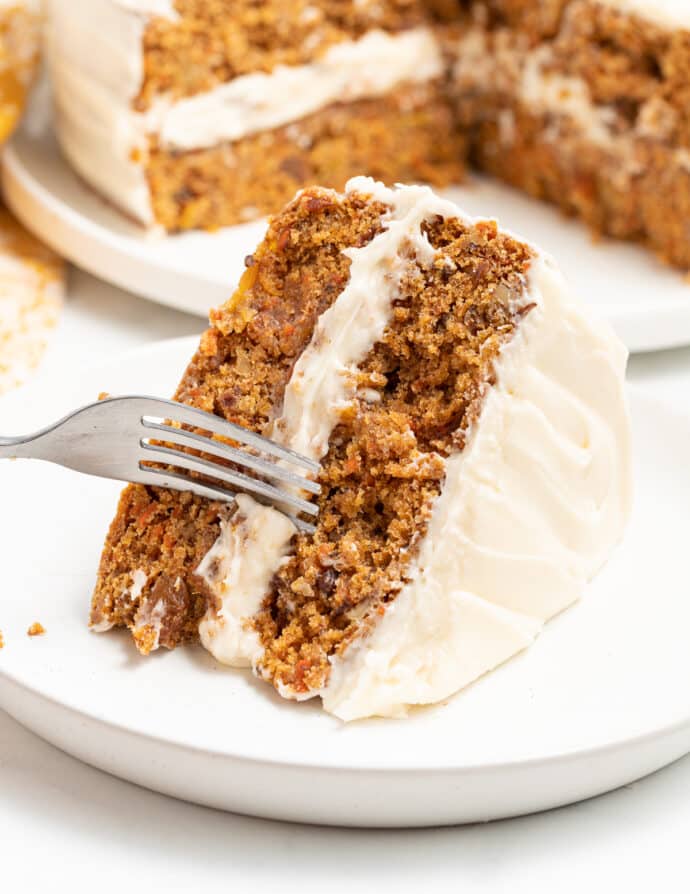 So spring is coming and you want to celebrate with a big, delicious vegan carrot cake? Yep, you've come to the right place because that perfectly spiced, super moist, cream cheese frosting smothered cake is coming right at you.
We're talking perfect flavour and texture thanks to the fragrant spices, freshly grated carrots, chopped pineapple, nuts and raisins. And we're talking an obscene amount of delicious vegan cream cheese frosting slathered all over.
Jump to:
It's decadent. It's ridiculously delicious. And it's an open invitation to treat yourself!
Are you ready? Let's make Vegan Carrot Cake!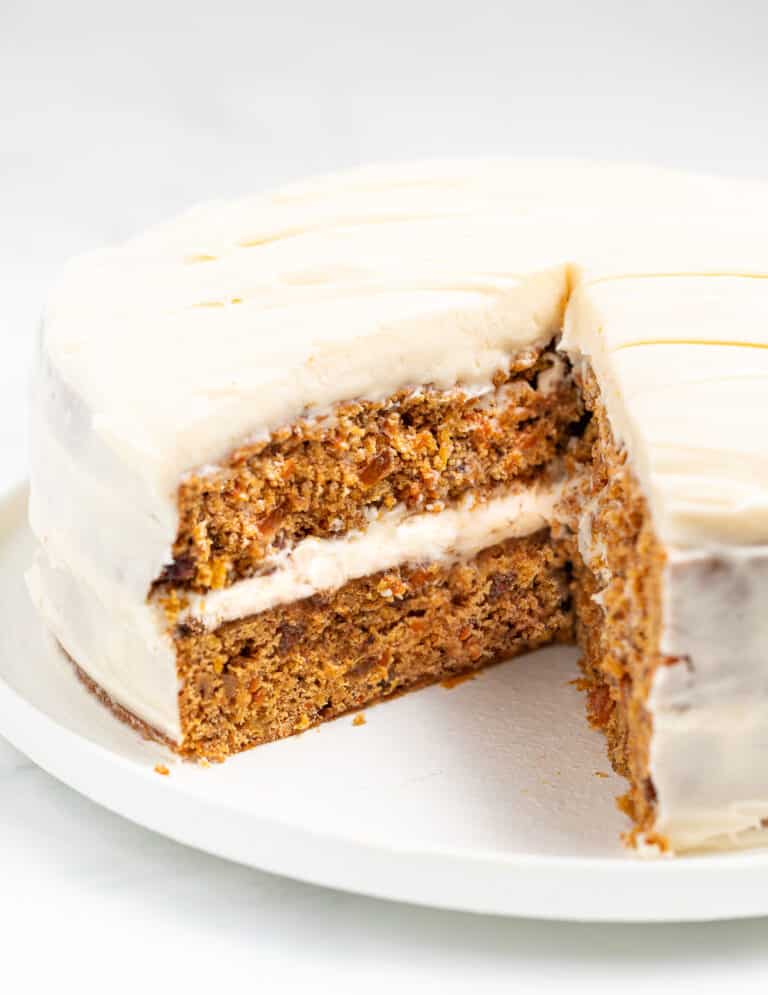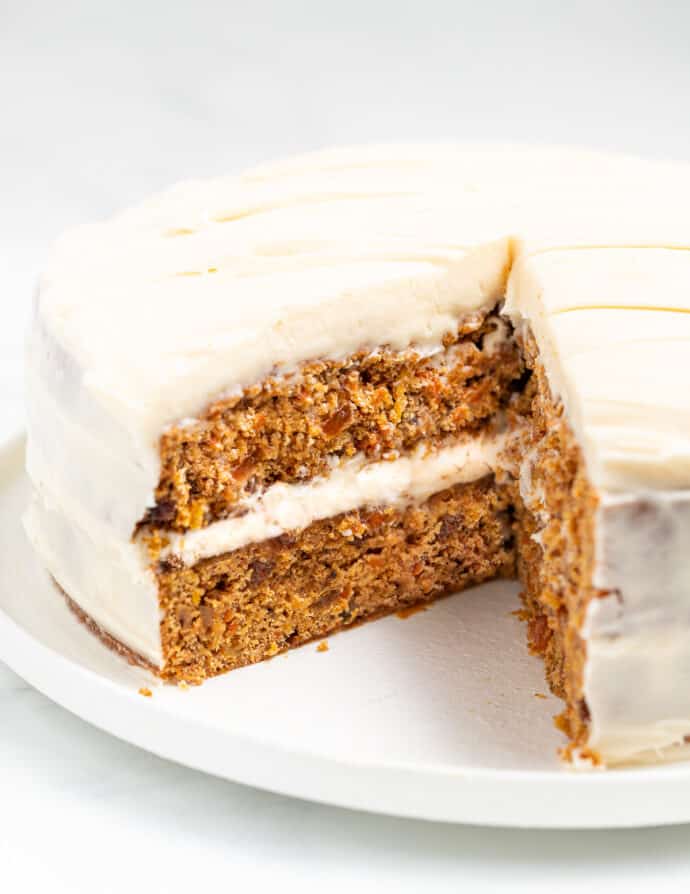 What ingredients & equipment do I need?
For detailed measurements and instructions, see the printable recipe card.
Ok, let's take a look at what ingredients you''ll be needing to make this vegan carrot cake recipe and why:
Flour - I used all purpose flour but you could easily switch it for white whole wheat flour and probably spelt.
Sugar - A combination of brown and regular cane sugar is best for sweetness, moisture and flavour.
Nuts - Either pecans or walnuts do just fine. They add textural crunch and flavour. If you have a nut allergy simply omit them.
Ground flax seed - For binding and structure. You don't need to make a "flax egg" first. The ground flax just gets thrown in with the other dry ingredients.
Spices - Essential in carrot cake. Here we use a killer combo of cinnamon, ginger, nutmeg, cloves and vanilla for the very best flavour.
Salt - Don't omit it. Even in sweet recipes salt makes a massive difference to flavour.
Carrots - Freshly grated for maximum flavour and all important moistness. See my tips for grating them easily below.
Pineapple - Important for flavour, moistness and texture. I used canned pineapple but fresh is fine too.
Golden raisins/sultanas - Not something you see in many carrot cakes but I think they are essential for those juicy little bites, and again more flavour and moistness.
Baking Powder and Baking Soda - Both are used in this recipe. When you don't use eggs you need to make up for the leavening they would otherwise provide by adding both as well as the next essential ingredient.
Apple cider vinegar - Reacts with the baking soda and creates lift and lightness. It's my go-to because of it's light, fruity, not as tart as white vinegar taste. Technically any acid will do so you could sub it for lemon or orange juice.
Milk - Any unsweetened non-dairy milk is fine to use. I tend to use my cashew milk because I always have some on hand.
Oil- Just about any will do here but don't use vegan butter. Oil is important for moistness in the finished cake. I typically use avocado oil in baking recipes (I buy the linked Chosen Food brand but from Costco because it's great value), but melted coconut oil, vegetable oil, canola oil, sunflower oil, olive oil are all fine. Even extra virgin olive works here like it does in my Orange Olive Oil Baked Donuts. I don't recommend subbing applesauce for the oil as I know a lot of people try to do in baking recipes. The texture will not be great and if you're going to cake you may as well cake properly and go all out!
Vegan Cream Cheese Frosting - Made with vegan cream cheese, vegan butter, powdered sugar, vanilla, salt and my magic ingredient arrowroot flour!
And equipment-wise you will be needing two 9 inch cake pans, a couple of bowls and an electric whisk or mixer for the frosting. You could also mix the frosting by hand if you need to but it will be much harder work to get it soft and fluffy.
I love USA Pan Cake Pans. They bake evenly and reliably, release perfectly and stay looking good as new.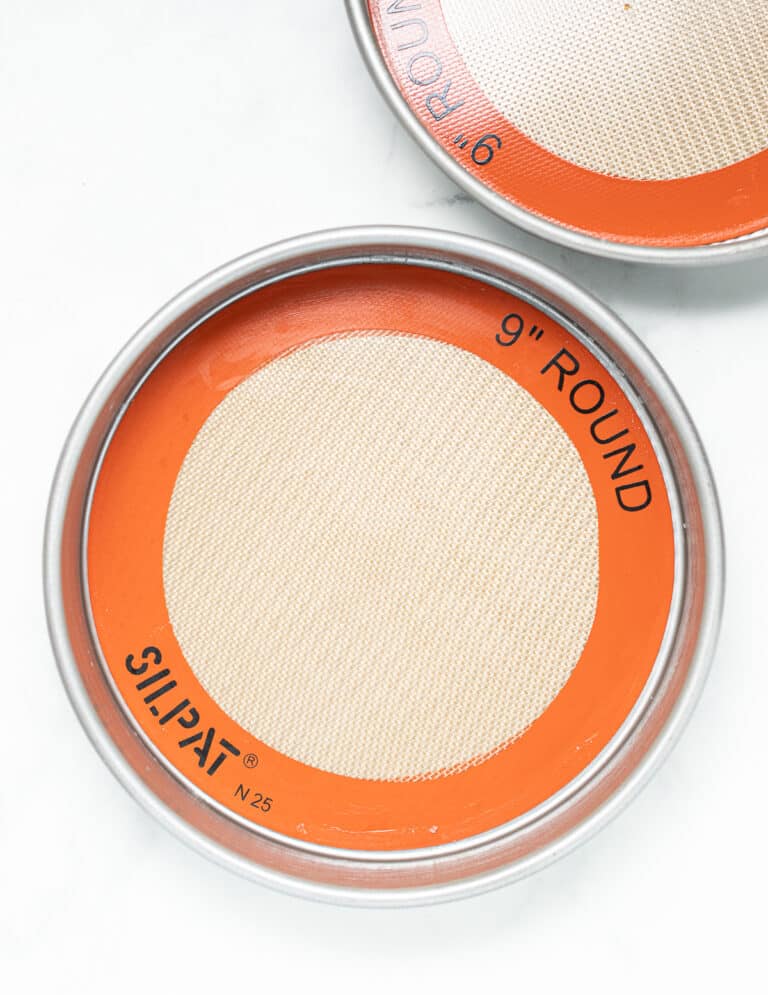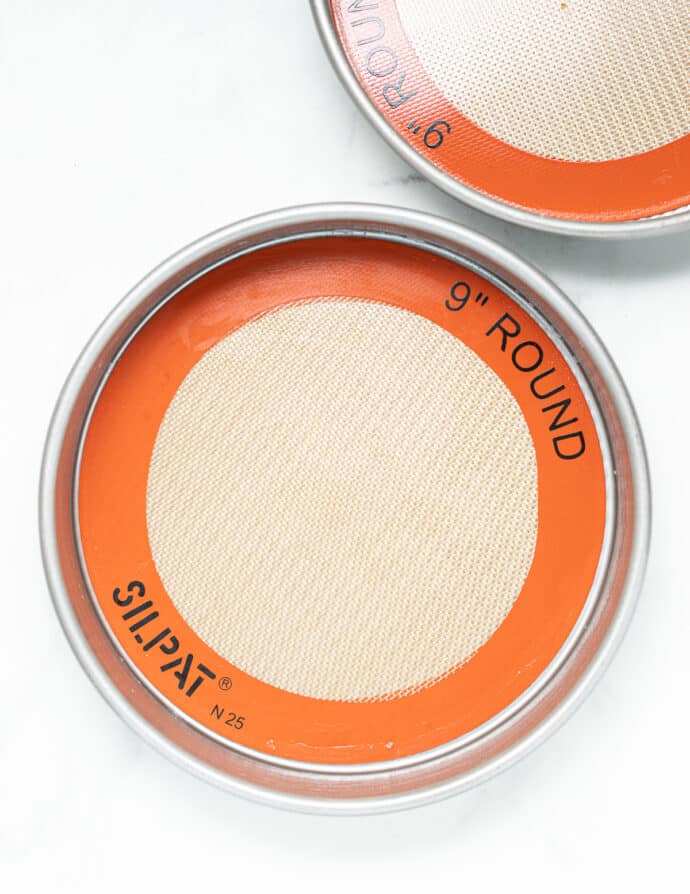 And although they release perfectly, for extra reassurance as no-one wants to risk damaging their cake while getting it out of the pan, it's best to line the bottom of the pans. I've just invested in some of these Silpat Cake Pan Liners and they make a great alternative to parchment paper.
How to make vegan carrot cake
It might feel daunting but carrot cake is actually not that difficult to make. Here's how it's done:
Step 1: Mix the dry ingredients together in a bowl.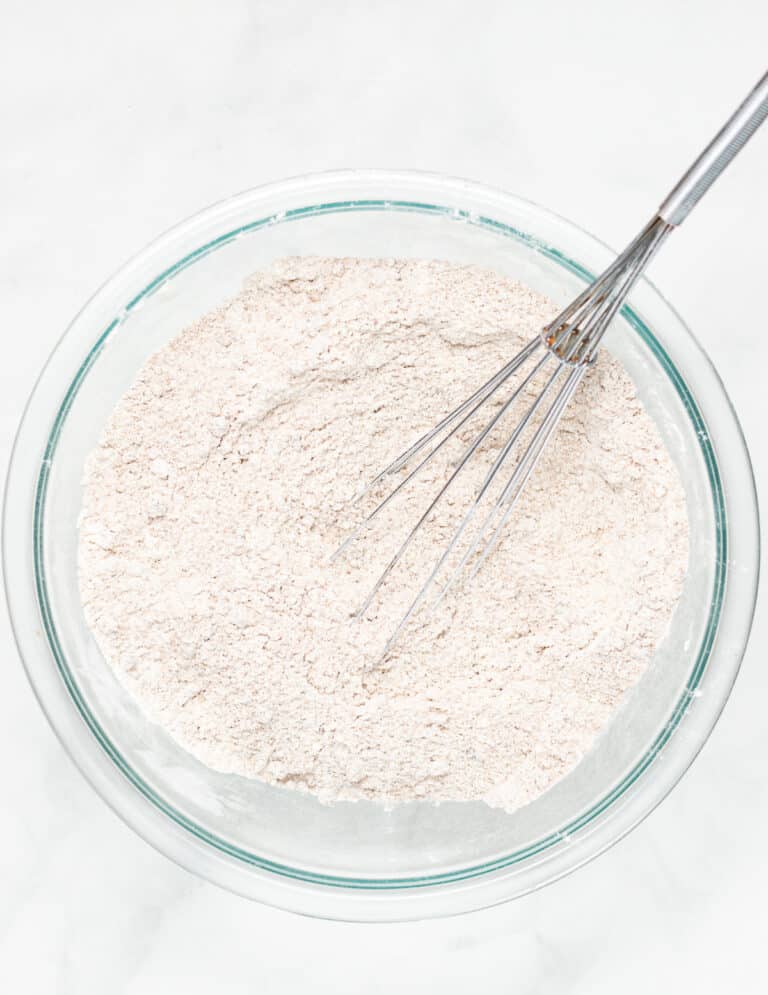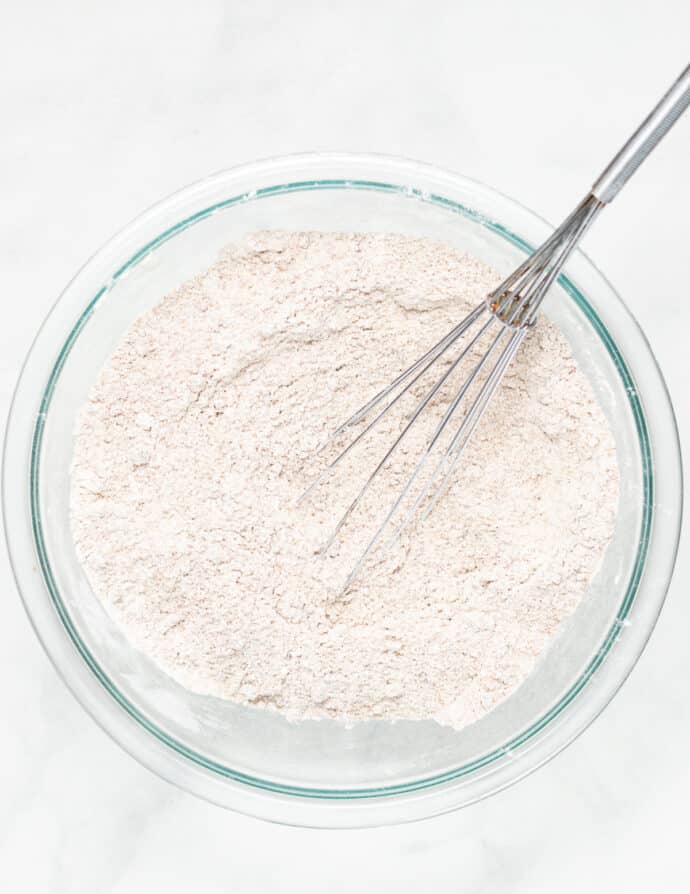 Step 2: Mix the liquid ingredients together in another bowl or jug.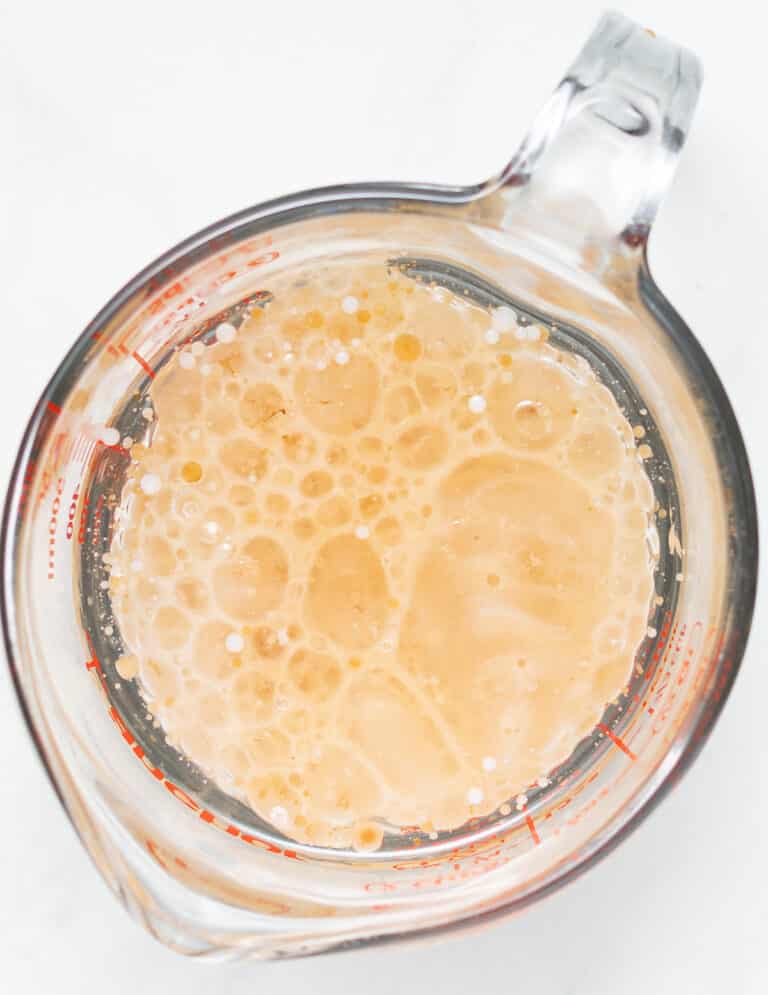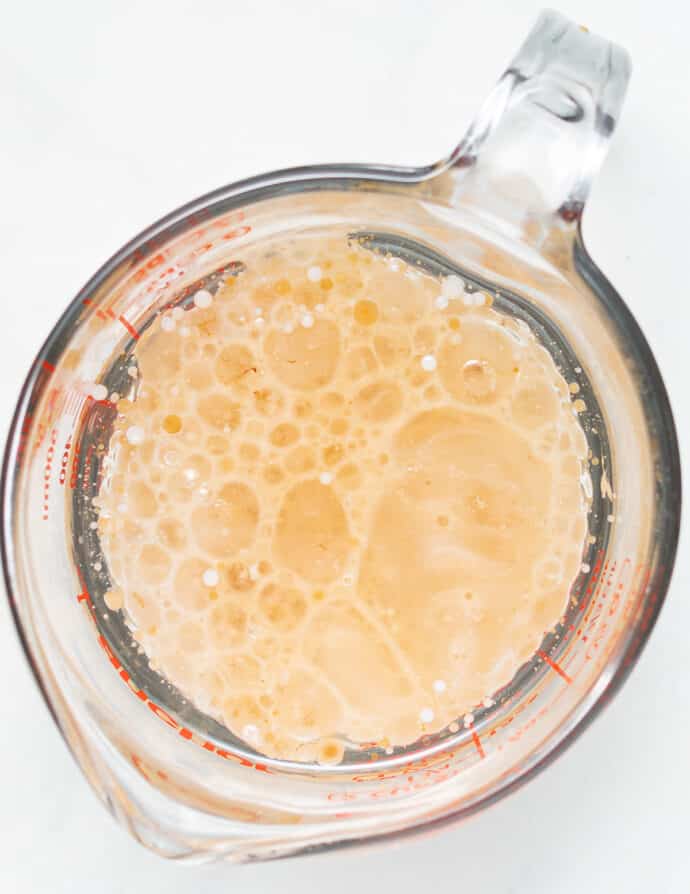 Step 3: Add the carrots, pineapple, nuts and raisins to the dry ingredients and pour in the liquid ingredients.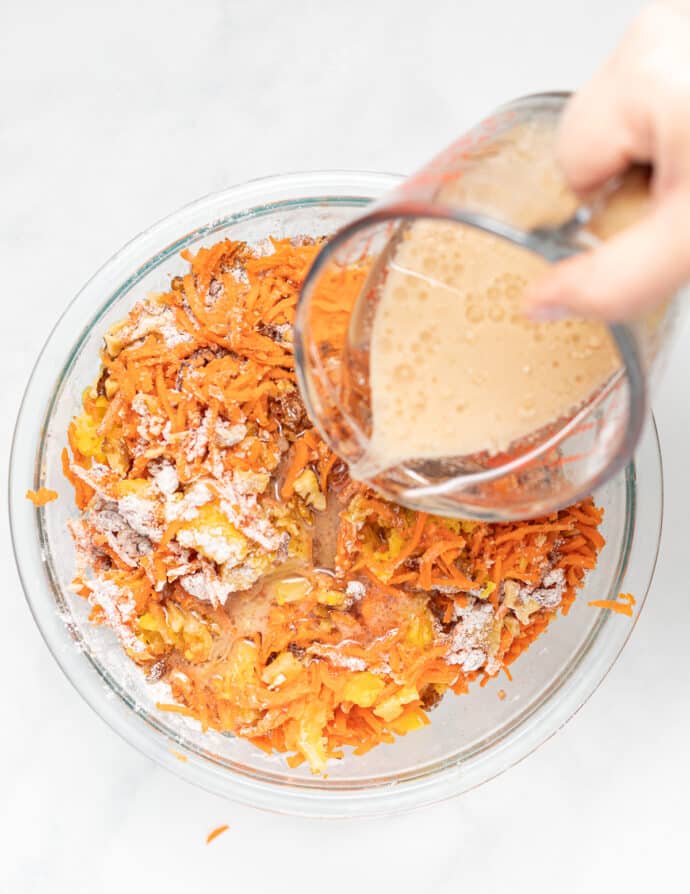 Step 4: Mix them up gently to make a very thick cake batter.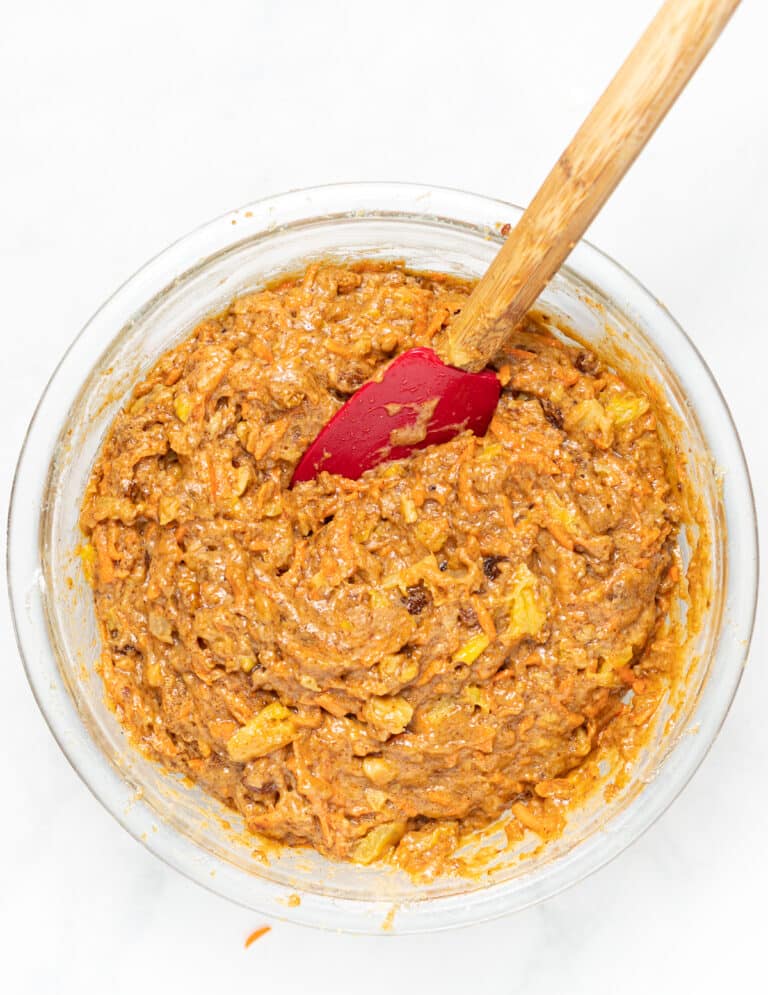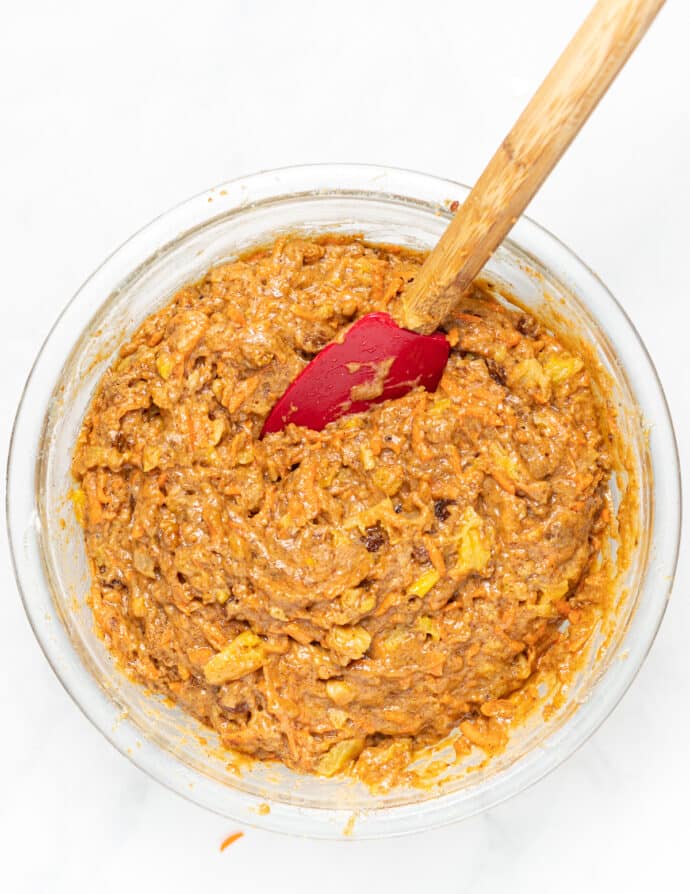 Step 5: Spoon into 2 cake pans and smooth the tops then bake.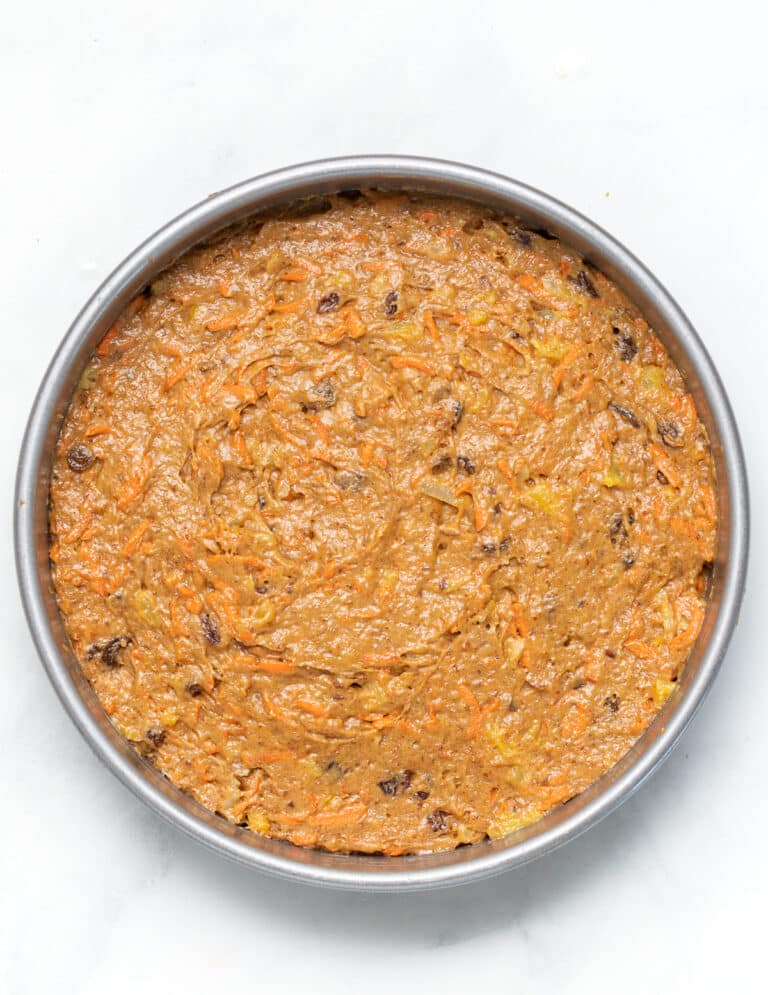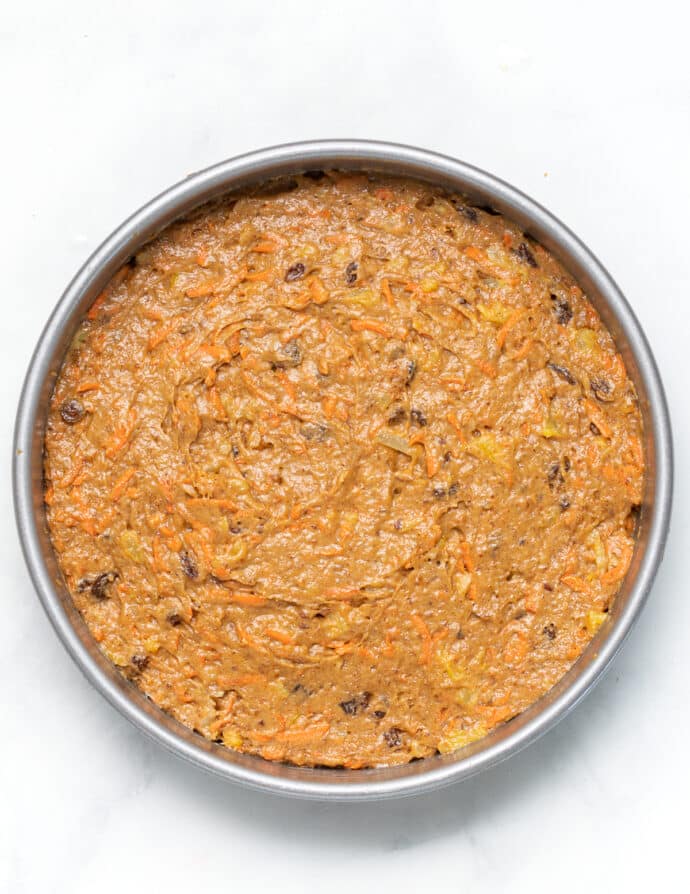 Step 6: Leave to cool in the pan.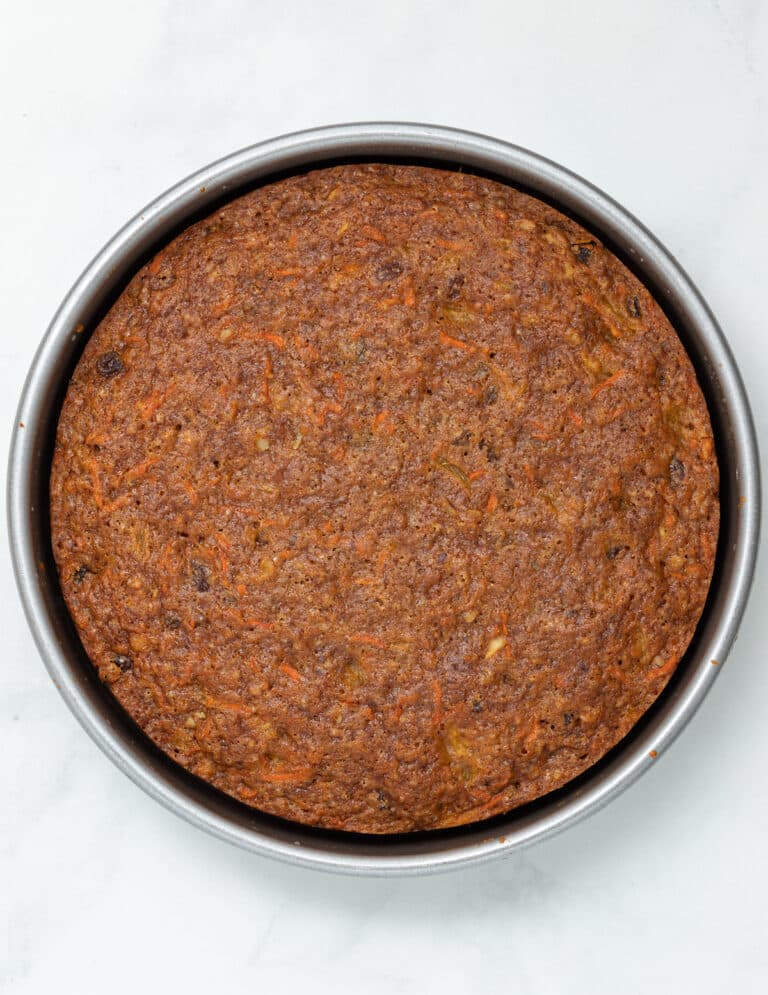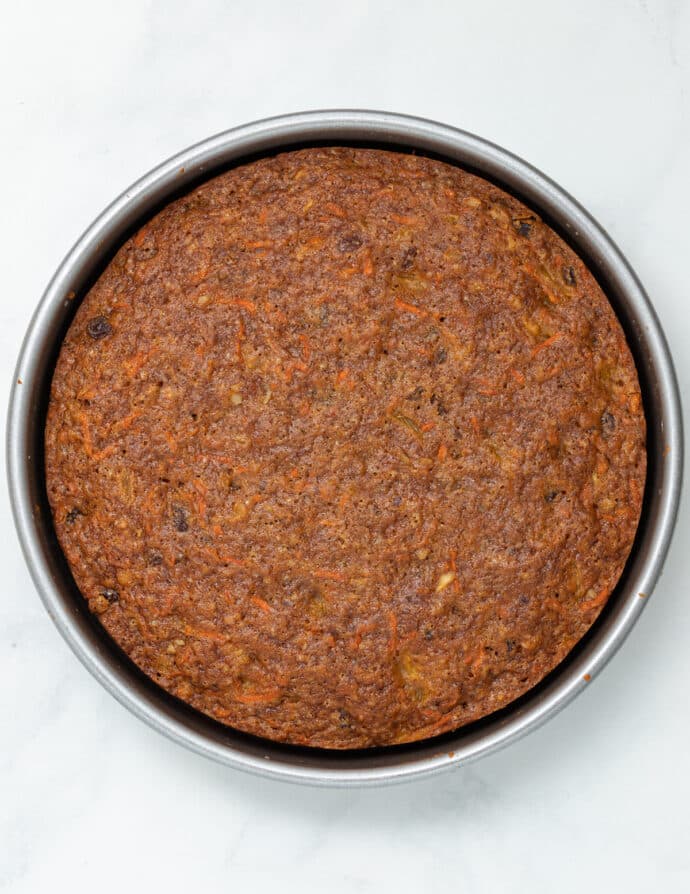 Step 7: Make the frosting.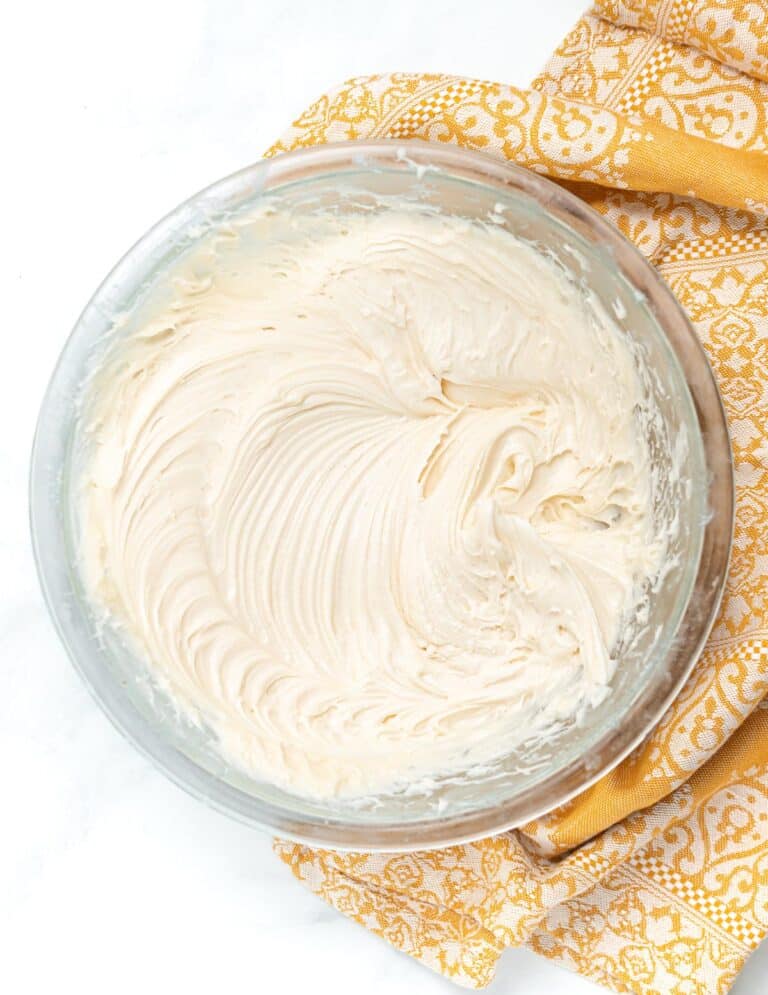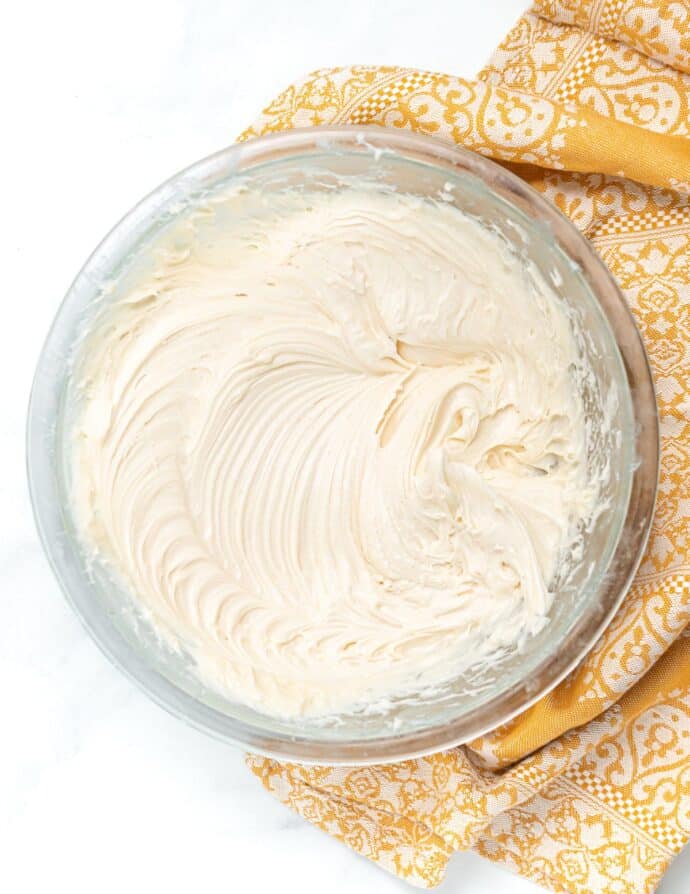 Step 8: Remove one layer from its pan, place on a serving plate and peel off silicone/parchment paper liner.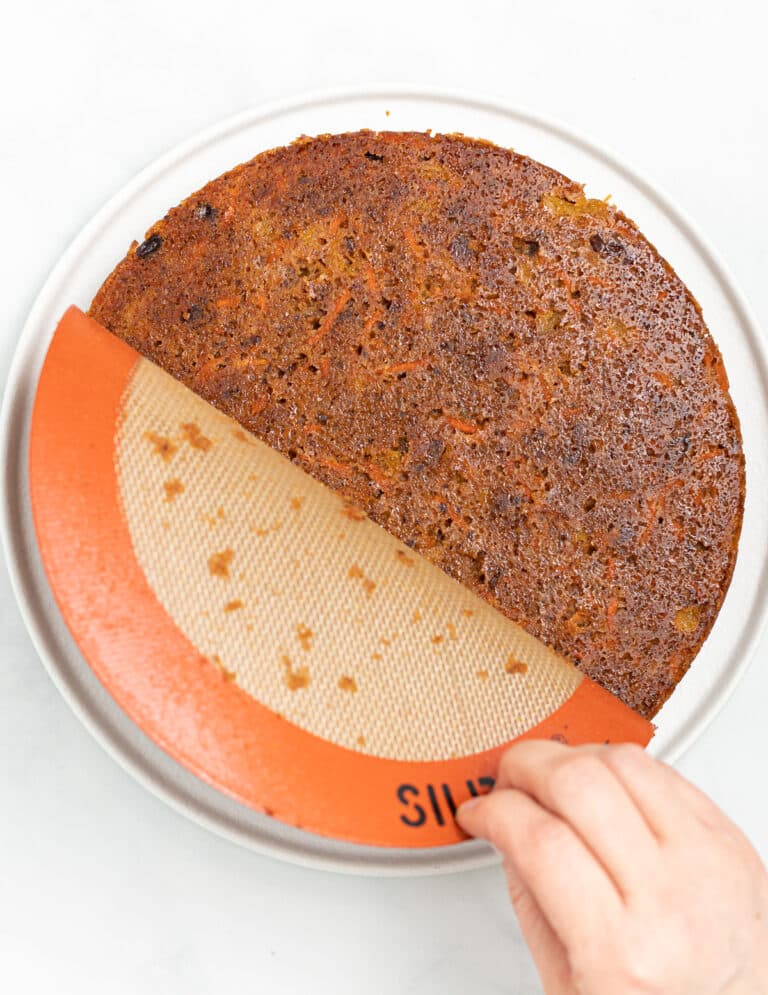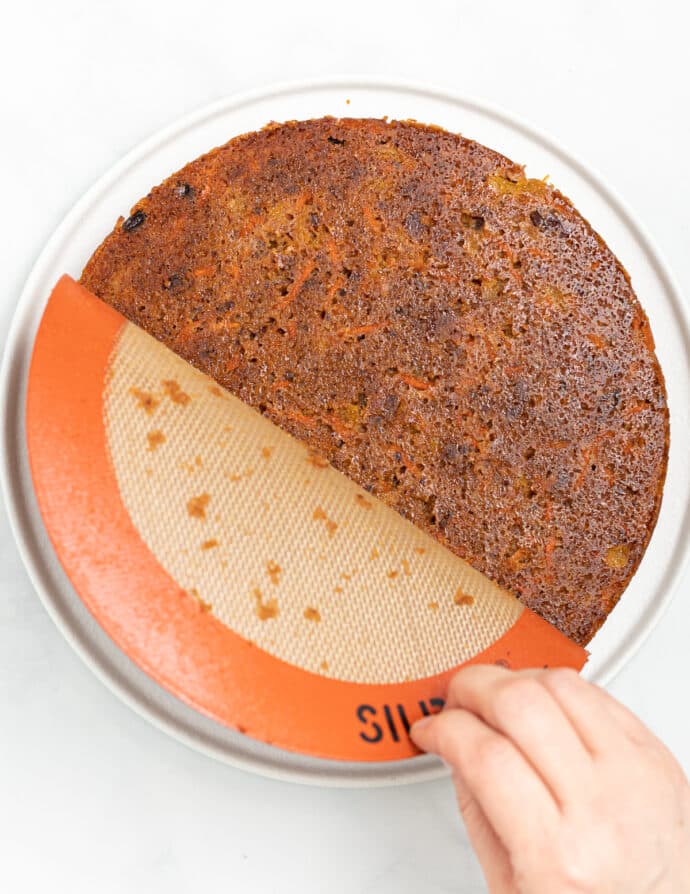 Step 9: Dollop on some frosting.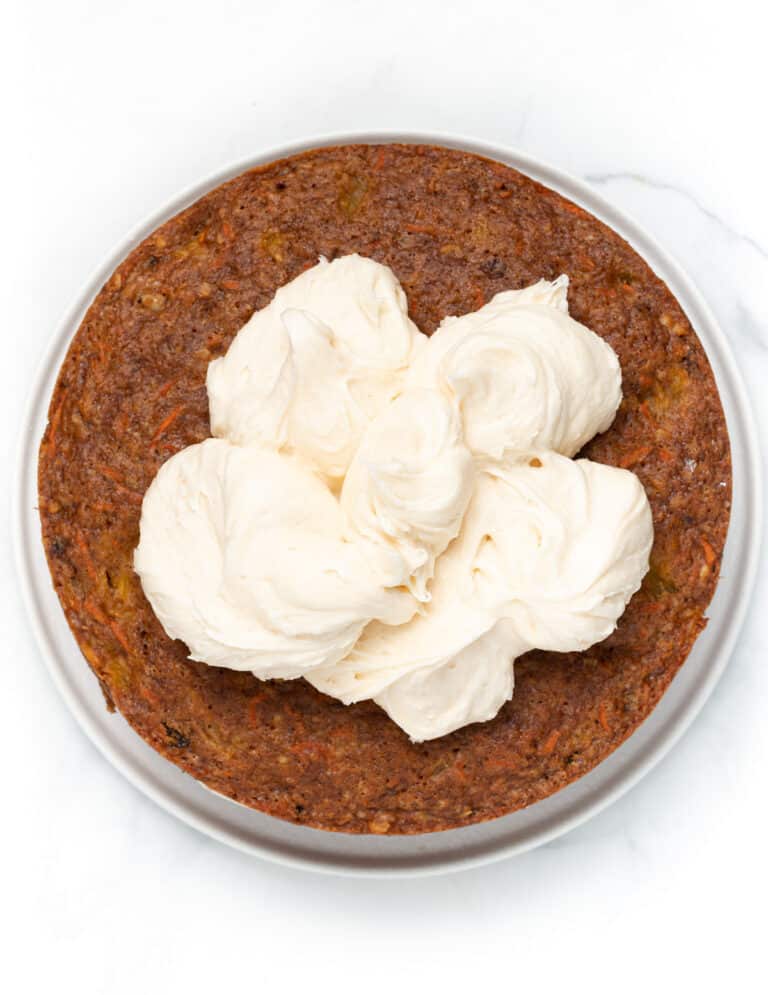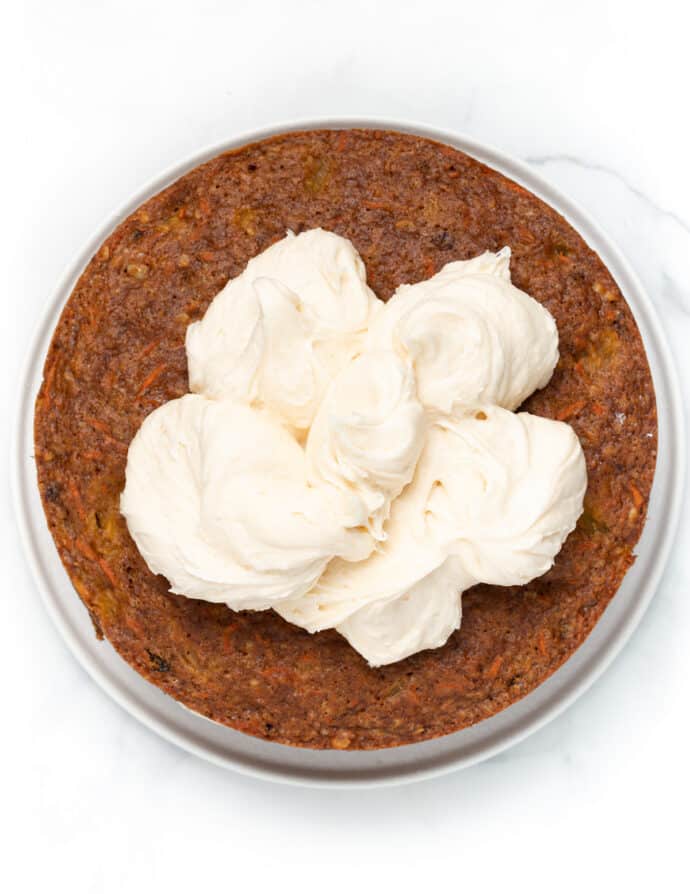 Step 10: Spread it out evenly with a spatula or pallet knife. Don't be shy about layering it up really thickly!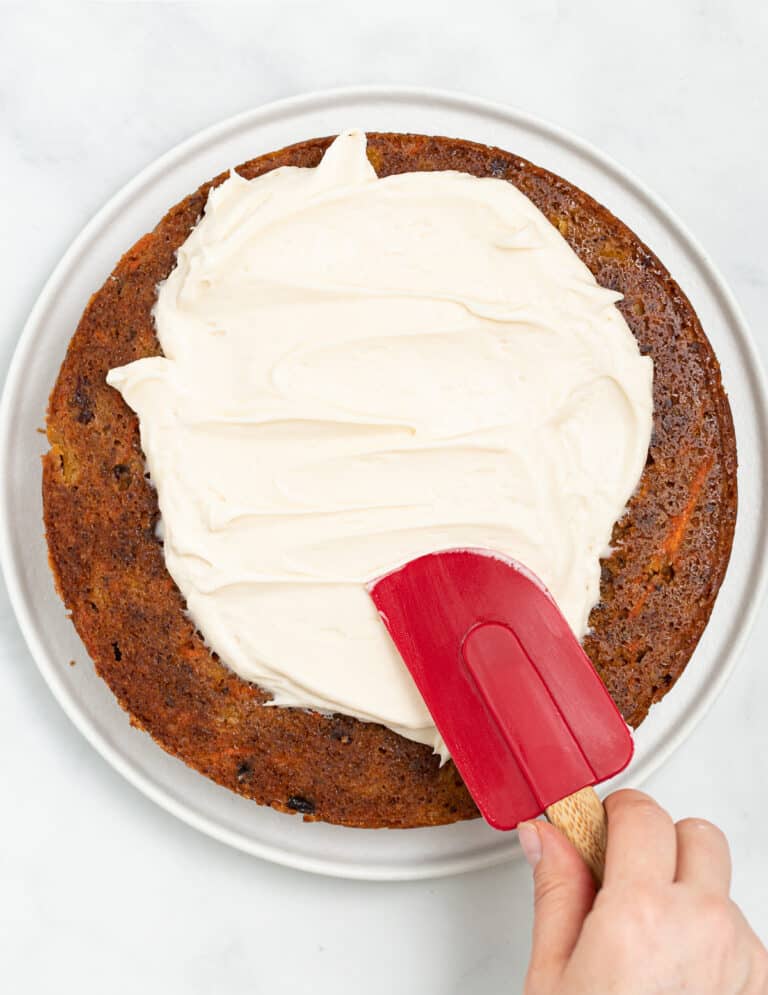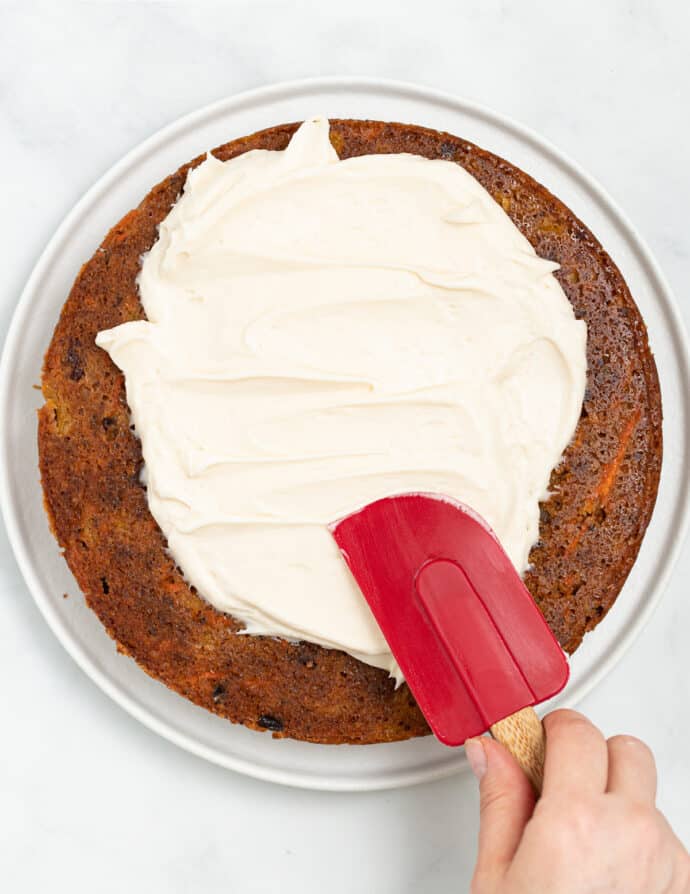 Step 11: Add the top layer and spread more frosting over the top and sides.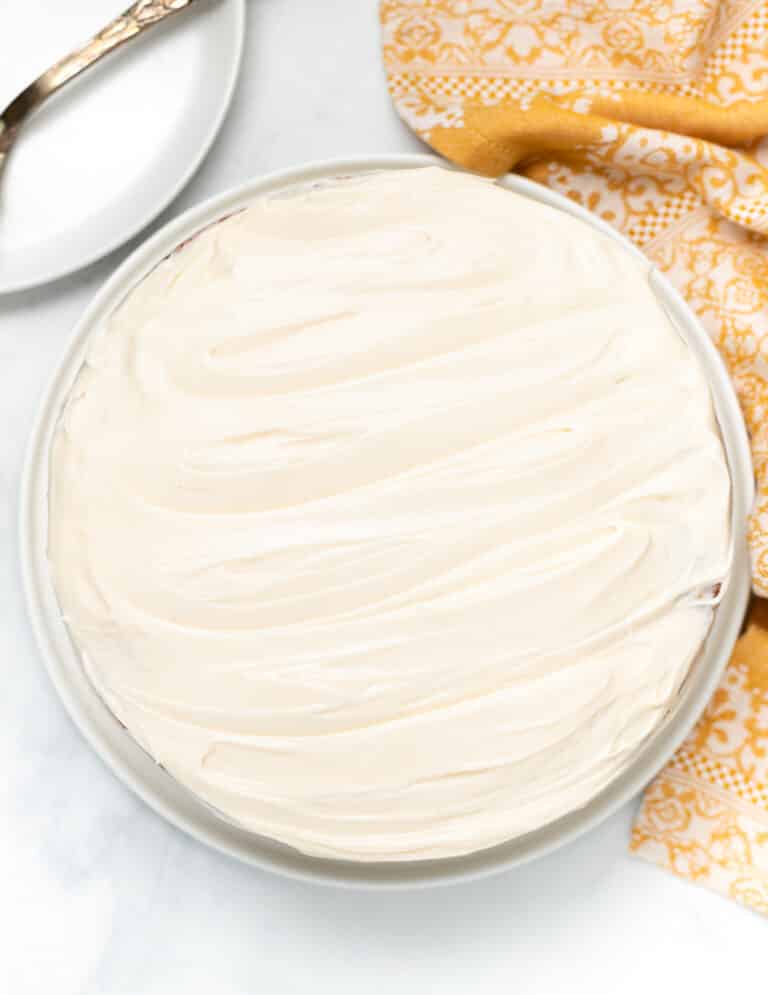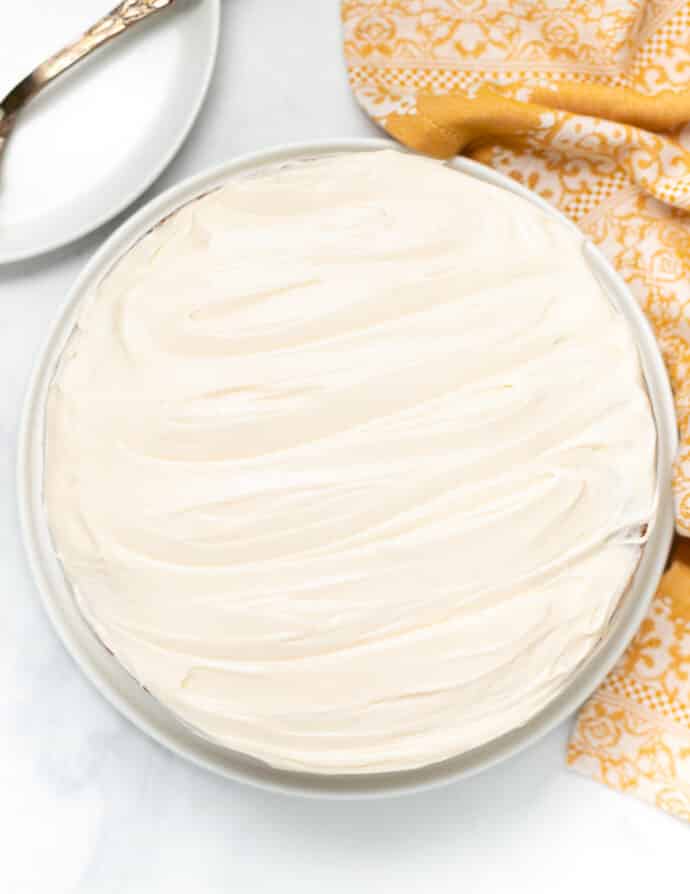 I went for a rustic look but feel free to get fancy with some fancy piping or garnishes. You could use chunks of pineapples, nuts, toasted coconut, cake crumbs, candied carrot shavings or store bought cake decorations.
How do you grate carrots for carrot cake?
For this recipe you need 2 cups of grated carrot which works out to be about 3 large carrots. I don't recommend using pre-grated carrots from the grocery store because they don't have as much flavour as freshly grated carrot and they are much drier and harder. We want the moisture from the carrot because it's what helps make our cake nice and moist. It also adds flavour.
Before you grate the carrots you need to peel them and cut the tops off. Then:
In a food processor with a grater attachment - Remember those attachments that came with your food processor? Well it's time to dig them out because the shredding one does a fantastic job at grating carrot and other fruits/veggies like zucchini and apple. It's by far the quickest and easiest way to do it. I think it took probably about 20 seconds tops to do mine that way.
In a food processor without a grating attachment - If you have a food processor (or a blender) but don't have a grating attachment you can use the blade instead. Simply break the carrots up so they fit into the bowl easily and then pulse until they are chopped into small pieces. Be careful you don't go too far and make them really tiny in size because some flecks of carrot throughout the cake are nice texturally and visually.
With a box grater - The manual method and to be honest it doesn't actually take long. Just be careful of your fingers!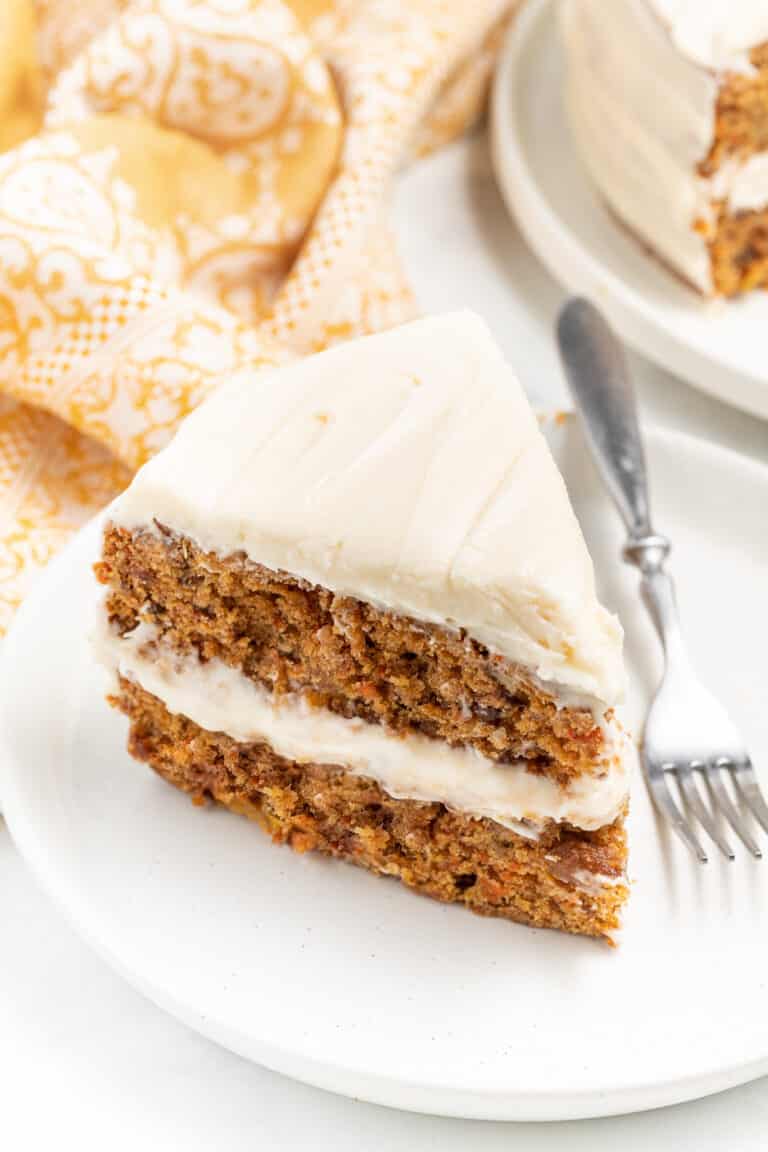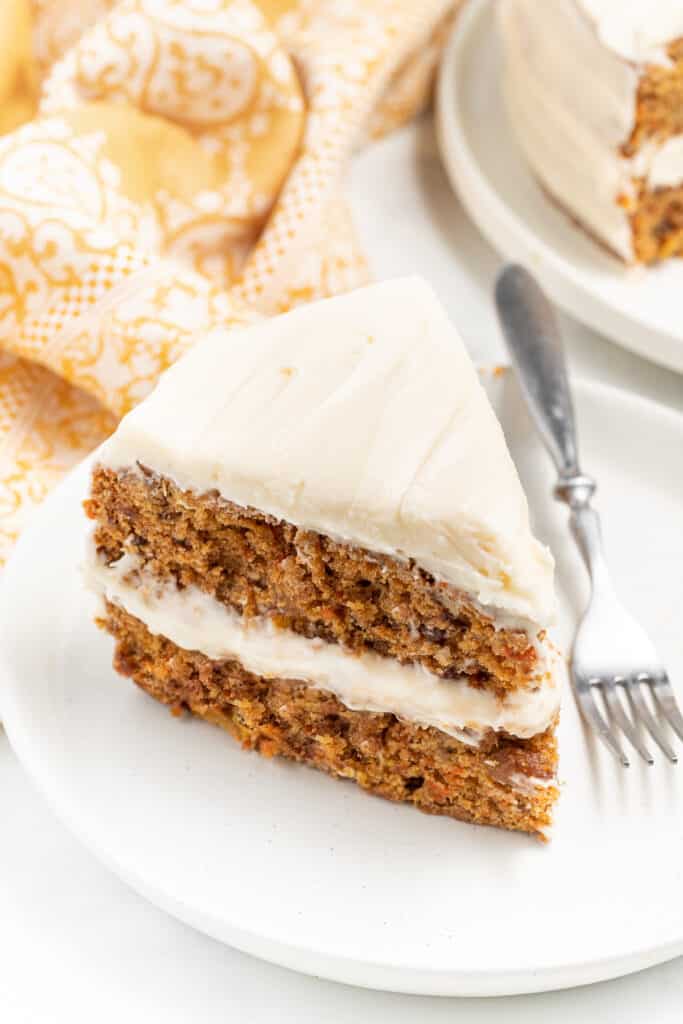 What frosting goes on carrot cake?
The traditional and most common way to frost a carrot cake is with cream cheese frosting. The two pair so well together. This recipe uses my Vegan Cream Cheese Frosting recipe. It's creamy and smooth and it tastes unbelievable with this cake's deep spice flavor.
If you don't want to use cream cheese frosting though you have some other options which could include:
Regular vegan buttercream frosting
A simple powdered sugar glaze like the one I use in my Sticky Lemon Strawberry Sweet Rolls. Follow that recipe but use orange juice or plant milk instead of lemon juice.
Or you could skip the frosting and make some maple butter (softened vegan butter mixed with maple syrup) and dollop it on to individual slices of warm cake.
You can also bake it in a loaf pan (see my pan alternatives below) and use no frosting or glaze at all.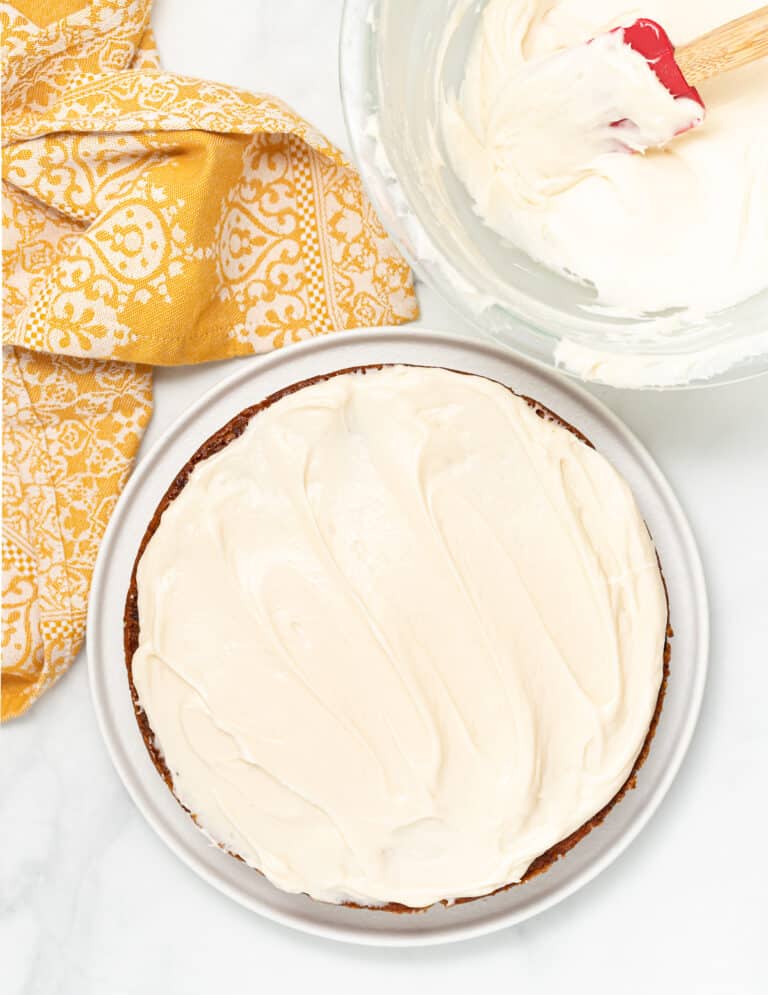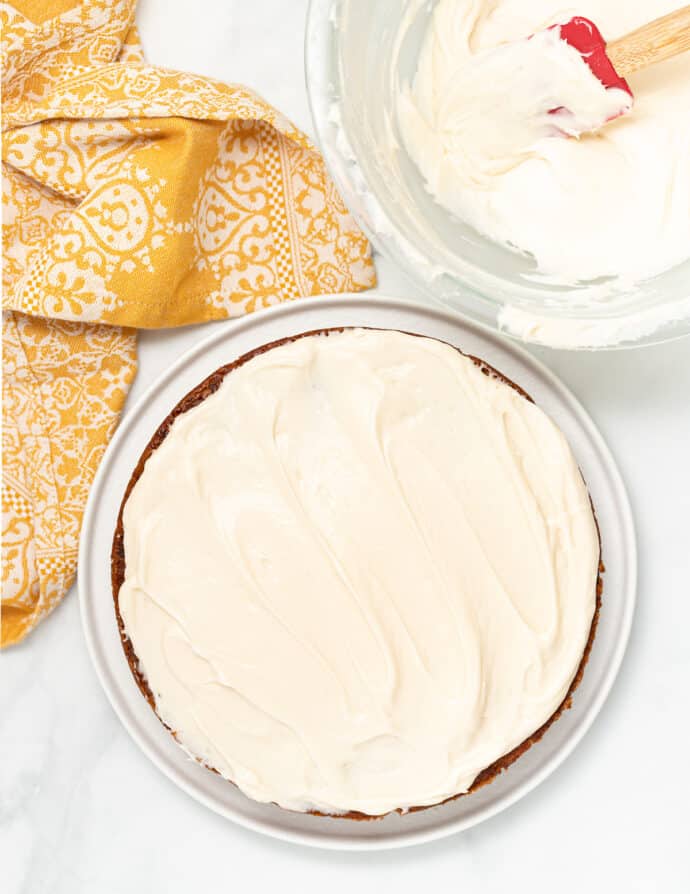 Success tips
Line the bottom of your cake pans and grease the side.
Use freshly grated carrots.
Follow the recipe closely.
Weigh the ingredients and use a measuring spoon when appropriate.
If using melted coconut oil in the cake batter be sure your other ingredients are at room temperature to avoid it solidifying when you pour it in.
With the exception of spices, don't substitute ingredients. Especially ones that have structural impact. Every ingredient in this cake plays an important part in making the recipe successful.
Don't add anymore than 1 teaspoon of extract to the frosting. It's important to keep liquid to a minimum.
Don't over mix the batter.
Be sure to squeeze the liquid out of the pineapple as directed.
Cool the cakes in their tins to trap the steam and keep them super moist.
Vegan cream cheese isn't as stable as regular non-vegan cream cheese and over-beating it can make it too loose. Be sure to follow my directions for beating the vegan butter on it's own first before adding the cream cheese and don't skip the arrowroot!
Don't frost until the cake layers are completely cool.
The frosting is stable and stays thick and manageable , but if it starts to get too soft while you are frosting the cake, just pop the bowl of frosting, or the cake with frosting on in the fridge for 15 to 20 minutes before continuing.
Why is my carrot cake crumbly?
Carrot cake should be stick to your fork moist, not dry and crumbly. If you follow this recipe exactly with no changes it should turn out perfectly.
If it is crumbly this could be because:
You changed the recipe slightly. Maybe you switched out one of the ingredients for something else? Every ingredient in this cake except the raisins, nuts and spice, plays an important part in the structure of the cake and it's important you follow the recipe exactly.
You over-mixed the batter.
You over-baked it. Cooking times are approximate because everyone's oven is slightly different and everyone uses a different pan. Use the time as a guide and check yourself. It could be ready a little quicker or it could take a little while longer to be cooked through.
You are baking at a high elevation or in an extremely dry climate
You turned it out of the pan too early.
The ingredients were not measured accurately. For best results when baking you must use a digital kitchen scale.
Ways you can adapt this recipe
Here are some carrot cake variations that you could try:
Omit the raisins
Omit the nuts
Add up to ¼ cup / 25 grams shredded coconut to the batter and/or decorate the top and/or the sides with shredded coconut pressed gently into the frosting
Add the zest of one orange to the cake batter
Add orange, lemon or coconut extract to the cream cheese frosting instead of vanilla (don't use any more than 1 teaspoon though)
Add ½ teaspoon of cinnamon to the cream cheese frosting.
Use a regular buttercream frosting or a glaze
To make vegan carrot cake gluten-free use a good 1 for 1 all purpose gluten-free flour like Bob's Red Mill 1 to 1.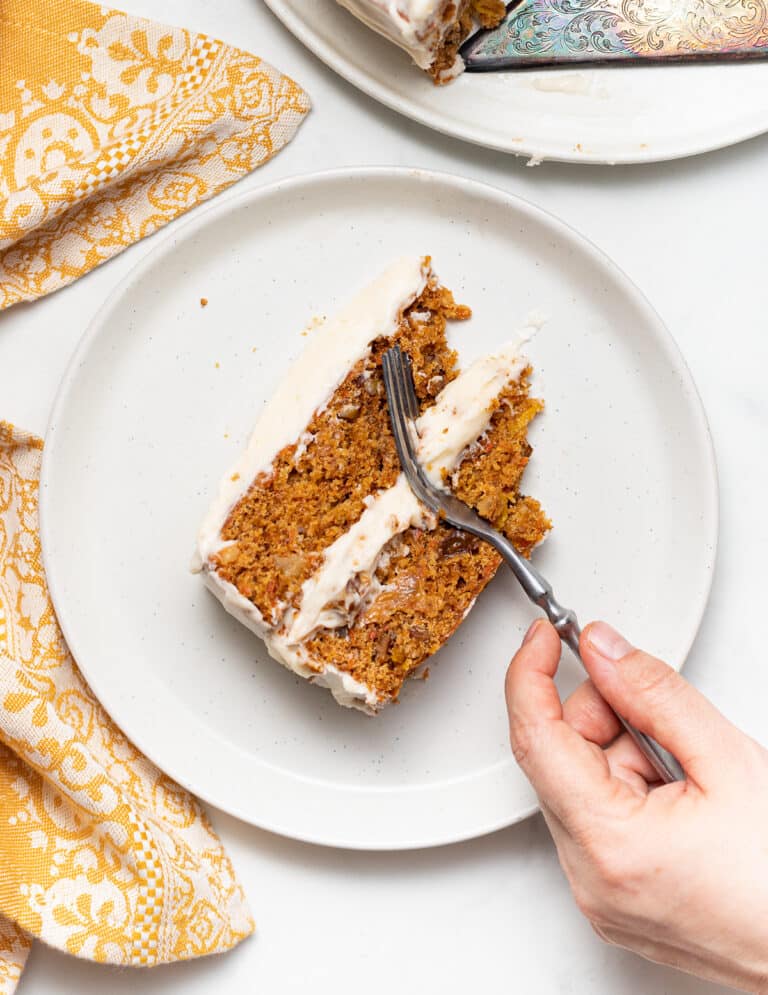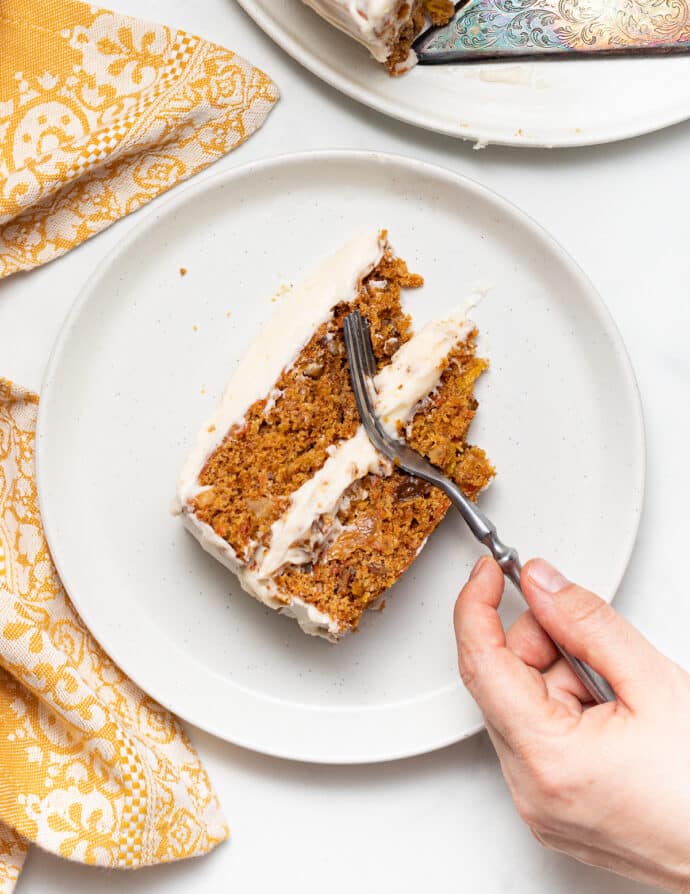 Cake pan substitutions
Two 10 inch cake pans - The layers will just be thinner
9 x 5 inch loaf pan - Half the recipe
8 x 8 inch square pan - Half the recipe
Muffin pans - This full recipe will make about 36 muffins so you might want to reduce it by half or two thirds.
Remember to adjust the cooking time to suit. The oven temperature can remain the same.
Note that this recipe will likely have too much batter for two 8 inch pans unless you are happy to have a little batter leftover. You could always bake a couple of muffins to use it up or make a mug cake or two in the microwave!
How do you store carrot cake and how long does it last?
The cake can be made the day before it's needed. Bake the layers and allow them to cool in the pans as described. Then cover tightly and leave at room temperature overnight. Don't refrigerate them at this stage. The texture of a cake changes once it's been chilled and because it hasn't been frosted yet its fine to store it out of the fridge.
The vegan cream cheese frosting can also be made the day before, covered tightly and refrigerated. When you are ready to decorate, remove the frosting from the fridge and allow it to sit at room temperature for about 10 minutes so that it softens slightly. Then give it a quick mix with the electric mixer to fluff it up before frosting the cake.
Cover leftover frosted cake tightly and store in the refrigerator for up to 5 days.
Can you freeze carrot cake?
The cake layers can be frozen for up to 3 months. Be sure to wrap them very well and defrost overnight in the fridge before frosting.
I have not tried freezing the cream cheese frosting but as most vegan cream cheeses are tofu-based I would imagine that it might get a little grainy once frozen and defrosted. Probably a lot slacker too. I would recommend making the frosting fresh, or the day before needed, rather than freezing it to be safe. .
Is carrot cake healthier than regular cake?
Well, it depends on how you look at it. It has got way more fruit and vegetable in it than most cakes, but it also has lots of sugar, oil and vegan butter so it isn't what you could call healthy. In my opinion though, if you are going to indulge in cake you might as well make sure it's a good one! It is a treat after all and not something you will be eating every day.
---
Hungry for more?
If you love this vegan carrot cake recipe you might also enjoy:
Subscribe to my email list for a fabulous FREE eCookbook featuring my top 10 recipes. Being on the list means you will be first to see my new recipes and you'll be kept in the loop on all things new and exciting too. Also be sure to check out my cookbook Vegan Comfort Cooking for even more recipes!
📖 Recipe
Vegan Carrot Cake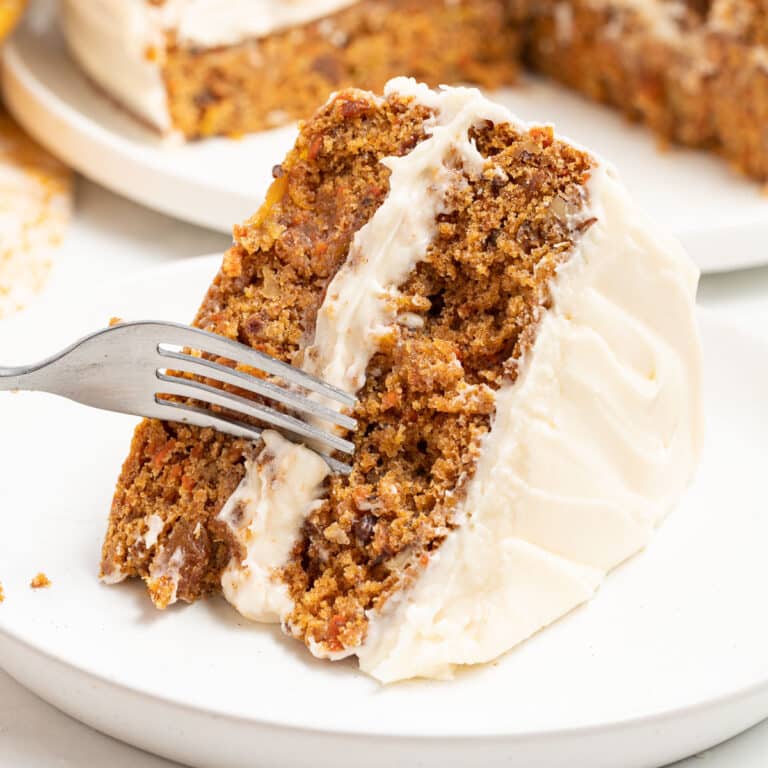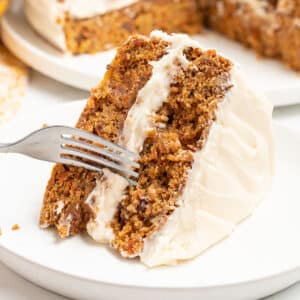 The perfect Vegan Carrot Cake! It's perfectly spiced with a super moist crumb and is smothered in decadent, ultra-creamy vegan cream cheese frosting.
Ingredients
3 ¼ cups + 2 teaspoons / 410

grams

all purpose flour

, (plain flour in the UK) see notes for GF

1½ cup / 300

grams

brown sugar

, preferably dark but light is ok

½ cup / 100

grams

granulated white or cane sugar

1

teaspoon

fine salt

1¼

teaspoon

baking soda

, (bicarbonate of soda in the UK)

1

tablespoon

baking powder

3

tablespoons

ground flax seed , as it is out of the packet. You do not need to make a flax egg

2

teaspoons

ground cinnamon

1¼

teaspoons

ground ginger

½

teaspoon

ground nutmeg

½

teaspoon

ground cloves

¾ cup / 180

mls

liquid oil

, avocado oil, sunflower oil, vegetable oil, canola oil, melted coconut oil are all fine but don't use vegan butter

1 cup / 240

mls

unsweetened plant milk

2

tablespoons

apple cider vinegar

4

teaspoons

vanilla extract

2 packed cups / 240 g / about

3 large

grated carrots

1¼ cup / 130

grams

pecans or walnuts

, chopped into small pieces (omit to make nut-free)

1 cup / 160

g

sultanas/golden raisins

1 cup / 220

g

pineapple

, chopped finely, see recipe notes re squeezing out liquid
Vegan Cream Cheese Frosting
INSTRUCTIONS
Preheat oven to 350°F (175 °C) and prepare two 9 inch cake pans. Line the bottoms with a circle of parchment paper or a silicone cake pan liner and grease the sides well with some oil or vegan butter. Set aside for now away from the hot oven.

To a large mixing bowl add the flour, sugar, salt, baking soda, baking powder, flax, cinnamon, ginger, nutmeg and cloves. Mix them together well.

To another bowl or jug add the oil, milk, vinegar and vanilla and stir them up.

Put the grated carrots, chopped pineapple and nuts in the bowl with the dry ingredients and pour in the wet ingredients. Stir it all together well but gently, making sure you scrape right into the bottom but don't over mix. Just keep going until you can no longer see any dry flour.

Immediately spoon evenly into the prepared cake pans. Even out with a spatula and bake for approximately 45 minutes. The time will vary depending on your oven, the colour/material of your pans etc so check them a little before that and don't worry if they take a few minutes longer. Use a toothpick or metal skewer to test done-ness. A few moist crumbs might stick but otherwise it should be clean. The sides of the cake should be coming away from the edges of the pan and when you poke the cake gently with a finger in the centre it should spring back.

Remove the cakes from the oven and place them on a cooling rack in their pans. Don't remove them from the pans until they are cool. This helps keep the cakes nice and moist. Allow a good few hours for them to cool completely.

Make the vegan cream cheese frosting. Add the vegan butter to a large bowl and beat it with an electric mixer on a medium high speed until soft and fluffy. Add the cream cheese and beat again until combined and smooth.

Now add the arrowroot powder, salt, vanilla and about 2 cups of the powdered sugar. Beat on the lowest speed for about 20 seconds until the powdered sugar has stopped flying around, then add another 2 cups. Beat again on low until it's mostly combined then turn the speed up to medium high again and beat until smooth and creamy, scraping down the edges with a spatula as needed to get any dry powdered sugar off and into the mix. Add the remaining powdered sugar to thicken it as needed. Using it all makes the frosting much easier to handle and the cake easier to frost and slice. Do not be tempted to add any more liquid to the frosting at any stage because it will become too runny. Once done, cover the bowl and put in the fridge until needed.

When the cake is completely cool, carefully remove one layer from its pan and place on a serving plate or cake stand, lined side up. Gently peel off the parchment paper/silicone liner.

Remove the frosting from the fridge. If it feels too firm to spread leave it to soften for 10 minutes or so. (If you keep it in the fridge any longer than that it might need another quick 20 second beat to fluff it up again). Dollop the frosting generously onto the cake, making sure you save enough in the bowl for the top and sides. Spread it out evenly with a spatula or pallet knife, taking it almost but not quite to the edges. If at any point in the process the frosting starts softening too much just pop it and the cake in the fridge until it firm up a bit.

Remove the other cake from its pan and place very gently on top of the frosted layer, lined side up. Peel off the liner gently and dollop on the remaining frosting. Spread it all over the top and down the sides if desired.

To make slicing easier refrigerate the cake for at least 30 minutes before cutting into it.

Cover leftovers tightly and store in the fridge for up to 5 days.
NOTES
This recipe has been created using my Vegan Cream Cheese Frosting recipe. For even more detailed information about it, including success tips and substitution ideas please check out the post. 
---
For the very best results, weighing the ingredients with a digital kitchen scale and measuring with measuring spoons where appropriate is highly recommended. Cup measurements just aren't accurate enough when baking.
---
Pineapple - Measure and weigh it after squeezing most of the liquid out of it in your hand. Just gather it up in your fist and squeeze over a bowl or the sink. No need to go crazy but just get most of it out.
I use canned pineapple chunks and chopped them into small pieces. You could also use canned crushed pineapple. Fresh pineapple chopped into small pieces is fine too. 
Vegan Butter - A firmer butter like Earth Balance or my Vegan Butter recipe is recommended. Soft butters like Becel will lead to much softer/looser frosting. 
Arrowroot powder - Also sometimes called arrowroot starch or arrowroot flour. This really helps keep the frosting stable, thicker and firmer. You could use cornstarch instead but arrowroot works best and dissolves better. 
The frosting - The frosting is pretty stable thanks to the arrowroot powder, but if you want  to pipe with it I recommend chilling it in the fridge for about 30 minutes. This will ensure it holds it's shape. Do not add any liquid to the frosting other than the 1 teaspoon of vanilla extract (or alternative extract if desired). Any more will affect the outcome of the frosting.   
---
PAN SIZE NOTES:
Cut this recipe in half to make:
one 9 inch round cake
one 9 x 5 inch loaf cake
one 8 x 8 inch square cake 
Remember to adjust the cooking time to suit. The oven temperature can remain the same but remember to adjust the cooking time to suit. Bake until the center of the cake is springy to the touch and a toothpick comes out clean (timing will depend on the pans used).
Make the recipe as vegan carrot cake cupcakes instead of a cake. Fill cupcake liners almost to the top and bake on 350°F (175°C) for approximately 23 to 25 minutes. Check doneness with a toothpick. This full recipe will make about 36 muffins so you might want to reduce it by half or two thirds.
---
GLUTEN FREE?  To make vegan carrot cake gluten-free use a good 1 for 1 all purpose gluten-free flour like Bob's Red Mill 1 to 1.
---
STORAGE & FREEZING:  For detailed storing and freezing tips see the post above.
NUTRITION
Serving:
1
of 12 large slices
Calories:
639
kcal
Carbohydrates:
103
g
Protein:
5
g
Fat:
25
g
Saturated Fat:
4
g
Sodium:
431
mg
Potassium:
317
mg
Fiber:
4
g
Sugar:
73
g
Vitamin A:
2885
IU
Vitamin C:
3
mg
Calcium:
90
mg
Iron:
2
mg
Nutritional information is provided for convenience & as a courtesy. The data is a computer generated estimate so should be used as a guide only.
Tried this recipe?
Rate it & leave your feedback in the comments section below, or tag @avirtualvegan on Instagram and hashtag it #avirtualvegan