These Oatmeal Chocolate Chip Cookie Bars are perfectly soft & chewy, made healthier with oat flour & no oil, and they are absolutely delicious!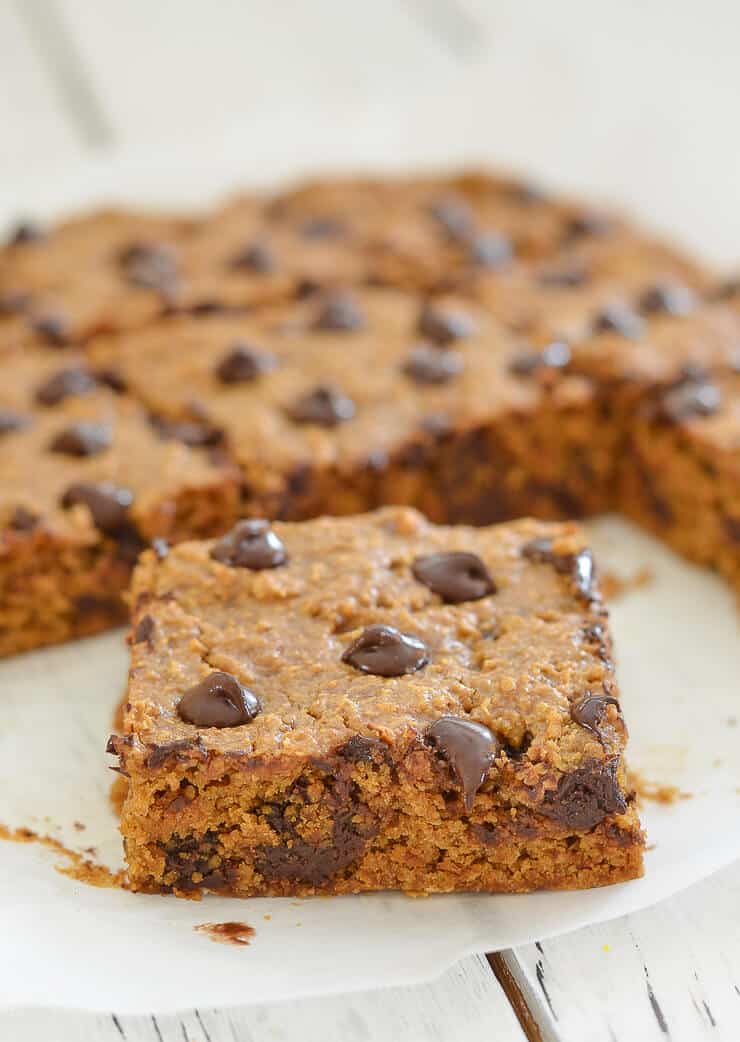 It's a chocolate cookie kind of day, but not your regular "cookie" shaped cookies. These bad boys are breaking the rules and taking bar form!
SSSHHH! DON'T SAY THE "C" WORD!
Cookies in our house are known as c-double o-k-i-e-s's. The word "cookie" is banned because if our dog Chester hears it he goes crazy thinking that I am going to make him some of his Peanut Butter Banana Dog Cookies or his Sweet Potato Dog Cookies. My life would not be worth living if he heard the word and I did not produce said c-double o-k-i-e-s's.
It's a good job he can't read as otherwise I would be in trouble right now. ????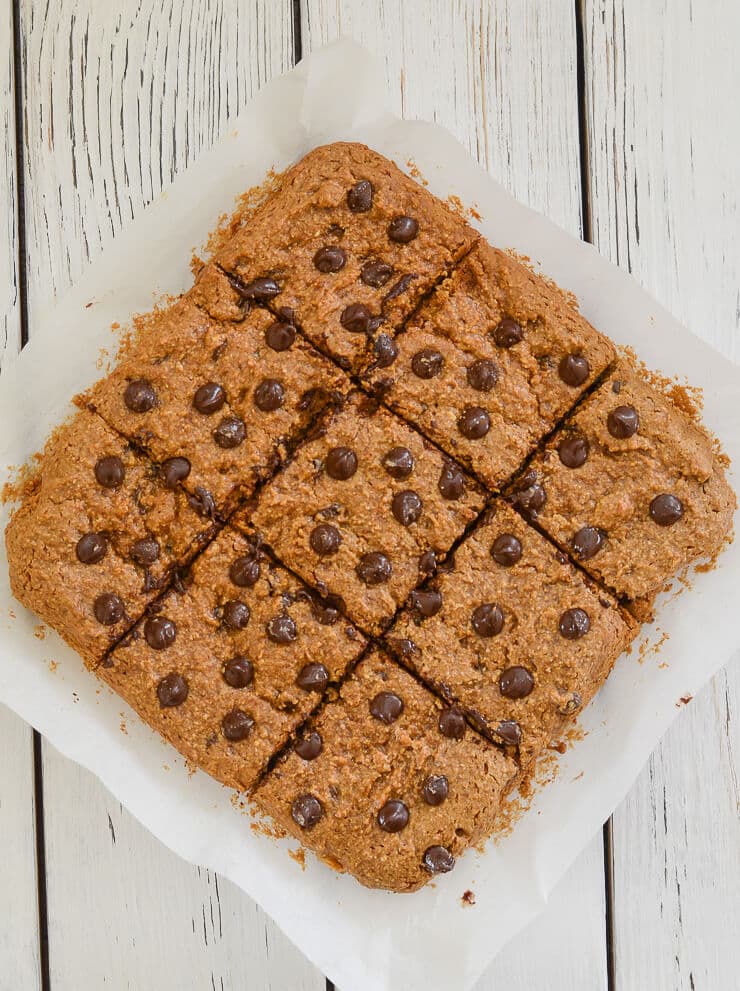 Since I reviewed Ashley Melillo's book Blissful Basil back in January, I have been gradually, (in what little time I have for cooking other people's recipes), working my way through the rest of the book. That Power Bowl recipe I shared has been on regular meal rotation. It's so good!
One of the recipes we have all really enjoyed from the book are the Chocolate Chip Coconut Oil Cookie Bars and this recipe has inspired me to create my own completely oil-free Oatmeal Chocolate Chip Cookie Bar recipe.
These cookie bars are so easy to make. Just throw all of the ingredients into a food processor and have them baking in the oven in minutes!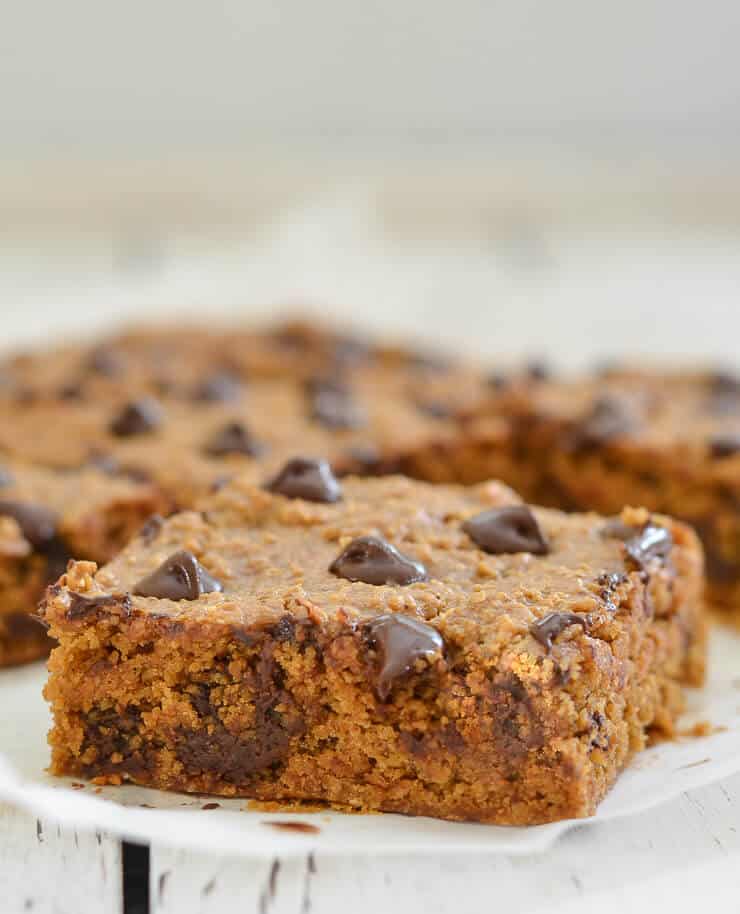 HOW TO MAKE OATMEAL CHOCOLATE CHIP COOKIE BARS
Line an 8 x 8 pan with baking parchment
Add all ingredients except chocolate chips to a food processor and process until smooth then add the chocolate chips and stir
Spoon batter into pan evenly then bake
Do not taste the batter during the process or it will not make it to the oven ????
The resulting Oatmeal Chocolate Chip Cookie Bars are almost like a cross between cookies and cake. They are soft, sweet, slightly chewy, with lovely almost caramel undertones from the coconut sugar.
They are absolutely amazing while still warm from the oven.
Those melty chocolate chips.....♡
They are also great a few days later as they dry out a little and become more traditionally cookie like.
A MUST TRY SERVING IDEA!
I love these Oatmeal Chocolate Chip Cookie Bars at all stages of the game but you must try serving a freshly cut piece of warm cookie bar with a huge dollop of vanilla ice-cream.
Seriously.....it is what dreams are made of ♡.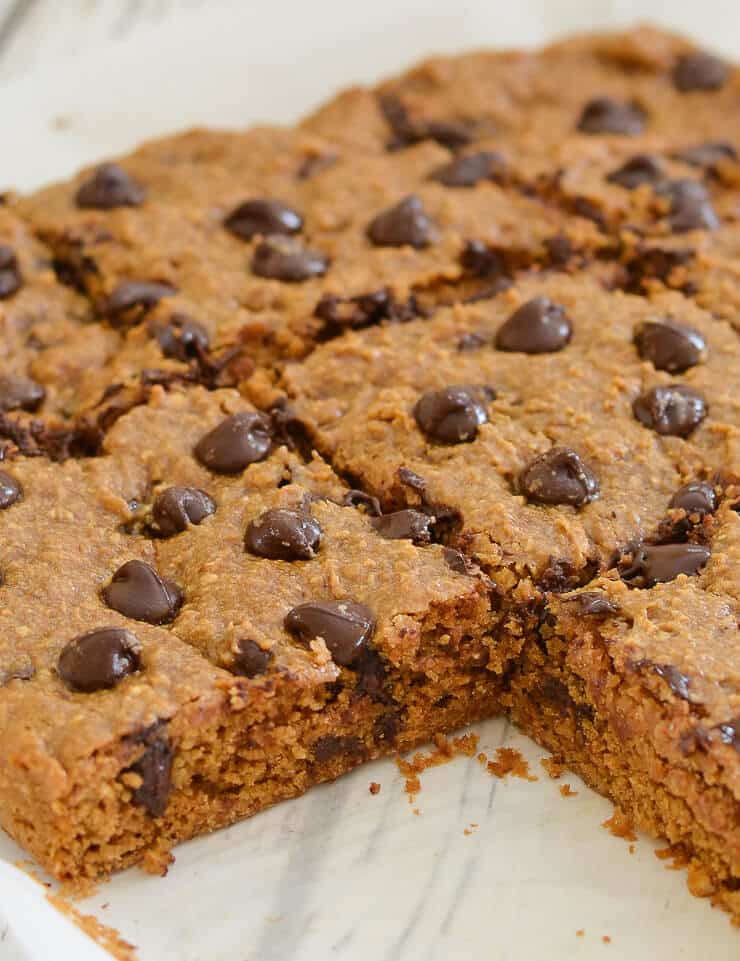 For more gluten-free baked goods made with oat flour, check out these great options:
And if you love this recipe, please do check out my cookbook, and subscribe to my email list for a fabulous FREE eCookbook featuring my top 10 recipes. Being on the list means you will be first to see my new recipes and you'll be kept in the loop on all things new and exciting too!
Recipe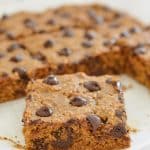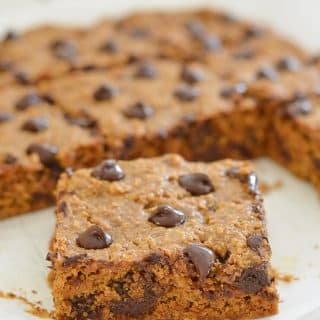 Oatmeal Chocolate Chip Cookie Bars
Author:
These Oatmeal Chocolate Chip Cookie Bars are perfectly soft & chewy, made healthier with oat flour & no oil, and they are absolutely delicious! (Recipe adapted from the Chocolate Chip Coconut Oil Cookie Bars in Ashley Melillo's book
Blissful Basil
).
Ingredients
150g / 1¾

cups

rolled oats

, or quick oats, (be sure to buy certified gluten-free oats if necessary)

110g / ½

cup

cashew butter

(almond butter is ok as a sub and peanut butter would work too if you don't mind a peanut taste coming through - For a nut-free option use SunButter)

100g / ¾

cup

coconut sugar

(other brown sugar would work too but for the very best flavour use coconut sugar)

1

teaspoon

vanilla extract

1½

teaspoon

baking powder

¼

teaspoon

salt

3

tablespoons

aquafaba

(liquid from a can of chickpeas)

60mls / 4 tablespoons / ¼

cup

plant-based milk

65

g

dairy-free semi-sweet chocolate chips
INSTRUCTIONS
Preheat oven to 350°F and line an

8 x 8 pan

with baking parchment, leaving enough paper around the edge to act as a handle. A little bit of oil under the parchment paper helps to keep it in place when you are spreading out the dough later but isn't essential if you don't have any).

Add all of the other ingredients except the chocolate chip and process until smooth, scraping down the sides once about halfway through.

Stir through the chocolate chips then spoon the batter into the prepared tin.

Spread the batter out evenly so it reaches the sides. It will be sticky and resist but that's normal. I find a silicone spatula or the back of a metal spoon work well for this.

If you want to make them look a little prettier scatter a few extra chocolate chips over the top so they can be seen once baked.

Bake in the preheated oven for 25 minutes. Leave to cool in the tin for at least 15 minutes before trying to remove.

Once completely cool, cut into pieces. A pizza cutter or a long sharp knife do a great job of this.
NOTES
These bars are awesome served warm straight from the oven but they will fall apart when you try cutting them. If you can live with that then go for it!
If you want to serve a bar or two warm at a later date, my son recommends microwaving them for 20 seconds.
NUTRITION
Serving:
1
square
Calories:
230
kcal
Carbohydrates:
30
g
Protein:
6
g
Fat:
10
g
Sodium:
160
mg
Fiber:
2.5
g
Sugar:
14.5
g
Iron:
0.4
mg
Tried this recipe?
Rate it & leave your feedback in the comments section below!