A really super simple Green Bean & Potato Curry that is budget-friendly only has 8 ingredients & needs no fancy-schmancy spices.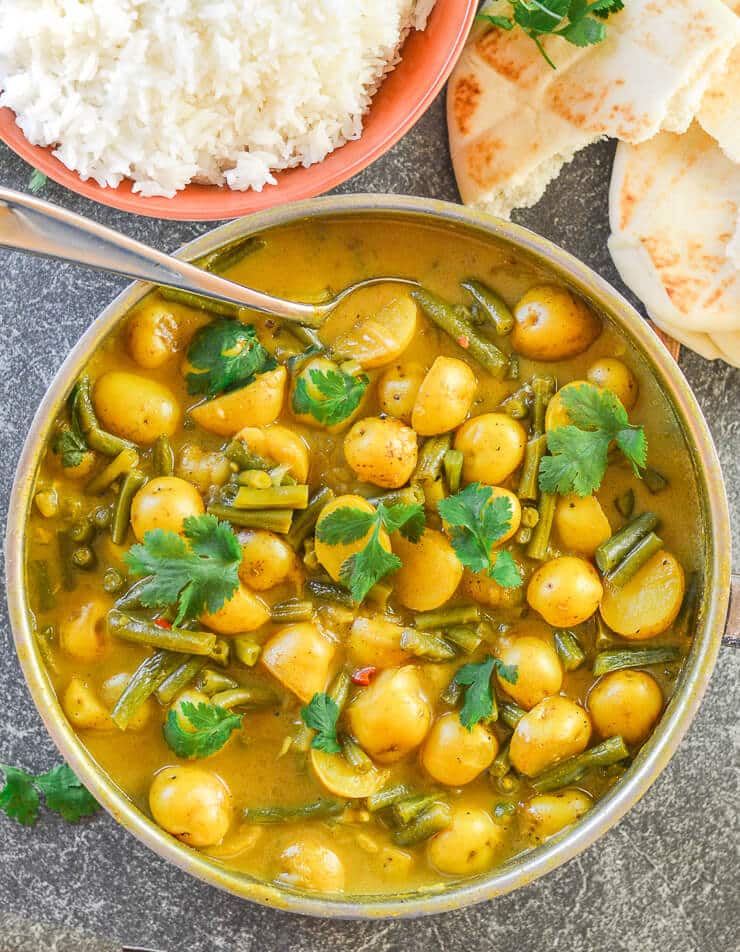 This Super Simple Green Bean & Potato Curry is the perfect 'help my bank account has barely any money left in it and I don't get paid for 3 days' type meal.
The main ingredients are cheap, filling potatoes and green beans. The beans can be added fresh or frozen. That depends on whether you want to splash out, or save a few extra dollars by finishing off that half eaten bag that's been languishing in the bottom of the freezer for months. You can even sub the green beans for frozen peas if that's all you have.
FOR THE INSTANT POT VERSION OF THIS RECIPE GO HERE --> Vegan Instant Pot Potato Curry
I make easy curry-based dishes like this and my Creamy Curry Chickpea Soup a lot. I have a whole arsenal of spices in my kitchen.
Sometimes though (ok...a lot of the time), I need dinner to be super quick and don't want to be crushing cardamon pods, or toasting fenugreek, cumin or mustard seeds. Those kinds of curries totally have their place and I make them when I have more time, but sometimes simplicity is key. That's where this Super Simple Green Bean & Potato Curry with no fancy-schmancy spices or herbs comes in.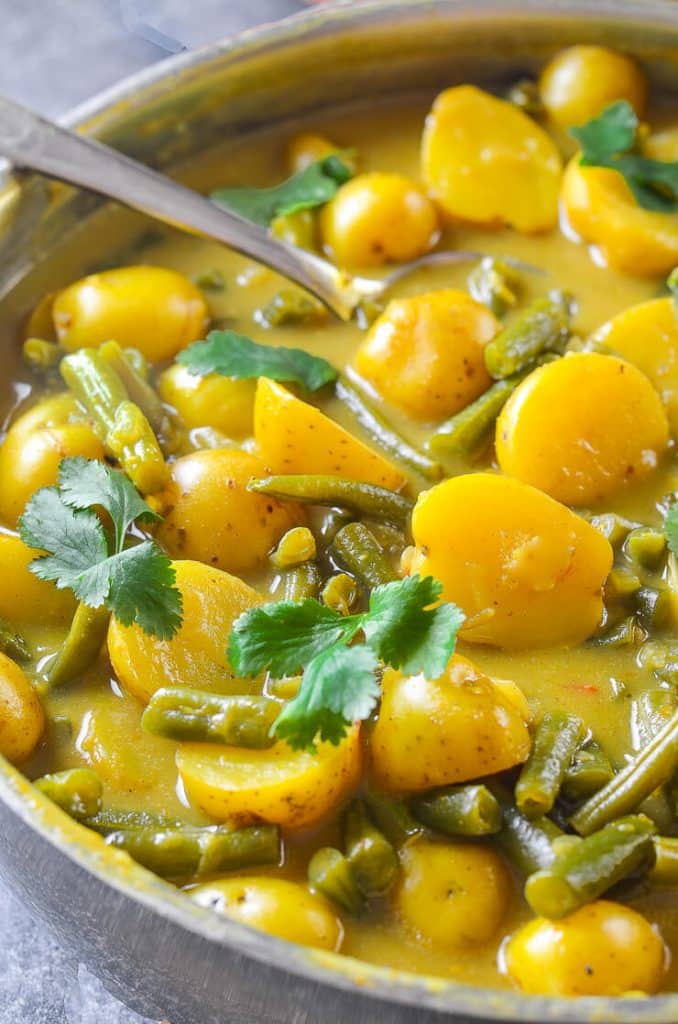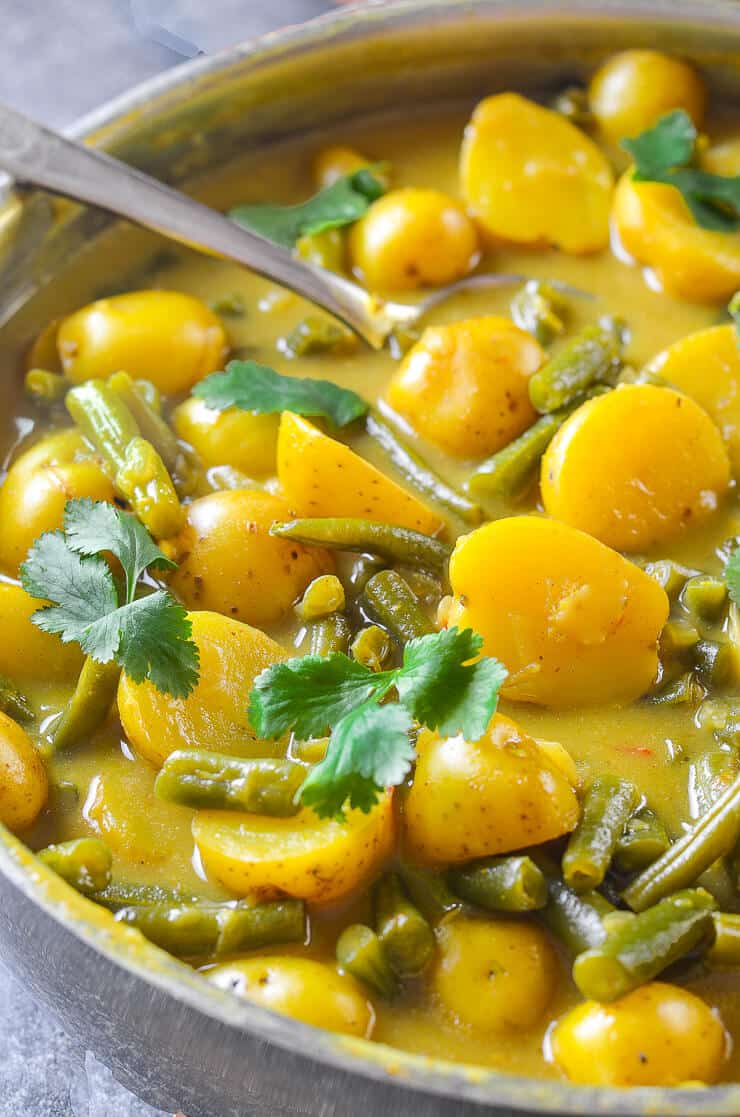 It's so easy. The hardest part is having to wait for the potatoes to cook, whilst listening to everyone complain they are hungry.
'Hangry' is a very accurate description of us all pre-dinner in this house! ????
HOW TO SERVE MY SUPER SIMPLE GREEN BEAN & POTATO CURRY
This curry is hearty enough to serve on it's own, perhaps with a naan for mopping up that delicious sauce and a dollop of mango chutney, or you can serve it with plain rice or coconut basmati rice.
My family would not understand at all if I served up a curry without rice. We are all complete rice freaks. Plus rice is cheap too and combining it with the curry makes it stretch further so it becomes even more budget friendly.
Quinoa and couscous are great alternatives to rice, as is cauliflower rice if you want to limit calories or carbs.
FOR THE INSTANT POT VERSION OF THIS RECIPE GO HERE Vegan Instant Pot Potato Curry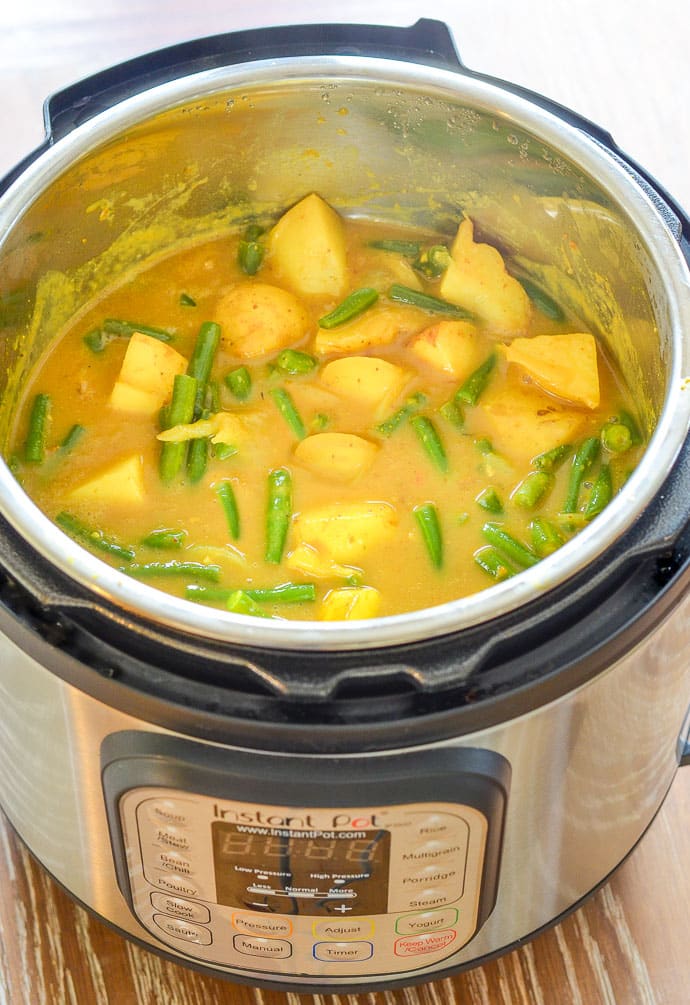 This Super Simple Green Bean & Potato Curry is easy, satisfying and almost effortless. I can't wait for you to try it. Let me know what you thing in the comments below and be a ☆ and share your pictures on Instagram. I love to see them! I am @avirtualvegan. Use the hashtag #avirtualvegan to be sure I don't miss them.
Recipe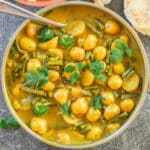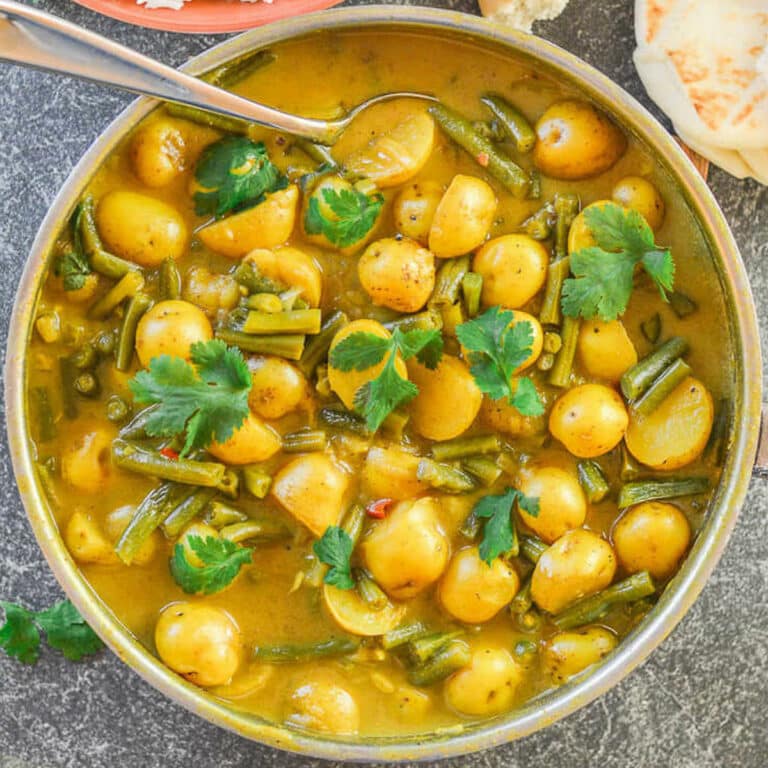 Super Simple Green Bean & Potato Curry
Author:
A really super simple Green Bean & Potato Curry that is budget friendly, only has 8 ingredients & needs no fancy-schmancy spices.
Ingredients
1

medium onion chopped finely

4

large cloves of garlic chopped finely

900

g (about 5 heaping cups)

baby potatoes

, You can also use standard potatoes (cut larger baby potatoes in half so they are all about the same size).

2

tablespoons

curry powder

3

tablespoons

arrowroot powder

or corn starch

500

mls | around 2 cups

water

400

g | 2 heaping cups

fresh green beans

, cut into bite sized pieces. You can also use frozen beans, no need to defrost first, or frozen peas

1 x 400

ml

can coconut milk

full fat or light

1

tablespoon

sugar

Salt & pepper to taste
INSTRUCTIONS
Warm a large

pan

over a medium heat. Add a couple tablespoons of water and sauté the onions until translucent ( you can use oil 1 tablespoon of oil rather than water if you prefer).

Add the garlic and curry powder and cook for a couple of minutes, stirring frequently.

Add the arrowroot and stir well to distribute then gradually add the water, stirring as you go to work out any lumps.

Pour in the potatoes, cover with a lid and allow them to cook through, giving it a quick stir every 5 minutes or so. You can check the potatoes by piercing them with a fork.

When the potatoes are tender (it will take around 15 minutes) remove from the heat, add the green beans then add the coconut milk. Do it in that order to avoid curdling issues. The green beans will lower the heat of what's in the pan before you add the coconut milk.

Add the sugar and stir really well.

Return to a medium/low heat and allow everything to warm through again and the beans to cook (about 7-10 minutes). Some bite left in the beans is good and remember that they will continue cooking a little while you are plating up.

Season with salt and pepper to taste and as soon as the beans are tender it is ready to serve.
NOTES
If you like bit of heat in your curry feel free to add some chili flakes or a fresh chopped chili just before you add the water to the pan. Leftovers reheat well and will keep in the fridge for up to 4 days.
NUTRITION
Serving:
1
serving
Calories:
258
kcal
Carbohydrates:
49
g
Protein:
7
g
Fat:
5
g
Sodium:
29
mg
Fiber:
8
g
Sugar:
7
g
Vitamin A:
550
IU
Vitamin C:
62.7
mg
Calcium:
80
mg
Iron:
2.9
mg
Tried this recipe?
Rate it & leave your feedback in the comments section below!