Learn how to make extra flavourful, ultra-gooey and super buttery Vegan Rice Crispy Treats! This classic no-bake treat comes together quickly and easily and is such a family favourite!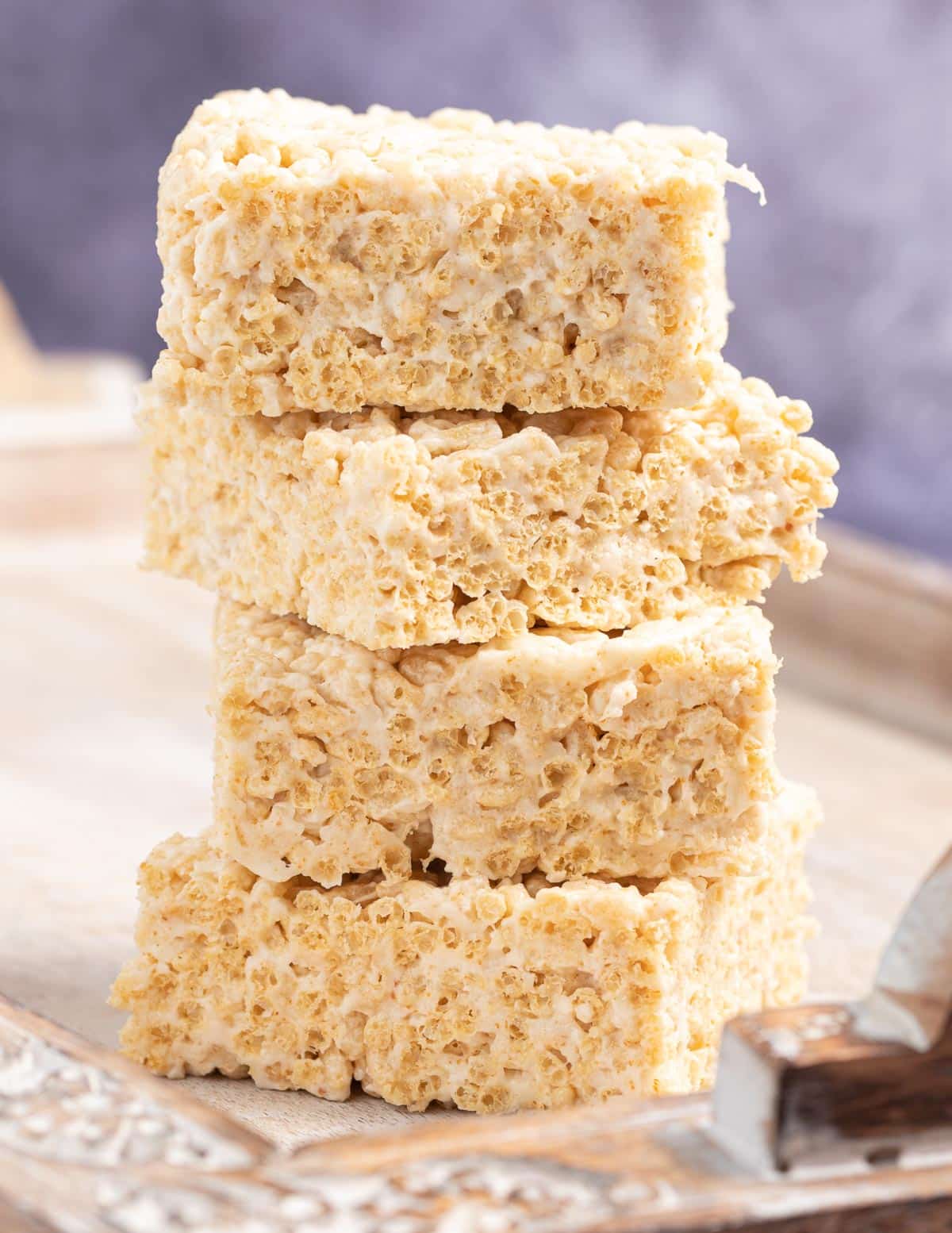 Take just one bite of these chewy, gooey, buttery Vegan Rice Crispy Treats and you'll immediately remember why they are such a well loved family favourite! They are melt-in-your-mouth, soft, chewy, light and crispy all at the same time, and extra rich and buttery!
I'll be sharing all of my tips and tricks for getting incredible flavour in your bars, and for working with vegan marshmallows too, because they can be tricky little things. They put up such a fight when you try to melt them!
Jump to:
Ingredients
Here's what you will be needing to make Vegan Rice Crispy Treats: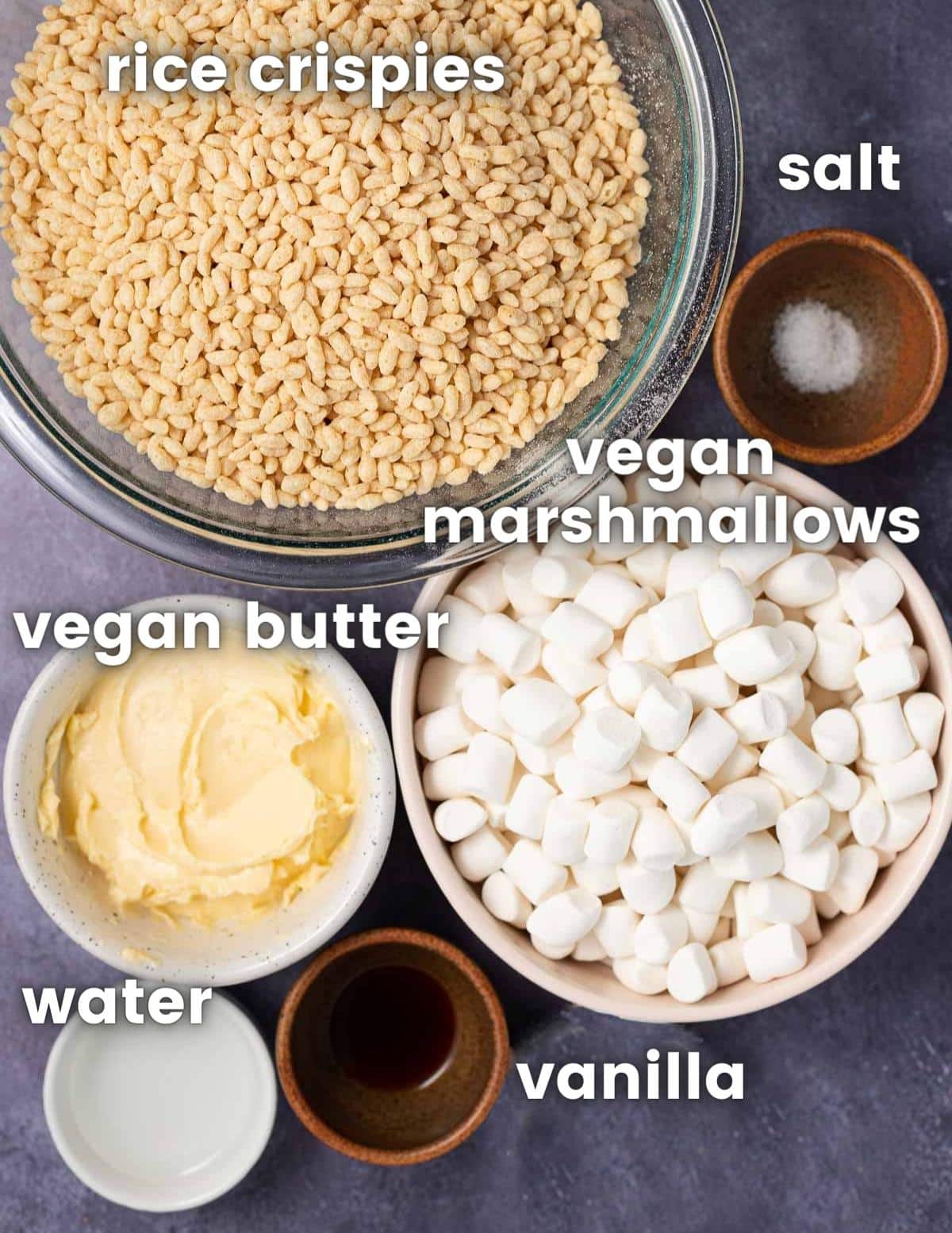 And a few ingredient notes:
Vegan crispy rice cereal - Kellogg's Rice Krispies cereal is not vegan. It contains animal derived vitamin D3. I like to use either Nature's Path Organic Crispy Rice Cereal or One Degree. You can use brown rice crisps instead of white if you prefer.
Vegan marshmallows - For lots of gooey sweetness! Regular marshmallows are not vegan or even vegetarian so you need to seek out some vegan ones. They are easy to find in most grocery stores these days. I use Dandies and I highly recommend using the mini marshmallows rather than the larger ones because it makes the melting part easier. Or cut the big ones up with kitchen scissors.
Dairy-free butter - You can use my vegan butter recipe or store bought vegan butter.
Vanilla extract & salt - Essential for the best flavour! Even sweet things need to be seasoned. Use the vanilla even if your marshmallows are vanilla flavoured.
How to make Vegan Rice Crispy Treats
With this recipe you have two choices. You can use regular melted vegan butter, or you can be a little fancy and use some vegan brown butter. It will add no more than 10 minutes to the total time and is so worth it for the extra flavour. Brown butter makes everything better! (For the bars in my photos I used brown butter. )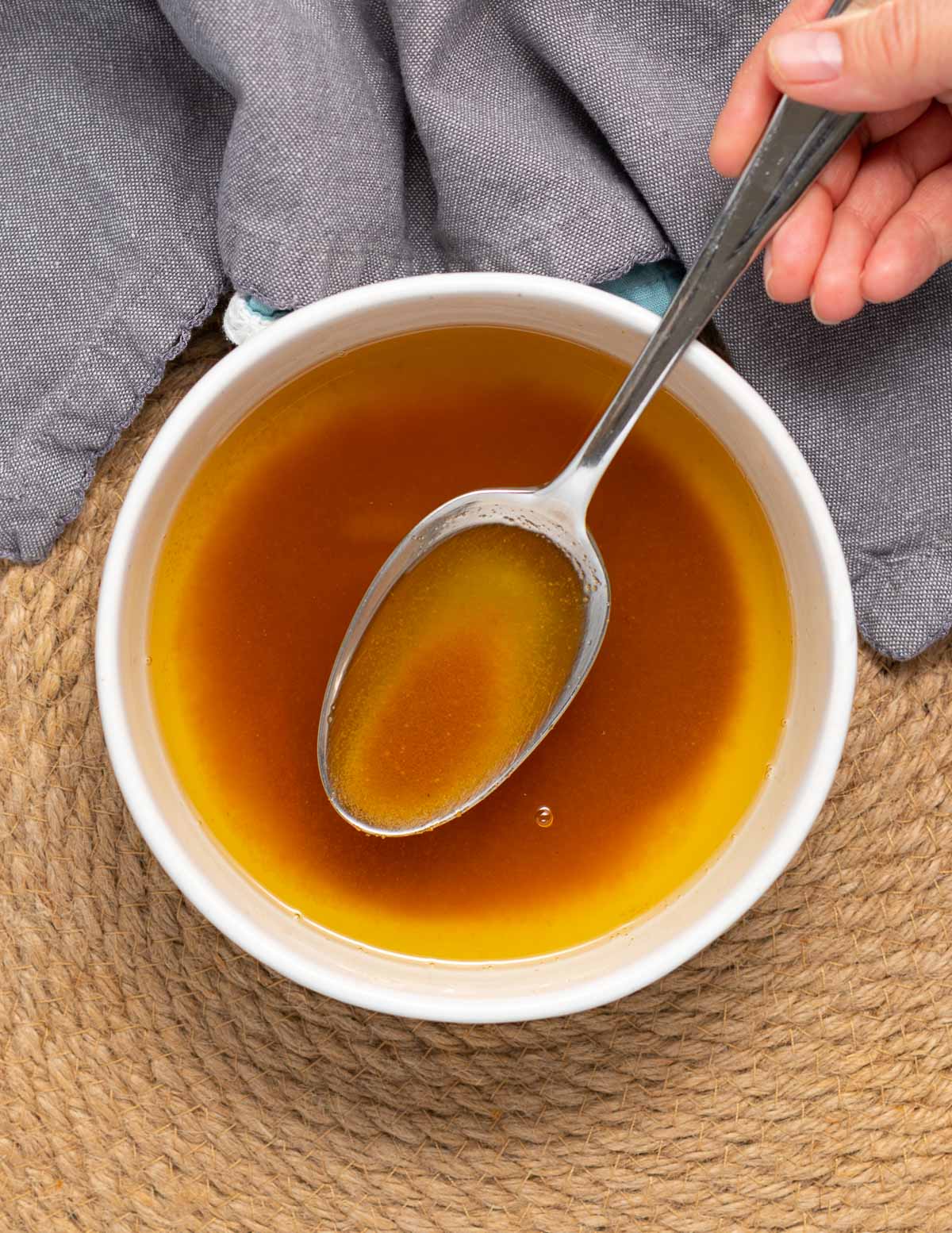 Here's how it's done: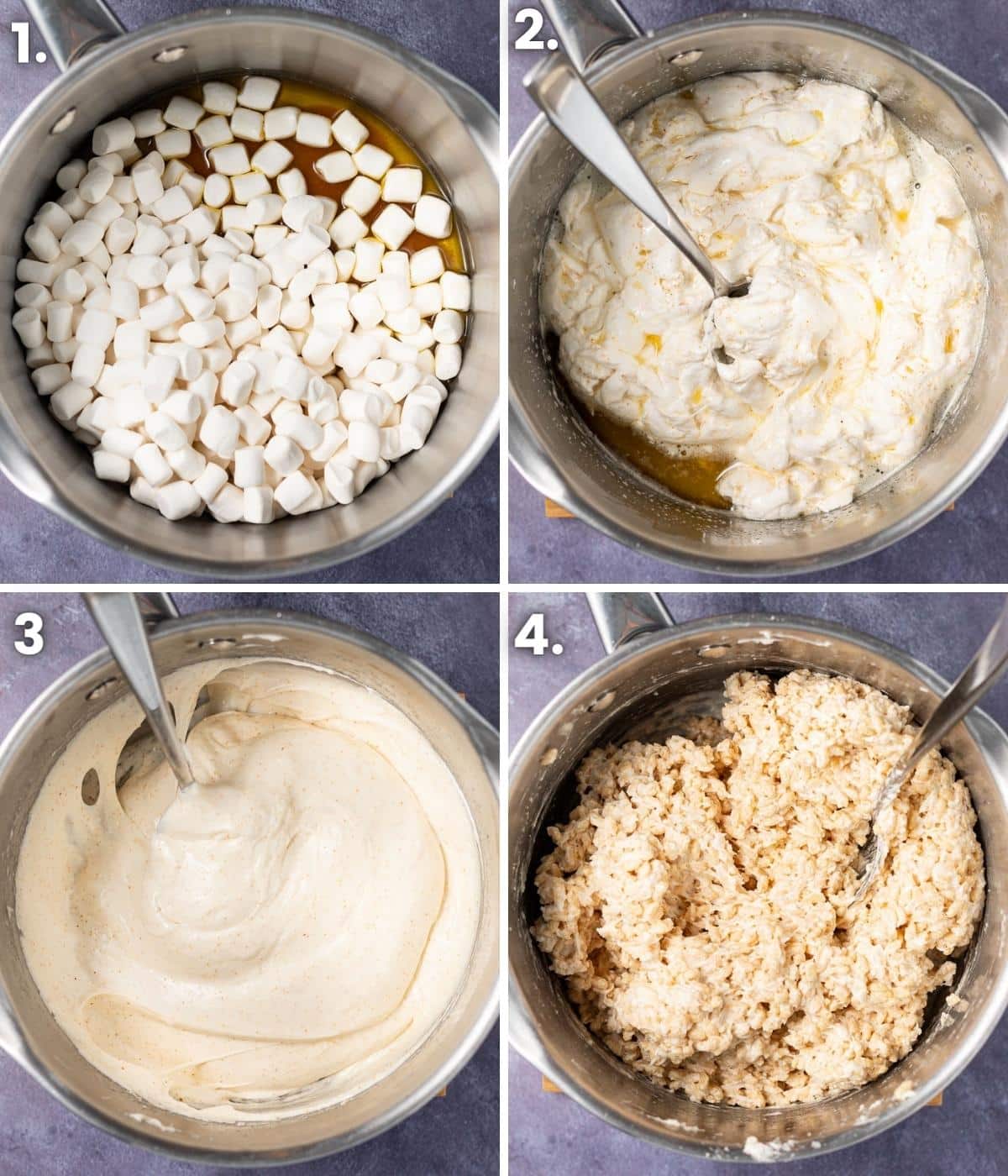 Melt the butter or brown the butter (for loads of extra delicious flavour), then add the marshmallows.
Melt the marshmallows into the butter. This isn't as easy as it is when using non-vegan marshmallows. Keep stirring and beating them like crazy and smush them with the back of the spoon. They will end up looking pretty much melted and soft but still a little clumpy and separated from the butter. Don't panic. That's ok.
Now add the water, stir again and the marshmallow will magically smooth out and the butter will incorporate properly.
Add the rice crispies and mix it all up using a nice solid spoon because it's a bit tough to mix. A wooden spoon is perfect. Then press gently into an 8 x 8 inch pan or ceramic baking dish lined with either cling-wrap or parchment paper to make removing them easy.
Success tip - Don't press the rice crispy mixture into the pan too firmly. Use damp fingertips or a damp spatula (to stop any sticking) and gently press until just spread out enough. If you press too hard you will compact it all and make your treats harder and less gooey.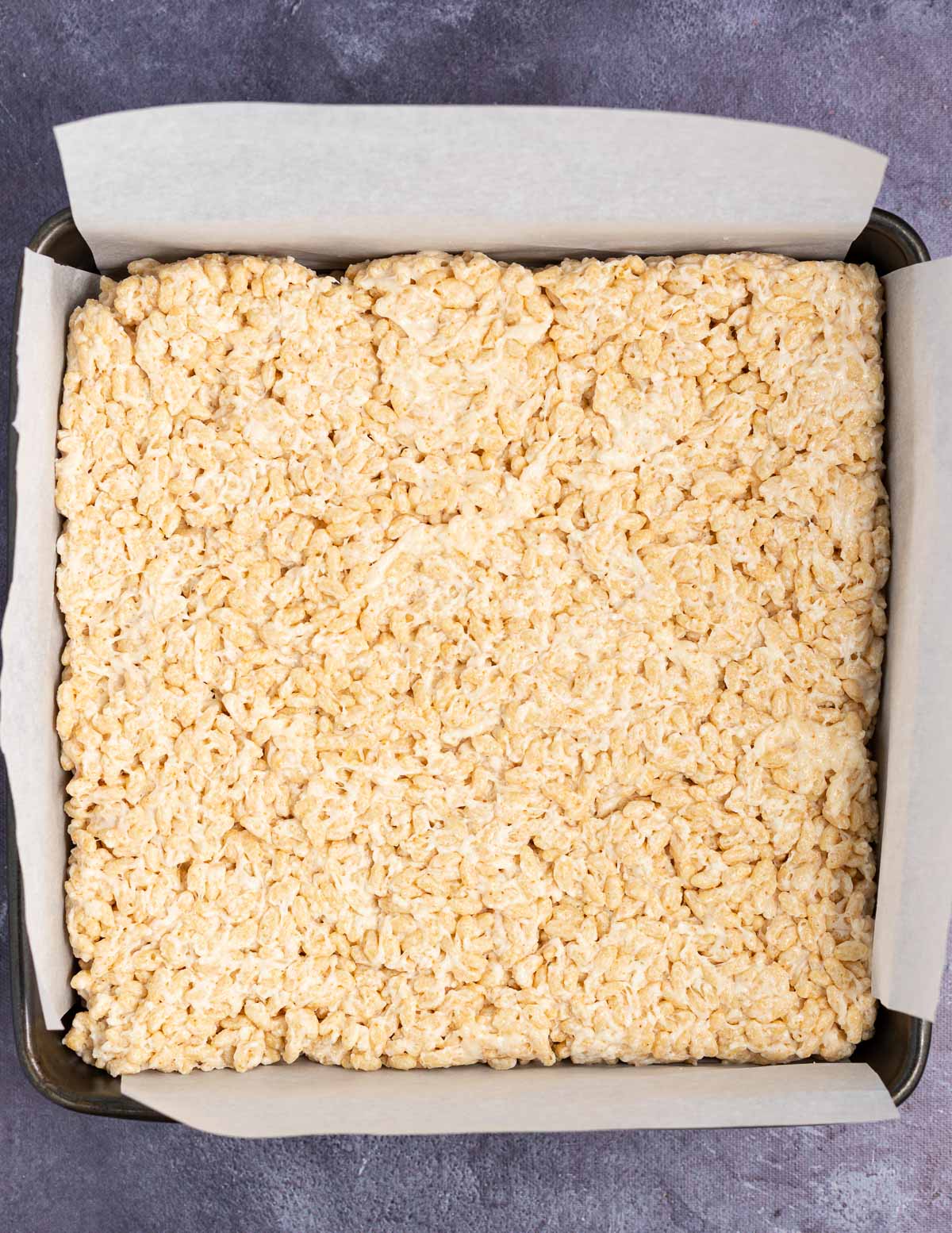 Variations
Vegan Rice Crispy Treats are perfect as they are but feel free to make them your own. Some ideas for mix-ins/flavorings to add:
Sprinkles! (make sure they are vegan though ;O)
Mini chocolate chips or a drizzle of melted chocolate.
Freeze dried raspberry or strawberry pieces.
Give them a s'mores spin with crushed vegan graham crackers and a swirl of chocolate.
Give them a cookies and cream spin with crushed chocolate sandwich cookies.
Almond extract instead of the vanilla. I would only use half a teaspoon though as it's a bit stronger.
How to store
Store in an airtight container at room temperature. They keep well for a couple of weeks. To be honest though, ours usually get eaten straight out of the pan for snack or dessert and never make it into storage!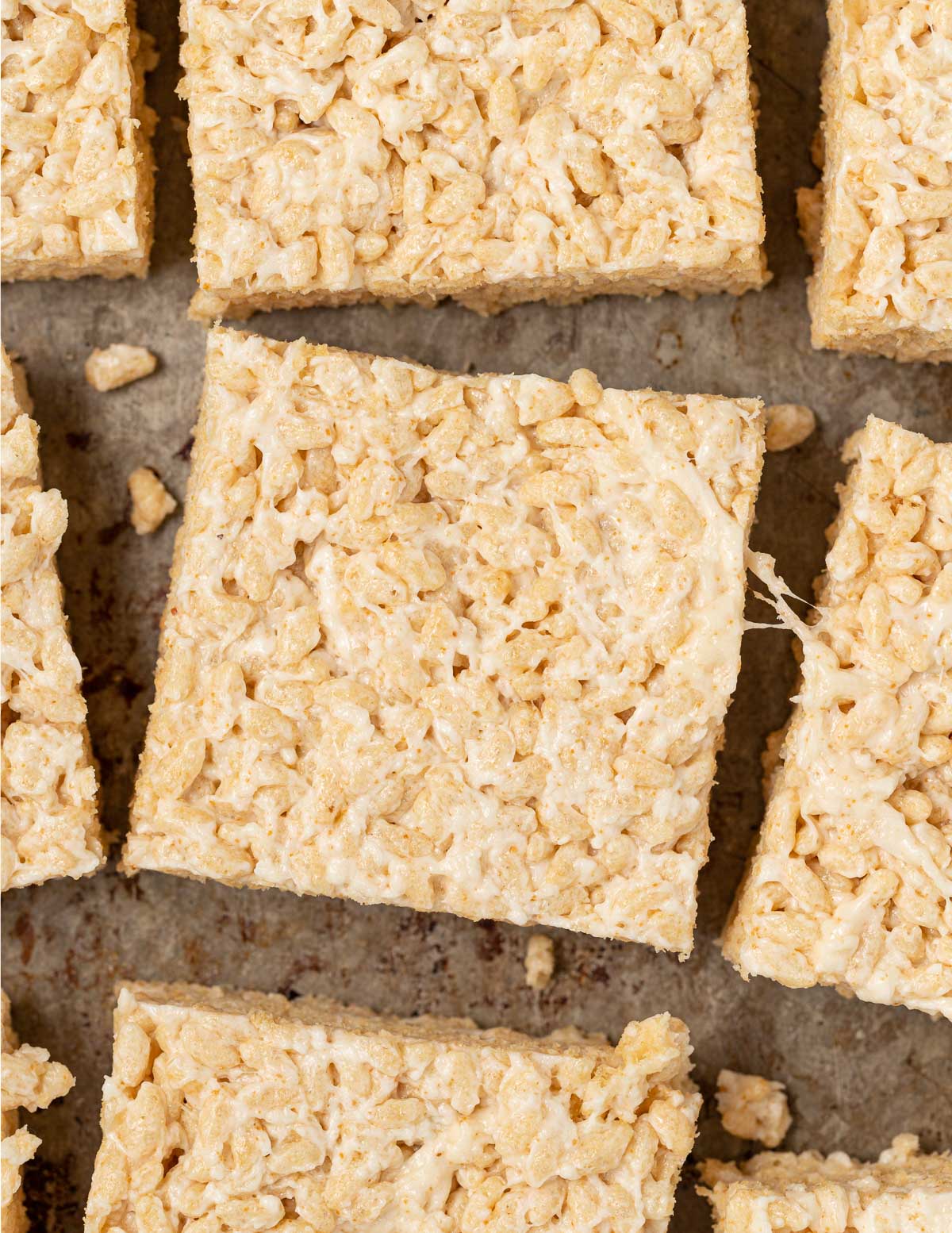 Recipe FAQs
Can I use a microwave to melt the marshmallows?
Yes. Melt the butter in a large microwave safe bowl (or brown it then add it to the bowl), add the marshmallows then microwave on high for 40 seconds. Take them out and give it a good stir, then continue microwaving in 30 second increments stirring each time. After about 3 minutes the marshmallows should have lost their shape and will be really soft. Give them a quick beat with a spoon, then continue with the recipe as written. Thing won't be completely smooth and emulsified but don't worry. The next step takes care of that.
Can I use a 9 x 13inch pan instead of an 8 x 8 inch pan?
You can but you will need to double the recipe.
Can you freeze vegan rice crispy treats?
I don't recommend freezing them. The texture isn't the same once they are defrosted.
If you try this recipe, let me know how you like it by leaving a comment and rating below! And be sure to join my mailing list for more deliciousness!
Recipe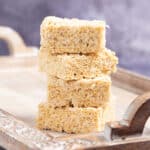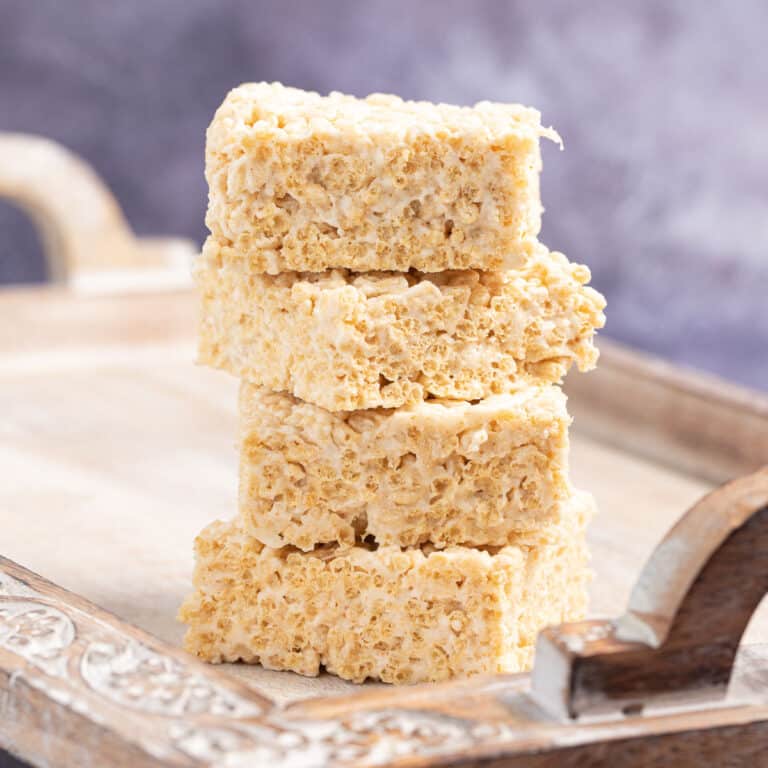 Vegan Rice Crispy Treats
Author:
Learn how to make extra flavourful, ultra-gooey and super buttery Vegan Rice Crispy Treats! This classic no-bake treat comes together quickly and easily and is such a family favourite!
Ingredients
½ cup (110

grams)

vegan butter

, (store bought or homemade)

OR 1

batch

vegan brown butter , for extra delicious flavour!

10 oz (283

grams)

vegan marshmallows

, I use Dandies. Mini marshmallows melt more easily than the larger ones (add an extra 1 or 2 handfuls if you want your bars extra, extra gooey!)

4½ cups (180

grams)

vegan rice crispies

2 tablespoons (30

ml)

water

1

teaspoon

vanilla extract

(use even if your marshmallows are vanilla flavoured)

heaping ¼

teaspoon

fine sea salt

, not table salt
INSTRUCTIONS
To make the brown butter (optional)
If you want to use brown butter please visit my Vegan Brown Butter post. It contains full and detailed instructions, step by step pictures and a video. It's not difficult and only takes 10 minutes, but it needs more detail than I can comfortably fit here. You can make it up to 2 weeks in advance.
To make the Rice Crispy Treats
Line an 8 x 8 inch pan/dish with parchment paper or cling-wrap and have the rice crispies measured out and everything else to hand before you begin.

In a large heavy bottomed saucepan add the butter or brown butter and melt over medium-low heat. (If the brown butter is freshly made you won't need to melt it). Add the marshmallows and stir, smush with the spoon and beat over the heat until they become really soft and gloopy. It takes a good 10 minutes, maybe up to 15. They put up a fight, but if you keep beating and smushing they will get there. At this stage they won't be completely fluffy and smooth and the butter will stay separated and not mix in properly. This is normal. Don't worry. (There are step-by-step pictures of this in the post above).

Now add the water, salt and vanilla and mix and beat again. The butter will magically combine with the marshmallows and it will all become perfectly smooth and pillowy soft.

Turn off the heat and add the crispy rice. Stir until it is all thoroughly coated in marshmallow.

Spoon the mixture into the pan and gently press to fit without compacting too much. Either use wet fingers or a wet spatula to stop any sticking. A light touch is essential. Compact too much and they won't be as gooey and could become hard.

Allow to set at room temperature for 20 to 30 minutes then turn out and cut into 9 squares (or 12 smaller ones)
NOTES
Store Rice Crispy Treats in an airtight container at room temperature. They keep well for a couple of weeks. 
NUTRITION
Serving:
1
serving
Calories:
265
kcal
Carbohydrates:
45
g
Protein:
2
g
Fat:
8
g
Saturated Fat:
2
g
Polyunsaturated Fat:
2
g
Monounsaturated Fat:
3
g
Trans Fat:
1
g
Sodium:
167
mg
Potassium:
31
mg
Fiber:
1
g
Sugar:
19
g
Vitamin A:
467
IU
Calcium:
2
mg
Iron:
1
mg
Tried this recipe?
Rate it & leave your feedback in the comments section below!