Vegan Banana Scones with just the right amount of density, flake and fluff, a delicious crust, super yum banana bread taste, toasty nuts, and an over-the-top splatter of maple glaze.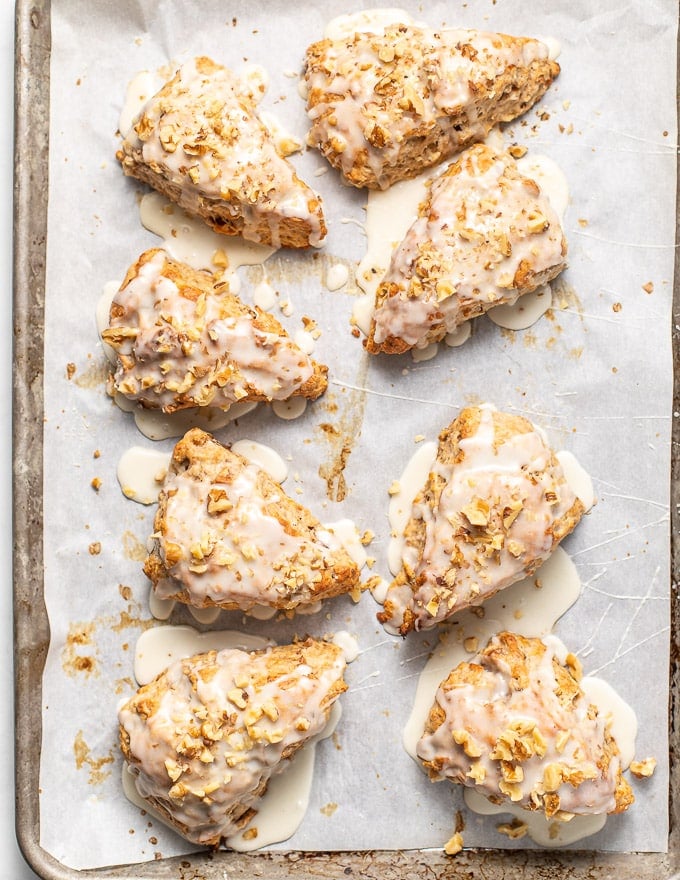 Overripe bananas were made for Banana Scones. I know it. You know it. And these maple glazed scones know it.
And let me tell you that banana bread in scone form is fair game to eat for breakfast, snack or dessert.
These delicious banana scones have just the right amount of density, flake and fluff, a delicious crispy crust, and plenty of nooks and crannies for that sticky maple glaze to dribble and seep into.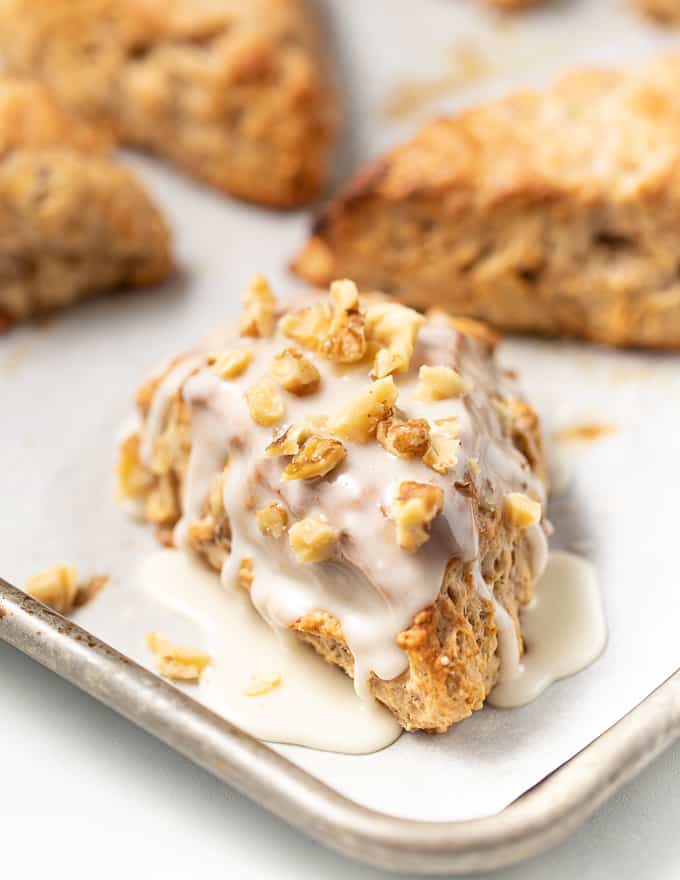 And if you're really in a hurry or don't have a very sweet tooth, skip the drizzle and eat them as they are, or split with a generous schmear of vegan butter!
What do you need to make Banana Scones?
All you need are some basic ingredients to make these scones.
Here is what we've got going on and why:
Mashed banana - Adds flavour, sweetness and moistness. The riper and spottier the bananas the better!
All purpose flour - Works really well and gives the perfect texture. You could however use half wholewheat, half all purpose flour  if you wanted to. Set aside a little extra flour for sprinkling your scone dough when shaping and for your work surface.
Vanilla, cinnamon, nutmeg & salt - Flavour, flavour, flavour! Cinnamon and nutmeg work so well with banana. If you don't have them in the house though, a teaspoon of pumpkin pie spice would work instead.
Walnuts - Texture and nutty flavour that compliments the bananas perfectly. Sub pecans if you prefer or omit them to keep the recipe nut-free.
Vegan Butter - Gives flavour, fluffiness, softness, crisp edges and helps the rise.
Sugar - Because we are using sweet, ripe bananas we can get away with a small amount of sugar. Feel free to slightly decrease to 2 tablespoons if you want the scones less sweet, but bear in mind that this will affect the flavour, structure and texture a little.
Baking powder - Adds lift and fluff
Baking Soda & Vinegar - The combination creates a chemical reaction and makes bubbles and fizz. It is used as a replacement for the leavening usually provided by eggs and helps the scones rise well and become fluffier.
Canned Coconut Milk - Thicker, creamier milk produces better tasting, fluffier scones and canned coconut milk works best. You can use light or full fat.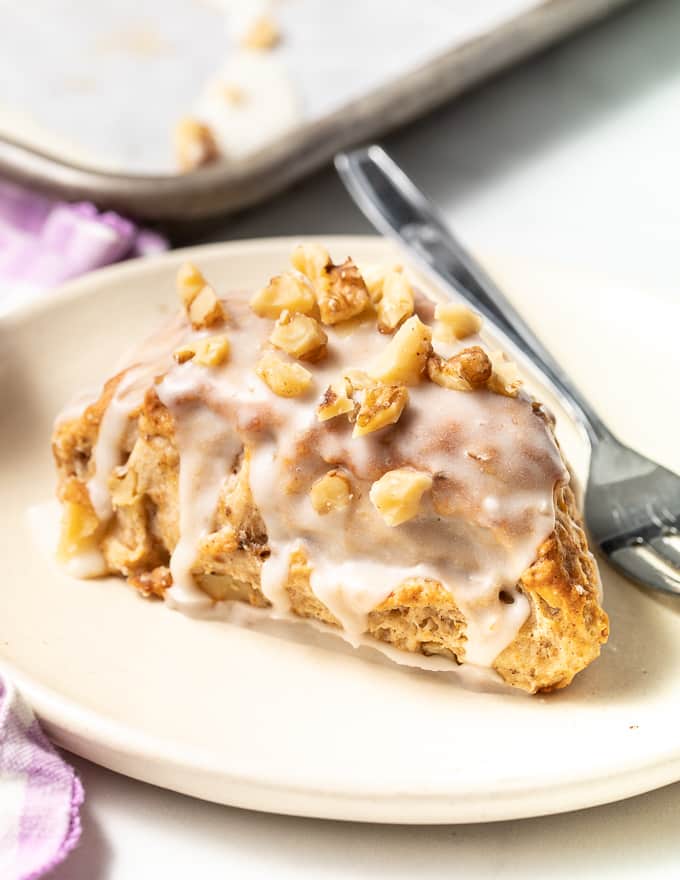 How to make Banana Scones
---
FOR INGREDIENTS & FULL INSTRUCTIONS PLEASE SEE THE RECIPE CARD AT THE END OF THIS POST
---
Banana Scones are pretty straightforward to make. Be sure to follow the directions exactly for optimum results.
First mash up the bananas.
Add the wet ingredients and the sugar to the banana and mix well.
Cut/rub the vegan butter into the flour. You can use a fancy pastry cutter if you want, but to be honest with you I've never owned one. I just use my fingers.
Add the rest of the dry ingredients to the flour mixture and stir to combine.
Pour the wet ingredients into the dry ingredients and mix until combined. It gets a bit hard to mix with a spatula so don't be afraid to get in there with your hand to bring it together.
Turn out and shape into a disc, then cut into wedges.
Transfer to a baking sheet, brush with milk and refrigerate for 15 minutes before baking.
Mix up the glaze and drizzle it on!
Sprinkle with nuts and you're done!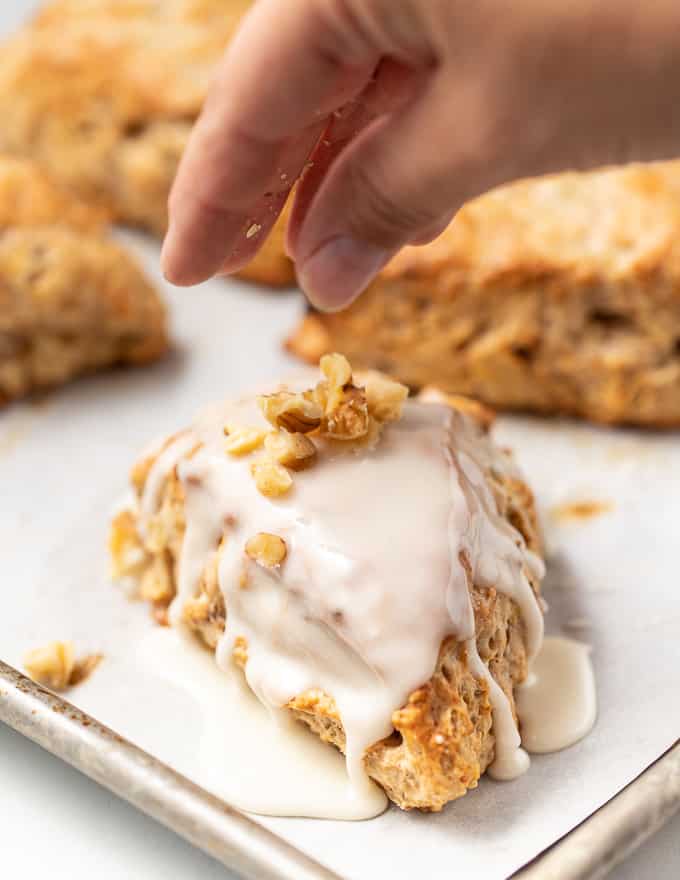 Success Tips
- Make sure your bananas are really ripe and spotty.
- Be sure to use canned coconut milk. Thinner milks produce flatter, less flavourful scones.
- Make sure your vegan butter is very cold. Harder varieties like my own butter recipe or Earth Balance work best. The really soft, very easily spreadable, margarine type textured ones don't give such great results.
- Don't skip the refrigeration step. Scone dough needs to be kept cold and you will get a much better shape and texture if you refrigerate the cut scones for 15 minutes before baking.
- Don't skip the brushing the scones with coconut milk step. It helps a nice crispy crust to develop!
- Follow the recipe closely and as always with recipes involving flour and vegan butter, I highly recommend that you use a kitchen scale. Cup measurements are not accurate enough to get the best and consistent results. Digital kitchen scales are available at most big superstores now and you can pick one up for around $10. They are a great investment and are so worth having! If you do need to use cups, spoon the flour into the cup then level off the top with a knife without compacting it or shaking it down. By doing it like this you will get roughly the correct amount and make your chances of success better. Do not scoop the flour up into the cup as you will end up with much more than intended and it will affect the outcome of the recipe.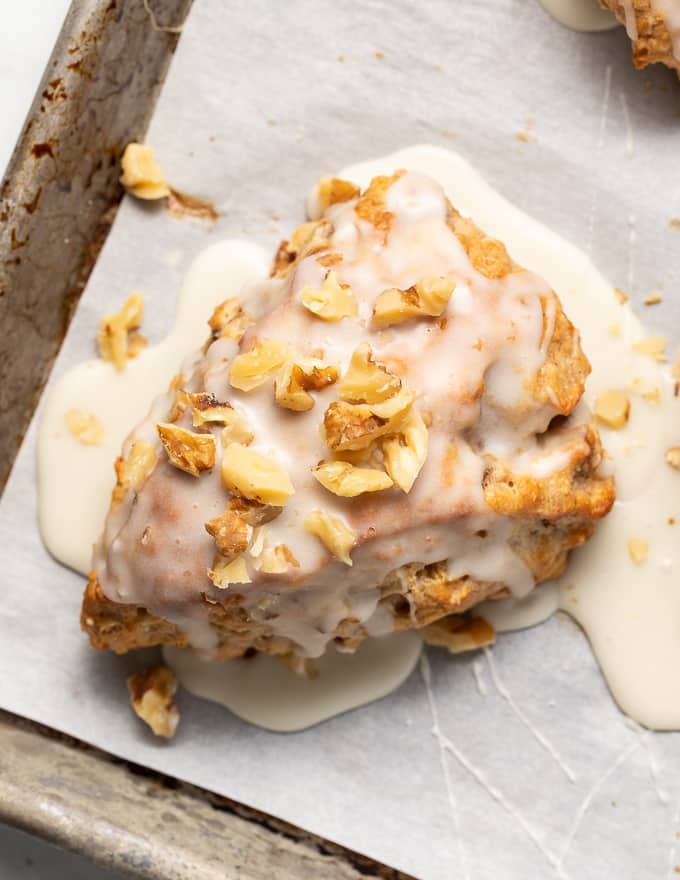 Ways to adapt my Vegan Scones
Omit the nuts to make the recipe nut-free
Omit the glaze if you don't have too much of a sweet tooth or if you prefer your scones without. If you do though, a little sprinkle of course sugar on top before you bake is nice for texture.
Use chocolate chips instead of the nuts
Use dried fruit instead of the nuts
Add a handful of frozen blueberries instead of the nuts
Drizzle the scones with melted chocolate instead of the glaze
How to store scones
You went to the trouble of baking your own scones, and if you have leftovers it's important you know how to store them for optimum freshness.
The most important thing is to let them cool completely on a wire rack before storing them. If there is any warmth in them at all, as soon as they go into a sealed container condensation will happen, and that means damp scones.
Once they are completely cool, you will need an airtight container and some paper towels. As scones age, the moisture inside them rises to the surface and the crust gets softer and the inside crumb drier. By packing them up with some paper towels laid out underneath (and another layer on top if you didn't glaze them), you can help limit this. Just keep an eye on them and if the paper towels get a little moist, replace them with fresh.
How to refresh scones
Bear in mind that scones are best on the day they are baked. But, if you don't glaze them, you can get them back to that "just baked' state really easily, even after a couple of days. Just place them on a baking tray and warm in an oven on 350°F (175 °C) for about 7 - 8 minutes. They will come out good as new.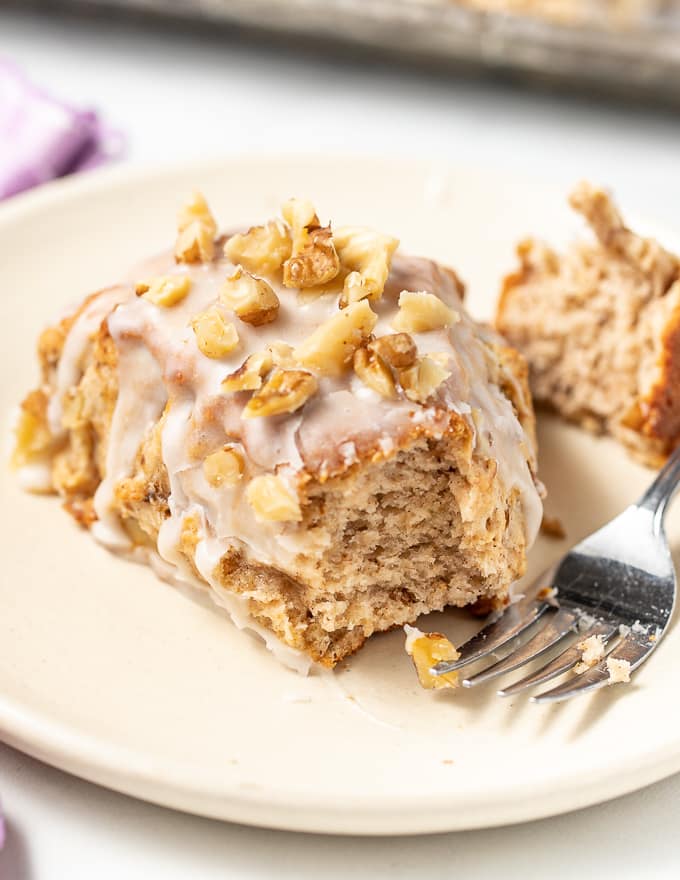 How to freeze scones
For optimum results bake the scones right away. However, you can freeze them unbaked if you need to, but be aware that will lose a little of the lift and fluffiness because the baking powder and soda would have been activated a little when they were mixed into the dough.
To freeze them uncooked, follow the recipe up until the scones are cut into wedges, but don't brush them with the milk. Place the wedges on a parchment lined baking tray and put the whole tray uncovered in the freezer. Once the scones are frozen and hard, remove them from the tray and place in a freezer bag or freeze-able container. Save the baking parchment for when you bake them up later. The uncooked scones will keep in the freezer for up to 3 months and can be baked from frozen. Remove them, lay them out on a parchment lined baking tray, brush with coconut milk and bake for the time stated in the recipe plus 4 minutes.
To freeze after baking, make them as directed but do not glaze them. Allow them to cool completely on a wire rack, then freeze in a freezer bag or freeze-able container. Thaw them overnight in the fridge or covered on the counter for a few hours. Refresh them in the oven for 7 - 8 minutes on 350 °F (175°C) and they will be good as new!
---
And so to recap, these vegan scones are:
the perfect scone-y balance of density, flaky and fluff
packed with banana and nuts (the perfect combo!)
tender on the inside
crusty and crispy on the outside
light
sweet but not too sweet
splodged with a sticky, sweet, maple glaze
perfect for breakfast, snacks or dessert!
---
MORE VEGAN RECIPES THAT USE OVERRIPE BANANAS
Easy Banana Peanut Butter Ice Cream Bars - Ridiculously easy to make and only 5 ingredients
Best Vegan Banana Bread - It's loaded with chocolate chips and nuts and made all in one bowl
Healthy Breakfast Bars - Wholesome and hearty and perfect for grab and go breakfasts or packed lunches
Best Vegan Banana Pancakes - The fluffiest vegan pancakes EVER and one of my most popular recipes for a reason!
Vegan Chocolate Banana Bread - Deep, dark chocolatey, fudgy and delicious but wholegrain and made with no oil. You won't believe how amazing it tastes!
Recipe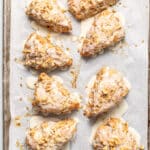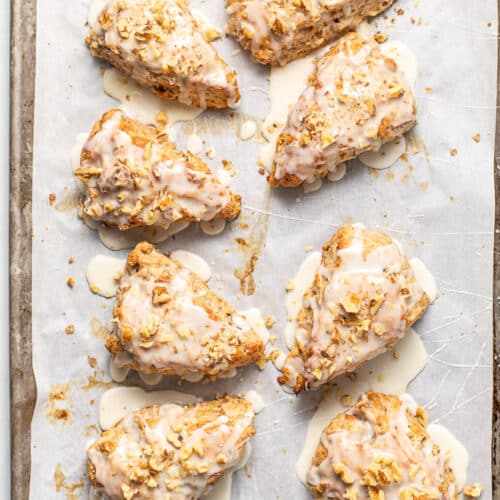 Vegan Banana Scones
Author:
Vegan Banana Scones with just the right amount of density, flake and fluff, a delicious crust, super yum banana bread taste, toasty nuts, and an over-the-top splatter of maple glaze. 
Ingredients
2

medium

bananas

, they should be about 8 inches in length and once peeled the total of the 2 bananas should weigh 250g / 9 oz.

¼ cup / 50

g

cane sugar

, or white granulated sugar

¼ cup / 60

mls

canned coconut milk

, light or full fat - plus some extra for brushing the scones before baking

1

teaspoon

vanilla extract

1

teaspoon

apple cider vinegar

*

2¾ cups / 345

g

all purpose flour

, (plain flour in the UK)

scant ½ cup / 80

g

vegan butter

1

teaspoon

ground cinnamon

¼

teaspoon

ground nutmeg

½

teaspoon

fine salt

1 tablespoon and 1

teaspoon

baking powder

¼

teaspoon

baking soda

, (bicarbonate of soda in the UK)

1 cup / 100

g

chopped walnuts
The glaze
1 cup / 100

g

powdered sugar

2

tablespoons

maple syrup

1

tablespoon

canned coconut milk

1

tiny pinch

fine salt
INSTRUCTIONS
Line a large baking tray with parchment paper and set aside.

Peel the bananas and put them in a medium sized bowl. Mash them with a fork until they are wet and mostly lump free. A few small lumps are fine.

Add the sugar, coconut milk, vanilla and vinegar to the banana. Stir well to combine, then pop it in the fridge while you get on with the next step.

To a large bowl add the flour. Cut the butter into little pieces and drop them into the flour. Either cut the butter into the flour with a pastry cutter, or use your fingers to rub it in. To use your fingers, put both hands into the bowl and use the tips of your fingers to rub the flour and lumps of butter together until the lumps disappear into the flour and the whole thing looks like fine breadcrumbs.

To the flour mixture, add the cinnamon, nutmeg, salt, baking powder baking soda and nuts. Stir it all up really well to combine.

Remove the wet ingredients from the fridge and pour into the dry ingredients. With a spoon or spatula, mix them together until everything is moistened. If you have trouble getting it to come together, use a hand to get in there and knead it gently together. Try not to overwork it though.

Generously flour your work surface and your hands and turn out the scone dough onto the floured surface. It will feel pretty sticky. Sprinkle some flour on the top of the dough and pat it into a disc shape about 8 inches wide. Dust your hands with a little more flour if things get sticky.

With a large sharp knife or dough cutter, cut the disc into 8 wedges. I find that a wet knife works best. I keep a pint glass of cold water next to me and dip the knife in, then give it a quick shake to get any excess off, between cuts.

Preheat oven to 420°F (215 °C)

Transfer each wedge carefully to the lined baking tray, leaving at least an inch free around each one. I use a spatula to move them with as it's easier to pick them up. Once on the tray, brush with a generous amount of coconut milk, then put the whole tray carefully in the fridge for 15 minutes. This step is important so don't skip it.

Preheat oven to 420°F (215 °C) while the scones chill in the fridge.

Remove from the fridge after 15 minutes and place in the hot oven on the middle shelf. Bake for 18 to 20 minutes. They should be puffed up and lightly golden.

Remove from the oven and leave to cool for a few minutes on the tray. You can then either glaze them while still warm or let them cool completely before glazing. For a stickier effect do it while warm. If you want the glaze to set, wait until they are cold.
To make the glaze
To a small bowl, add the powdered sugar. Gradually add the maple syrup stirring as you go to work out lumps. Then add the coconut milk gradually. It wont seem like enough liquid at first but it should come together into a nice, thick, dribbly glaze with a bit of stirring. If you prefer it thinner you can add a tiny bit more coconut milk but a thicker glaze coats the scones better.

Drizzle the glaze over each scone with a spoon.
NOTES
*apple cider vinegar is best but if you can't use that, lemon juice will have a similar same effect
See my post above for detailed instructions regarding storing and freezing the scones. 
Store leftover canned coconut milk in a sealed container in the fridge or freezer. Use it up in a smoothie, curry, soup or oatmeal.
Nutritional information is calculated with the optional glaze and extra nutty sprinkle. 
NUTRITION
Calories:
435
kcal
Carbohydrates:
65
g
Protein:
7
g
Fat:
17
g
Saturated Fat:
5
g
Sodium:
249
mg
Potassium:
344
mg
Fiber:
3
g
Sugar:
26
g
Vitamin A:
401
IU
Vitamin C:
3
mg
Calcium:
71
mg
Iron:
3
mg
Tried this recipe?
Rate it & leave your feedback in the comments section below!