Vegan Banana Scones with a delicious golden nubbly crust, soft insides, super yum banana bread taste, toasty nuts, and an over-the-top splatter of maple glaze!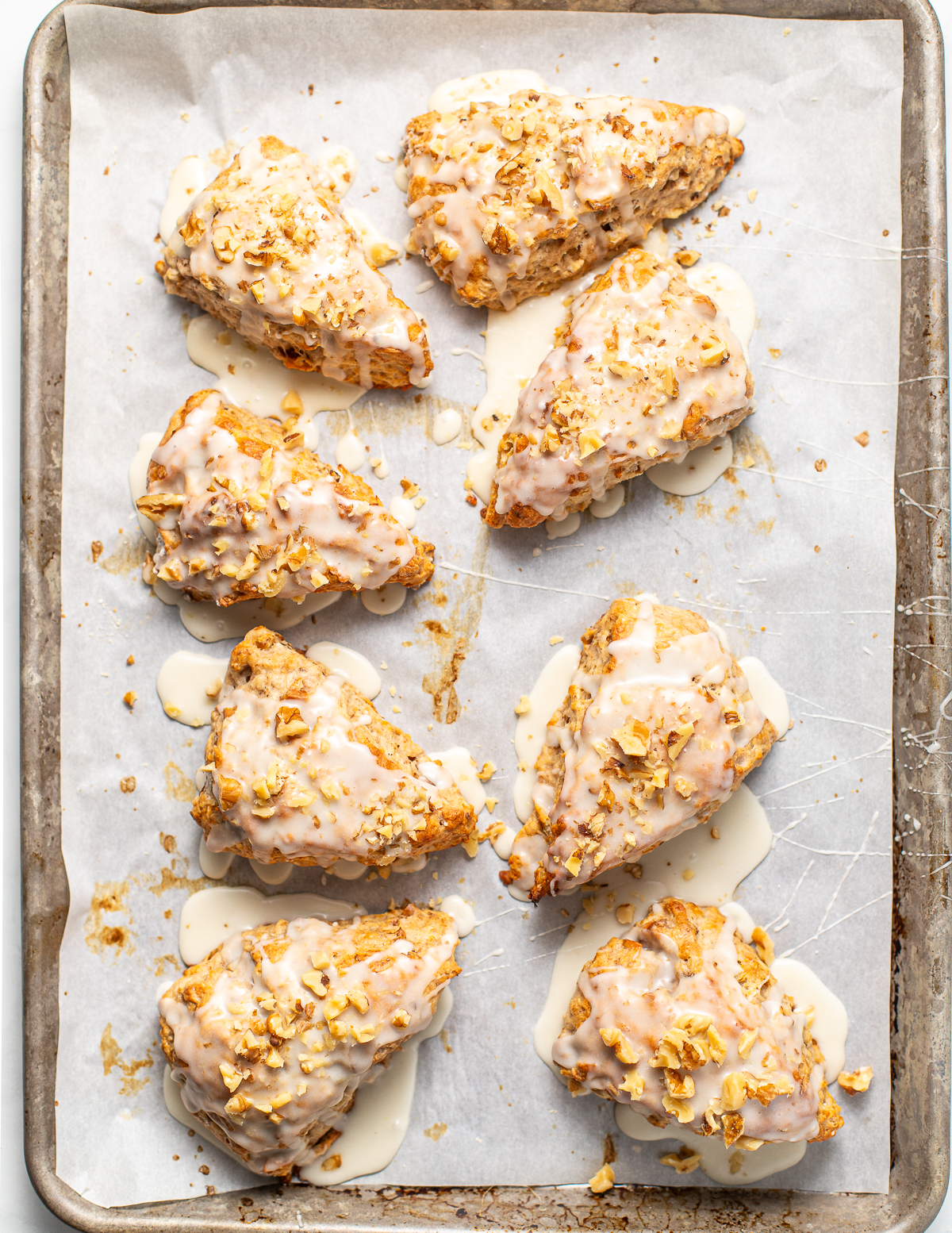 Overripe bananas were made for Vegan Banana Scones. I know it. You know it. And these maple-glazed scones know it.
They have just the right amount of density, flake and fluff, a delicious golden crust, and plenty of nooks and crannies for that sticky maple glaze to dribble and seep into.
Enjoy just as they are or split and spread with a generous schmear of vegan butter!
In this post:
Jump to:
Ingredient Notes
Let's take a look at the key ingredients:
Mashed very ripe banana - Adds flavour, sweetness and moistness. The riper and spottier the bananas the better!
All-purpose flour - Works really well and gives the perfect texture. You can use half wholewheat, and half all-purpose flour if you want to.
Spices - For flavour that really compliments the banana. If you don't have cinnamon and nutmeg then a teaspoon of pumpkin pie spice works well instead.
Walnuts - For texture and a nutty flavour that compliments the bananas perfectly. Sub pecans if you prefer or omit/ replace with chocolate chips.
Vegan Butter - Essential in scones for the correct texture and appearance. Harder varieties like my own butter recipe or Earth Balance work best. The really soft, very easily spreadable, margarine-type textured ones don't give such great results. Make sure the butter is very cold.
Baking Soda & Vinegar - The combination creates a chemical reaction and makes bubbles and fizz. It is used as a replacement for the leavening usually provided by eggs and helps the scones rise well and become fluffier.
Canned Coconut Milk - Thicker, creamier dairy-free milk produces better-tasting, fluffier scones and canned coconut milk works best in this recipe. You can use light or full fat.
Not a banana lover? Give my vegan apricot or vegan chocolate scone recipes a try instead!
Success Tip - As always with recipes involving flour and vegan butter, I highly recommend that you use a kitchen scale. Cup measurements are not accurate enough to get the best and consistent results. If you do need to use cups, spoon the flour into the cup then level off the top with a knife without compacting it or shaking it down. By doing it like this you will get roughly the correct amount and make your chances of success better. Do not scoop the flour up into the cup as you will end up with much more than intended and it will affect the outcome of the recipe.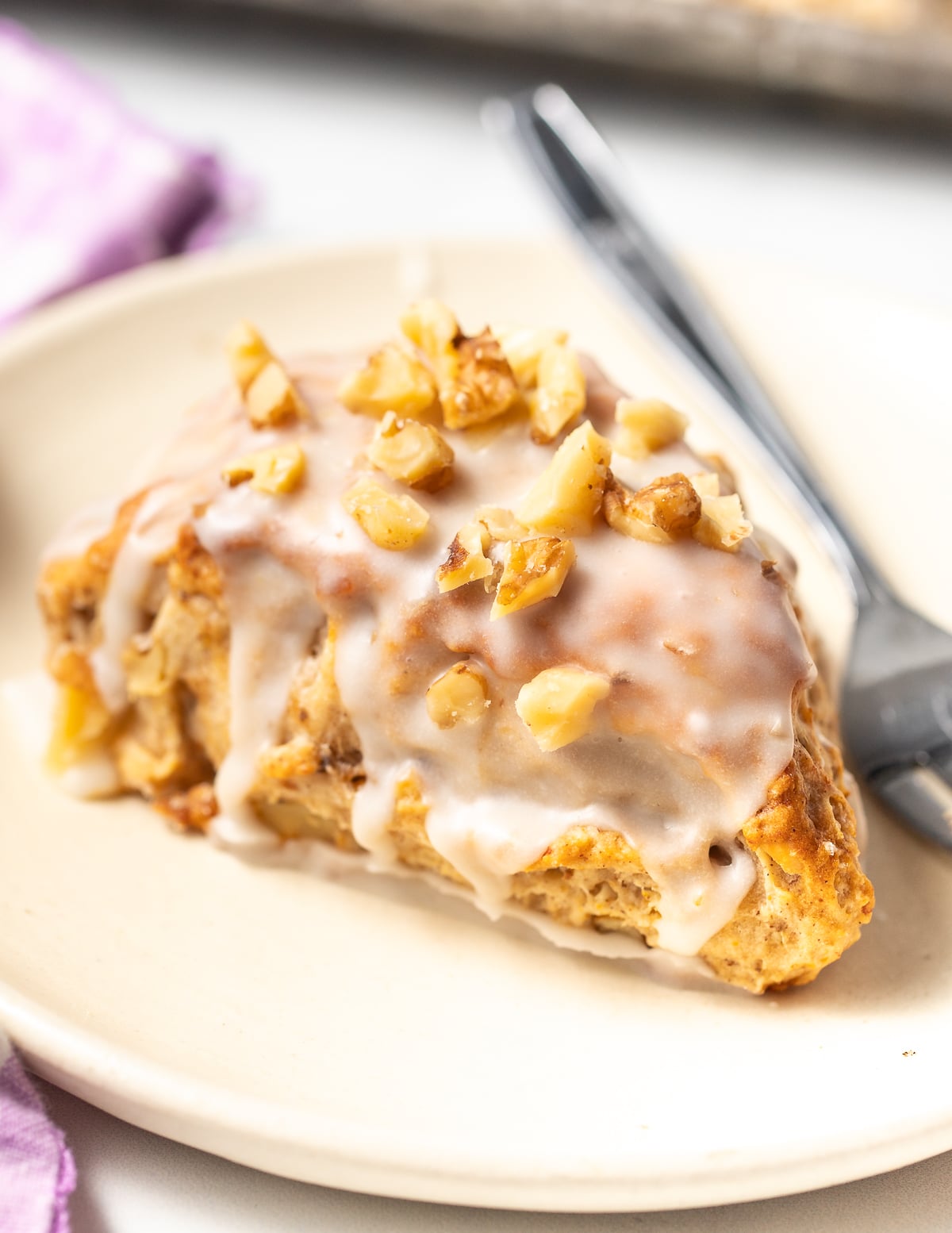 How To Make Vegan Banana Scones
Mash the bananas then add the wet ingredients and sugar.
Mix the dry ingredients together in a bowl, then cut/rub in the vegan butter so that it looks almost like coarse bread crumbs: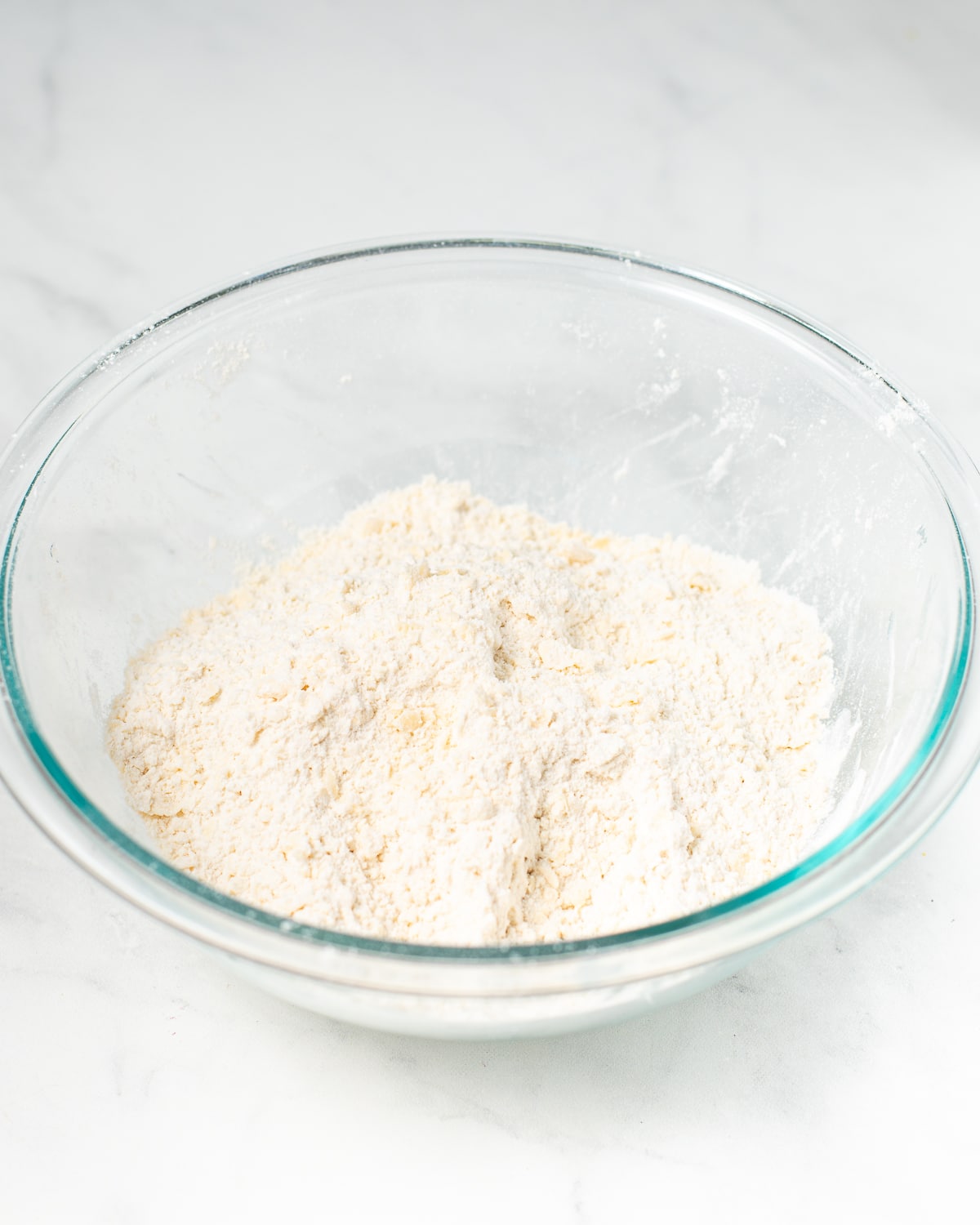 Pour the wet into the dry ingredients and mix with a knife until pretty much combined then use your hands to bring it together.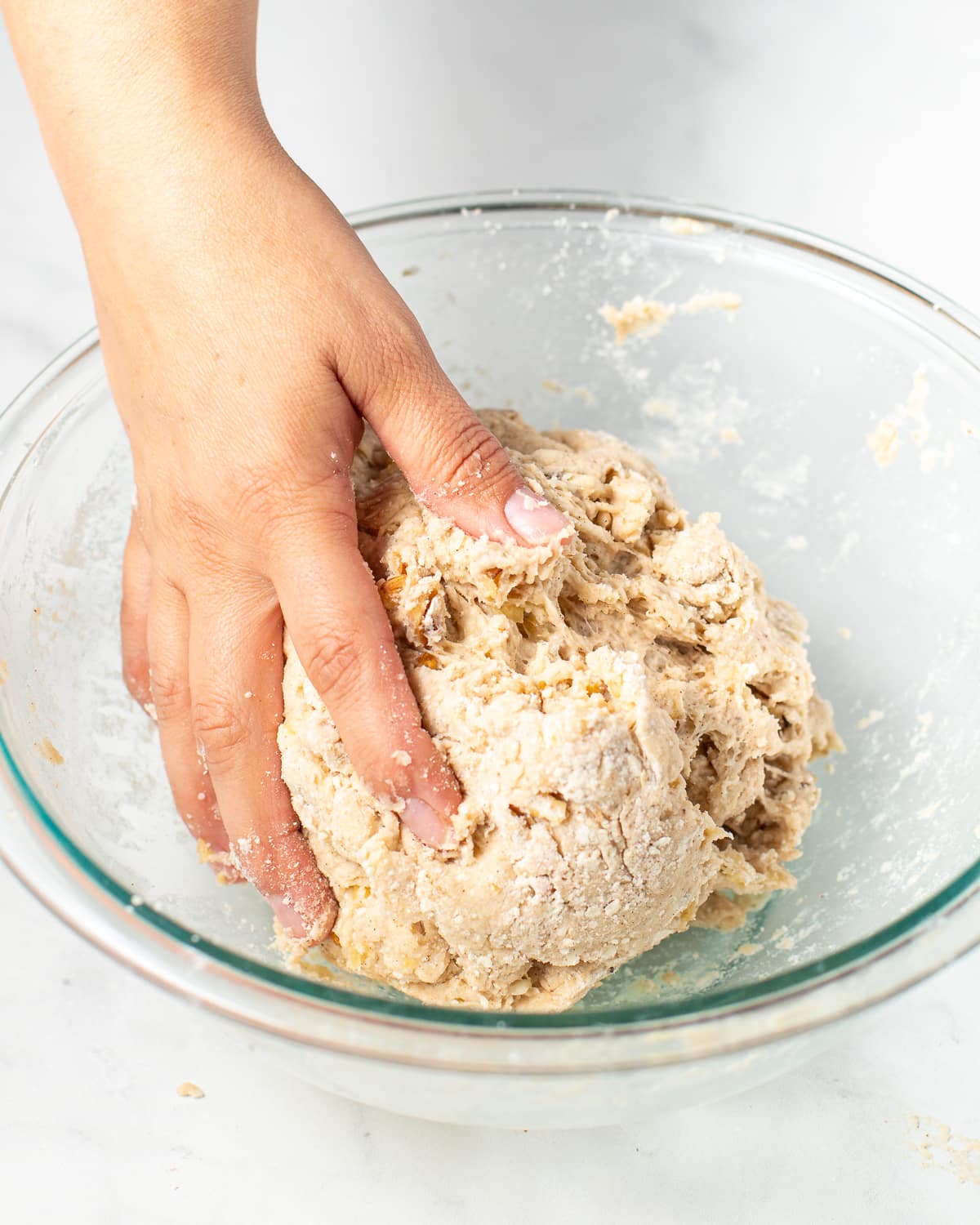 Turn out, shape into a disc, then cut into wedges.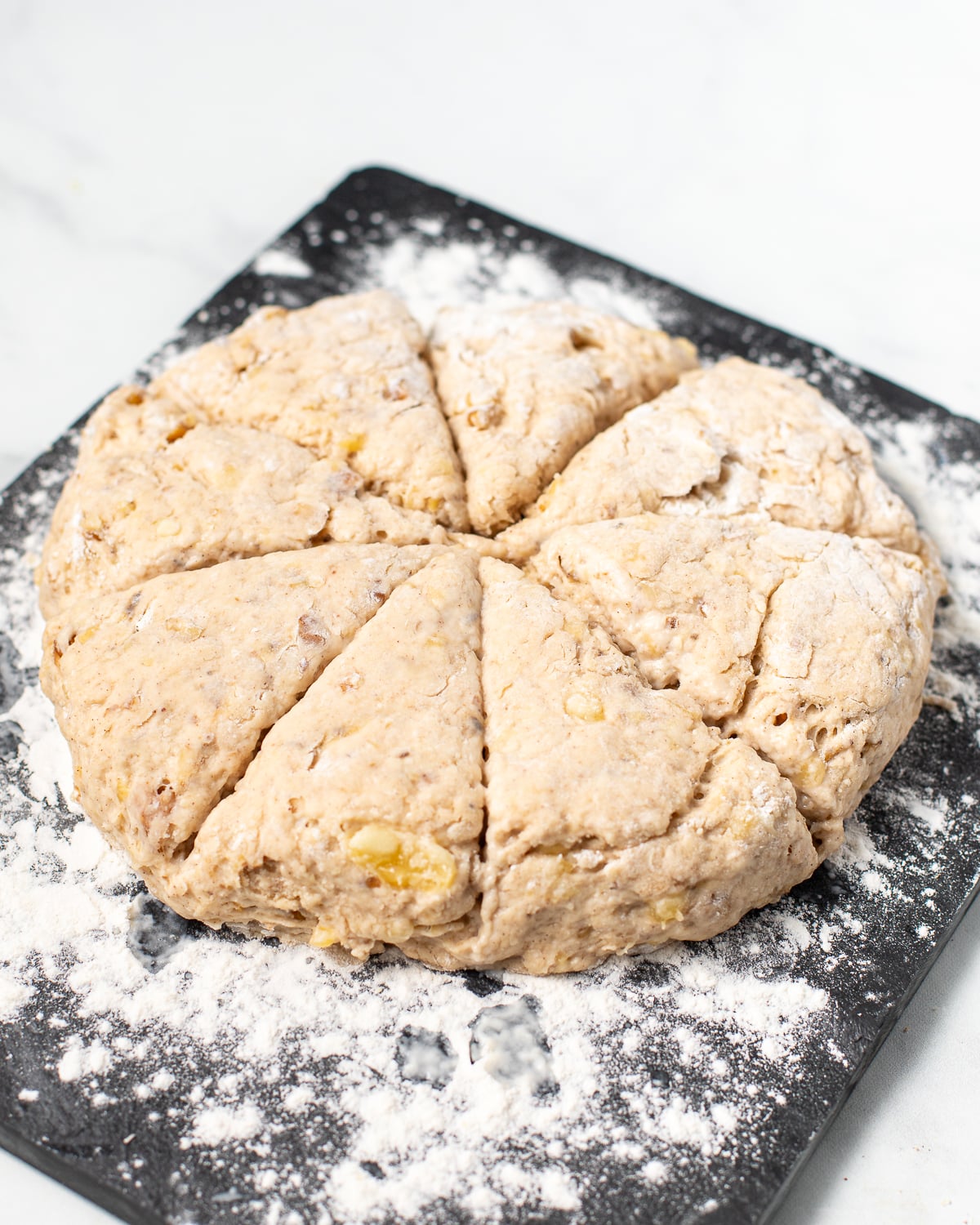 Transfer to a baking sheet, brush with milk and refrigerate for 15 minutes before baking.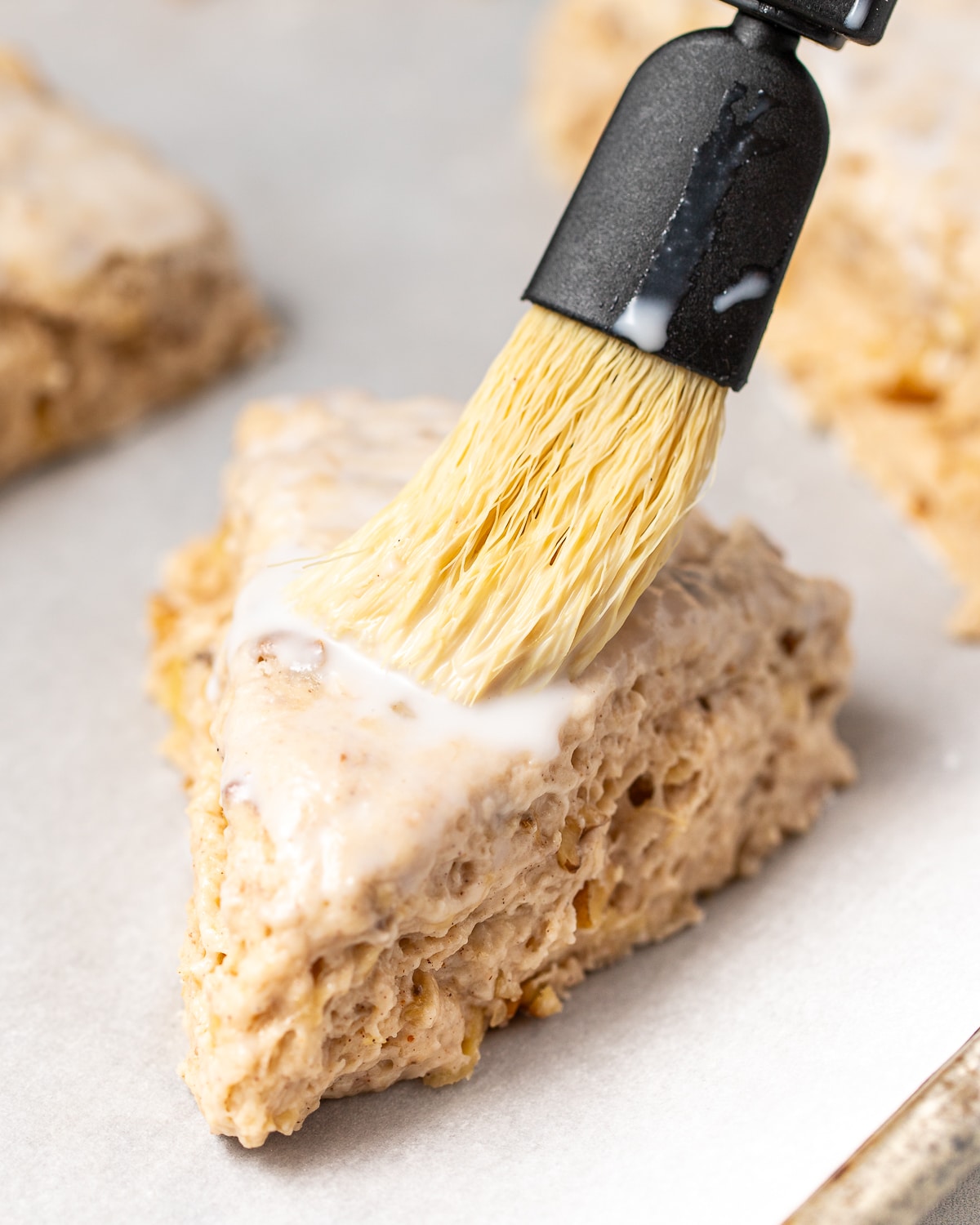 Mix up the glaze, then drizzle it on the cooked scones. Sprinkle with chopped nuts.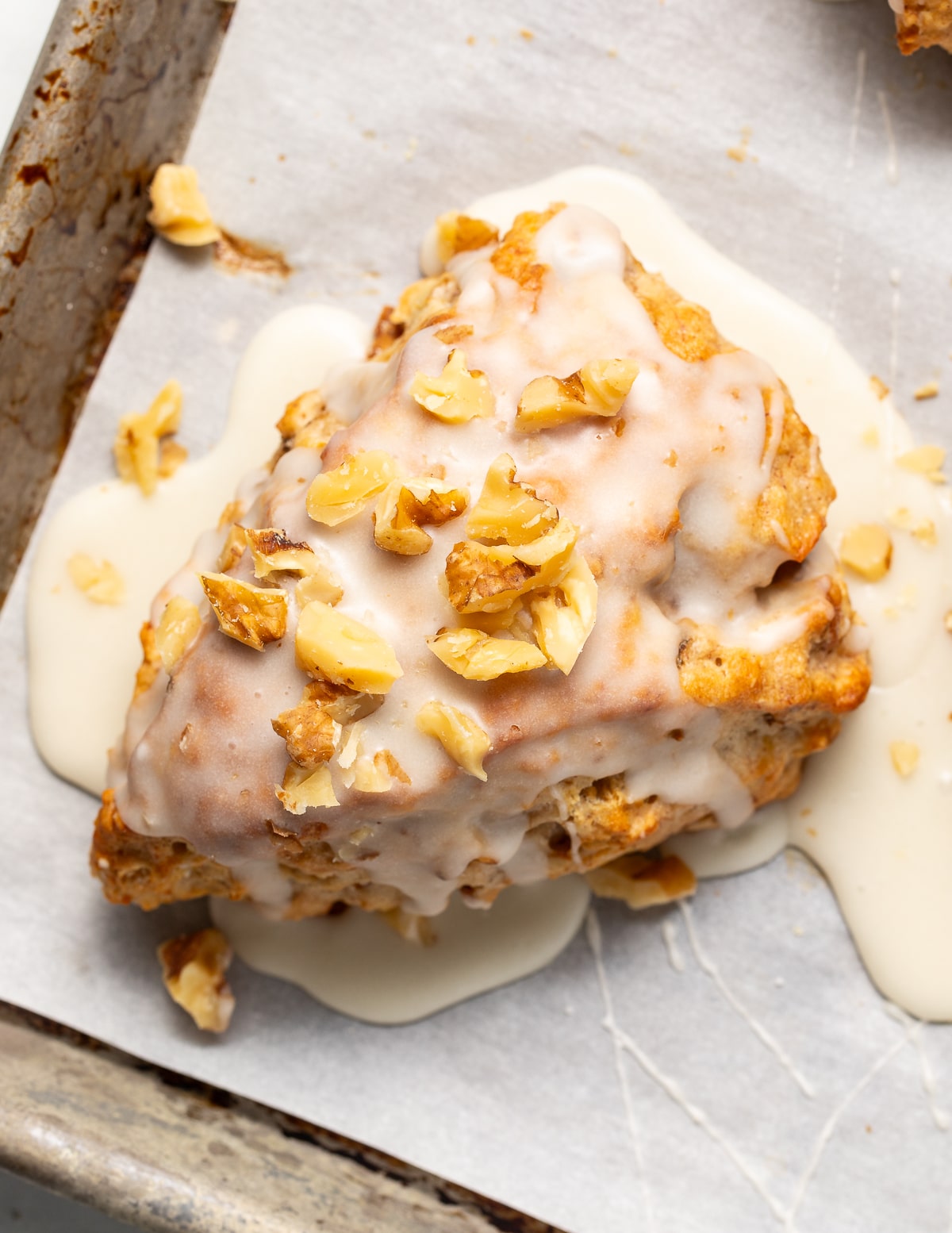 Success Tip - Try not to handle the dough too much and don't skip the refrigeration step. Scone dough needs to be kept as cold as possible to bake up perfectly.
Tips For Storing
Vegan Banana Scones are best served on the day they are made but will keep for up to 3 days in an airtight container or for 3 months in the freezer. You can enjoy them at room temperature or warm them before serving to refresh them. Reheat in a microwave. About 10 to 15 seconds for one scone or pop them on a tray in the oven and bake at 320°F (160°C) for 7 minutes. If you plan on reheating them it's best to not glaze them until after reheating.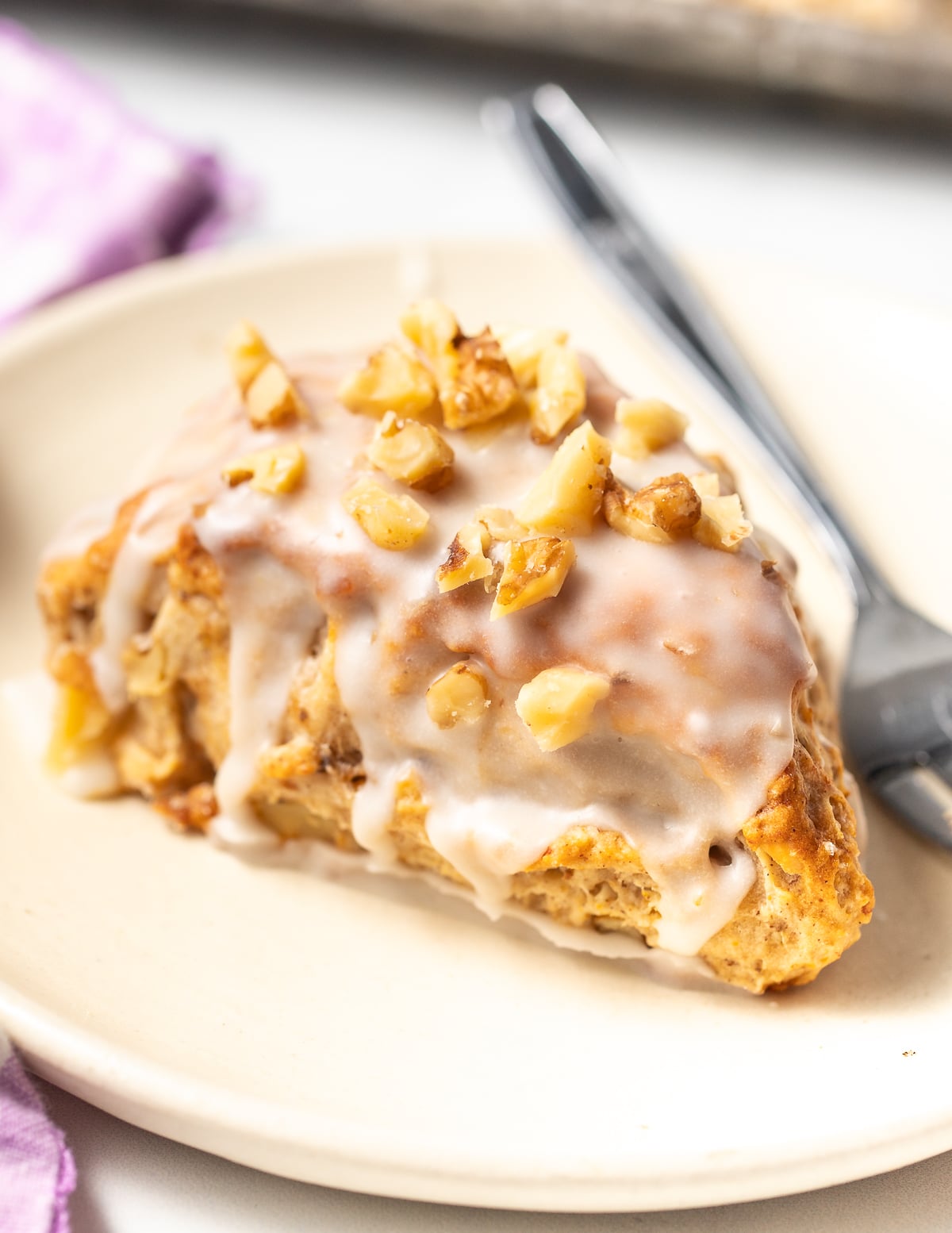 More Vegan Scones
If you try this recipe, let me know how you like it by leaving a comment and rating below! And be sure to join my mailing list for more deliciousness!
Recipe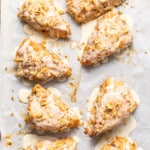 Vegan Banana Scones
Author:
Vegan Banana Scones with a delicious golden nubbly crust, soft insides, super yum banana bread taste, toasty nuts, and an over-the-top splatter of maple glaze!
INSTRUCTIONS
Line a large baking tray with parchment paper and set aside.

Peel the bananas and put them in a medium-sized bowl. Mash with a fork until they become a smooth lump-free puree.

Add the sugar, coconut milk, vanilla, and vinegar to the banana. Stir well to combine, then pop it in the fridge while you get on with the next step.

To a large bowl add the flour, cinnamon, nutmeg, baking powder, and baking soda. Whisk together.

Cut the butter into little pieces and drop them into the flour. Either cut into the flour with a pastry cutter, or rub in with your fingers. When finished the mixture should look like very coarse breadcrumbs.

Add about ⅔ of the chopped nuts and stir to combine.

Remove the wet ingredients from the fridge and pour into the flour mixture. Mix together with a dinner knife until everything is moistened and clumping together.

Flour your work surface and your hands and turn out the very rough scone dough onto the floured surface. Sprinkle some flour on the top of the dough and mold it into a disc shape about 8 inches in diameter and 1 inch tall. Dust with a little more flour as needed and try not to overwork it. The key to good scones is keeping everything cold.

With a large sharp knife or dough cutter, cut the disc into 8 wedges then transfer each wedge to the prepared baking tray. Brush generously with coconut milk, then put the whole tray carefully in the fridge for 15 minutes. This step is important so don't skip it.

While they are chilling preheat your oven to 420°F (215 °C)

Once the oven is at temperature remove the scones from the fridge and bake on the middle shelf for 18 to 20 minutes. They should be puffed up and lightly golden when done.

Remove from the oven and leave to cool for a few minutes on the tray before transferring to a wire rack.

To make the glaze add the powdered sugar to a small bowl. Gradually add the maple syrup stirring as you go to work out lumps. Then add the coconut milk gradually. It wont seem like enough liquid at first but it should come together into a nice, thick, dribbly glaze with a bit of stirring. If you prefer it thinner you can add a tiny bit more coconut milk but a thicker glaze coats the scones better.

Drizzle the glaze over the scones. You can do this while still warm or let them cool completely before glazing. For a stickier effect do it while warm. If you want the glaze to set, wait until they are cold.

Immediately sprinkle with the remaining chopped nuts so they stick in the glaze.
NOTES
Store leftover canned coconut milk in a sealed container in the fridge or freezer. Use it up in a smoothie, curry, soup or oatmeal.
Nutritional information is calculated with the optional glaze and extra nutty sprinkle. 
NUTRITION
Serving:
1
scones
|
Calories:
422
kcal
|
Carbohydrates:
65
g
|
Protein:
7
g
|
Fat:
16
g
|
Saturated Fat:
3
g
|
Polyunsaturated Fat:
8
g
|
Monounsaturated Fat:
4
g
|
Trans Fat:
0.04
g
|
Sodium:
305
mg
|
Potassium:
426
mg
|
Fiber:
3
g
|
Sugar:
26
g
|
Vitamin A:
409
IU
|
Vitamin C:
3
mg
|
Calcium:
115
mg
|
Iron:
3
mg
Did you make this recipe?
Rate it & leave feedback in the comments section below. I love seeing your remakes too. Tag @avirtualvegan on Instagram! 🌟