Rich and hearty Portobello Pot Roast. Meaty portobello mushrooms, red wine, herbs & vegetables combine to make a delicious plant-based feast.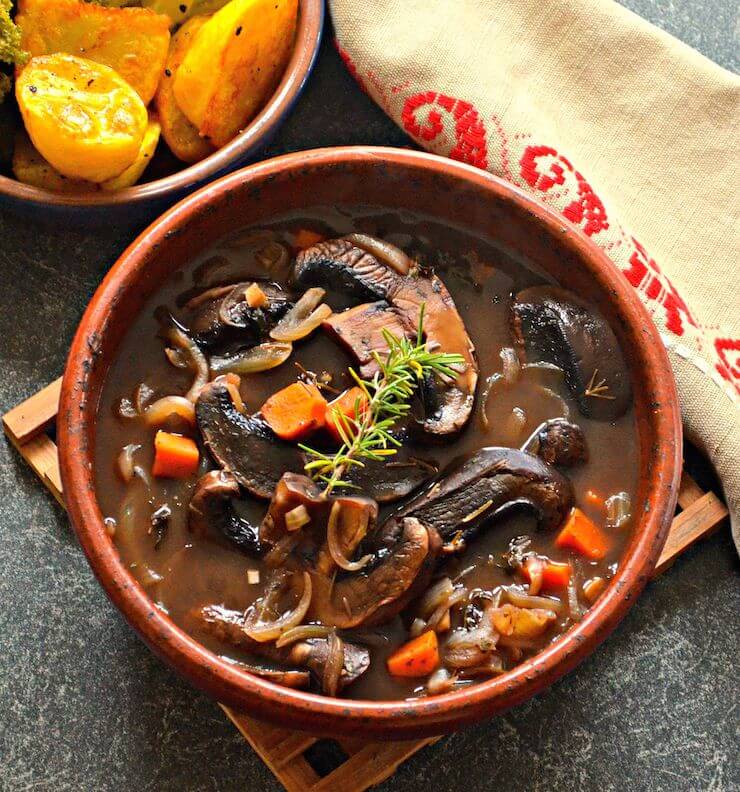 When BenBella Books contacted me to ask if I would be interested in taking part in a blog tour and reviewing  "The Plant-Based Journey" by Lani Muelrath I knew that it would be a great opportunity to:
Read a fabulous book
Learn more about leading a plant-based life (as I am myself relatively new to veganism)
Further promote a healthy plant-based diet
Share with you all a review of the book and give you a chance to win your very own copy! (Details below)
A Virtual Vegan is the sixth official stop in the #pbjblogtour …..(Is it wrong that every time I type that I think of peanut butter and jelly !?!) Here you can read my review, try out Lani's amazing Portobello Pot Roast recipe and take part in my giveaway to win a copy of the book (details at the end of this post). You can also visit the other blogs taking part in the tour and get the opportunity to try out more recipes and enter their giveaways. Here you can see details of all the other official blog tour stops:
I read a lot. Mostly fiction (and cookbooks) but rarely non-fiction. "The Plant-Based Journey" is the first non-fiction book that I have read in a very long time and I really enjoyed Lani's approach to writing. From the beginning it felt like I was getting to know a friend and her openness and humour were quite refreshing.
I enjoyed the mix of personal knowledge, experience, hints and tips, combined with the latest scientific evidence, data and validated theories. They will hold me in good stead the next time someone chooses to question my vegan lifestyle. It will be great to use some of the examples featured in "The Plant-Based Journey" in my defence. Anyone sceptical of the plant-based lifestyle would be hard pushed to counter attack the evidence presented here.
"The Plant-Based Journey" is very easy to navigate and divided into convenient sections. You can see a full list of the contents here. In the book you will find examples of plant-based transformations and reader tips, examples of families who transitioned to plant-based eating together, tips for eating out and making menus work for you, dealing with family, friends and in particular family gatherings, exercise tips, meal plans, shopping lists, recipes and helpful and flexible recipe templates.
"The Plant-Based Journey" is a wonderful resource for those just starting out as well as for those who are more experienced in the plant-based lifestyle.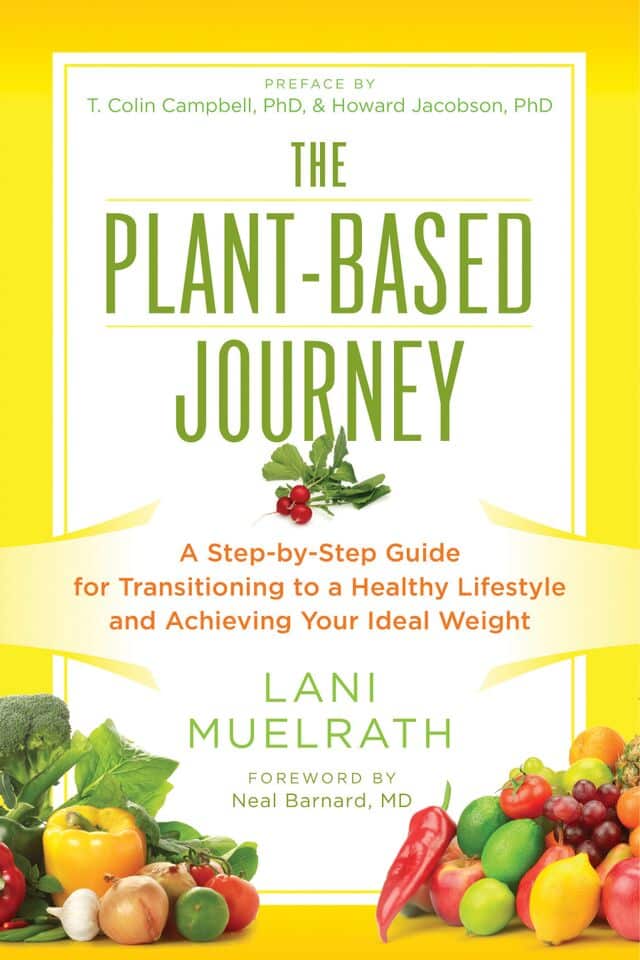 "The Plant-Based Journey" is officially released on September 15th and if you want to get your hands on a copy of the book as soon as, and don't want to wait for the end of my giveaway, then you can preorder it now. If preordered before the release date you will receive a bonus gift. Details of the bookstores from which the book is available for preorder and the bonus gifts and how to claim them are available here.
Now on to the Portobello Pot Roast!
There were a few recipes in the book that I considered featuring here, but anyone who knows me well knows how indecisive I am! Because I couldn't choose I put forward a vote on my Facebook page. The Portobello Pot Roast was a clear winner.
I made the Portobello Pot Roast for dinner last night. I am the only vegan in our household and my husband and son were having roast beef for dinner. I cooked this alongside it and because they were having roast potatoes I did not add the potatoes to the recipe. I used red wine as a substitute for the white as that was what we were planning on drinking with our dinner, and I used fresh sage instead of rubbed sage as I have some growing in a pot outside. Other than this everything was as suggested in "The Plant-Based Journey".
The dish was easy to make and the instructions clear. The first step involved sautéing the portobellos in some of the wine. I found that they absorbed the wine very quickly and began to stick to the pan a bit. I would suggest using a non stick pan rather than a stainless steel one as I did. This however was the only problem that I ran into.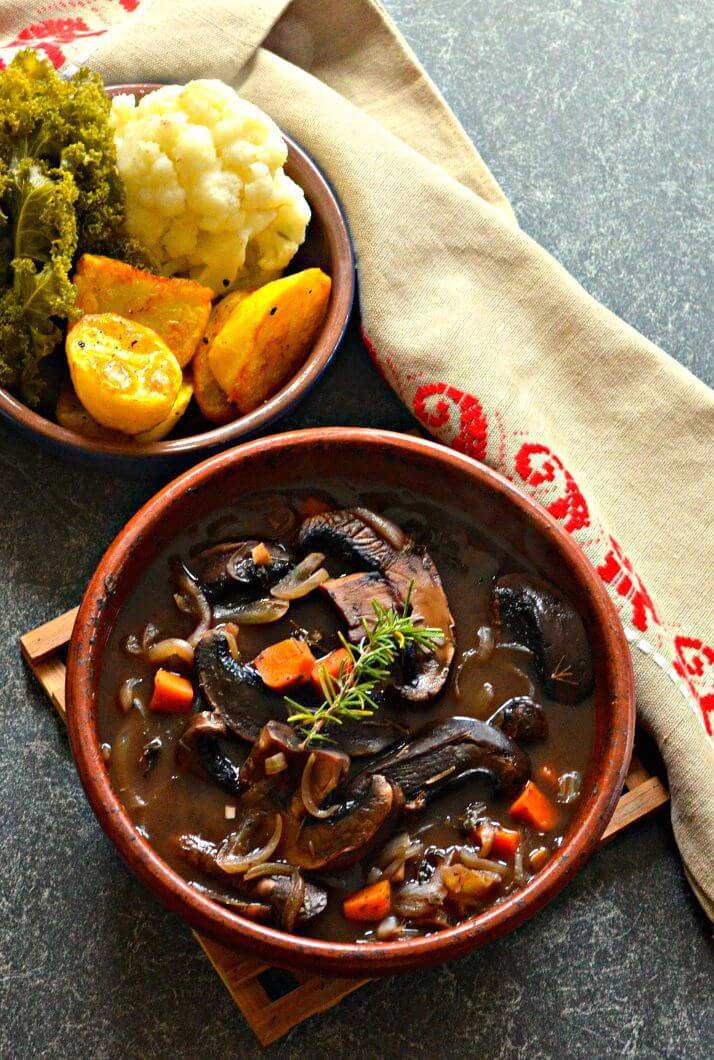 When the Portobello Pot Roast was removed from the oven it smelt great and looked rich and delicious. I served it with crispy roast potatoes, some steamed vegetables, a little horseradish sauce and a big glass of red wine. The horseradish complemented it perfectly and for the first time I didn't feel as if I was eating a sub par meal while my family devoured their roast beef and Yorkshire puddings. I thoroughly enjoyed it and will certainly cook it again. I would however add a little more red wine to the sauce and a bit less stock, plus a few dried and rehydrated porcini mushrooms to intensify the flavour a little.
I also tried this recipe in my slow cooker with good results.
One downside to "The Plant-Based Journey" is that there are no pictures in it. I think pictures are always helpful with recipes so you can get an idea of what the dish should look like. They also help in getting those taste buds engaged, ready and waiting, so that you actually want to go cook it. That is why I have added a couple of my own pictures with the recipe below. It looked so darn good that I couldn't not share them with you!
I would love to hear your feedback on this recipe. You can leave comments below and tag me on Instagram[email protected] and add the hashtag #avirtualvegan and #pbjblogtour so I don't miss them!
The giveaway details are featured below the recipe.
Lani Muelrath
Yields 4 servings
Portobello Pot Roast
Lani Muelrath says: "This recipe came to me as a happy surprise from my friend Jim Presentati. I first met Jim on our favorite mountain biking trail. Soon after he told me his phenomenal plant-based success story (see page TK), Jim raved about the "absolutely delicious portobello mushroom pot roast" that his wife Kathy makes. The next time I saw him, he mentioned it again. Time to investigate! When Kathy graciously sent me her recipe, I couldn't help but think it was a perfect match for this section of the book. Who doesn't know and love pot roast? The portobellos make the perfect savory swap-out and create a whole new gustatory experience. Here is my version, adapted from Kathy's recipe, with just a tweak or two."
30 minPrep Time
1 hrCook Time
1 hr, 30 Total Time
Ingredients
1/2 cup white wine (you can also try red—I've even made this with sake), divided
4 large portobello mushrooms, sliced into 3/4-inch pieces
1 large onion, sliced
2 cloves garlic, pressed
3 tablespoons flour (if sensitive to gluten use gluten-free flour)
1 teaspoon rubbed sage
1 teaspoon dried basil
2–3 cups vegetable broth, divided
4 potatoes, quartered
4 carrots, cut into 3-inch pieces
Salt and freshly ground black pepper or lemon pepper, to taste
2 teaspoons vegan Worcestershire sauce
3–4 sprigs fresh thyme
1 sprig fresh rosemary
Instructions
Preheat the oven to 350 degrees F (for slow cooker instructions see recipe notes)
In a large saucepan, heat 1/4 cup of the wine and add the portobello mushroom slices. Allow them to cook through and brown a bit—you'll need to keep moving them around and turning them—and then remove from the pan and set aside.
Add the remaining 1/4 cup wine to the pan and add the onion and garlic. Caramelize the onions by stirring them until they wilt and begin to brown. Remove the onions from the pan and set aside.
Mix the flour, sage, and basil together in a small bowl. Stir in 1/4 cup of the broth to create a paste, and pour the mixture into the same pan you used for the mushrooms and onions. While stirring constantly over medium heat, very slowly add the rest of the broth so that you create a gravy or sauce.
When the mixture just starts to boil, turn the heat off and add any additional seasonings you prefer. (Kathy suggests parsley and pepper.)
Add the potatoes, carrots, salt and pepper, and Worcestershire sauce to the gravy mixture. If more liquid is needed to keep the vegetables from drying out, add more broth.
Add the mushrooms and onions to the mixture and ladle into a large ceramic or glass pot or casserole dish with a lid, layering in the sprigs of rosemary and thyme. Place the lid on and put into the oven and bake for 1 hour. Remove from the oven and serve hot.
Notes
Alternate Cooking Options: • If you have a large, heavy pot such as a dutch oven that can go from cooktop to oven, you can prepare the entire dish in that fashion, as Kathy does.
• Assemble everything in a big pot on the stove or pressure cooker and cook until the vegetables are done. The flavor pizzazz provided by searing the mushrooms, onions, garlic, and gravy is compromised somewhat. Yet if you're pressed for time, each variation is delicious.
If you would like to cook this Portobello Pot Roast in a slow cooker then prepare as directed until step 5 then tip it all into a slow cooker, then add the rest of the ingredients as per step 6. Cook on low for 3 - 4 hours. Add a little more liquid if it looks like it might dry out towards the end. You could use broth or some red wine.
6.6.15
https://avirtualvegan.com/portobello-pot-roast/
Melanie McDonald | A Virtual Vegan