Flying by the seat of your pants is all well and good, and it's something I do all too often, but for a stress-free, much more budget friendly Thanksgiving, a little organization goes a long way. That's where my Vegan Thanksgiving Dinner Menu & Shopping List comes in!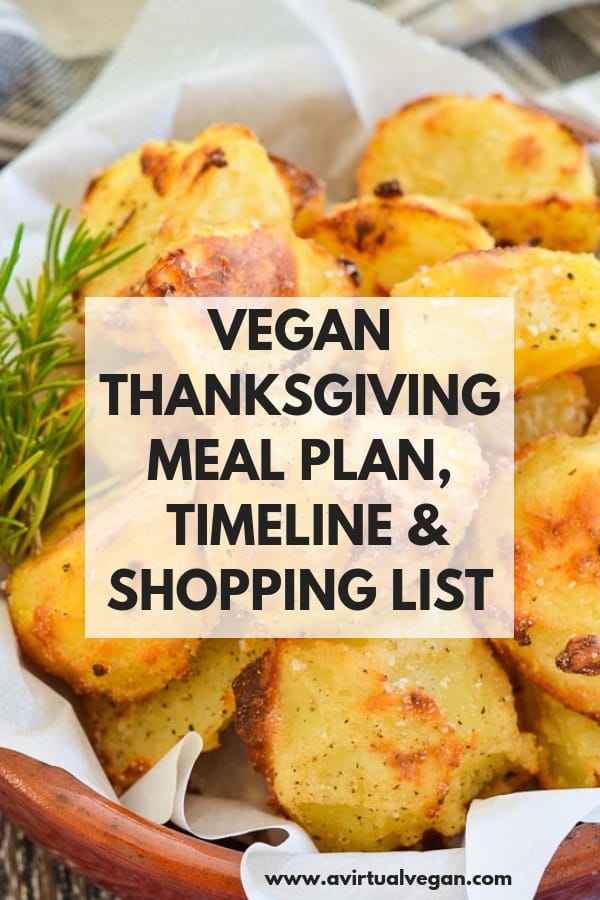 We've all been there. Arriving at the grocery store the day before, not really knowing what we are going to make, and buying so much more than we actually need out of sheer desperation and a total lack of planning.
So this year, I have decided to be super organized and plan my Vegan Thanksgiving Dinner Menu and my Vegan Christmas Dinner Menu ahead of time and actually write a proper shopping list. I have also decided to share them with you because I am guessing I am not the only totally disorganized person out there.
Now I say "super organized", but here in Canada, Thanksgiving is this Monday, so I am still sailing pretty close to the wind, but it's way better than it ever has been before, so I think I deserve some credit here! ????
Not only will you get a full Vegan Thanksgiving Dinner Menu with a handy printable shopping list, you will also get a time-line for the day, plus tips for making and prepping most of it in advance, which all goes towards making your Thanksgiving so much more pleasant and stress-free.
So relax, arm yourself with my menu, step-by-step guide and a glass bucket of wine, and your Thanksgiving will be a complete breeze!
This menu will comfortably feed four to five hungry people with plenty of leftovers. Any more than that and you will need to double the Roast Potatoes and possibly the meatloaf but read my notes there before you make a decision. Everything else should still work out ok for up to about 8 people.
Make your vegan Thanksgiving meal easy by downloading my full Thanksgiving dinner menu, shopping list and handy timeline!
---
QUICK LINKS WITHIN THIS POST:
Printable document with shopping list, timeline and all recipes except the Maple Cinnamon Cranberry Sauce
Maple Cinnamon Cranberry Sauce (the ingredients are included in the shopping list and it is also included in the timeline, but I cannot include the recipe in the download because it is not mine. So you need to just print this one recipe separately).
And here are all of the recipes again in one place so you can look at them or print them separately if you want to:
APPETIZERS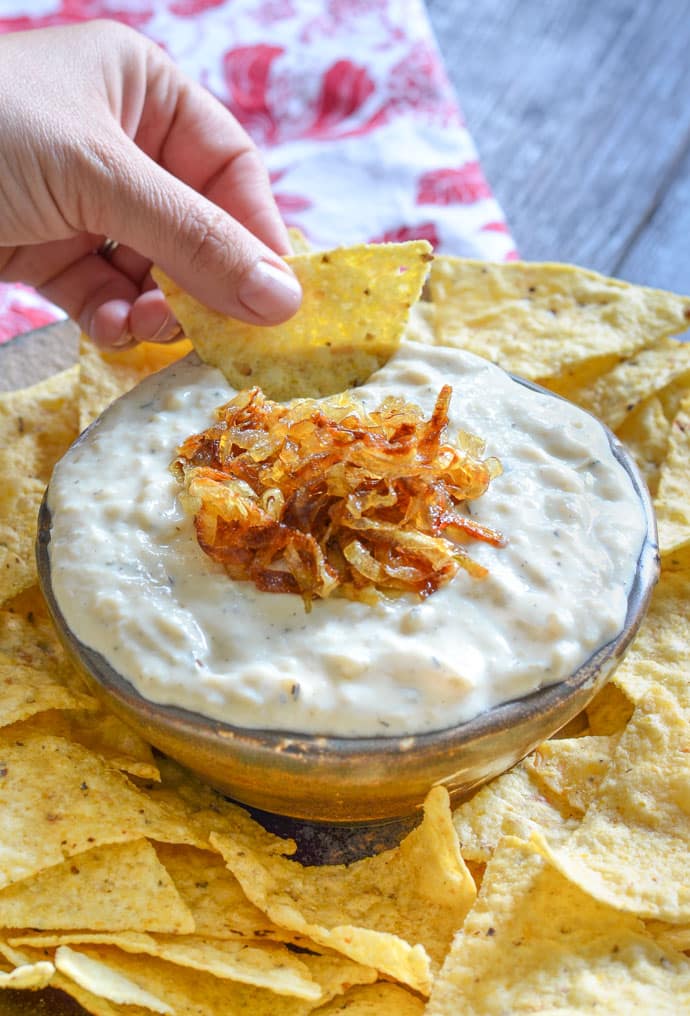 This Creamy Vegan Garlic Onion Dip recipe makes a nice sized bowl full. About 2 heaping cups in total. It can be made up to 2 days in advance. On the shopping list I have included tortilla chips for dipping along with optional crunchy crudités. Celery, carrot sticks, bell pepper, cauliflower, broccoli, all work well.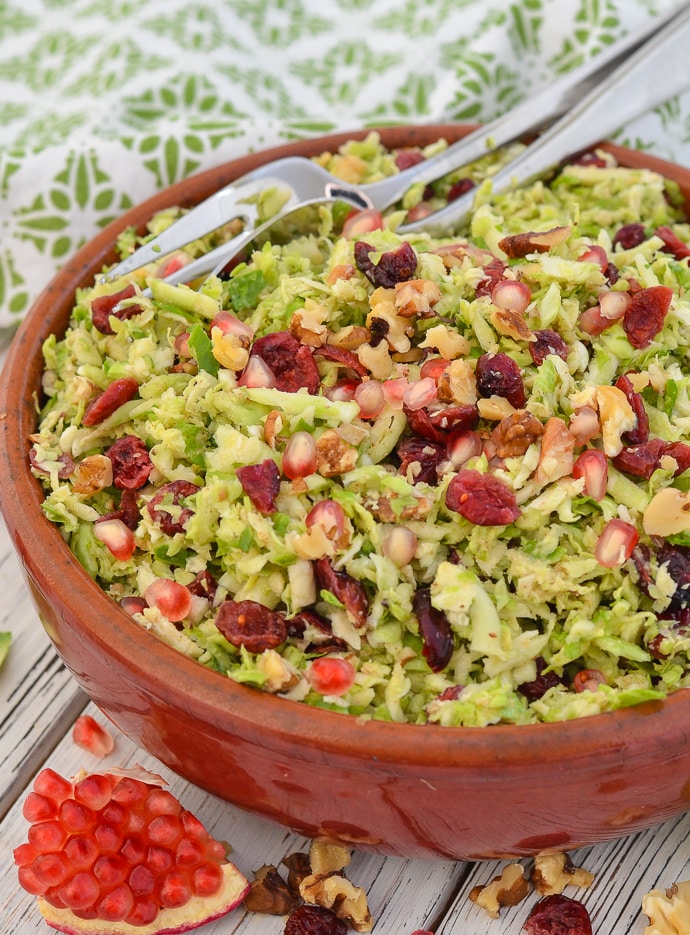 This very festive Cranberry Pecan Brussels Sprout Salad makes a great appetizer or side, and unlike salads with lettuce, it doesn't go limp and soggy when made ahead. You can prepare it all the day before and even mix it with the dressing. Just be sure to leave out the nuts until just before serving so they retain their crunch. Leftovers are great for a couple of days.
MAIN COURSE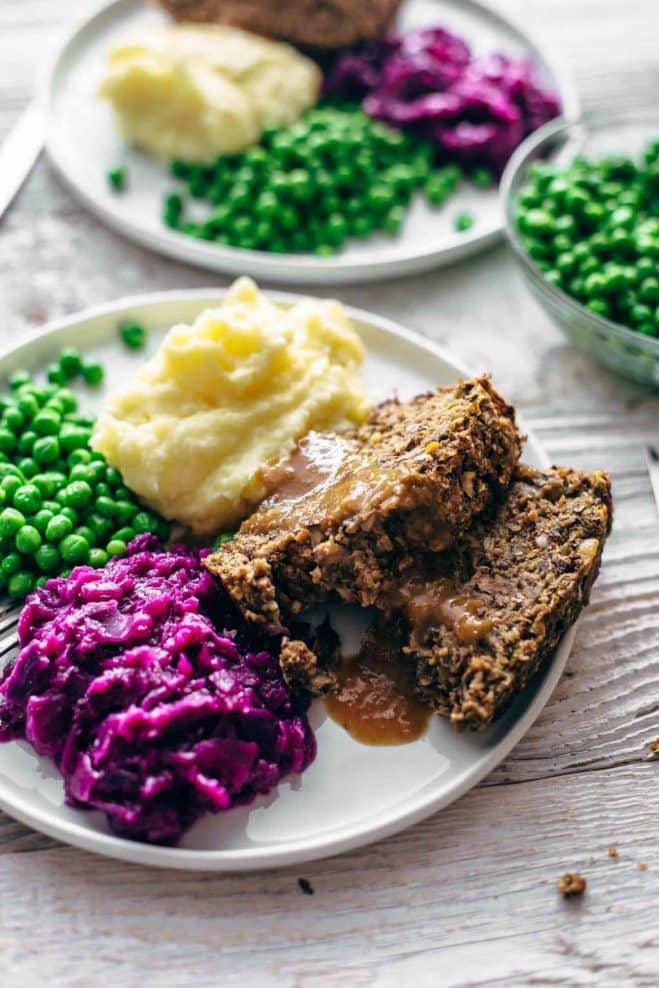 You can get about 8 thick slices out of this Vegan Meatloaf. It will usually comfortably feed 4-5 adults but as the Roast Stuffed Pumpkin below is also part of the menu, it can stretch a bit further in this meal because you wont need quite so much. It can be made up to a couple of days ahead. Just wrap up well and stow away in the fridge. Leftovers reheat really well and are also awesome thinly sliced in sandwiches so if you feel the need to double the recipe don't be worried about ending up with too much. There should be enough gravy for everyone but if you like lots it might be worth doubling it to be safe. Remember to adjust the shopping list if you do decide to double anything.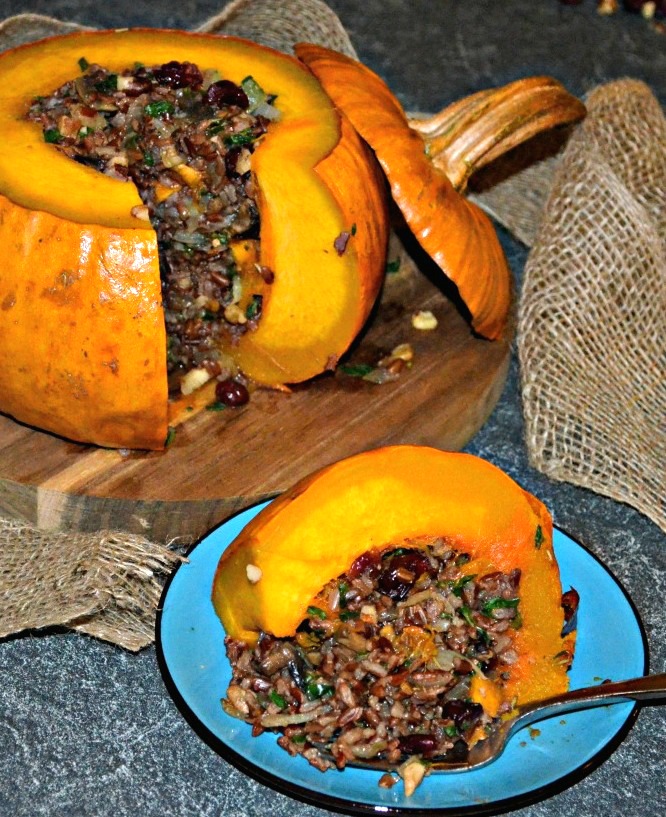 This Roast Stuffed Pumpkin makes such a lovely centrepiece! You don't have to use a pumpkin. Any squash will do, but so the filling fits nicely, one around 8 inches in diameter will be best. This isn't as difficult as it looks. It's just a case of cooking the rice and sautéing the onions, garlic and mushrooms. Then it all gets mixed up together with a few other things, seasoned and stuffed inside the pumpkin. It then gets wrapped up and can be cooked right away or kept until the day after. If you aren't going to stuff and cook the pumpkin right away, be sure to cool the cooked rice very quickly (ideally within one hour), then refrigerate it immediately and be sure that the rice inside the pumpkin is piping hot before serving.
SIDES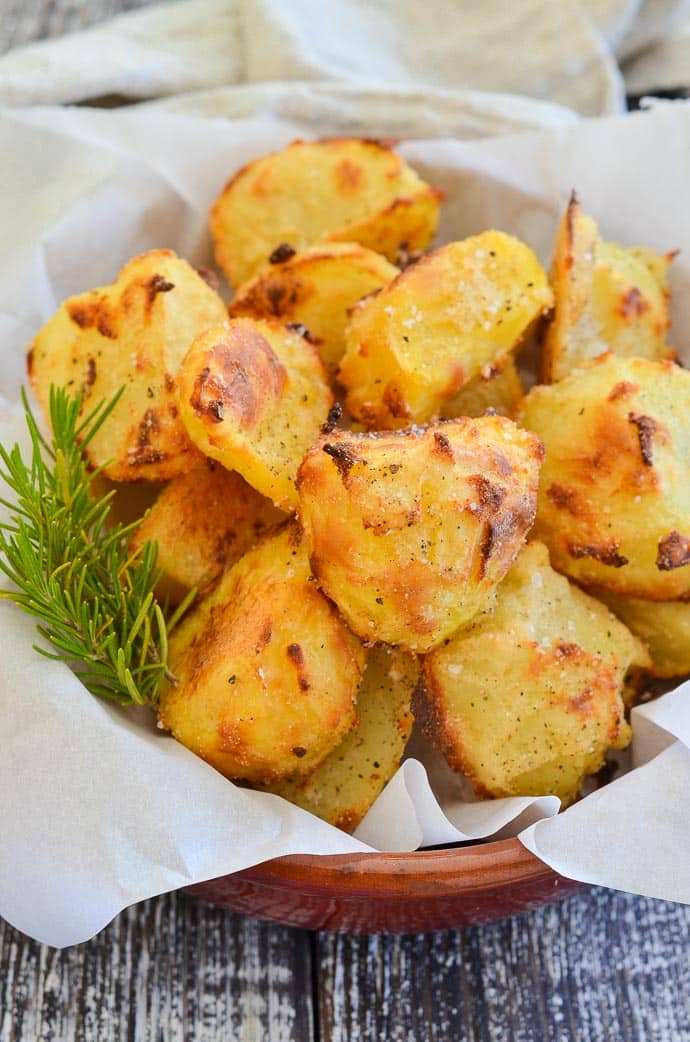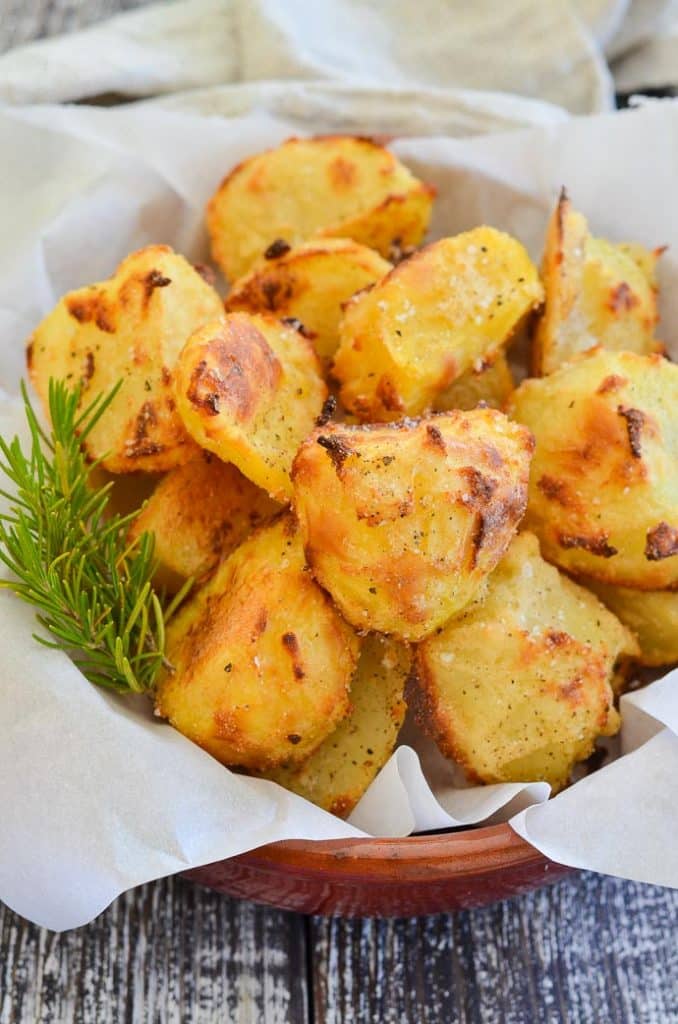 You won't miss the oil in these Crispy Roasted Potatoes. They have had such great feedback since I published them. This recipe feeds 4 - 5. Any more and you will need to double it. Be sure to adjust the ingredients list accordingly if you do.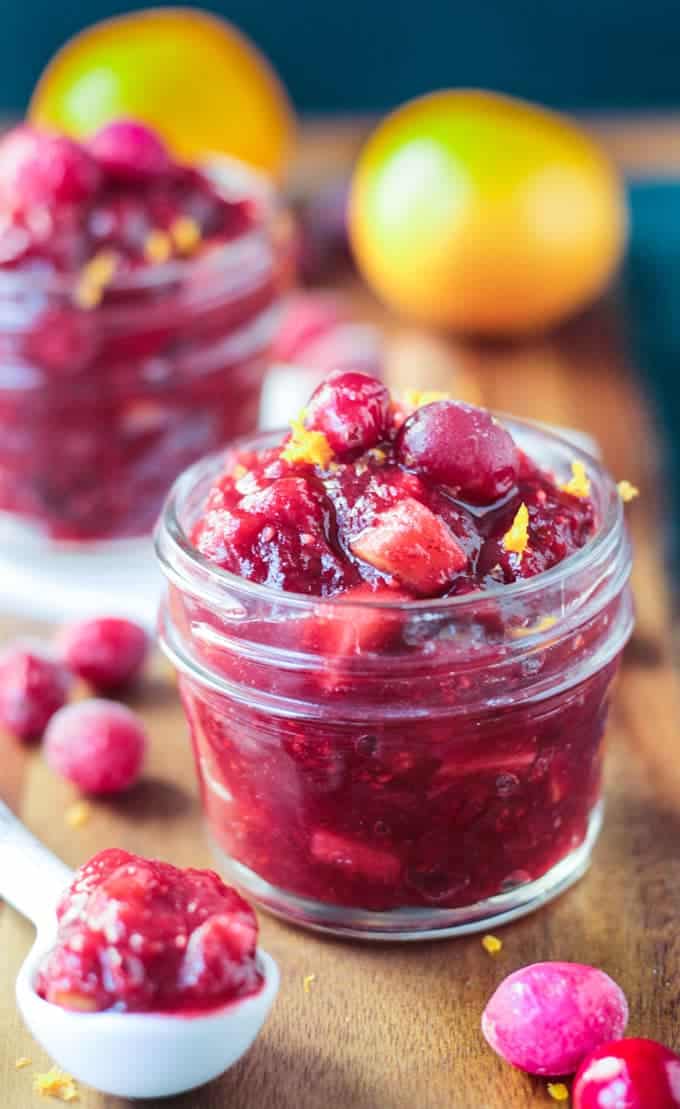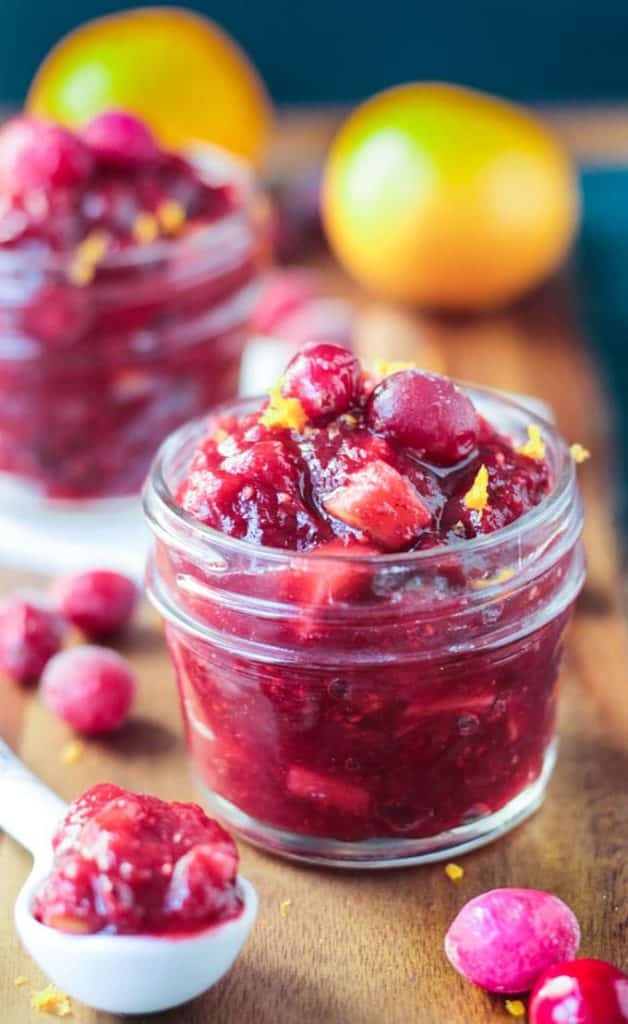 Now for the only recipe in this Vegan Thanksgiving Dinner Menu that isn't mine, and I am sharing it with permission from Veggie Inspired. I have made this Maple Cinnamon Cranberry Pear Sauce for Thanksgiving and Christmas the last couple of years. It is really lovely and is the perfect addition to your Thanksgiving Dinner. It works so well with the Meatloaf. It keeps really well for several days in the fridge so you can make it well in advance.
Vegetables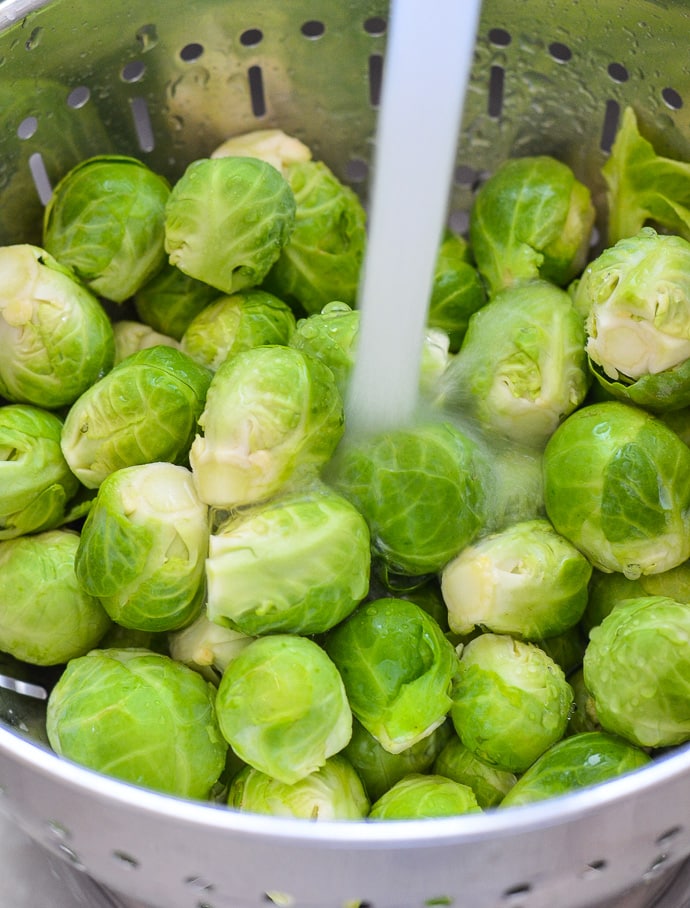 When it comes to the veggies, I am all for simple and unadulterated. There is a lot going on elsewhere so simple steamed veggies on the side are just perfect. I usually buy whatever looks good at the greengrocer. It could be peas, Brussels sprouts, beans, carrots, broccoli, cabbage (red cabbage looks particularly festive), kale, rapini. Just whatever you fancy and whatever everyone likes. 2 varieties, 3 at the most should be plenty. I have added a note on the shopping list so you don't forget them.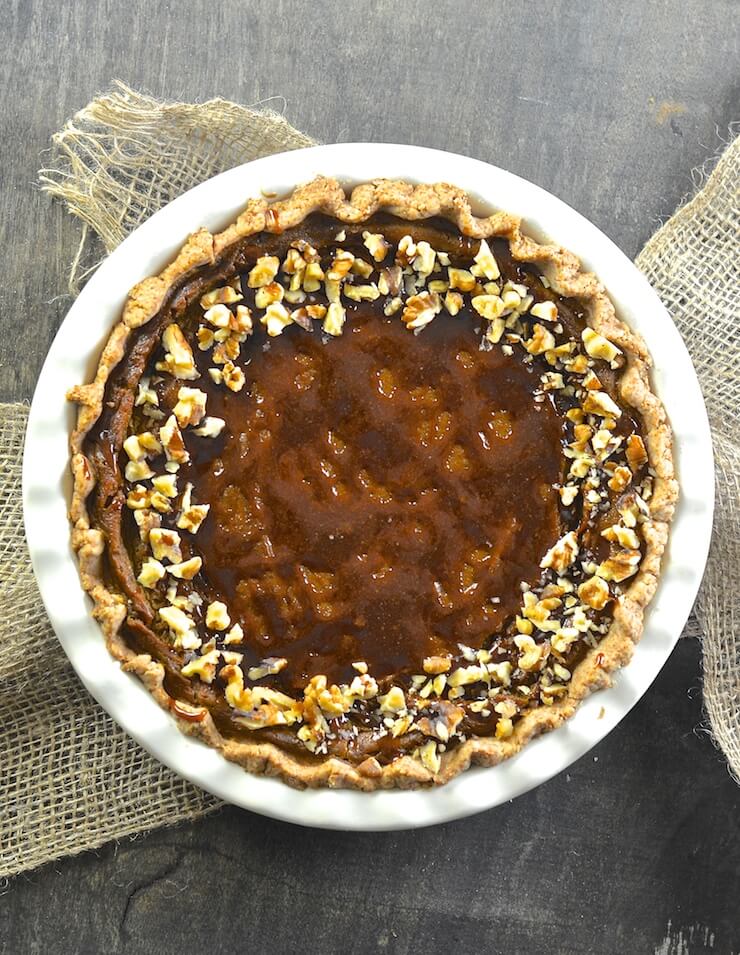 This Pumpkin Pie with Caramel Sauce is really decadent and will feed 8 people easily. It needs a couple of hours in the fridge after baking so is best made the day before. The caramel sauce only takes a few minutes to make but can be made up to a week before. The sauce is best served warm over the pie. It does firm up in the fridge but you can warm it through gently in a pan over a very low heat or for a 20-30 seconds in a microwave. I love serving this pie with dairy-free vanilla ice-cream but squirty vegan whipped cream or whipped coconut cream is also good with it.
THANKSGIVIING DINNER MENU SHOPPING LIST & TIMELINE
All you need to do now is download and print the Vegan Thanksgiving Dinner Menu and shopping list. All of the recipes are included except for the Maple Cinnamon Cranberry Pear Sauce. That's because it is not my recipe. You will need to print just this one recipe separately and can do so here or just below.
---
CLICK HERE TO DOWNLOAD AND PRINT MY VEGAN THANKSGIVING DINNER MENU, SHOPPING LIST AND TIMELINE
THEN
CLICK HERE TO PRINT THE MAPLE CINNAMON CRANBERRY PEAR SAUCE (sorry this one can't be included in the download as it's not mine).
---
Here are all of the recipes again in one place so you can look at them or print them separately if you want to:
Happy Thanksgiving!
---
DID YOU FOLLOW THIS THANKSGIVING DINNER MENU?
If you did, be a ☆ and let me know what you think by rating it and commenting below. Tag me on Instagram too with your pics. I am @avirtualvegan and my hashtag is #avirtualvegan
---
For even more Thanksgiving-worthy recipes check out 15 Vegan Thanksgiving Recipe Ideas.
And if you are planning for Christmas be sure to check out Vegan Christmas Dinner Menu and Shopping List!
Vegan Thanksgiving Dinner Menu & Shopping List
Flying by the seat of your pants is all well and good, and it's something I do all too often, but for a stress-free, much more budget friendly Thanksgiving, a little organization goes a long way. That's where my Vegan Thanksgiving Dinner Menu & Shopping List come in!
Ingredients
Produce
1 head & 5

cloves

garlic

1

small

onion

, golf ball size

5

medium

onions

1

shallot

, or small onion

1

pomegranate

, optional for the salad

2

large

oranges

600g / 5

heaping cups

Brussels sprouts

326g / 8½ oz /

0.6lb

mushrooms

, white, crimini or baby portobellos

900g /

2lb

potatoes

, ideally russet, yukon gold or maris piper

1

medium

pumpkin (around 8 inches across)

, or any other roundish squash

1

large handful

spinach

340g / 12oz /

3.5 cups

fresh cranberries

1

medium

pear

2

vegetables of choice (for sides)

, to be steamed

A selection of raw veggies to serve with the garlic onion dip

, optional, you can just use tortilla chips to make life easier
Refrigerated / Frozen Items
349g /

12.3 oz

silken tofu

2

teaspoons

sweet white miso

, nice to have but not essential. It can be omitted

60mls /

¼ cup

unsweetened plant-based milk

vegan whipped cream or vanilla ice cream

, to serve with the pumpkin pie
Nuts, Seeds & Dried Fruit
Canned/Jar/Packet Goods
1

can (around 400mls)

full fat coconut milk

, MUST be full fat

450g /

2 cups

unsweetened pumpkin puree

2

tablespoons

tahini

, or other smooth nut butter

80mls /

⅓ cup

aquafaba

, liquid from a can of chickpeas

1

or 2

large bags of tortilla chips
Pantry items
4

teaspoons

olive oil

2

teaspoons

granulated sugar

250g /

1¼ cup

coconut sugar

3

tablespoons

white wine vinegar

, or lemon juice

6

tablespoons

maple syrup

½

cup

dried red lentils

½

cup

dried green lentils

300g /

2.5 cups

wholewheat flour

,This is to make the pie crust and also includes ½ cup for the meatloaf. If you are gluten-free you will need to make/buy a gluten-free pastry case for the pie and you won't need this flour. For the meatloaf sub oat or rice flour.

3

tablespoons

tamari

or soy sauce

5

tablespoons

arrowroot powder

, or cornstarch (cornflour if in the UK)

480mls /

2 cups

mushroom broth

, or other strongly flavoured veggie broth

3

tablespoons

semolina

, or corn meal (be sure to use corn meal if you are gluten free)

100g /

½ cup

uncooked rice

, any kind but brown or wild gives the best texture

110g /

½ cup + 2 tablespoons

coconut oil

½

medium loaf

bread

, a few days old is best
INSTRUCTIONS
3 DAYS BEFORE
Make the caramel sauce for the pumpkin pie and store in a sealed container in the fridge.

Make the Maple Cinnamon Cranberry Pear Sauce and store in a sealed container in the fridge.

Cook the lentils for the meatloaf and store in the fridge,

Make the gravy (you will find the recipe with the meatloaf recipe) and store in a sealed container in the fridge.
2 DAYS BEFORE
Prepare the meatloaf, fill the tin then wrap in foil or cling wrap and store in the fridge. You will cook it on the day.

Make the Creamy Vegan Garlic Onion Dip and store in a sealed container in the fridge.
1 DAY BEFORE
Make the pumpkin pie then refrigerate.

Cut the top off the pumpkin and scrape out the seeds and stringy bits. Wrap up well and store in the fridge.

Make the Cranberry Pecan Brussels Sprout Salad (reserving the nuts to add when serving to retain the crunch).

Peel the potatoes, chop them up, and leave in a pan covered with water.
Appetizers
Remove the dip from the fridge shortly before serving. Stir well and arrange with the tortilla chips and crudités.

Add the nuts to the Brussels Sprout Salad and stir well.
Main Course
First thing in the morning, cook the rice for the stuffed pumpkin then cool quickly. Prepare the rest of the filling ingredients, mix all together and stuff then put the lid on and wrap tightly in foil.

Put the pumpkin in the oven on 400°F 3 hours before you want to serve. Remove after 90 minutes as per directions and leave tightly wrapped in it's foil on the counter.

Immediately turn the oven down to 370°F and put the meatloaf in the oven and cook for 50 minutes.

After the meatloaf has been in the oven for about 30 minutes, parboil the potatoes as per the roasted potato directions, then coat with aquafaba and semolina.

Remove the meatloaf from the oven, keeping it tightly wrapped on the counter and turn the oven up to 450*F. Don't be tempted to peek. Keep it wrapped tightly so it stays warm.

Roast the potatoes as directed and prepare the vegetables for steaming.

Start cooking the vegetables in the last 10 – 15 minutes and warm the pre-made gravy through in a pan gently.

Serve everything and don't forget the Maple Cinnamon Cranberry Sauce!
Dessert
Try to remember to let the pie come to room temperature before serving.

Warm the ready-made caramel sauce very gently in a pan or in the microwave for 20-30 seconds before serving.

Serve with vegan ice-cream or vegan whipped cream
NUTRITION
Serving:
1
serving
Calories:
1050
kcal
Tried this recipe?
Rate it & leave your feedback in the comments section below, or tag @avirtualvegan on Instagram and hashtag it #avirtualvegan