Super satisfying, insanely delicious, Vegan Chocolate Banana Muffins. Fudgy, perfectly sweet, easy to make with no mixer required!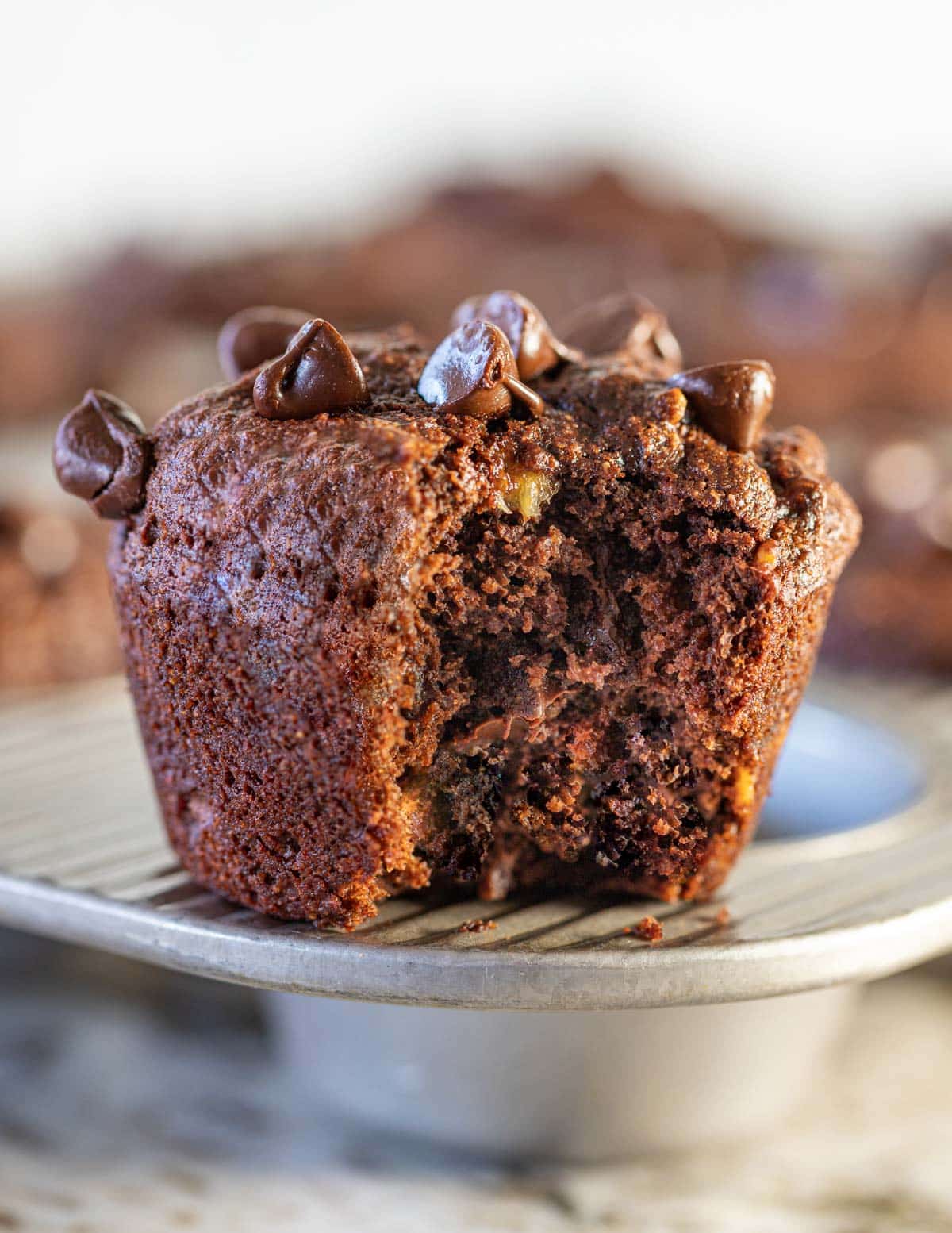 Vegan Chocolate Banana Bread? I see you. And I adapted your very popular self into Vegan Chocolate Banana Muffin form. We're talking rich and fudgy muffins that are super easy to make with no mixer required. Just perfect for breakfast, lunch boxes, snacks or dessert!
Ingredients
Here are the ingredients you will be needing to make these vegan chocolate banana muffins: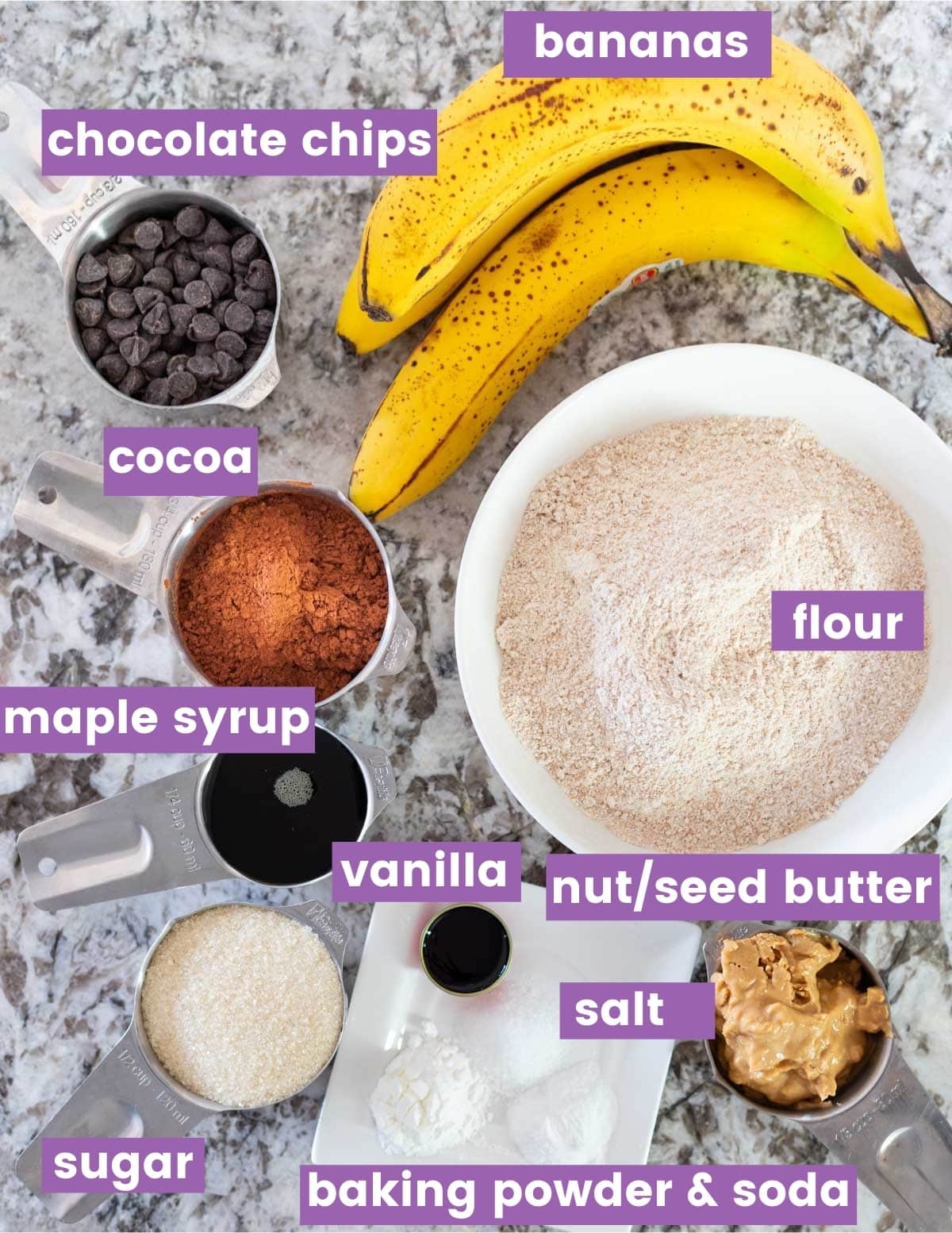 Here's a quick rundown on each one:
Bananas - These must be really ripe and spotty. If they aren't it will make the batter difficult to mix and affect the texture and sweetness of the muffins.
Flour - You can use all-purpose flour (plain flour in the UK), spelt flour or wholewheat flour in this recipe. Make your muffins wholegrain by using spelt or wholewheat flour. Spelt is an amazing flour when you want a light fluffy texture and the nutrients of a wholegrain flour. It gives a much better result than wholewheat.
Nut/seed butter - The source of fat in the recipe. Fat is necessary for a good texture and in this recipe it helps with the fudginess and richness. That's why I use it instead of oil or vegan butter. It also helps the muffins stay fresh longer (not that that will be much of an issue ;O)
Sugar & maple syrup - We are using a mix of both. Both sweeten, the sugar gives structure and the maple syrup adds more fudginess. You can use any sugar you like. White sugar, cane sugar, brown sugar, coconut sugar are all fine. Keep your muffins refined sugar-free by using coconut sugar.
Chocolate chips - I like to use semi-sweet chocolate chips in my baking. Most dark chocololate chips are naturally vegan but be sure to check the label when shopping just in case. You can also use the same amount of chopped up dairy-free free chocolate bar if you prefer but it will melt into the batter. Chocolate chips are designed not to melt and so will hold their form better.
Cocoa,baking powder and baking soda - Cocoa to make the muffins chocolate flavour and also to add acidity. Baking powder and baking soda are necessary to leaven the muffins. Baking powder as per usual in baked goods, and baking soda too because it reacts with the acidic cocoa creating extra bubbles and lift. This provides the extra leavening that eggs would in a non-vegan recipe.
Salt & vanilla - For flavour. Salt is just as important for enhancing flavours in sweet recipes as it is savoury. Use good quality sea salt and not table salt. Vanilla adds another flavour layer.
As for equipment, all you need is a muffin pan. I can't recommend USA Pan Muffin Pans highly enough. I absolutely love mine and nothing ever sticks in it. You don't even need to use liners. I will never use another brand.
How to make Vegan Chocolate Banana Muffins
These Healthy Chocolate Banana Muffins are really quick and easy to make.
Here's how:
Mash the bananas up with a fork.
Add all of the other wet ingredients and mix together well.
Add the dry ingredients and mix, then in go the chocolate chips. Fold them through gently.
Spoon into the wells of your muffin pan, decorate with more chocolate chips then bake.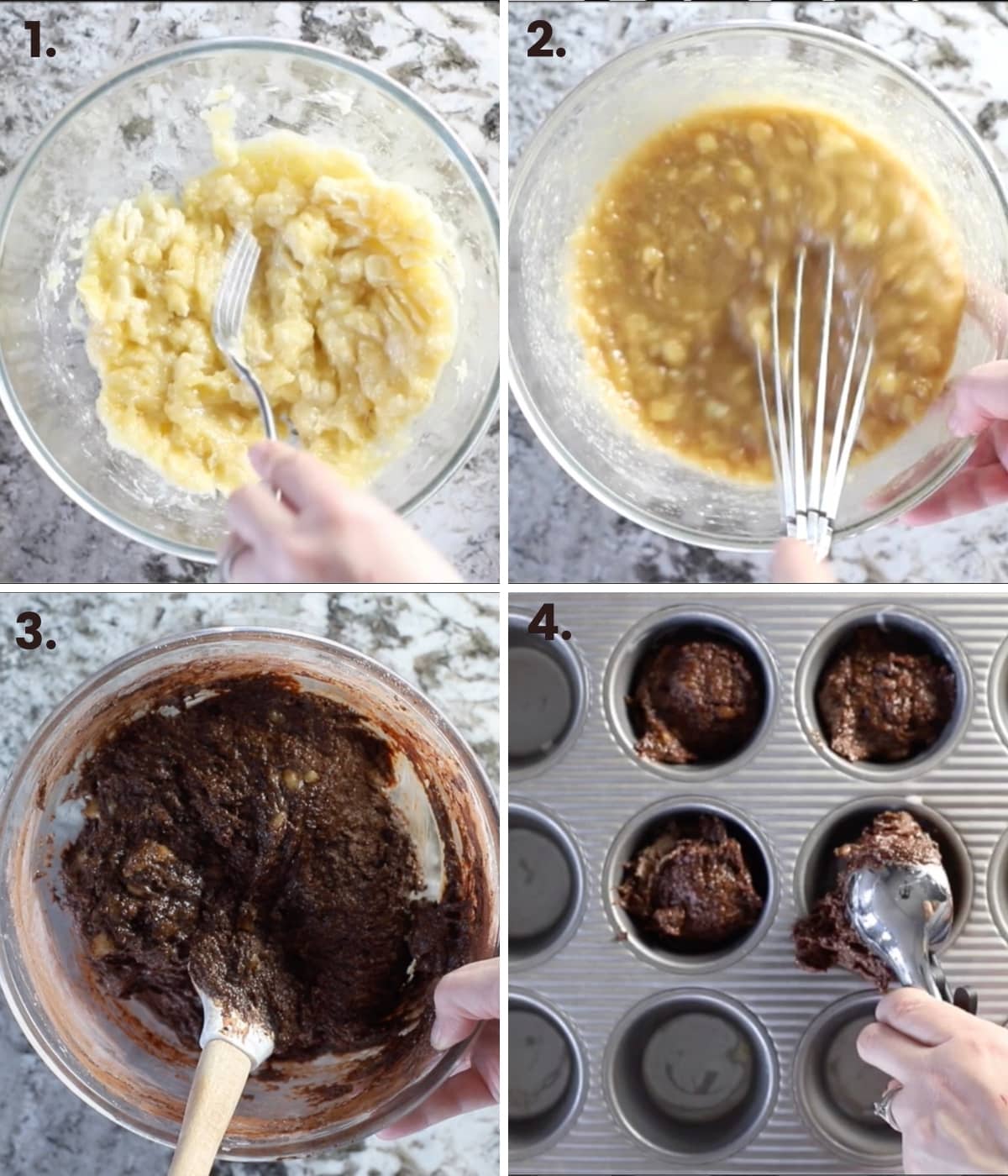 Success tips
For the very best results when making this recipe follow these tips:
As with all of my baking recipes where precision is key to excellent results, I highly recommend using a kitchen scale to measure your ingredients, rather than using cup measurements. This one is cheap (under $20) and works brilliantly.
Use really ripe and spotty bananas.
Don't add more or less banana than is called for. It will affect the texture of the batter/muffins.
Don't overmix your batter. This is so important. Overmixing will affect the texture and the rise of your muffins.
Sprinkle some extra chocolate chips on the top for decoration once the batter is in the muffin pan.
Bake the muffins on the center oven rack.
Don't skip my oven temperature hack! The trick to a perfectly domed muffin top is a good recipe and oven temperature. They need an initial, very hot blast, which creates steam that will raise those muffin tops right up from the inside out. Then you need to turn them down after 5 minutes so that the insides cook through more gently.
Don't overbake them. It's better for the muffins to be very slightly underbaked (hello extra fudginess!) than overbaked and risk them getting dry.
Variations
I don't recommend you make any major changes to this recipe, except for the ones I have suggested, like using certain other flours, sugars or nut/seed butter, but you can add mix-ins of choice without affecting the chemistry of the recipe. Nuts, seeds or dried fruit would all work well. Add no more than 1 cup total. I think some walnuts would be really great!
If you love pumpkin, be sure to check out my Chocolate Pumpkin Muffins. They are a spin-off of this recipe that you are sure to enjoy!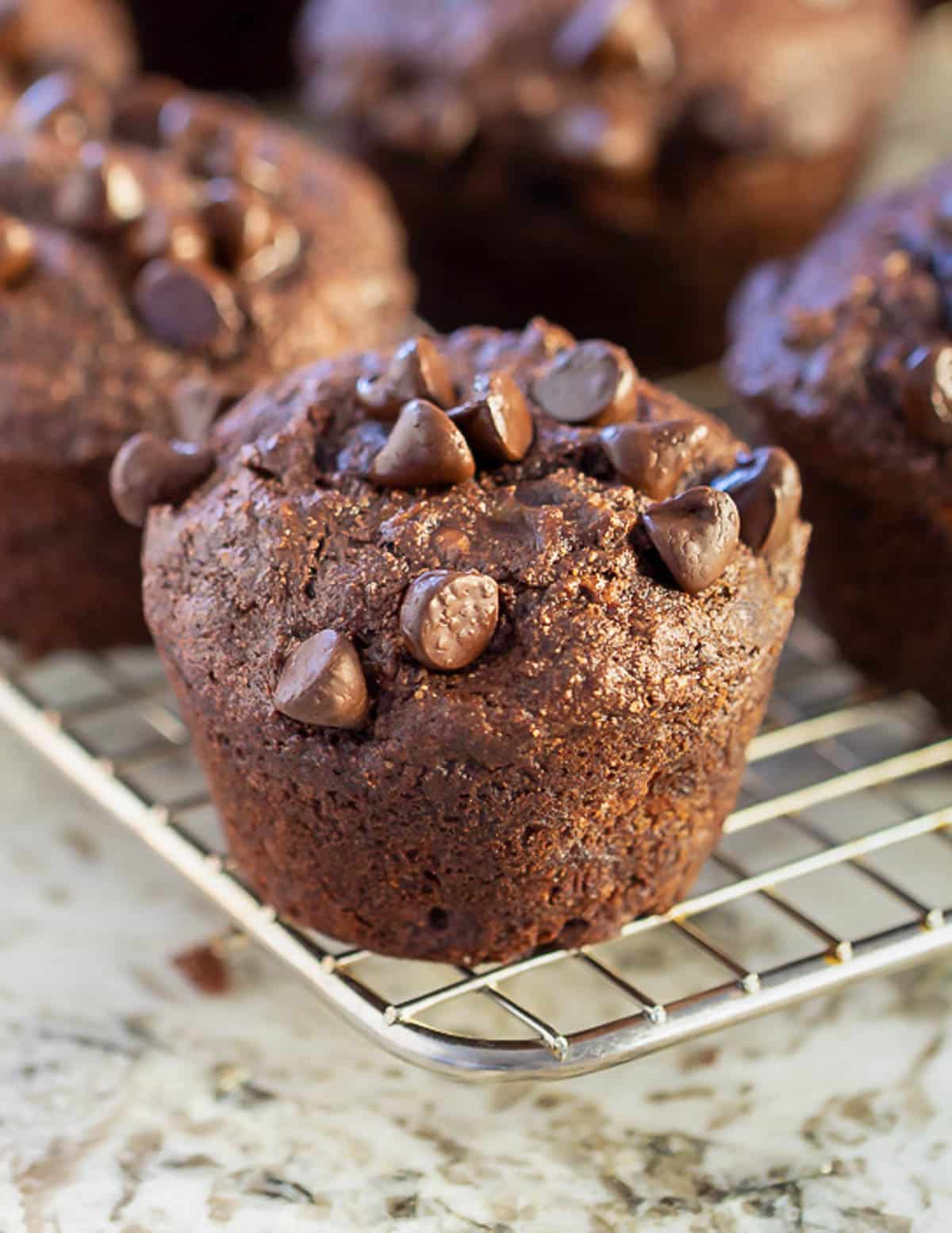 Storage & freezing
Let the muffins cool completely on a wire rack before storing. If there is any warmth in them at all, as soon as they go into a sealed container condensation will happen, and that means damp muffins.
Once they are completely cool, pop them in an airtight container with some paper towels top and bottom to absorb any moisture.
Need to store leftover muffins for more than a couple of days? Then the freezer is your best option. These vegan chocolate banana muffins freeze extremely well for up to 3 months. Pop them into a freezer bag or a freezer-safe container and place them carefully in the freezer. When you want them, remove them from the freezer and let them defrost for a couple of hours at room temperature. You can make them taste oven-fresh again by warming them gently in the oven at 350°F (175 °C) for about 7 minutes.
FAQS
Can I make these muffins gluten-free?
I haven't tested the recipe gluten-free but a good GF all-purpose flour like Bob's Red Mill 1 for 1 should work just fine.
If you try this recipe, let me know how you like it by leaving a comment and rating below! And be sure to join my mailing list for more deliciousness!
Recipe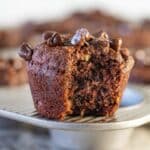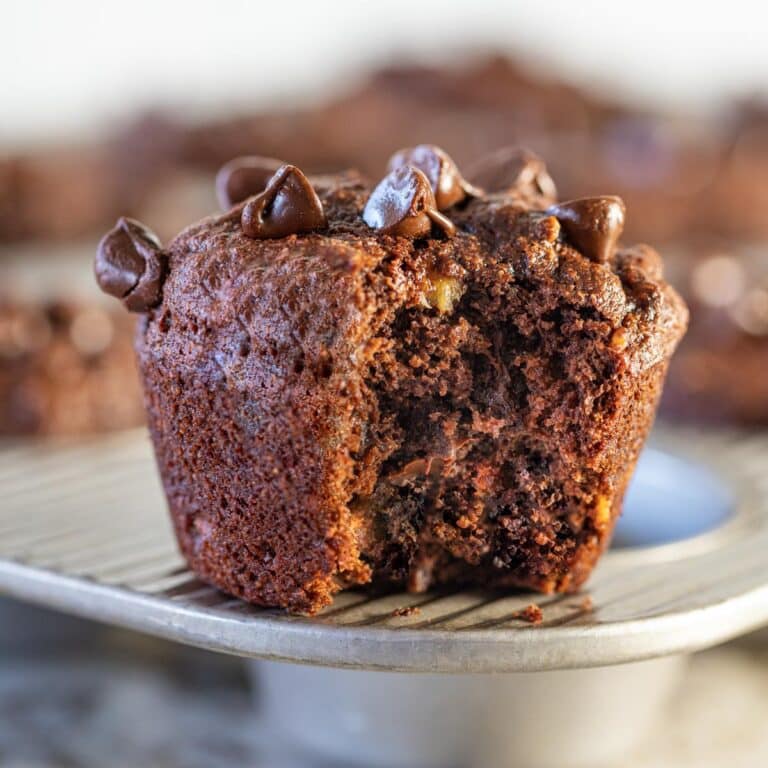 Vegan Chocolate Banana Muffins
Author:
Super satisfying, insanely delicious, Vegan Chocolate Banana Muffins. Fudgy, perfectly sweet, easy to make with no mixer required!
Ingredients
3

medium

ripe and spotty bananas

, (choose bananas about 8 inches in length. Once peeled the total weight of the 3 bananas should be about 375g / 13 oz. A few grams either side is ok though. It doesn't have to be absolutely exact.)

6

tablespoons

nut or seed butter

, it should be drippy and not dry

¼

cup

maple syrup

, (real maple syrup not pancake syrup)

2

teaspoons

vanilla extract

½ cup (100

grams)

sugar of choice

, any works here, white, brown, cane, turbinado, coconut..just use whatever you have.

¾

teaspoon

fine sea salt

, not table salt

1¾ cup (218

grams)

all-purpose, spelt or wholewheat flour

, (if in the UK plain flour is the equivalent of all-purpose)

2

teaspoons

baking powder

¾

teaspoon

baking soda

½ cup (50

grams)

cocoa powder

½ cup (85

grams)

dairy-free chocolate chips

, plus a handful extra for sprinkling the tops
INSTRUCTIONS
Preheat oven to 425°F (218 °C) and place an oven shelf in the center of the oven. The oven temperature is not a mistake. For the best muffins, they need to go in high.

Grease or line a 12 well or two 6 well muffin pans. 

Mash the bananas really well with a fork or potato masher until they are a slightly lumpy puree. 

Add the nut/seed butter, maple syrup, vanilla extract, sugar and salt to the bananas and whisk together until really well combined. 

Add the flour, baking powder, baking soda and cocoa powder and fold it in gently BY HAND (not with a mixer, food processor or blender) until everything is just combined. Do not over mix because it will affect the texture and rise of the muffins.

Finally, add the chocolate chips and fold them through just enough to distribute them evenly.

Spoon the batter into the prepared muffin pan and sprinkle the tops of each with a few more chocolate chips. 

IMPORTANT- Place the muffins in the oven on the middle shelf and set a timer for 5 minutes. Once the 5 minutes has passed, immediately turn the oven down to 375°F (190°C) without peeking or opening the door and cook for a further 13 - 14 minutes. Don't skip this temperature trick. It makes a HUGE difference.

Check them with a toothpick, skewer or thin knife inserted into the middle of one muffin and if it comes out mostly clean then they are done. You might get some melted chocolate but there should be no visible wet batter. It is important not to over-bake these muffins. If anything they are better very slightly underdone to keep their moist fudginess.

Remove from the pan and place on a wire rack. Allow to cool, although I do recommend eating one (very carefully) while still hot...Purely for research purposes of course...
NUTRITION
Serving:
1
muffin
|
Calories:
237
kcal
|
Carbohydrates:
42
g
|
Protein:
5
g
|
Fat:
7
g
|
Saturated Fat:
3
g
|
Polyunsaturated Fat:
1
g
|
Monounsaturated Fat:
2
g
|
Sodium:
218
mg
|
Potassium:
324
mg
|
Fiber:
4
g
|
Sugar:
20
g
|
Vitamin A:
19
IU
|
Vitamin C:
3
mg
|
Calcium:
59
mg
|
Iron:
2
mg
Did you make this recipe?
Rate it & leave feedback in the comments section below. I love seeing your remakes too. Tag @avirtualvegan on Instagram! 🌟
This recipe was originally published on February 7th, 2019. I've since rewritten the post and now I am republishing it for you. I hope you enjoy it. Thank you for following A Virtual Vegan!