Simplicity at it's best! With just two ingredients & 35 minutes of your time you could be tucking into this delicious Easy Coconut Tofu. Could it get any better? ....... Well yes actually.....Because it's gluten-free, oil-free, low fat and has 10 grams of protein per serving!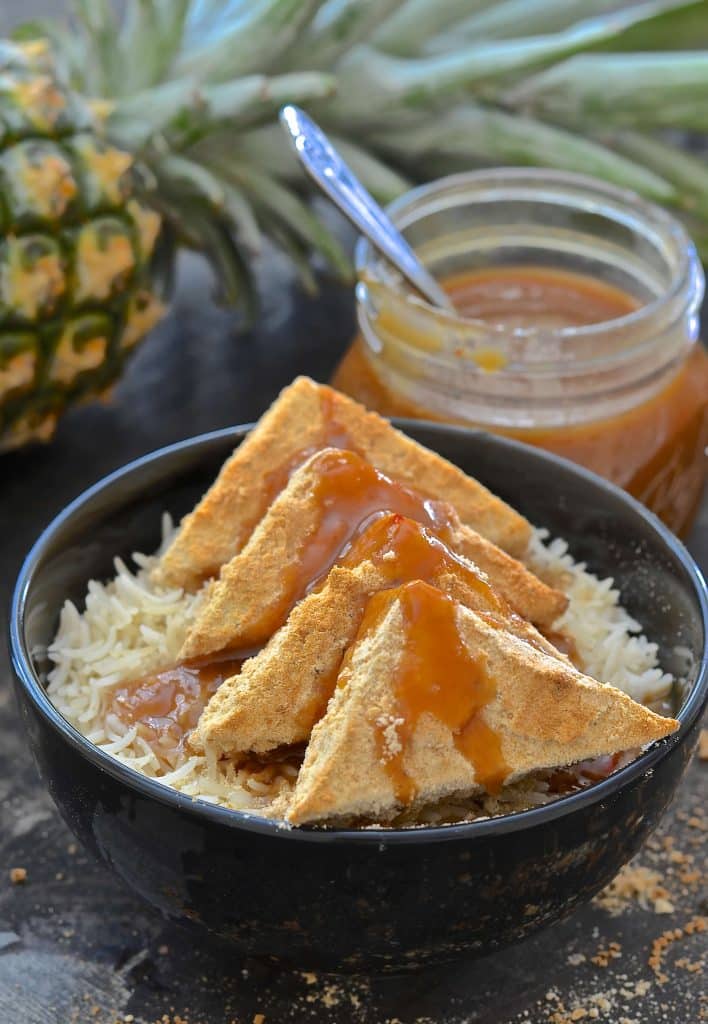 I was having a bad day today. You know those days when nothing goes right? After a rushed breakfast (thank goodness for make ahead Strawberry Baked Oatmeal!), I was hurrying around the dog park with Chester before work and on glancing at my phone which is never far away, happened to notice lots of notifications on Twitter wishing me congratulations. Congratulations? What did they know that I didn't?
Well, it turns out that A Virtual Vegan has been nominated and shortlisted for Best Food Blog in the Blogger's Blog Awards.
Say what?!?!?
I had no clue that I had even been nominated and it was such a lovely shock to find out that I was shortlisted amongst four others. The winner is announced on October 1st and I will be sure to let you know if I win, although I am sure that if it does happen, you will hear me screaming it from the roof tops well before I manage to type something here.......
Now back to todays recipe. I told you that I had some Hawaiian inspired recipes to come. My Garlic Pineapple Sauce was one of them and this Easy Coconut Tofu recipe is another.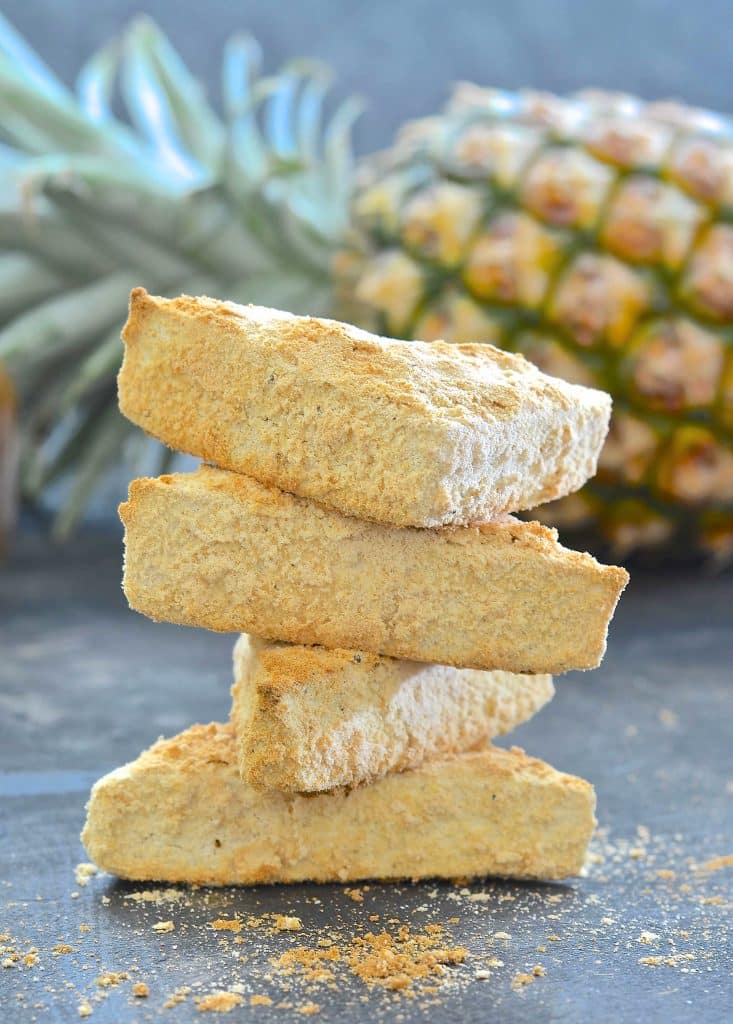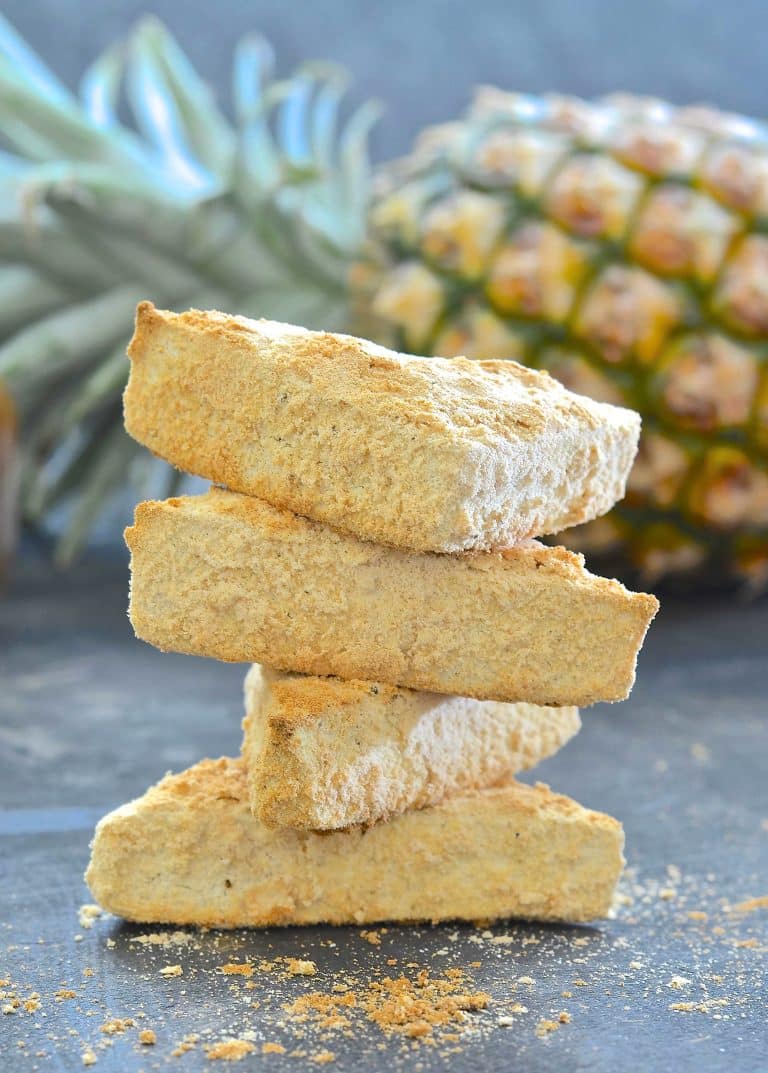 These two recipes are a marriage made in heaven. They compliment each other so well. Pineapple and coconut have got to be one of the most well known flavour combos out there, right? But these recipes are also good in their own right too, hence the reason I published them separately rather than as one recipe.
If you make the Garlic Pineapple Sauce and the Easy Coconut Tofu together, they will be ready within thirty-five minutes and most of that time will be waiting for the tofu to bake in the oven rather than hands on time.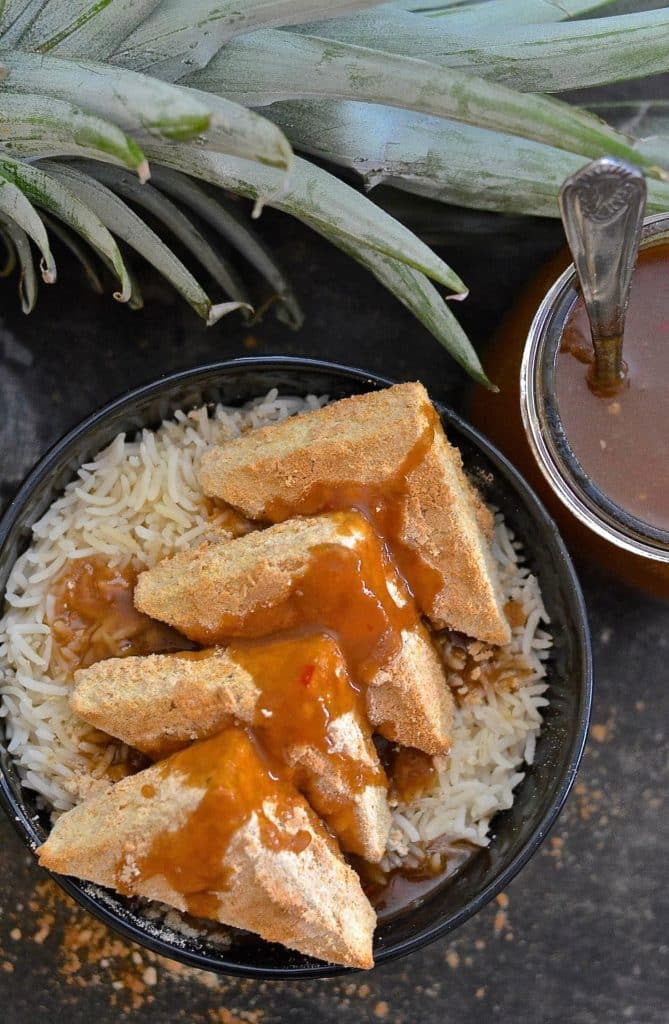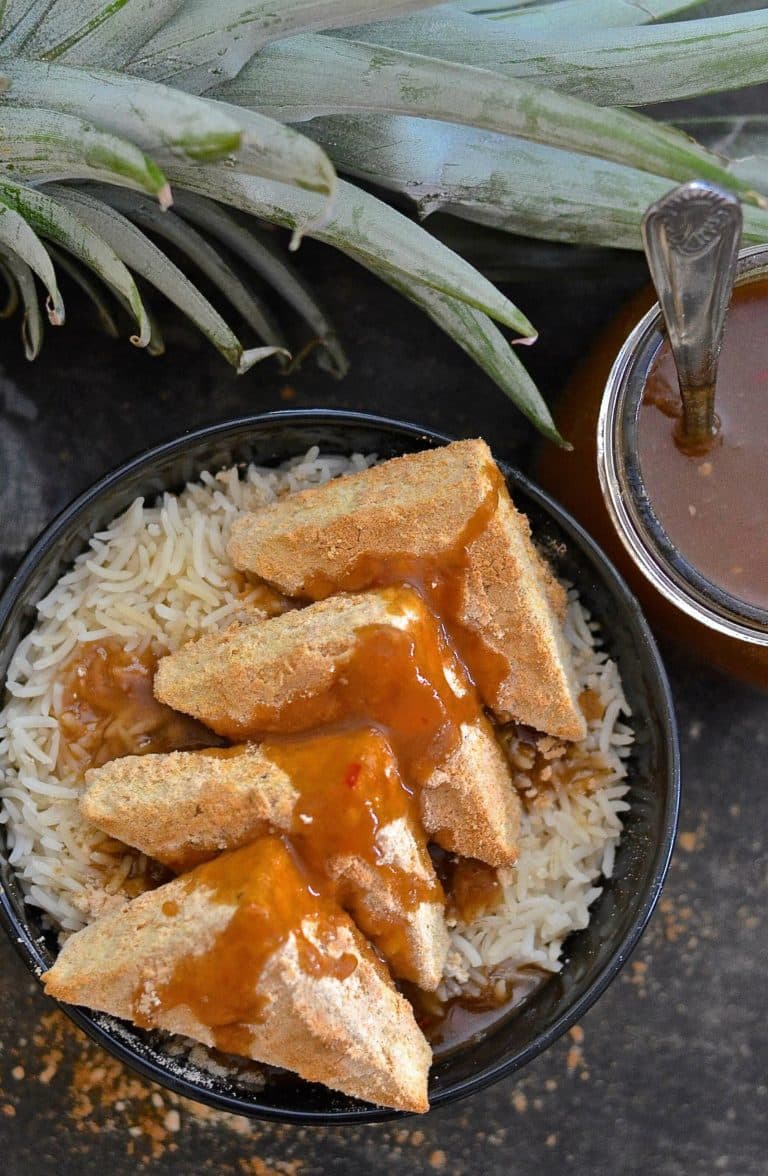 This Coconut Tofu is one of the simplest vegan tofu recipes on my website. it is quite literally child's play to make. Open a packet of tofu, cut into triangles, do not dry it, leave it wet, then dip in seasoned coconut flour. Put on a tray and bake. It really doesn't get any simpler than that does it?
You don't have to cut it into triangles. You could cube it but bear in mind that it won't take as long to cook then. The triangles look good though and they somehow feel heartier than eating little cubes.
The coconut flour that coats this Coconut Tofu turns a lovely golden brown colour when baked and takes on an almost nutty, slightly sweet flavour. It has a subtle flavour that works extremely well with really flavoursome sauces like my Healthy Sweet and Sour Sauce and Peanut Sauce.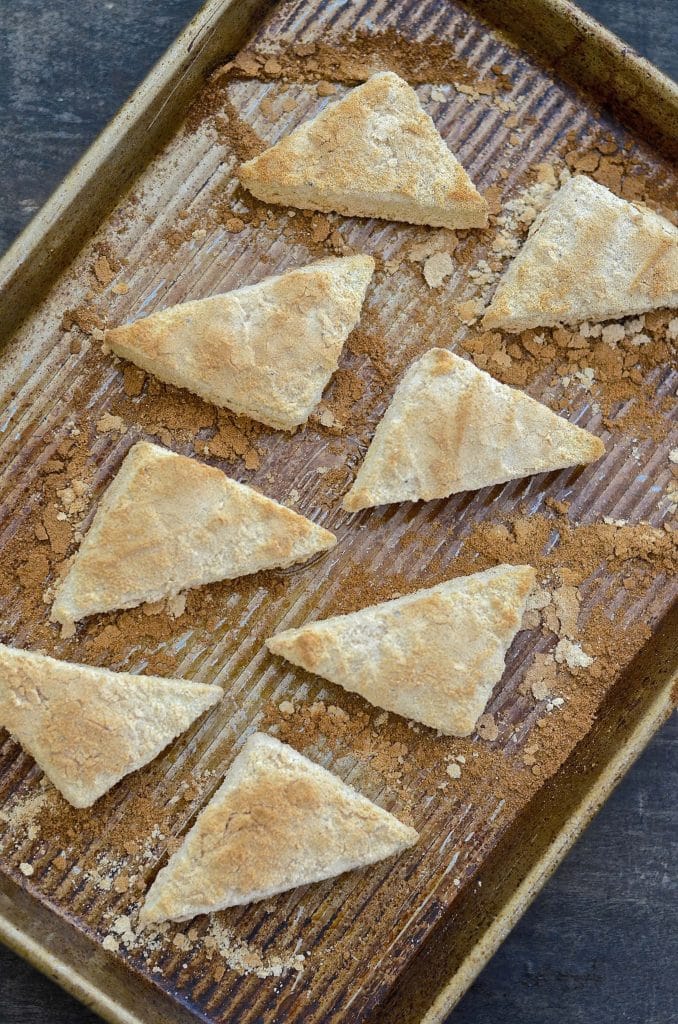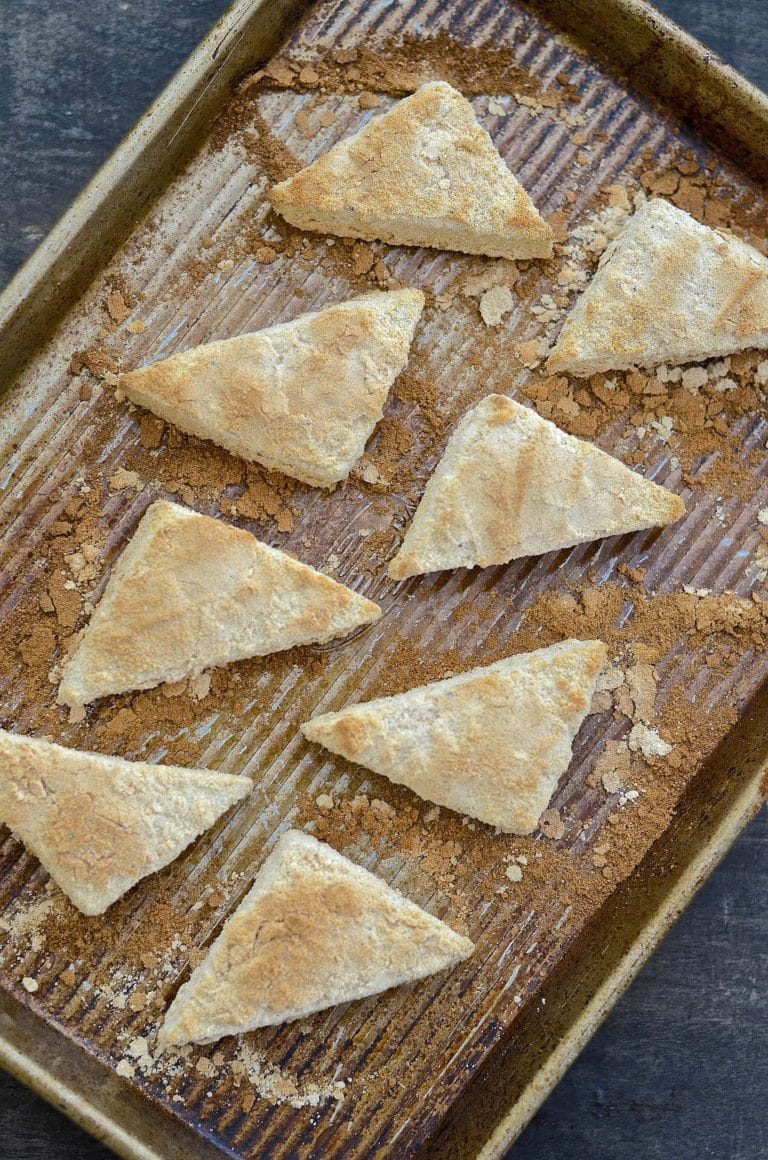 Just a word of warning. Don't leave this tofu lying around on a baking tray looking like it does in the picture above. There is a chance that someone will think it's shortbread, grab a piece and take a big bite before they realize.......I know from personal experience and it was so funny!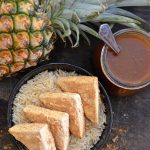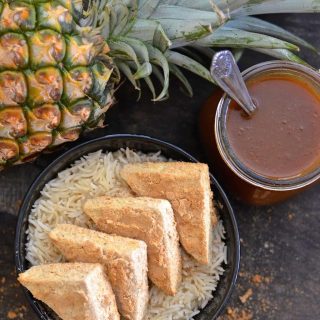 Easy Coconut Tofu
Author:
Simplicity at it's best! With just two ingredients & 35 minutes of your time you could be tucking into this delicious Coconut Crusted Tofu. Could it get any better? ....... Well yes actually.....Because it's gluten-free, oil-free, low fat and has 10 grams of protein per serving!
Ingredients
1

block

extra-firm tofu

, around 350g, (see recipe notes)

45g | ½

cup

coconut flour

½

teaspoon

salt

A good grind of cracked black pepper
INSTRUCTIONS
Put the coconut flour on a plate or in a bowl and stir in the salt and pepper so it is evenly distributed.

Open the packet of tofu and drain off the liquid but don't dry the tofu.

Cut the piece of tofu into ½ inch rectangular slabs. Cut each rectangle into two to make squares, then each square into triangles.

Dip each triangle into the flour mixture and turn it all over until each side is covered.

Place in the preheated oven and bake for 30 minutes or until golden brown all over.

Serve immediately.
NOTES
You do not need to press the tofu for this recipe. The dampness in it is what makes the coconut flour stick.
I always prefer the texture of tofu that has been frozen. When I buy it I throw the packet as it is in the freezer when I get home. Then I just take it out to defrost the day before I use it. I have even defrosted it in a sink of water on the day if I have forgotten to defrost it. Once it's defrosted just follow the recipe as above.
If for some reason you get interrupted and your tofu dries out, just dip it into some cold water, shake off any excess, then dip it into the coconut flour to coat.
If you end up with any leftovers, they can be reheated in a 350°F oven for about 15 minutes. They end up a little bit tougher than when originally baked but are still good.
NUTRITION
Serving:
1
serving
Calories:
131
kcal
Carbohydrates:
8
g
Protein:
10
g
Fat:
6
g
Sodium:
319
mg
Potassium:
257
mg
Fiber:
5
g
Sugar:
1
g
Calcium:
150
mg
Iron:
2.9
mg
Nutritional information is provided for convenience. The data is a computer generated estimate and should be used as a guide only.
Tried this recipe?
Rate it & leave your feedback in the comments section below, or tag @avirtualvegan on Instagram and hashtag it #avirtualvegan