Ridiculously crunchy & addictive Cheese & Onion Roasted Chickpeas. The perfect savoury snack, soup or salad topper, but just a warning, once you start eating them you just can't stop!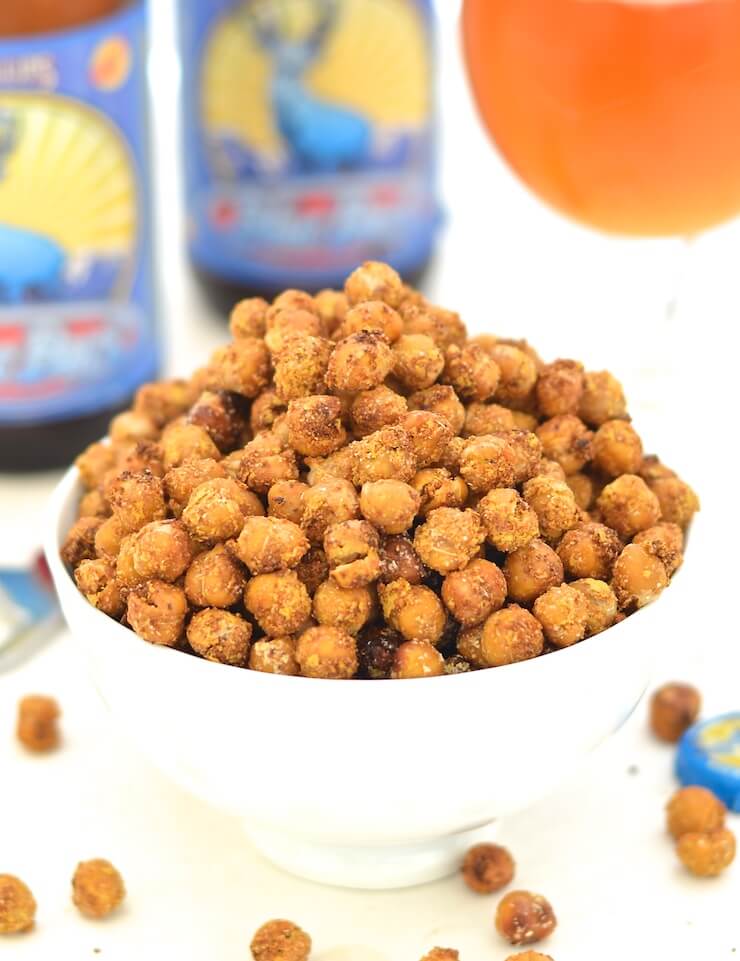 Chickpeas. I love them. ♡ Seriously I do. They are just perfect and so versatile. Have you tried them in my Brownie Batter Dessert Hummus? Yes, you aren't mistaken, I said dessert hummus. What other recipe shows their versatility more than that?
I think I love them even more now that I have created these deliciously crunchy Cheese & Onion Roasted Chickpeas! Boy they're good. Crunchy, savoury. slightly salty, cheesy, oniony and addictive. Once you start you can't stop. Don't say I didn't warn you!
Yes, they taste like cheese & onion. Kind of like cheese & onion chips (or crisps if you are in the UK) Seriously they do! And yet they have no cheese in them. Heck yeah!
Nooch is something I love almost as much as chickpeas and it is what gives these Cheese & Onion Roasted Chickpeas their cheesy flavour. I use nooch a lot round here too in case you haven't noticed. Have you tried my Carbonara with Smoky Carrot Rashers or my Mac and Cheese Bites? They feature nooch (officially known as nutritional yeast) and are both pretty special.
Back to the Cheese & Onion Roasted Chickpeas. Make them. Just do it.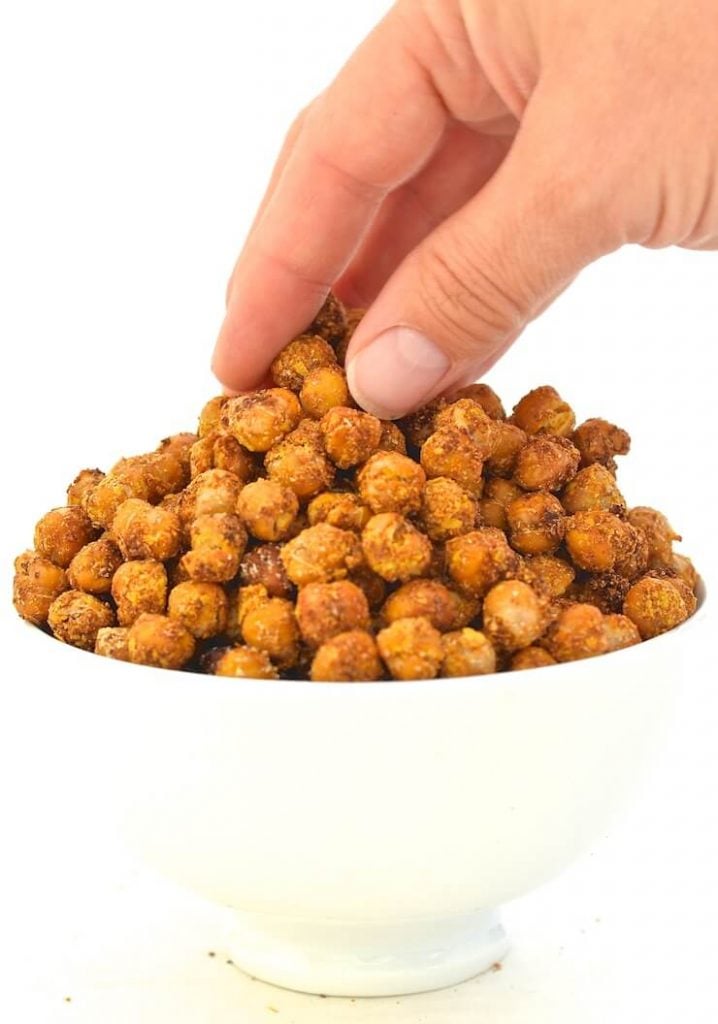 They are great for snacking and I made sure when creating this recipe that they don't go soft if stored in an airtight container. I was so proud of myself. I managed to keep a mason jar full of them for two weeks without eating them as a kind of science experiment for you guys! Aren't you proud of me? 😉 They stayed crunchy the entire time. I couldn't hold out longer than two weeks though I'm afraid. That was the limit of my willpower. The trick to the lasting crunchiness is a trick once they have finished cooking. It means waiting a while for them but it is so worth it.
Cheese & Onion Roasted Chickpeas are great eaten as snacks. They are just perfect with a cold beer or a glass of wine. We have been enjoying them with locally brewed beer from Phillip's Brewing & Malting Co. Almost all of their beer is vegan and I love their Blue Buck Ale (which you can see in the background of my shot above). It makes a great accompaniment to these savoury, crunchy chickpeas.
When you are not pairing them with alcohol, these Cheese & Onion Roasted Chickpeas are great packed in lunch boxes, on hiking trips, served up at parties and gatherings, used as a salad topper and scattered on soup instead of croutons. There are so many ways to eat them!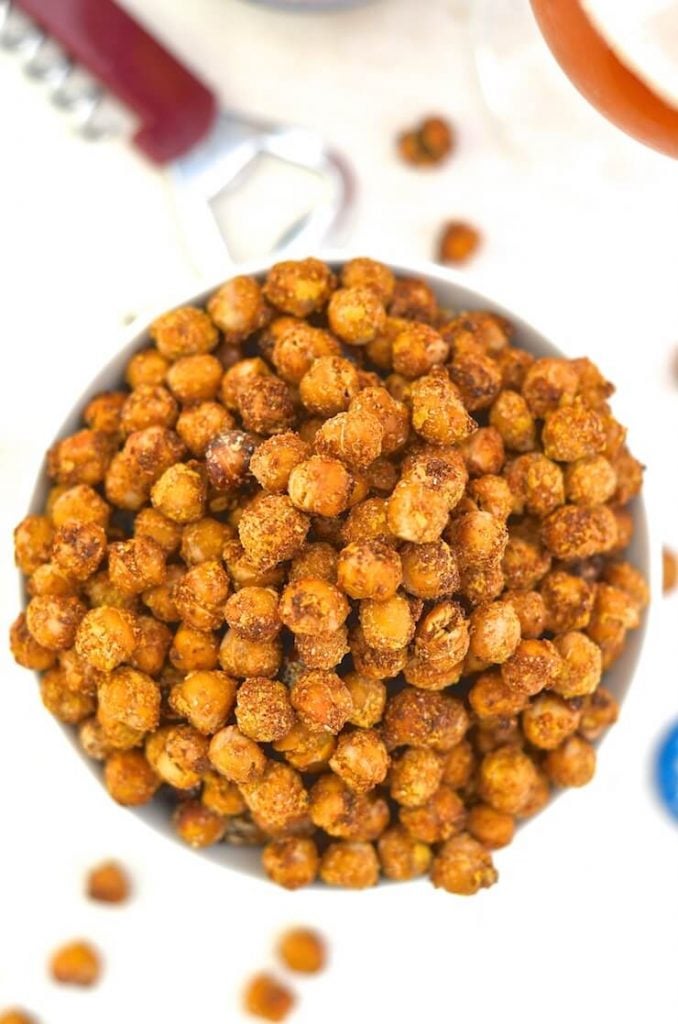 You can feel good about eating these Cheese & Onion Roasted Chickpeas because they are completely oil-free and full of protein and fibre. They really fill you up too. When added to my salads at lunch time they kept me going all afternoon with no hunger pangs.
There is nothing bad about them….Unless you don't like chickpeas…..and if that's the case, I feel for you, I really do.
If you try my Cheese & Onion Roasted Chickpeas be a ☆ and let me know what you think in the comments below or share a pic on Instagram and tag me. I am @avirtualvegan. If you can, use the #avirtualvegan to be sure I don't miss it.
Mel | A Virtual Vegan
Yields 2 cups
Cheese & Onion Roasted Chickpeas
5 minPrep Time
40 minCook Time
45 minTotal Time
Ingredients
Instructions
Preheat oven to 400°F
Line a baking tray with baking parchment or a silpat .
Drain chickpeas making sure to reserve 2 tablespoons of the liquid for later.
Pour chickpeas onto the baking tray and bake for 30 minutes.
Remove from the oven and carefully pour into a bowl.
Add the aquafaba and stir well.
Add the other ingredients and make sure all the chickpeas are coated.
Pour back onto the baking tray and put back in the oven.
Bake for 10 minutes.
Remove from oven and stir them all around a bit.
Put back in the oven then turn the oven off.
Leave in the oven until it is completely cool without opening the door. I make them in the evening and leave them in the oven overnight.
Remove from the oven and store in an airtight container. I found they keep better in glass jars than they do in plastic containers.
Recipe Notes
The chickpeas will keep well for up to 2 weeks in an airtight mason jar .
If you don't leave them in the oven to cool completely for a few hours before taking them out they won't stay crispy as long. It is perfectly ok to take them out earlier if you will be eating them on the same day though.
6.8
https://avirtualvegan.com/cheese-onion-roasted-chickpeas/
Melanie McDonald | A Virtual Vegan