Delicious and healthy Sweet Potato Falafel with Walnuts. Baked not fried, perfectly moist and full of flavour.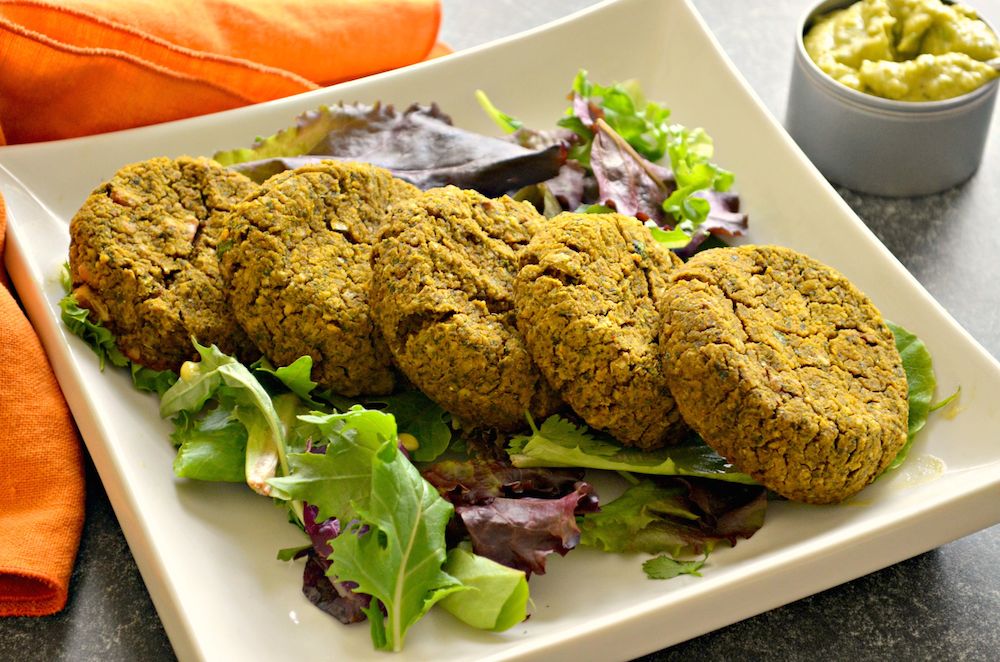 I love falafel. I owe my life to them. Well, that's actually a bit of an exaggeration but they did just about save my life when I was on vacation a few months ago. You see, I was the only vegan amongst a lot of meat eaters and it was a real struggle to get hold of vegan friendly food almost everywhere we went. I ended up going without a lot so carried a pack of falafel from the grocery store around with me everywhere I went. At least then I knew that I would at least have them to eat if I didn't find anything better!
Traditionally falafel are fried which keeps them moist. I wanted to make a healthier version which could be baked. I struggled terribly with dryness while I was experimenting with my recipe. I dread to think how many falafel I went through in the testing process. I am lucky I didn't turn into one and as I hate to waste anything I ended up creating my Creamy Avocado & Lime Dressing to serve with the dry falafel. This dressing is delicious and not only great with falafel, but also good with salad, veggie burgers and as a sauce on Buddha Bowls etc.
The magic ingredient in my falafel ended up being cooked sweet potato. I have previously used butternut squash in my Falafel Waffle Burgers With Mango Chilli Sauce & Mint Raita and as sweet potato has a similar texture I knew it would work well. The sweet potato also lends a bit of sweetness to the falafel which works nicely with the herbs and spices. The resulting falafel are deliciously moist and flavourful with great texture from the walnut pieces.
So after weeks of testing you finally have my Sweet Potato Falafel with Walnuts . You guys really need to try them. They are the best falafel I have ever eaten and are great stuffed into one of my Quick & Easy Pita Breads with a drizzle of Creamy Avocado & Lime Dressing and lots of fresh crisp salad. They are also good when used as a burger sub, or simply on their own as a quick snack.
You can serve these Sweet Potato Falafel with Walnuts either hot or cold and they also freeze really well too.
I would love to see your version of my Sweet Potato Falafel with Walnuts  so feel free to share your pictures on Instagram (@avirtualvegan) and add the hashtag #avirtualvegan so I don't miss them! I would also love it if you let me know what you think in the comments section underneath the recipe.
Yields 10 falafel
Sweet Potato & Walnut Falafel
Delicious and healthy baked falafel with fresh herbs, sweet potato and crunchy walnuts. Perfectly moist and full of flavour.
10 minPrep Time
40 minCook Time
50 minTotal Time
Ingredients
2 cups soaked & cooked dried chickpeas (do not use canned chickpeas - see recipe note)
1/2 a packed cup cooked sweet potato, skin on is fine (I recommend baking or steaming not boiling as they might become too wet)
1 small onion chopped ( mine was just slightly bigger then a golf ball)
zest and juice of 1 lemon
4 cloves of garlic
1 large bunch of parsley (stems as well)
1 large bunch of cilantro/coriander (stems as well)
1 tablespoon peanut butter
2 teaspoons ground cumin
1 tablespoon Sriracha or other hot sauce (sub ketchup if you don't like chilli)
1/4 cup water
1/2 cup walnuts
oil for brushing before baking (optional)
Instructions
Preheat your oven to 350 degrees F
Line a large baking tray with a Silpat or parchment paper.
Add all of the ingredients to a food processor except the water and the walnuts.
Process until well combined but leave a little bit of texture.
Add just enough water to bring it all together but not so much that you are unable to shape it. Test with a piece in your hand if you are not sure.
Add the walnuts and pulse until just combined. You want to keep some crunchy texture there.
Shape into patties (or balls if you prefer) and place on your prepared tray.
Brush with oil (optional but gives them a slightly better crust)
Bake at 350 for 35 - 40 minutes.
Recipe Notes
Traditional falafel are made with dried chickpeas/garbanzos which have been soaked but not cooked then they are deep fried. I have chosen to use soaked and cooked garbanzos because I want a healthier version and do not want to fry them. If the garbanzos were uncooked then without the very hot oil they might not cook through well. I tried this recipe twice with tinned chickpeas/garbanzos and it did not work. They were too wet and did not hold their shape. When you soak and cook your own garbanzos they are drier and work much better. Because of this I highly recommend you buy dried chickpeas/garbanzos and soak/cook them yourself.
If you forget to soak your garbanzos but want to make these falafel then add them to a pan of water and bring to the boil. Boil for 10 minutes then turn off the heat and leave for 1 hour. This has kind of the same effect as soaking. You can then cook them as usual.
6.8
https://avirtualvegan.com/baked-falafel/
Melanie McDonald | A Virtual Vegan
This recipe is part of the Life With Lorelai link party