An incredibly fresh, flavourful & yet simple Pear Walnut Salad which brings together vibrant sweet & savoury flavours with wonderful textures & colours.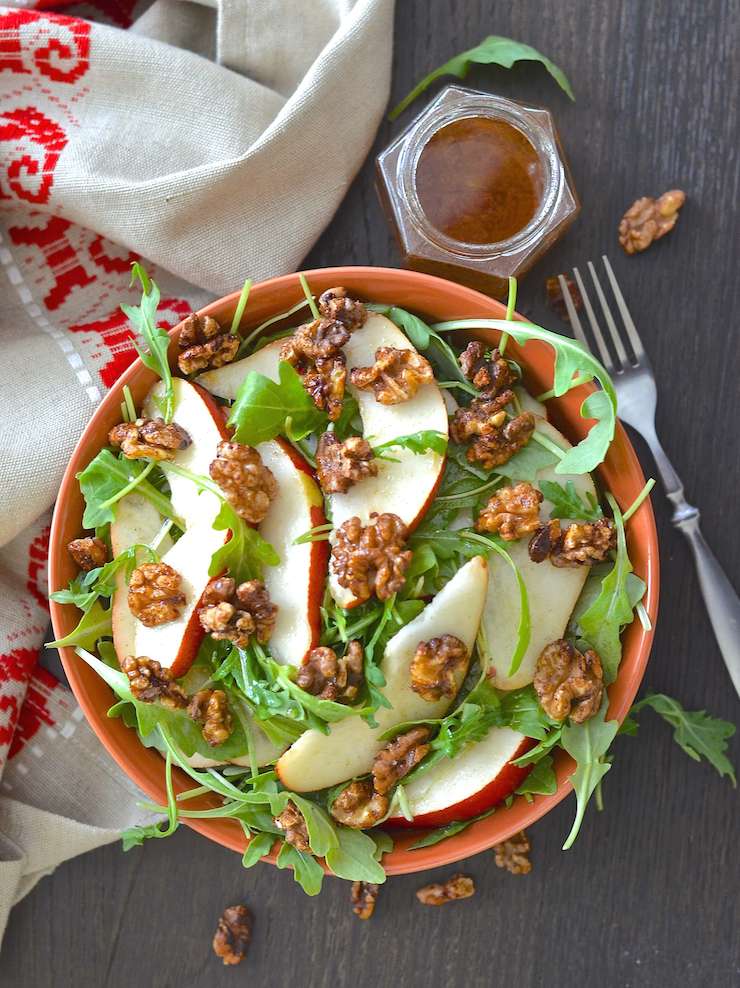 What a weekend. Paul went off to Vancouver with a friend to ride the Gran Fondo and I stayed in, cooking up a storm and hiding from the horror that is Ribfest which was going on all weekend. The smell was sickening and it seems the whole neighbourhood was entranced by it. Thousands upon thousands of people attended. All I could think about were the countless animals who lost their lives for this awful festival of what can only be described as human greed.
So to take my mind off that, my weekend ended up being mainly filled with cheesecake creating (OMG..If you love cheesecake be excited..be very excited...it is seriously the best vegan cheesecake I have tasted and it is coming to the blog soon), homemade Digestive Biscuits (because I needed them for the cheesecake), this awesome salad plus three other fantastic recipes, two new videos, my new favourite tipple, Kraken Black Spiced Rum with Phillip's Craft Brewed Sparkmouth Ginger Ale and a marathon run of The Great British Bake Off. If it wasn't for the stench of ribs wafting through my windows it would have been pretty perfect.
I don't watch much television but I do love The Great British Bake Off. I had resigned myself to the fact I wouldn't be able to watch the new series as it isn't shown on Canadian TV. Cue this weekend, when I was exploring YouTube after a long day of cooking and happened to find it there. How happy was I? It's not a vegan show (are there actually any vegan cooking shows?), but it's fun to watch and gives me lots of inspiration. After my marathon Bake Off session I am now itching to have a go at veganizing Dampfnudel. Don't worry, I hadn't heard of them until this weekend either but watch this space...You might just be getting familiar with them soon.......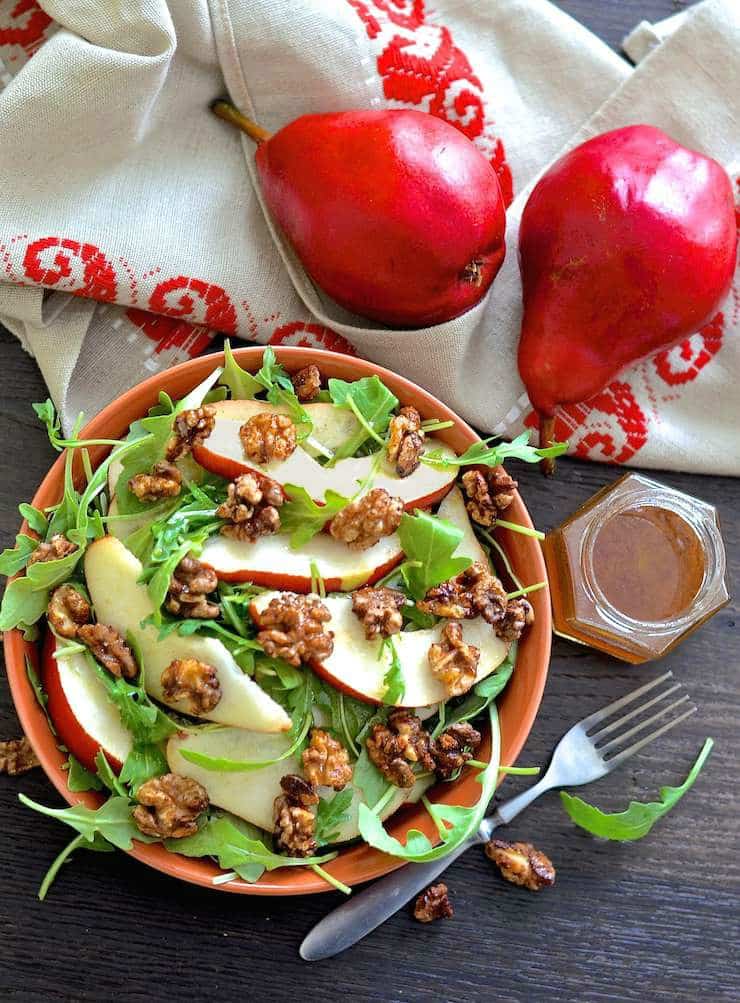 As well as being inspired to cook Dampfnudel, I was inspired by the biggest, juiciest, brightest red pears I have ever seen at my local green grocer. I actually had another recipe planned for today but ended up working on this Pear Walnut Salad with Maple Cinnamon Dressing as soon as I got them home. It was made, photographed and eaten for lunch amongst the chaos that was my kitchen. When I say "cooking up a storm" I really mean it. I should post a picture of the aftermath one day.............
Out of that chaos came this Pear Walnut Salad with Maple Cinnamon Dressing. It is just full of beautiful flavours and colours. Peppery arugula, sweet juicy pears, crunchy candied walnuts and a simple maple cinnamon dressing. The combination of flavours and textures is just delicious and the red skins of the pears look so pretty against the deep green arugula. Of course if you can't get red pears, then use green. The flavours will be the same, it just won't look quite as pretty.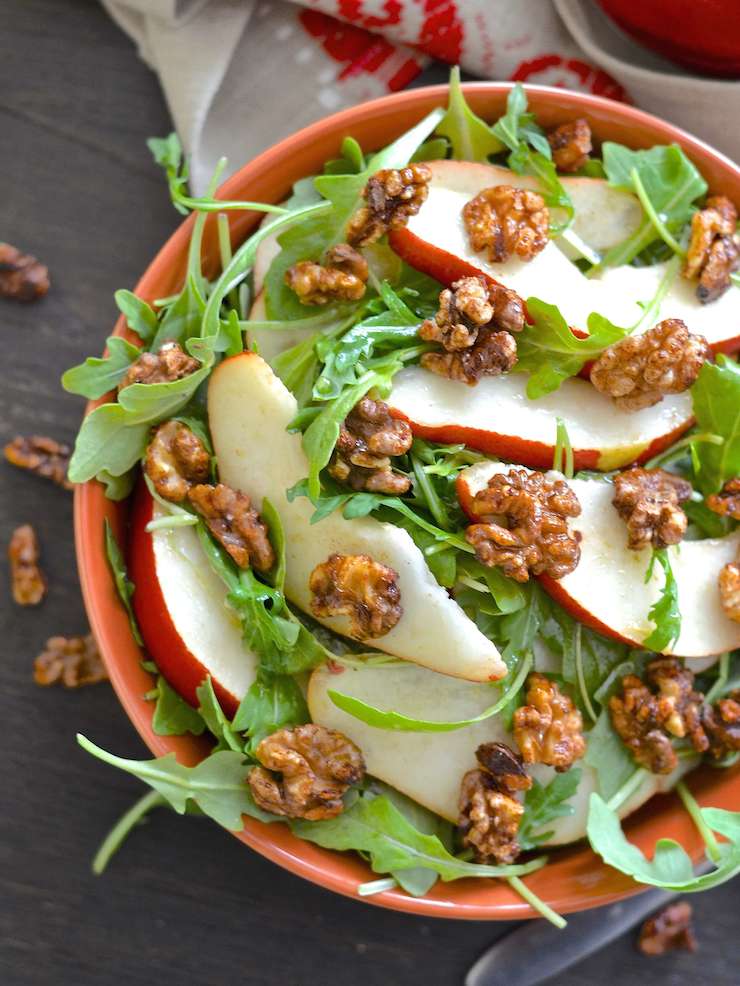 This Pear Walnut Salad comes together so quickly. The only cooking involved is making the candied walnuts which takes literally five minutes. The pears are left completely as they are. They are too good to mess around with. Their sweet juiciness works brilliantly with the peppery arugula and the sweet crunchy walnuts, and their flavour seeps out and into the maple cinnamon dressing. It's just a dream to eat.
You can eat this Pear Walnut Salad as an entree or a side. If you feel the need to bulk it out a bit then it is great served over a bed of green lentils that have also been coated in the dressing. It would also be wonderful with veggie burgers, pizza or pasta. Or just serve it with some crusty bread or a side of soup. Anyway you do it, I assure you it will be wonderful!
If you try this recipe ( or any of my others) let me know what you think in the comments section below. Be a star too and tag me @avirtualvegan or #avirtualvegan on Instagram so I can see!
Pear Walnut Salad with Maple Cinnamon Dressing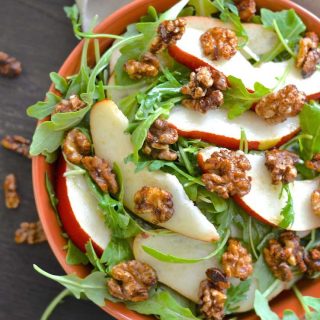 An incredibly fresh, flavourful & yet simple Pear Walnut Salad which brings together vibrant sweet & savoury flavours with wonderful textures & colours.
Ingredients
For the salad
8

big handfuls

arugula

, (rocket in the UK)

2

large

red pears

(use green if you can't find red- red apples would make a good sub too)
INSTRUCTIONS
For the candied walnuts
Preheat oven to 350°F

Mix walnuts with maple syrup, salt and cinnamon

Spread out onto a

tray

and bake for 5 minutes

Remove from oven and set aside to cool
For the dressing
Add all of the dressing ingredients to a small jar. Put the lid on and shake well.
For the salad
Wash the pears gently and half them lengthways.

Remove the cores with a teaspoon then cut each half into long thin slices.

Add the arugula and pear to a large salad bowl

Sprinkle over the cooled walnuts.

Drizzle generously with the dressing just before serving
NUTRITION
Serving:
1
serving
Calories:
286
kcal
Carbohydrates:
34
g
Protein:
4
g
Fat:
17
g
Sodium:
97
mg
Potassium:
381
mg
Fiber:
5
g
Sugar:
24
g
Tried this recipe?
Rate it & leave your feedback in the comments section below, or tag @avirtualvegan on Instagram and hashtag it #avirtualvegan
LOOKING FOR MORE RECIPES?
Be sure to check out my recipe index where you can browse and filter recipes by meal type, category and dietary preference.
This recipe has been shared with the Meat Free Mondays link up over at Tinned Tomatoes