This single serving Cinnamon Roll in a Mug is like magic. It takes less than 1 minute to cook, is made with just a handful of pantry staples, and is so easy. Perfect for when those sweet cravings hit & you NEED dessert, like now!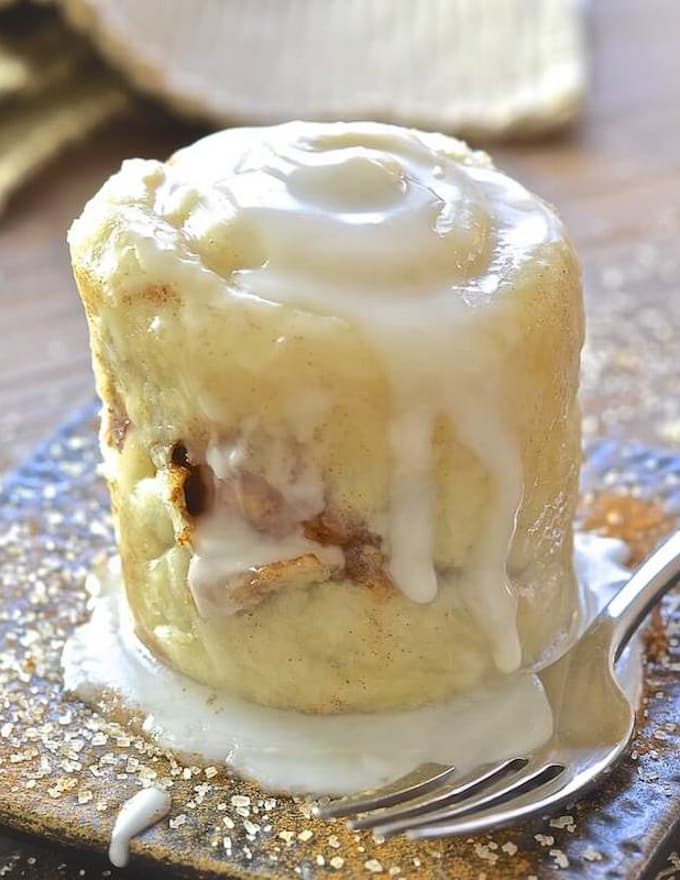 And then came a Cinnamon Roll in a Mug, because I have a sweet tooth and being able to go from zero to dessert in less than sixty seconds is a dream come true.
A whole batch of cinnamon rolls is lovely, but let's be real. They do take a bit of time and effort. A single-serving Cinnamon Roll in a Mug cooked in the microwave is the answer when you're not willing or able to put in that time and effort but still want a delicious sweet treat. Easy desserts don't get better than this!
In this post - Everything you need to make a perfect Cinnamon Roll in a Mug:
Jump to: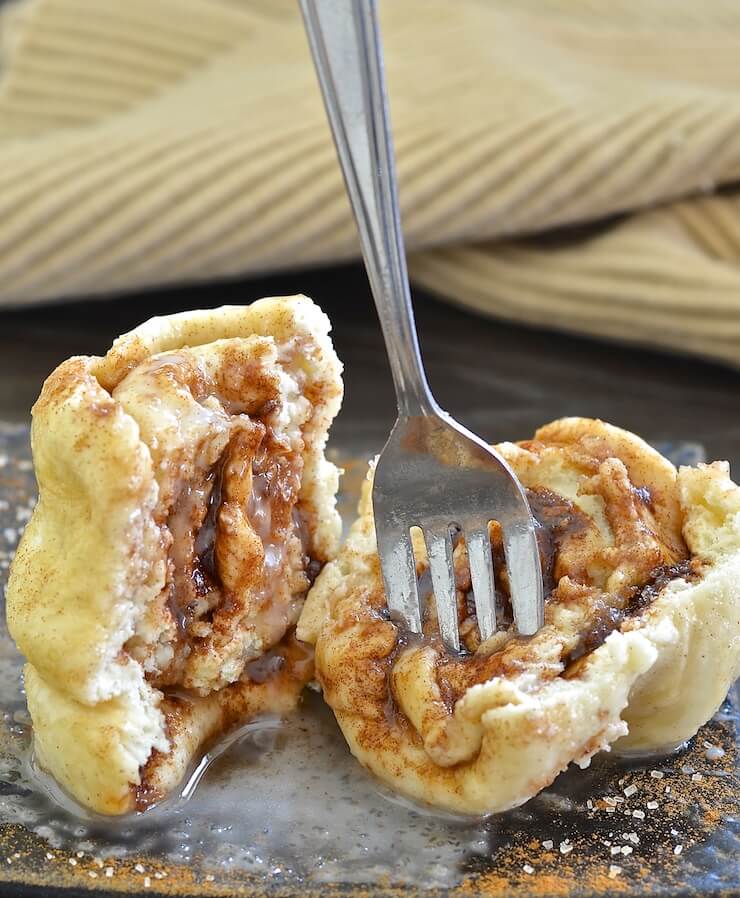 This Cinnamon Roll microwave mug cake is warm, sticky, doughy, perfectly sweet, and cinnamony. The roll itself is not overly sweet because it's not necessary with the very sweet frosting that seeps right into it, and it's the perfect indulgent treat for those times when you absolutely need dessert right now!
Ingredients
To make this vegan mug cake you will need: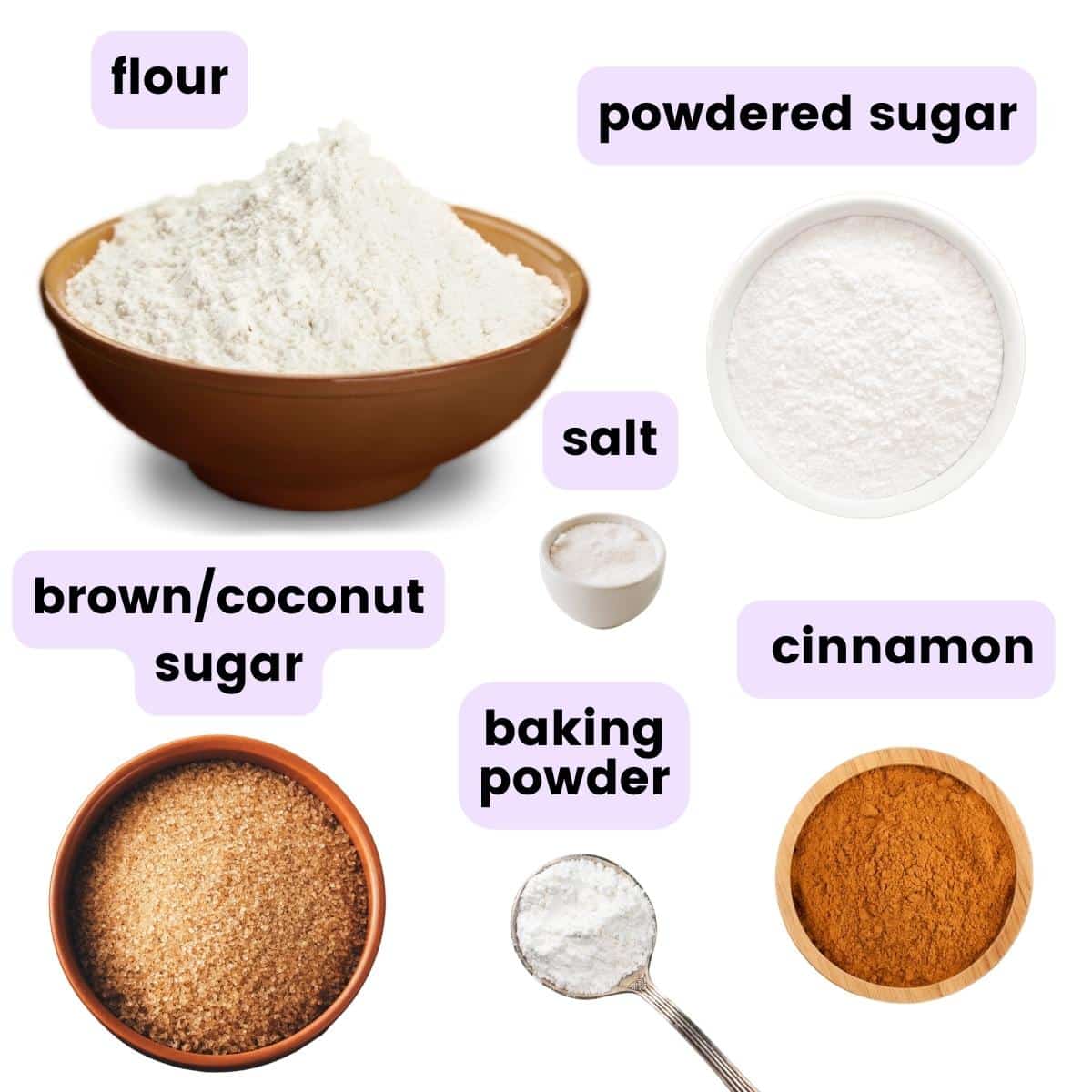 And a couple of important ingredient notes:
Flour - I did experiment with different flour types while trialling this recipe and all purpose white flour (plain flour in the UK) works the best. You will not get great results if you use wholewheat or spelt flour. This recipe has not been tested gluten-free, but many people in the comments have said they have made it with GF 1 to 1 baking flour with good results.
Sugar - This should be dark brown sugar or coconut sugar for the best cinnamon roll flavour.
Powdered sugar - Wholesome Sweeteners is my go-to vegan brand and is easily available in most big grocery stores in North America. If it's not available where you are and you're not sure if the others are vegan just buy an organic one. Organic sugars aren't allowed to use bone char.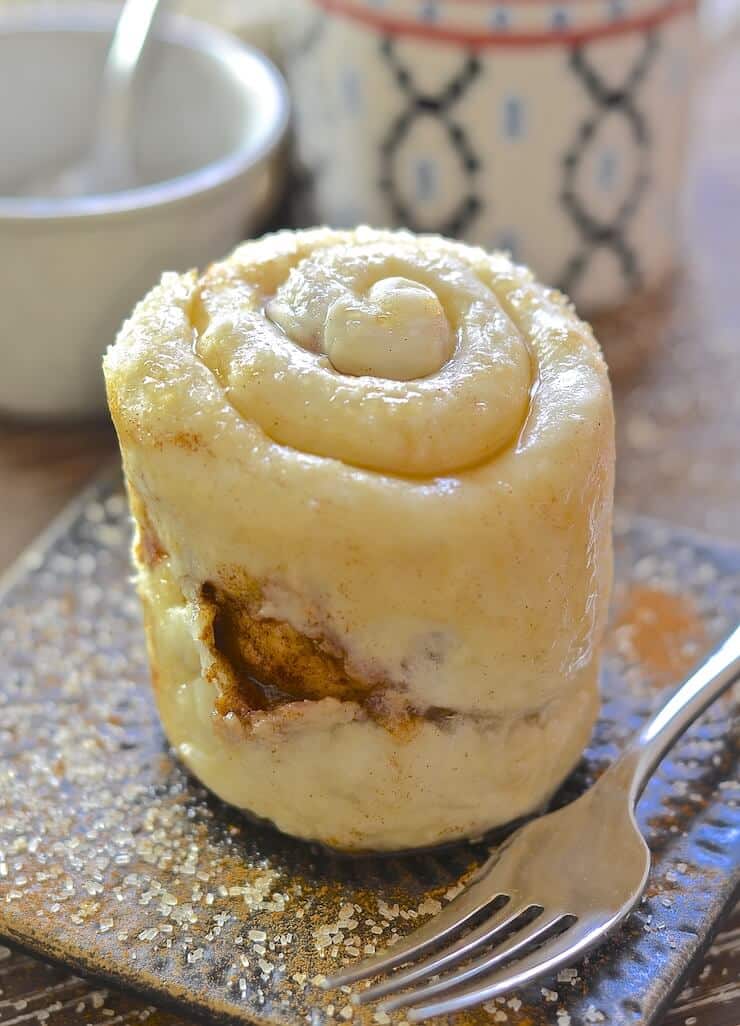 Success Tip - Be sure to measure the flour correctly. Spoon it into a measuring cup without shaking or compacting it down, then level the top with a knife. Do not scoop up the flour or you will end up with way more than intended and the recipe won't turn out at its best.
How To Make A Cinnamon Roll In A Mug
This Cinnamon Roll in a Mug is so easy to make. It literally takes a couple of minutes to form and about fifty seconds to cook.
Here's a quick summary of how it's done: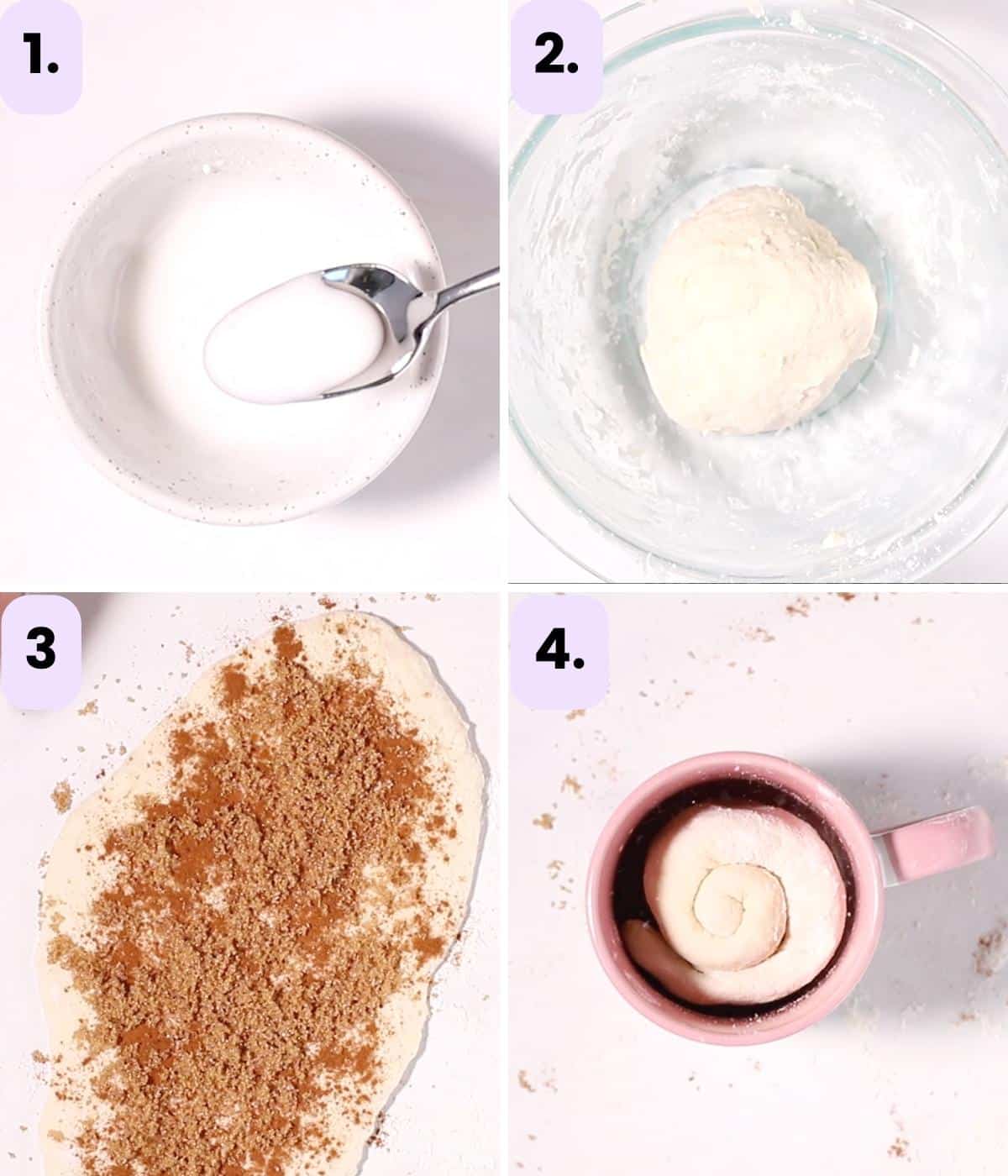 Make the frosting by mixing powdered sugar with a drop of water or plant-based milk.
Mix the 4 dough ingredients together in a bowl.
Roll out into a long strip, sprinkle over the cinnamon and sugar then fold the edges inwards to hold it all in.
Roll up, plop into a greased mug, add a little water (important!)and microwave.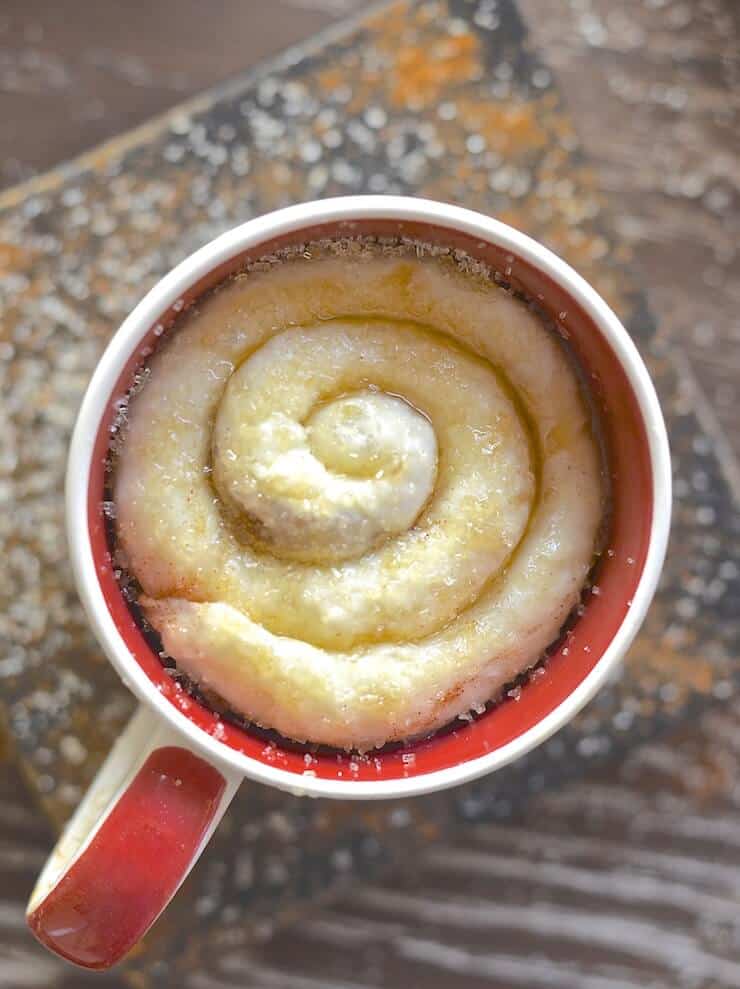 Once cooked, either eat it from the mug, or turn it out onto a plate and admire its cinnamon roll beauty for a second, before anointing it with a generous dribble of frosting. Then tuck in immediately. Don't keep it hanging around. This cinnamon roll needs to be eaten while hot and freshly cooked for the best texture.
Just look at this inside shot!!! <double drool>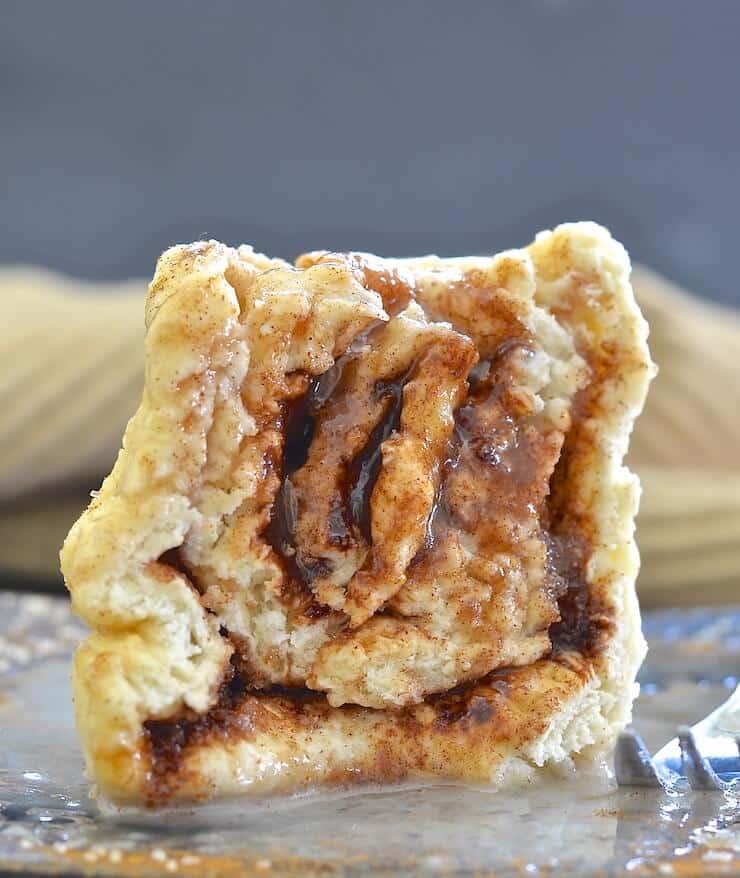 Please Read Prior To Making This Microwave Cinnamon Roll
This recipe really is super simple to make, but before you start please read this:
I am adding this section post-publication due to feedback received after the recipe went viral with millions and millions of people making it. The vast majority of people have been very pleased, but some have not, and in almost all cases it is because they have had very unreal expectations of the outcome, or they have nuked the life out of the cinnamon roll in the microwave or tried to eat it once it's cold. Quite a few people have also stuck things in the middle of it before cooking, like a Kit Kat Chunky then complained it burned. I cannot be held responsible for this.
Regarding the unreal expectations - If you are expecting a Cinnabon type baked, yeasty, fatty, caramelized, cream cheese frosting topped, sickly sweet cinnamon roll you will be disappointed. This recipe is not like that. It is a very simplified, limited ingredient, quick and easy version. It is also microwaved. It will stay pale and it will not caramelize. That is not possible in a microwave. As long as you realize this and aren't expecting a miracle, then we are good. For a simple, very quick, microwaved cinnamon roll it is great and it needs to be enjoyed as such.
Regarding the overcooking issues - Please realize that if you cook this cinnamon roll for too long it will become tough as anything does in the microwave if you overcook it. I am only able to tell you how long it takes in my microwave. They are all very different and you need to adjust the cooking time to suit your microwave as per my directions.
I can not be held responsible for you cooking it for so long it ends up like a hockey puck. As I explain in the directions it is better to slightly undercook then blast it in 5 second increments to finish it off. Microwaves are very powerful things and this is a very small item to be cooking. Even 10 seconds too long makes a huge difference.
And lastly - Some other recurring issues..Do not forget the baking powder and DO NOT use baking soda instead. If you do not use baking powder it will not work. Also this cinnamon roll must be eaten immediately. If you let it cool first or try to reheat it again it will become very tough.
Please know that all of my recipes are tested rigorously before publishing and if the directions are followed exactly, and cooking time is adjusted to suit your microwave, you will get a good result.
Thank you and I will now get off my soap box. 😁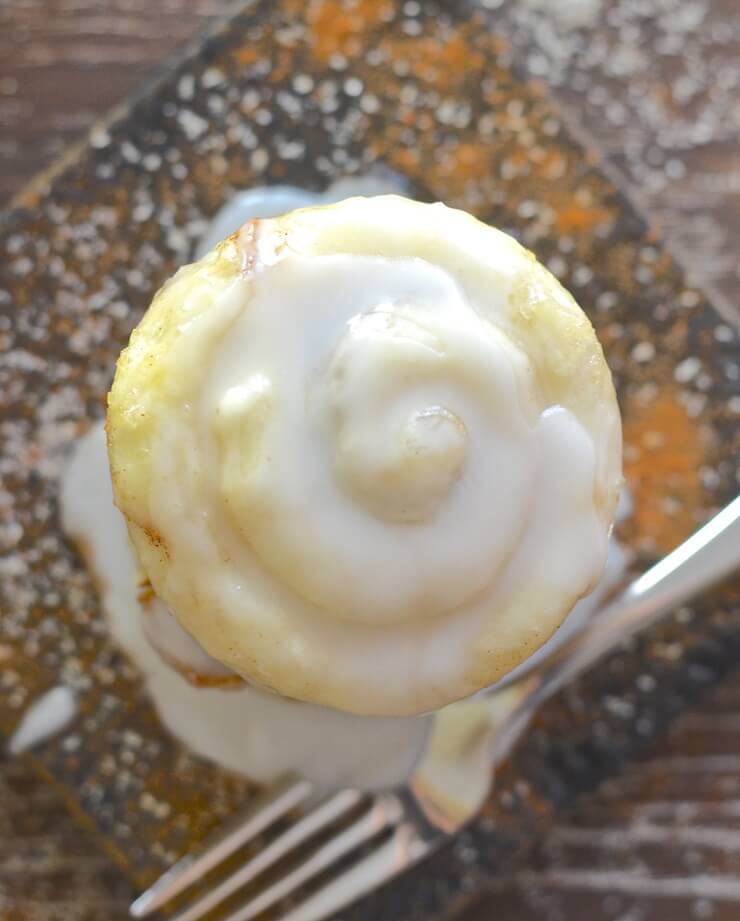 More Microwavable Mug Cakes
Recipe FAQs
Can I use self-raising flour?
The recipe hasn't been tested with self-raising flour because I can't buy it here. The amount of baking powder self-raising flour contains is very different to the amount in the recipe, so for the best results I recommend using plain flour with no raising agents added and then adding the measured amount of baking powder as per the recipe. This take any guess work out of the equation for the best results.
Can I use yeast instead of baking powder?
No. This recipe is prepared and cooked far too quickly for the yeast to be effective. That's why it uses baking powder. If you want to use yeast you will be better off following a traditional cinnamon roll recipe. There is a recipe in my cookbook!
Can I make this in advance and reheat?
No. This recipe needs to be eaten immediately and does not reheat well.
Can I cook this cinnamon roll mug cake recipe in an oven?
I have not tested this recipe in an oven.
If you try this recipe, let me know how you like it by leaving a comment and rating below! And be sure to join my mailing list for more deliciousness!
Recipe video
Recipe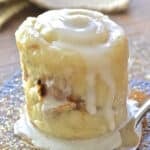 Cinnamon Roll in a Mug
Author:
This single serving Cinnamon Roll in a Mug is like magic. It takes less than 1 minute to cook, is made with just a handful of pantry staples, and is so easy. Perfect for when those sweet cravings hit and you NEED dessert, like now!
Ingredients
For the icing
3

tablespoons

powdered sugar

about ¾

teaspoon

water

, or dairy-free milk
For the cinnamon roll
a

tiny dab

oil

, for greasing the mug (such as sunflower, canola, olive or coconut oil)

½ cup + 1 tablespoon (9

level tablespoons)

all purpose flour

(plain flour in the UK). Spoon the flour into the cup & level with a knife without compacting or shaking it down. DO NOT scoop it up.

¾

teaspoon

baking powder

1

small pinch

fine salt

enough

water

to make a dough

¾

teaspoon

ground cinnamon

1½

tablespoons

brown sugar

, or coconut sugar
INSTRUCTIONS
Make the icing. In a small bowl mix the powdered sugar with either plant-based milk or water. Add the liquid a tiny bit at a time and mix really well after each addition. It doesn't take much at all and the most you will need is about ¾ teaspoon. Stir well until smooth then set aside.

Grease a normal sized drinking mug (about 11 to 12 oz size) with a tiny dab of oil.

Add the flour, baking powder and salt to another small bowl and stir to combine.

Gradually add enough water to form a craggy dough (about 4 tablespoons but this will vary depending on the time of year and humidity), then use your hand to bring it together, kneading a few times until it is a smoothish dough. Don't handle it any more than you need to. If you accidentally add a drop too much water and it's a little sticky, add a little extra flour.

Dust a clean work surface with flour, then roll the dough out into a long strip about 4 inches wide and ⅛ inch (a couple of millimetres) thick.

Sprinkle the sugar and cinnamon evenly over the dough then fold the edges on the longest sides inwards so they meet each other in the middle. This helps to seal the cinnamon and sugar in and stop it dropping out when you lift it after rolling. See my video in the post above for a full tutorial.

Roll it up tightly and gently place in the greased mug. Pour over ½ teaspoon of water then place in the microwave. Don't skip this. It's important to create steam.

Microwave uncovered on full power for 50 seconds. My microwave is 1200 watts. You will need to adjust the time up or down if the wattage of yours is different but it shouldn't need longer than 1 minute 10 seconds max. It is better to slightly undercook it then blast it in 5 second increments to finish it off than risk overcooking.

When you open the door it should have puffed up a lot and nearly reached the top of the mug. It will still look pale and maybe a little damp as it's microwaved not baked, so don't think it's underdone and cook longer than you need to or it will overcook. You can check doneness with a toothpick or skewer. Stick into the roll and it should come out clean.

Either spoon the icing over the cinnamon roll in the mug or turn out onto a plate then ice. Before turning out run a knife around the outside of the mug to loosen it.

Eat immediately while warm.
NOTES
Be sure to measure the flour correctly. Spoon it into a measuring cup without shaking or compacting it down, then level the top with a knife. Do not scoop up the flour or you will end up with way more than intended and the recipe won't turn out at its best.
NUTRITION
Serving:
1
serving
Calories:
414
kcal
Carbohydrates:
96
g
Protein:
7
g
Fat:
1
g
Saturated Fat:
0.1
g
Polyunsaturated Fat:
0.3
g
Monounsaturated Fat:
0.1
g
Sodium:
49
mg
Potassium:
406
mg
Fiber:
3
g
Sugar:
41
g
Vitamin A:
4
IU
Vitamin C:
0.1
mg
Calcium:
170
mg
Iron:
4
mg
Tried this recipe?
Rate it & leave your feedback in the comments section below!