Find your bliss with The Classic Power Bowl from Blissful Basil. A delightful combination of spicy cauliflower rice, warming & crisp sweet potatoes & creamy, garlicky avocado mash.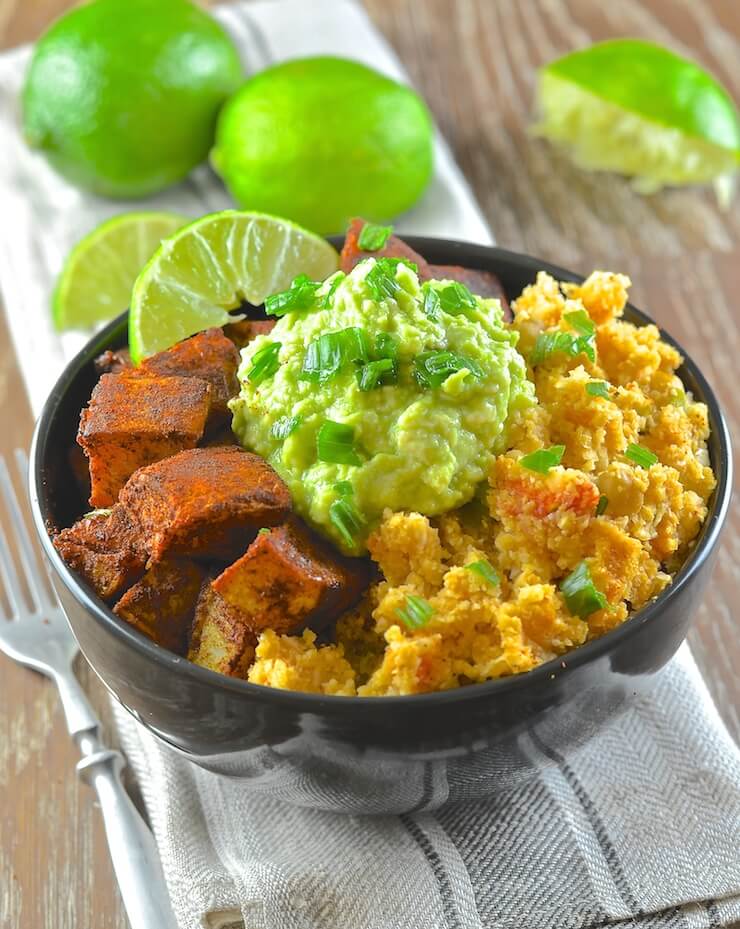 With the start of a new year comes a surge in people trying to make better choices and eat a little more healthily. Veganuary begins, and a whole new batch of people start their first, and hopefully not their last, vegan January.
FIND YOUR BLISS
Plant-based eating is a wonderful way to find your bliss. I have never been happier since I made the transition and honour my bliss by nourishing my body and soul with wholesome plant-based foods and by sharing my recipes with you. This in turn enables you to honour your bliss through the joy of wonderful, healthy plant-based eating which only adds to my happiness. ♡
Plant-based eating has never been so delicious and there are a myriad of wonderful blogs to follow and cook books to invest in. One blog that I have followed for a long time now is Ashley Melillo's Blissful Basil. When I got the chance to review her new book of the same name, and take part in the blog tour, I dove in head first.....quite literally, and I have had problems extricating myself ever since!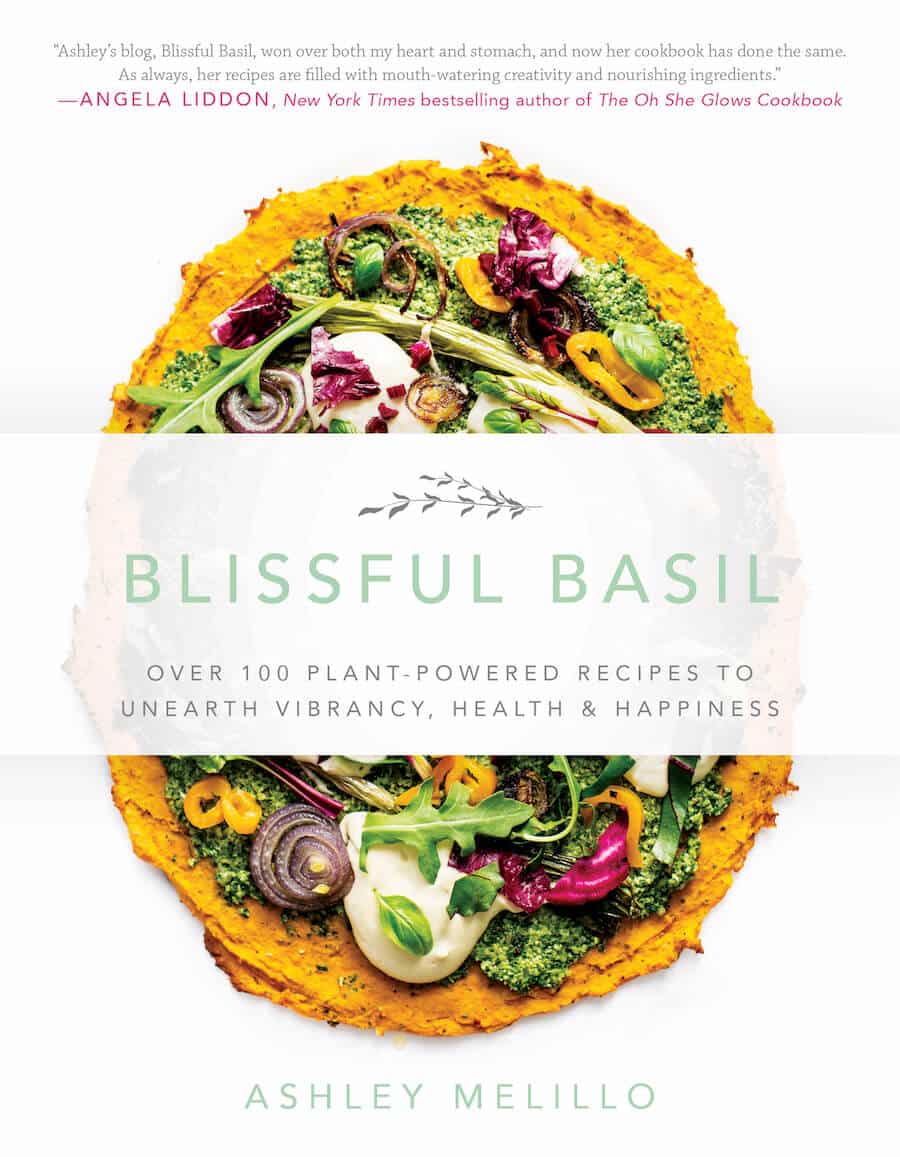 If that cover shot doesn't want to make you want to literally drink eat in the contents of the book what would? It looks amazing and is totally representative of what you will find inside.
Honour Your Bliss
Blissful Basil is quite literally packed with the most delicious, healthy recipes. If any book is going to motivate you to honour your bliss then it is this one. It is incredible and by far the best cook book I have cooked from in a while. I had such a hard time deciding what recipe I was going to feature here today!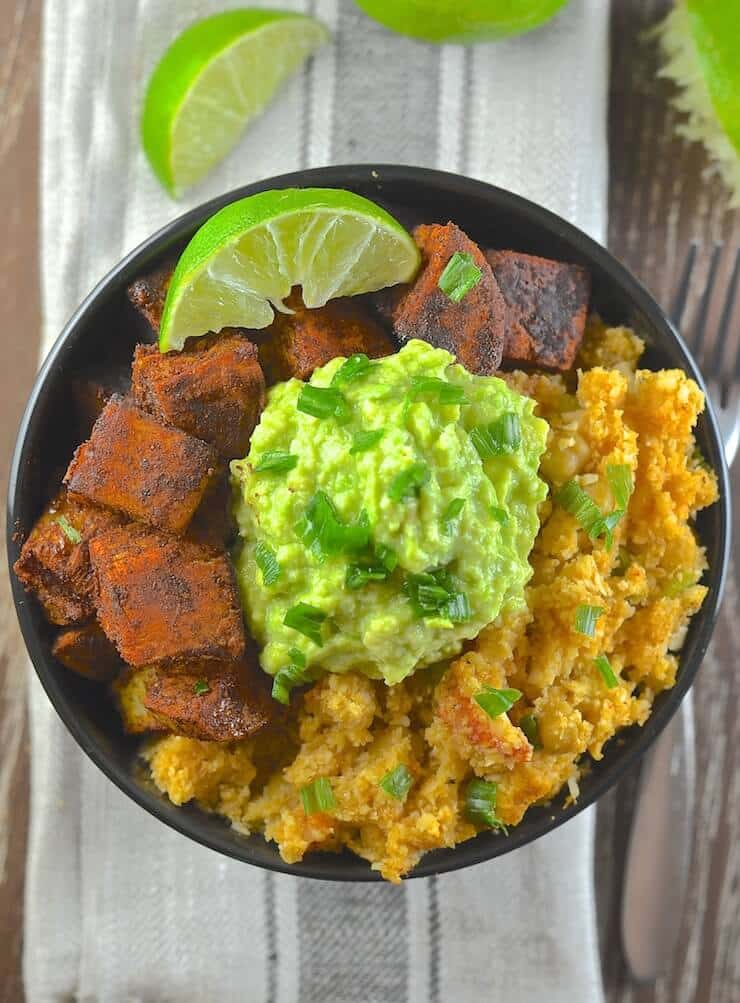 Blissful Basil by Ashely Melillo
Blissful Basil is visually appealing. It is clean, crisp and features beautiful, colourful images. I loved getting to know Ashley in the introduction and learning about her journey to plant-based eating. She takes a very candid and personal approach which I admire.
The book is broken down into the following chapters:
Introduction | Rooted Habits
A Blissful Kitchen | Pantry Roots + Essential Equipment
Breakfast + Brunch
Smoothies + Juices
Snacks + Appetizers
Soups + Salads
Power Bowls
Sandwiches, Tacos + Pizza
Pasta + Noodles
Veggie-Centric Mains
Sophisticated Sweets + Simple Treats
Homemade Staples
There are over 100 plant-powered recipes "to unearth vibrancy, health and happiness" and it is a valuable resource for anyone interested in whole-foods, plant-based cooking.
SO FAR I HAVE MADE & DEVOURED:
Garlic, Mushroom Tacos with Quick Pickled Jalapeños + Chipotle-Tomato Crema
Superseeded Pesto Pizza with Rainbow Veggies, Mozzarella + Sweet Potato Crust (shown in the book cover photo)
Enlivening Lemon Bars
Classic Power Bowl: Spicy Cauliflower Rice, Roasted Sweet Potatoes + Avocado Mash (featured here today).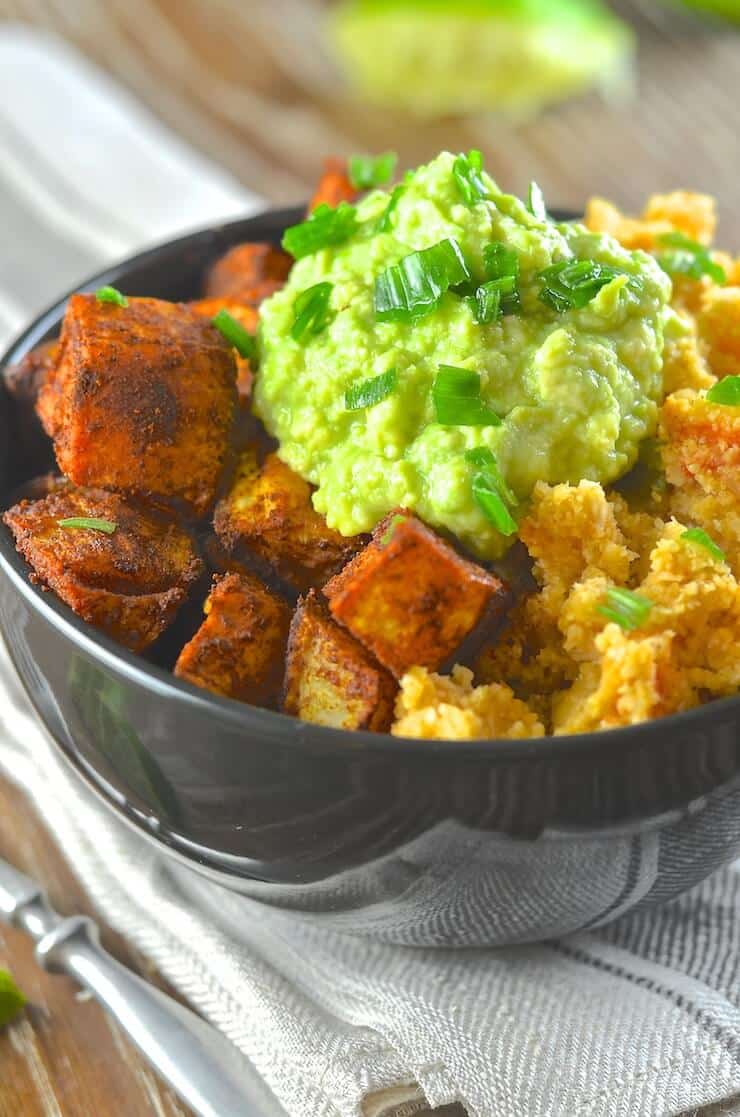 AND ON MY "MUST MAKE SOON" LIST ARE:
Caramelized Banana Upside-Down Oatmeal Bake with Chai-Spiced Date Caramel
Electric Turmeric-Lemonde Smoothie
Crispy Cauliflower Tots withSpeedy Two Minute Ketchuo
Kale Artichoke + Leek Mac 'N' Cheese with Herbed Oat Cumbs
The Classic Power Bowl : Spicy Cauliflower Rice, Roasted Sweet Potatoes + Avocado Mash
The Classic power Bowl : Spicy Cauliflower Rice, Roasted Sweet Potatoes + Avocado Mash, which I am sharing with you today is simple, nutritious and amazingly flavourful. I threw it together after a day at work in less than 45 minutes. It is full of good for you ingredients and it's in a bowl. I ♡ food in bowls! It automatically makes a meal cozier and more satisfying, don't you think?
I actually nearly dismissed this recipe because I wasn't sure it showcased the book well enough. Ashley herself says in the description that she thought the bowl "was a bit random to appeal to the masses" and describes it as "a loveable hodgepodge of flavours, textures and colours".  As soon as I made it (and tasted it) though, I changed my mind about including it here.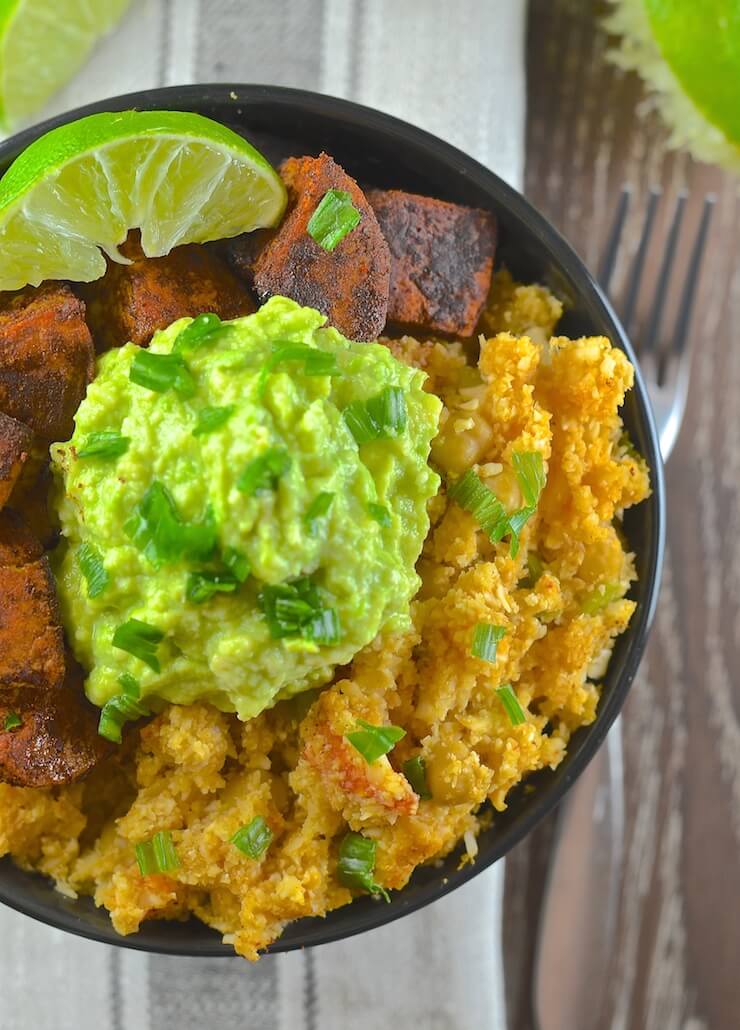 It's simplicity is admirable and the flavours that pull it all together are just divine. The cauliflower rice is gently warming and spicy and the cinnamon-paprika potatoes are crispy, sweet and comforting. The creamy, garlicky avocado mash pulls it all together, adds a bit of moisture and a pop of glorious green colour. It's a hug in a bowl and I was very reluctant to share it with my husband. ????
I think of it as the dark horse of the book. It kind of crept up on me out of nowhere and reeled me in and now I'm hooked. I've made it twice in the last week and am actively looking for an excuse to make it again soon....Get me some sweet potatoes and a cauliflower stat!
Enter to win your own copy of Blissful Basil
As well as allowing me to share this wonderful recipe from Blissful Basil, Ashley and her publisher BenBella Vegan are kindly letting me give away a copy of the book to one lucky reader. Just scroll down to enter to win and in the meantime make this Classic Power Bowl. It truly is 'blissful' ♡
The Classic Power Bowl from Blissful Basil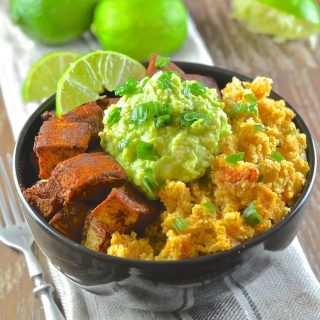 Find your bliss with The Classic Power Bowl from Blissful Basil. A delightful combination of spicy cauliflower rice, warming & crisp sweet potatoes & creamy, garlicky avocado mash.
Ingredients
For the Roasted Sweet Potatoes
2

large | about 4 cups

sweet potatoes

peeled and cut into 1-inch cubes

2

tablespoons

grape seed oil or other heat-tolerant oil

1

tablespoon

ground cinnamon

1

tablespoon

smoked paprika

fine-grain sea salt
For the Spicy Cauliflower Rice
1

medium head | around 6 cups

cauliflower

cored and cut into florets

1

tablespoon

sesame oil

5

scallions

trimmed and thinly slices

1

cup

cherry or grape tomatoes quartered

2-3

tablespoons

apple cider vinegar or rice vinegar

1-2

tablespoons

reduced-sodium tamari*

1-2

tablespoons

chile-garlic pasta or Sriracha

¼

cup

chopped chives

¼

cup

chopped fresh cilantro
For the Avocado Mash
1

ripe avocado

halved, pitted and peeled

1

tablespoon

fresh lime juice or to taste

1

clove

garlic

minced

Sea salt

to taste
INSTRUCTIONS
For the Roasted Sweet Potatoes
Preheat the oven to 425°F. Line a large

baking tray

with parchment paper.

Place the sweet potatoes on the lined baking tray, drizzle with the oil, and sprinkle with the cinnamon, paprika and sea salt to taste. Toss to coat.

Roast for 25-30 minutes, or until fork-tender, flipping at the 15-minute mark.
For the Spicy Cauliflower Rice
Add the cauliflower florets to the bowl of a

food processor

fitted with an S-blade. Pulse to finely chop into pieces roughly the size of rice grains.

Heat the sesame oil in a large wok or sauté pan over medium heat. Add the riced cauliflower, scallions, and tomatoes and cook for 8-10 minutes, or until the cauliflower softens, stirring occasionally.

In a small bowl, whisk together the apple cider vinegar, tamari, and chile-garlic paste. Pour the sauce over the cauliflower and cook for another 6-8 minutes, or until the "rice" develops a slight golden colour and the liquid is absorbed, stirring frequently. Remove from the heat and stir in the chives and cilantro.
For the Avocado Mash
In a small bowl, use the back of a fork to mash together the avocado, lime juice, garlic, and sea salt to taste.
To assemble
Spoon the sweet potatoes and cauliflower into bowls, snuggling them alongside one another, Top with a generous dollop of the avocado mash.
NOTES
Refrigerate the leftover cauliflower rice and sweet potatoes in separate airtight containers for up to 3 days. The avocado mash is best when fresh.
No soy? No problem | To keep this dish soy-free, swap out the reduced-soaium tamari for coconut aminos.
NUTRITION
Serving:
1
serving
Calories:
605
kcal
Carbohydrates:
100
g
Protein:
13
g
Fat:
22
g
Sodium:
752
mg
Fiber:
23
g
Sugar:
22
g
Vitamin A:
53350
IU
Vitamin C:
178.2
mg
Calcium:
240
mg
Iron:
4.7
mg
Tried this recipe?
Rate it & leave your feedback in the comments section below, or tag @avirtualvegan on Instagram and hashtag it #avirtualvegan
Reprinted from Blissful Basil by arrangement with BenBella Books. Copyright © 2016, Ashley Melillo.
This recipe has been entered into the Tinned Tomatoes Meat Free Monday Link Up.