Vegan Spanakopita. My take on the great Greek spinach and feta pie! Featuring shatteringly crisp phyllo pastry, and a soft, salty, feta-cheesy, spinachy filling, all baked up to golden perfection. Comfort food at its finest.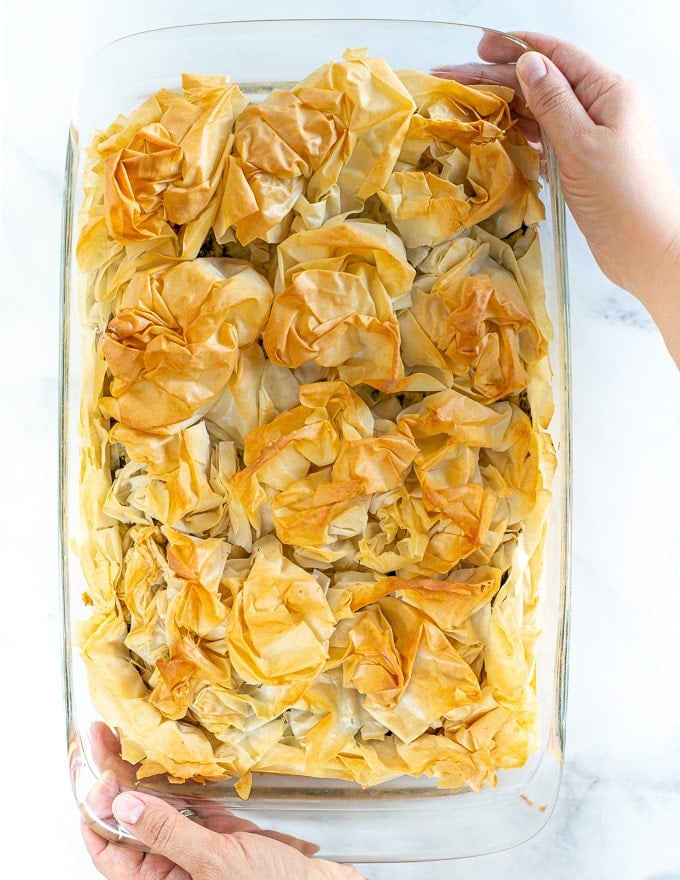 Ok, hold up, because today we've got Vegan Spanakopita coming on through. It all started with my A-Mazing Vegan Feta Cheese, and you know, if you've got a cracking recipe for that, then you just have to make Vegan Spanakopita. It would be a crime not to.
We're talking shatteringly crisp phyllo pastry, with a super delicious, soft, salty, creamy, vegan feta and spinach filling, more crispy, phyllo layers baked to golden perfection ... and that's it. Stop right there. All of your cheesy vegetarian spinach pie dreams have come true. Your life is complete. Done and done.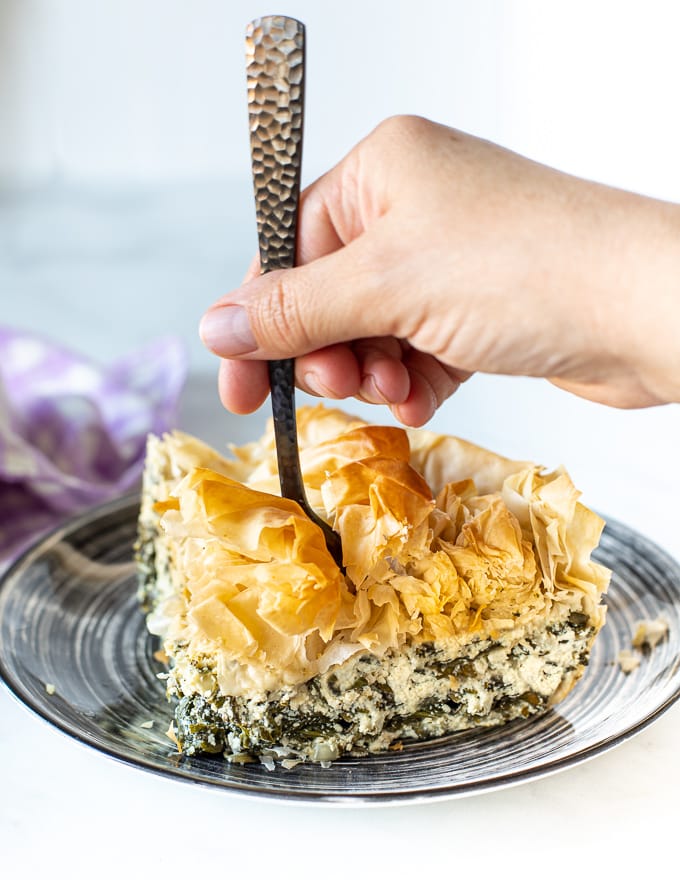 This is a rustic, super tasty Greek inspired dish that looks way more complicated than it is. And when it comes to comfort food, it doesn't get much better. And if you don't agree, I'm not sure who you are.
If you're up for creamy, soft, spinachy, cheesy, salty, tangy, dense, crisp beyond belief and delicious sorts of textures, this recipe = you.
What is Spanakopita?
Spanakopita is a traditional Greek savoury pie made with layers of perfectly flaky, golden and oh so crispy phyllo dough with a comforting, creamy, delicious filling of spinach and feta cheese. Traditionally, the filling is enriched with eggs but they really aren't necessary. You still get perfectly, rich and creamy, easily sliceable pie without them in this Greek vegan recipe.
As well as that yummy, addictive vegan feta cheese, and dark green spinach, I took the liberty of adding onion, garlic, fresh parsley and mint for freshness. And even a little touch of nutmeg. Not traditionally Greek at all, but it all works so well and takes that vegan spanakopita pie right over the top. This really is one of my favourite recipes using phyllo (filo) dough.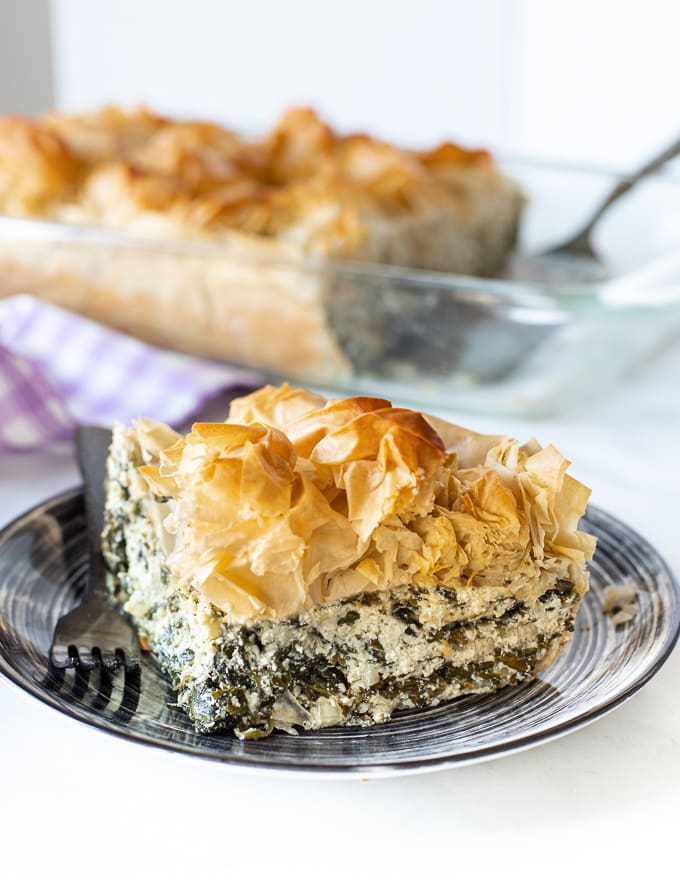 Is phyllo dough/pastry vegan?
Phyllo pastry, is basically layered sheets of tissue-thin pastry dough and it is typically found in the freezer section next to things like pie crusts and puff pastry. It is pretty much always vegan so you don't need to look for a specific vegan phyllo dough. Double check the ingredients list just in case, but I have never come across one in the grocery store that wasn't vegan. So there is absolutely no excuse not to indulge in this crispy, creamy, vegan pie.
Phyllo (sometimes spelled filo) pastry can be a bit daunting though, because it's so tissue-paper thin, but trust me on this, if it tears, it really doesn't matter! The more folds and wrinkles there are the better, and when it comes to the top, you are literally just screwing the sheets of pastry up in your hands like like do when you screw up a sheet of paper into a ball. It will look good whatever. So, so forgiving.
Is feta cheese vegan?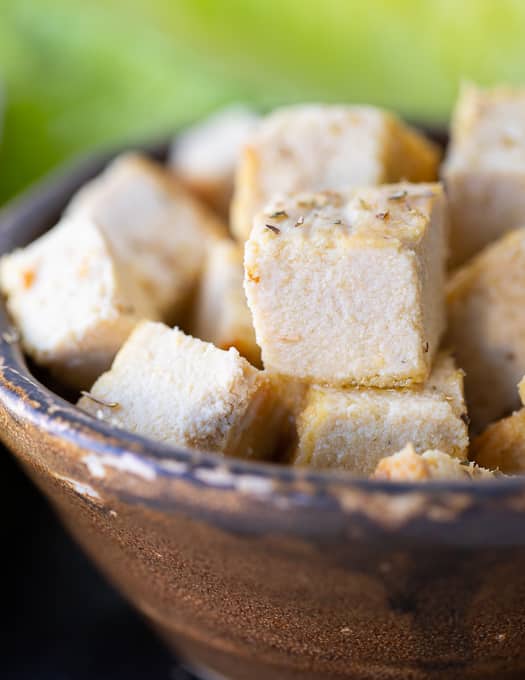 Traditional feta cheese is not vegan. It is made with animal milk and also usually rennet. But don't worry because I have created THE most amazing vegan feta cheese recipe. It works so well in this spanakopita. I highly recommend you enjoy it in it's own right when it's not squidged in a pie, one day when you have a chance too.
It's one of my many vegan tofu recipes and has to be tasted to be believed.
Ingredients
This is what you need to make this vegan spinach pie:
fresh spinach
phyllo pastry (most store bought phyllo pastry is accidentally vegan)
vegan feta cheese - Please note that this recipe works best with my recipe for vegan feta cheese and will be way cheaper to make with it too. Violife feta cheese does not perform well in this recipe.
onion, garlic, lemon zest, parsley and mint
and olive oil or melted vegan butter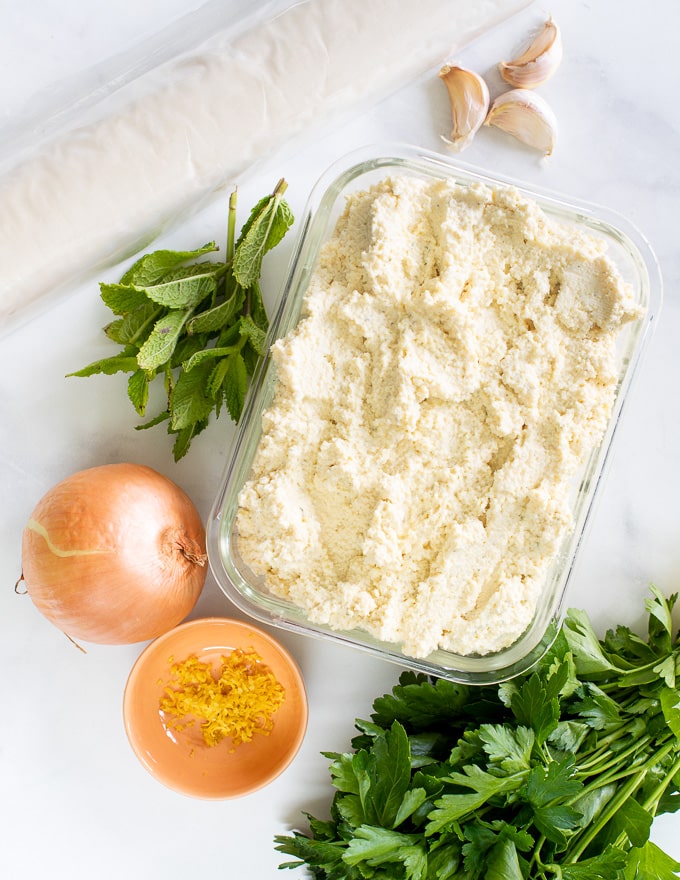 How to make Vegan Spanakopita
Here's the low down on how to make it:
Step 1 - Sauté the spinach in a pan until wilted, then once it is cool, squeeze out all of the excess liquid from it.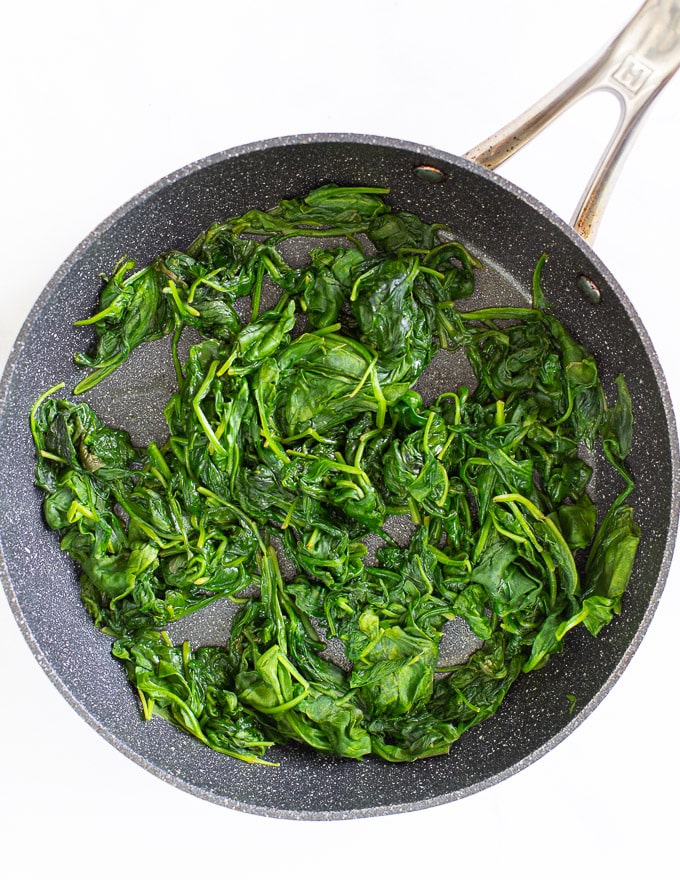 Step 2 - Mix the spinach with the vegan feta.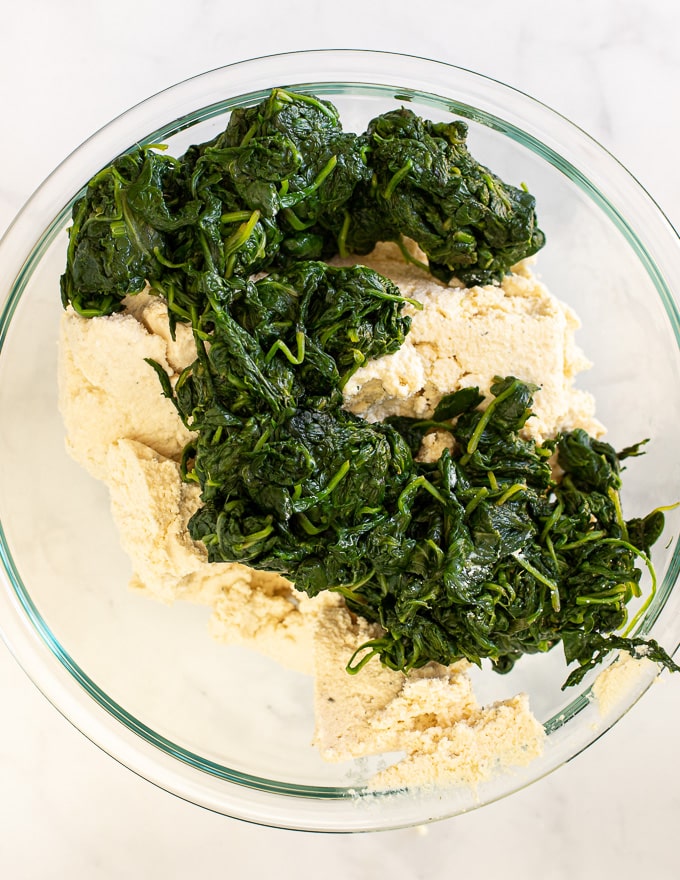 Step 3 - Add all of the other filling ingredients and mix well.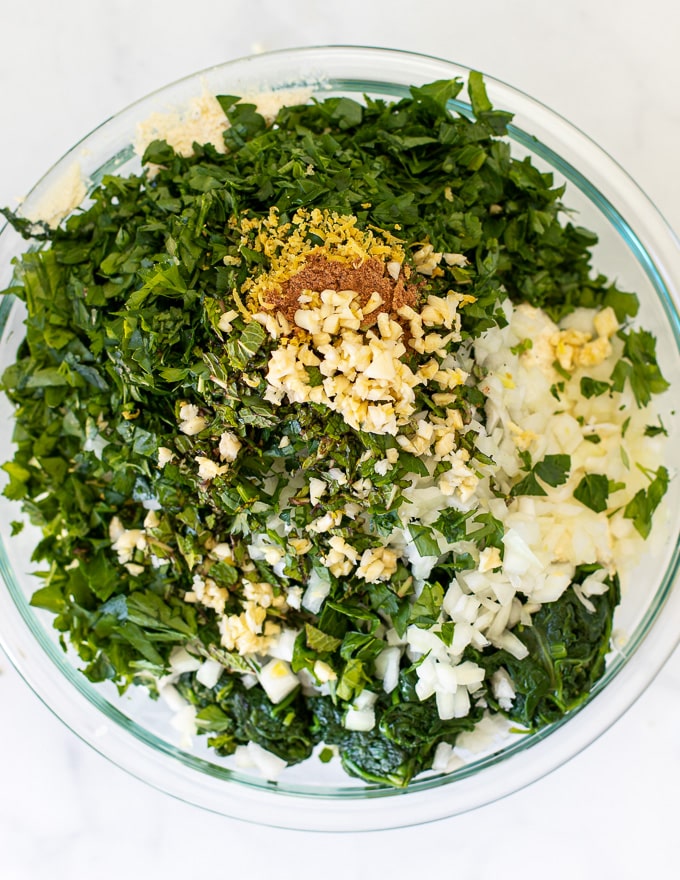 Step 4 - Layer up half of the sheets of phyllo pastry in an oven proof dish, brushing each sheet with some olive oil or vegan butter.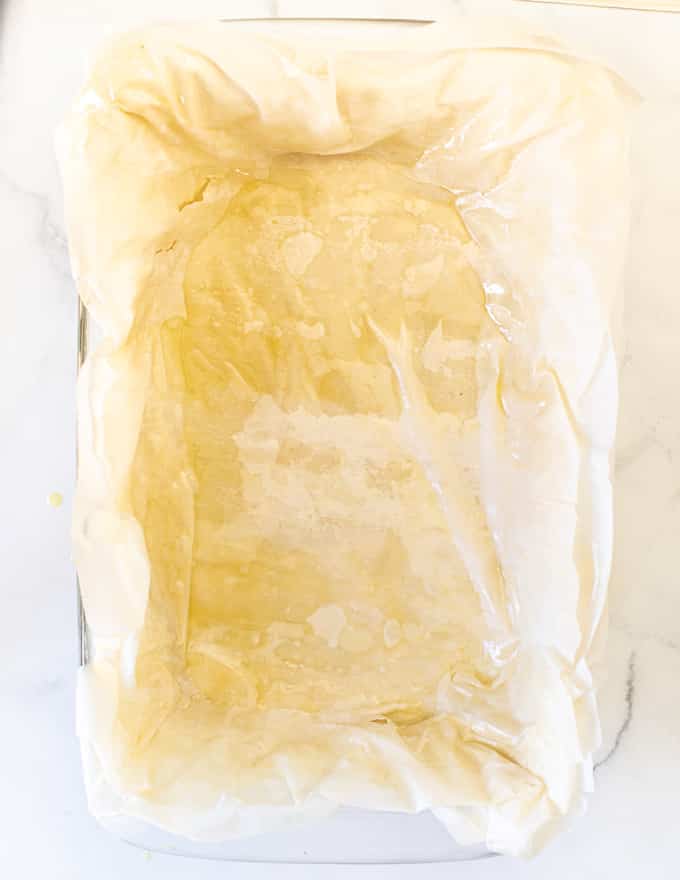 Step 5 - Spoon the spinach mixture into the pastry and level off.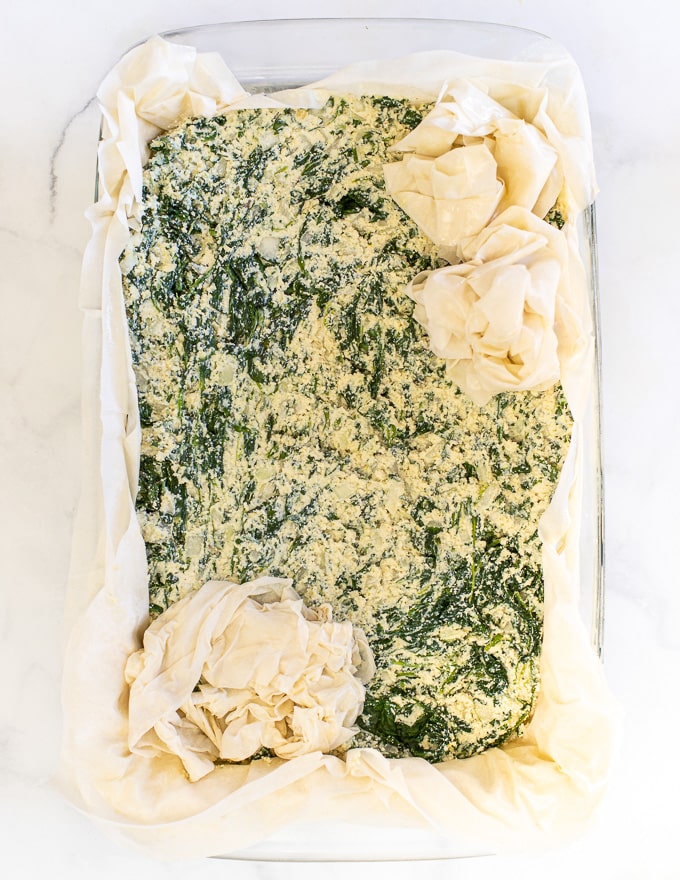 Step 6 - Brush the remaining pastry sheets with oil or butter, one by one, and screw each one up gently in your hands before placing on top of the filling until the surface is covered, then bake.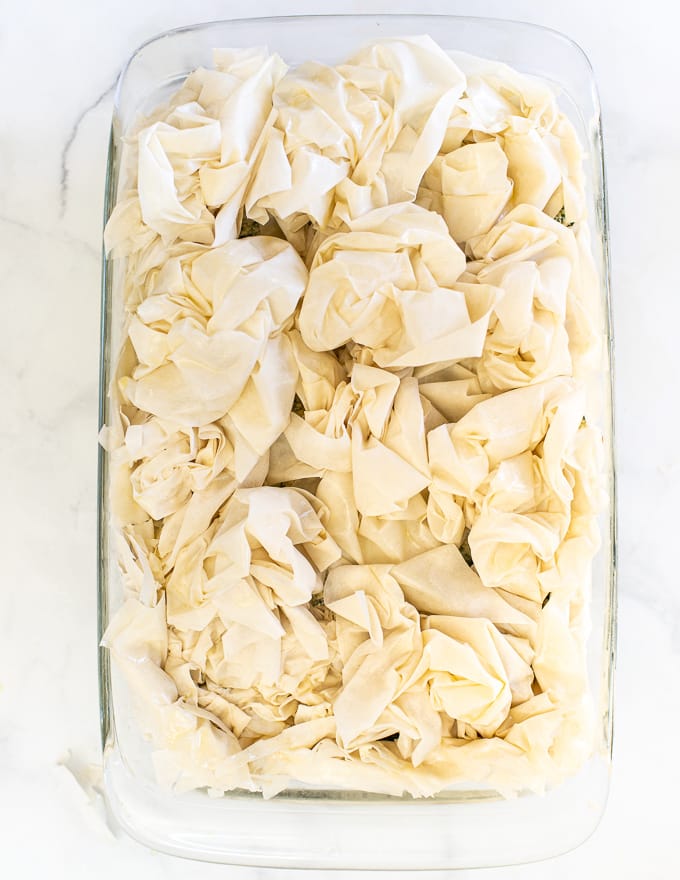 Success Tips
Whilst you can replace the olive oil or vegan butter used to brush the pastry with aquafaba if you want to for a more healthy Spanakopita , you won't get the same golden, shatteringly crispy result and there won't be so much flavour in the finished pie. In my opinion if you are going to make pie, make it properly and enjoy it. There are never really any shortcuts to low calorie, oil-free pie.
This recipe does not work as well with store bough feta cheese alternatives. I highly recommend you make my vegan feta recipe. It will work out a lot more budget-friendly as well as having a better taste and texture.
All the components of this recipe can be made ahead. You can sauté the spinach ahead of time and keep it in the fridge and you can make the vegan feta cheese and store it in a sealed container in the fridge for up to 5 days. You can even mix all of the filling ingredients together to save storage space. And the phyllo you'll just be buying from the grocery store. The pie takes no time at all to assemble.
The cooked spinach needs to be as dry as possible before you assemble the pie. I simply grab handfuls and squeeze it in my fist over the sink to remove as much liquid as possible. Soggy pastry is no-ones friend so this step is really important.
Do not forget to defrost your phyllo pastry. It needs 4 hours at room temperature or overnight in the fridge to thaw. When thawing, do not remove from the package.
Once you have opened the pastry packaging and unrolled it, keep a damp, clean dish towel laid over your sheets of phyllo pastry at all times. If you leave it uncovered, even for a few minutes it can get dry and brittle.
Don't panic if your phyllo pastry tears. It really doesn't matter. Just patch it up by laying another sheet on top and no-one will ever know!
Leave the pie to cool slightly, or even completely, before slicing.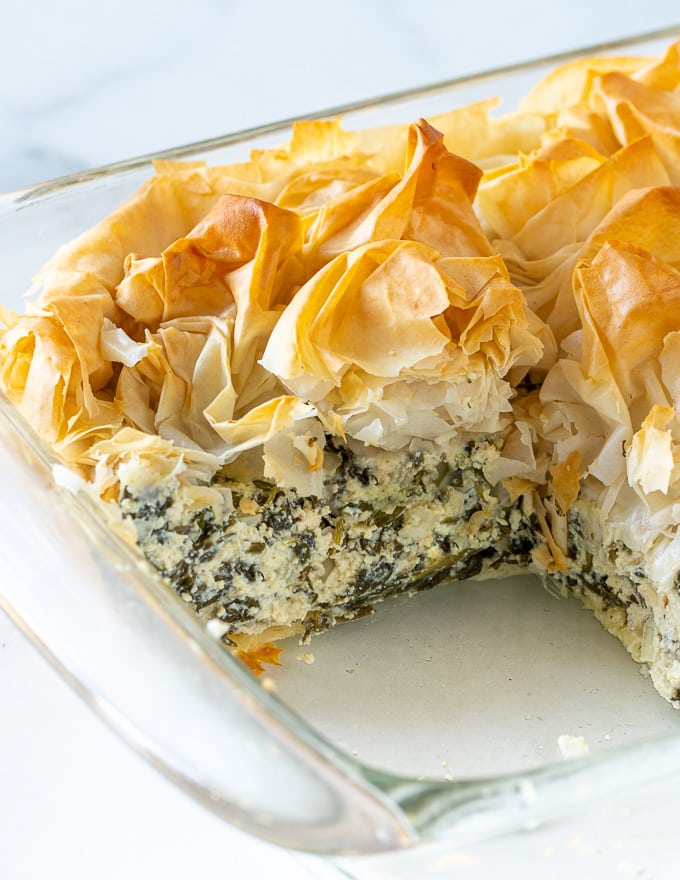 Side dishes to serve with Spanakopita
You can serve Spanakopita up in so many ways. It's great served with other Greek vegan food, makes a great side dish, but it also stands alone as a main dish very well.
Serve hot, warm or cold for dinner, light lunches, brunch, picnics, or an appetizer. It's really great when served with most of my salad recipes or with a bowl of Kalamata olives, some extra feta, plus some really good bread like my No Knead Focaccia would be a pretty good decision too.
Storing Leftovers
This recipe makes a large pie. If you have leftovers, store them covered in the fridge. It will keep there for up to 5 days.
Eat the leftovers cold, or cut off what you need and place on a small baking tray in the oven on 350°F until heated through. Time will vary depending on how big a piece you are warming but an individual piece takes about 15 minutes. The pastry will crisp up shatteringly again once it has been baked.
If you try this recipe, let me know how you like it by leaving a comment and rating below! And be sure to join my mailing list for more deliciousness!
Recipe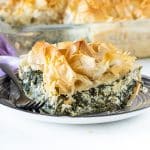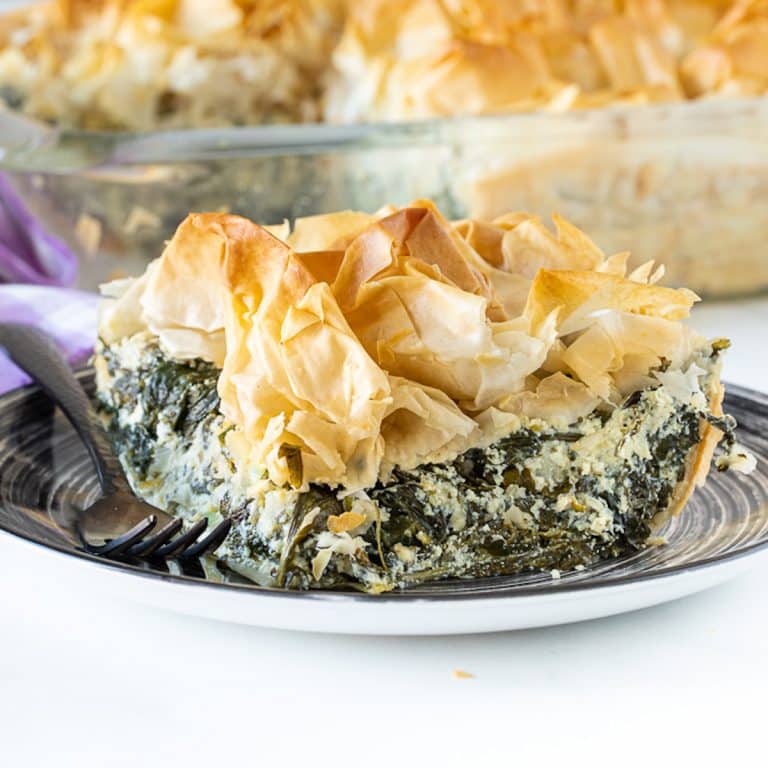 Vegan Spanakopita
Author:
Vegan Spanakopita. My take on the great Greek spinach and feta pie! Featuring shatteringly crisp phyllo pastry, and a soft, salty, feta-cheesy, spinachy filling, all baked up to golden perfection. Comfort food at it's finest.
Ingredients
Ingredients
16 oz (454

grams)

phyllo pastry

, (you will find it in the freezer department with the pie crusts)

16 oz (454

grams)

fresh spinach

1

batch (about 500 g / 18 oz)

Vegan Feta Cheese

, made as per my recipe but not baked. You can use it as it is straight out of the food processor in this spanakopita recipe, or make it in advance and store it in the fridge for a few days first.

1

medium

onion

chopped finely

3

cloves

garlic

minced very finely

1 cup (25

grams)

fresh parsley

, chopped

2

tablespoons

chopped fresh mint

, optional but recommended if you have some

1

medium

lemon

, zest only

¼

teaspoon

ground nutmeg

¼

teaspoon

freshly ground black pepper

½ cup (120

mls)

olive oil or melted vegan butter

, aquafaba can be used instead for oil-free, but oil or butter is highly recommended for crunch, colour and flavour.
INSTRUCTIONS
Defrost the unopened package of phyllo pastry in the refrigerator overnight, or at room temperature for about 4 hours. Do not open it until you are going to assemble the pie.

Heat a large sauté pan with 1 teaspoon of olive oil or butter, over a medium low heat and add the spinach. It will be piled ridiculously high, but within a few minutes it will wilt down. Use tongs to move it about and keep it cooking until it is completely wilted down, soft and dark green. it will take about 5 minutes. Remove it from the heat and allow to cool.

Once the spinach is cool, take handfuls and squeeze it out over the sink until as much liquid as you can is removed. Place each handful in a large mixing bowl once you're done.

To the spinach, add the vegan feta cheese, chopped onion, minced garlic, parsley, mint, lemon zest, nutmeg and pepper. Mix it all together really well.

Grease an 8 inch x 12 inch or 9 inch x 13 inch (or similar) oven proof dish with a little of the olive oil or melted vegan butter and preheat the oven to 350 °F (175 °C).

Open the phyllo pastry and lay it out flat on the counter. Have a clean, damp dish towel ready to cover it with to stop it drying out and getting brittle. If the sheets are way more than double the size of your dish cut them all in half right down the middle, otherwise just use them as they are. Some overhang is good. Brush the top sheet of phyllo with oil or melted butter and gently lift it and lay it in the centre of the oven proof dish. Keep the remaining sheets covered with the damp cloth. Push the pastry sheet down gently into the dish, letting the excess hang evenly over the sides. Don't worry if some of it falls back down the sides and into the bottom of the dish. Repeat, brushing each sheet with a little oil or butter and laying them on top of each other in the dish until you have used about half of the sheets. If any of them tear, just keep going. It doesn't matter. There will be lots of layers so by the time you are done it will fine.

Spoon the spinach filo mixture on to the pastry layers in the dish and spread it out flat with a spatula then scrunch up the edges of the overhanging pastry and arrange them around the edge of the filling.

Now you need to brush each of the remaining phyllo sheets with oil or butter and take each one and scrunch it up loosely in your hand, then lay it gently on top of the feta spinach filling. Keep going until they are all used, then gently tweak them a bit to cover any big gaps. A few little gaps are fine.

Put the pie in the oven and bake for 25 minutes. Open the oven, turn it around (to make sure it bakes evenland bake for a further 15 - 20 minutes or until very golden brown and crispy.

Allow to cool on a wire rack for at least 15 minutes before you try to cut it.
NOTES
Please read my success tips in the post for more helpful information.
Spanakopita is good eaten hot or cold. Leftovers will keep in the fridge for 4 - 5 days and can be reheated in the oven. Cut off what you need, place on a small baking tray and cook on 350 °C for 5 to 6 minutes until heated through.
All the components of this pie can be made in advance then can be assembled just before baking
NUTRITION
Serving:
200
g (1 of 8 servings)
|
Calories:
480
kcal
|
Carbohydrates:
34
g
|
Protein:
12
g
|
Fat:
33
g
|
Fiber:
3
g
|
Sugar:
0.6
g
Did you make this recipe?
Rate it & leave feedback in the comments section below. I love seeing your remakes too. Tag @avirtualvegan on Instagram! 🌟