Tender, moist nutty Vegan Sweet Potato Cake sandwiched together with creamy maple-infused frosting. Completely dairy, egg & oil-free yet perfectly sweet & decadent, this Maple Walnut Vegan Sweet Potato Cake is total perfection!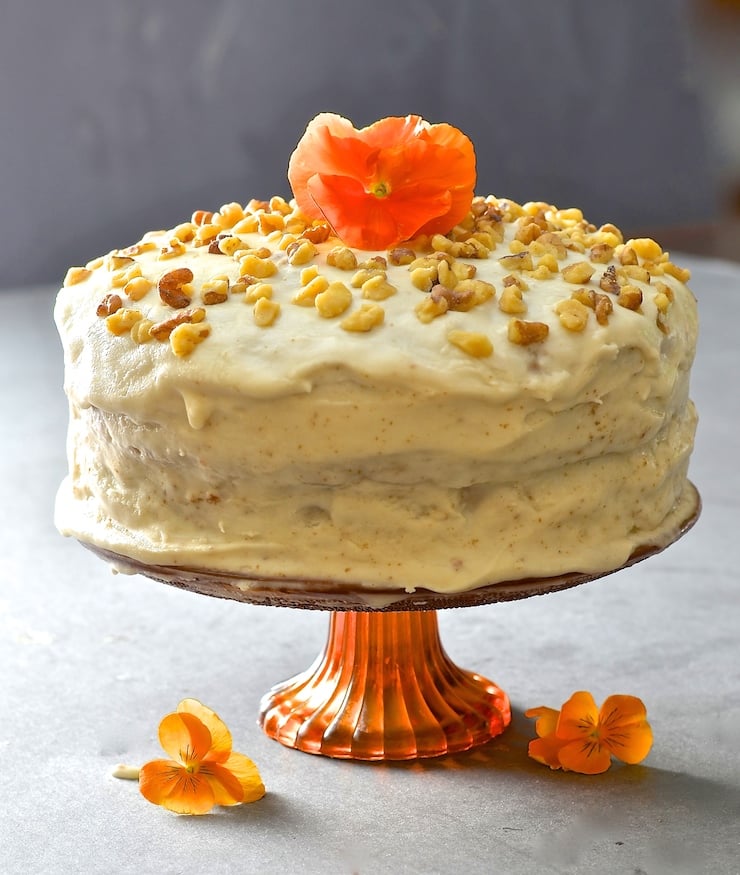 Today marks a year to the day that A Virtual Vegan was born. Yes guys, it's my first blogiversary!
I can hardly believe a year has passed since the day I decided to start a blog, totally on a whim and without much thought at all. I didn't ever dream it would be quite as successful as it has been and I have enjoyed every minute. Actually that's a lie. I haven't enjoyed every minute. There have been some bad times. Think frustrating recipe disasters (there have been a few), a very annoying hacker, hosting problems, lots of very late nights and a severe lack of technical knowledge.....I've muddled on through though, and made it out the other side carrying a great big and very delicious Maple Walnut Cake.
I mean, c'mon...What celebration would be complete without cake? There just has to be cake! And this isn't just any cake. It is totally and utterly delicious cake.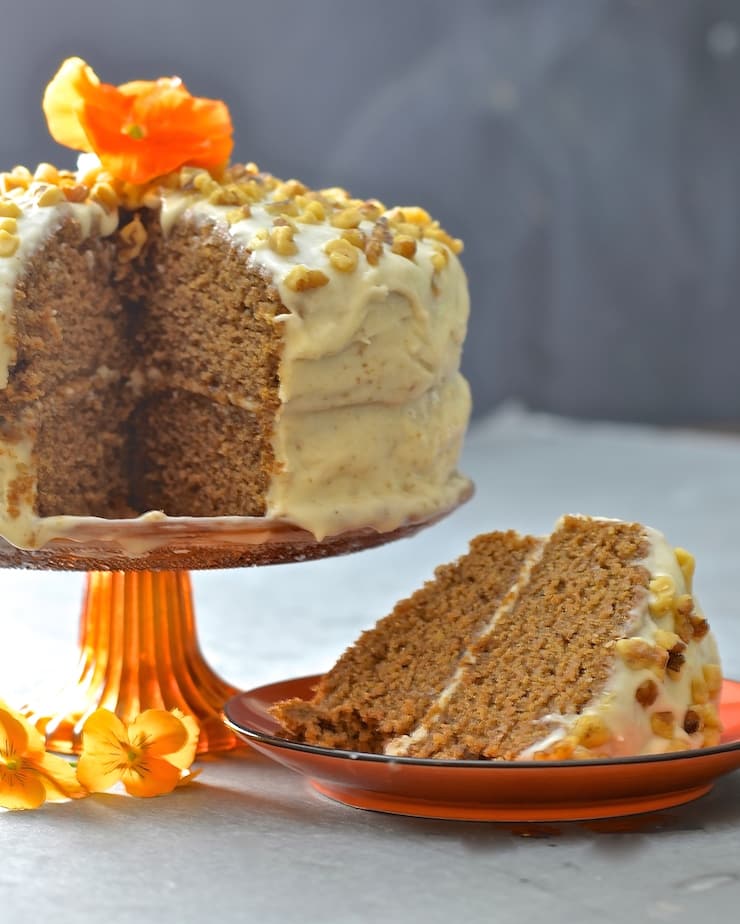 Tender, moist and nutty walnut sweet potato sponge sandwiched together with a delicious maple infused frosting. Just look at it! I had to exercise some extreme willpower to restrict myself to just a couple of slices!
As scrumptiously delicious as it is, this Maple Walnut Vegan Sweet Potato Cake is actually full of good and wholesome ingredients. It is made with healthy, wholegrain spelt flour and it is dairy free, egg free and completely oil free. It also has a secret vegetable ingredient which replaces the need for any oil and provides the most amazing moist and tender crumb.
This secret ingredient is pureed sweet potato. It might sound odd to add sweet potato to a cake but I promise you that it works extremely well in this recipe. The flavour compliments the maple and walnut flavours perfectly and no-one will ever know it is there unless you choose to tell them. It's also a great way to use up any leftovers you might have from other things!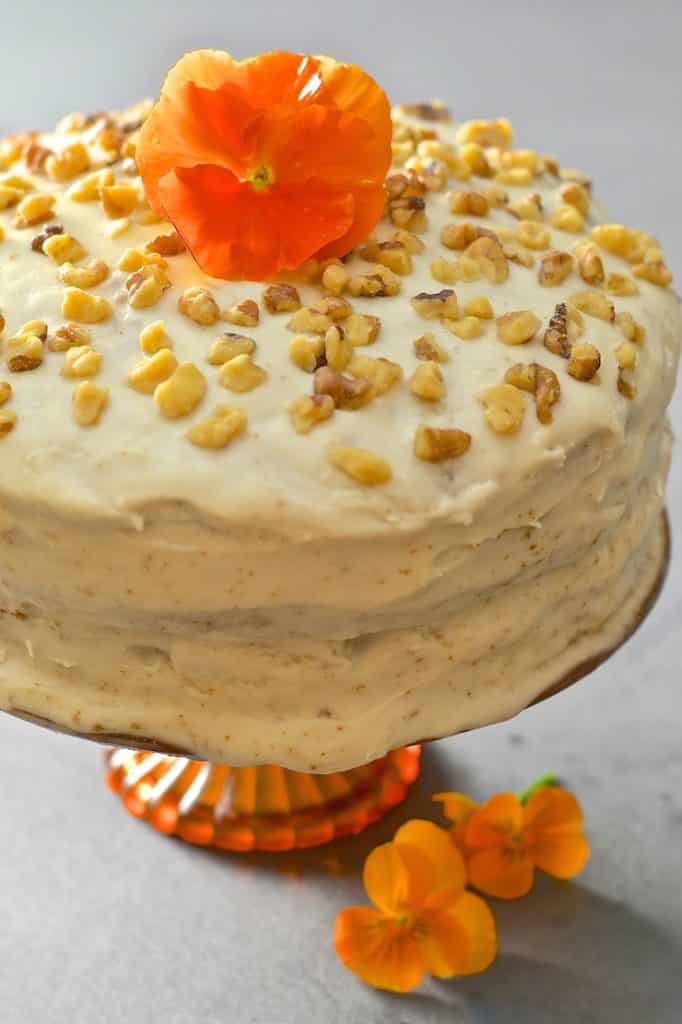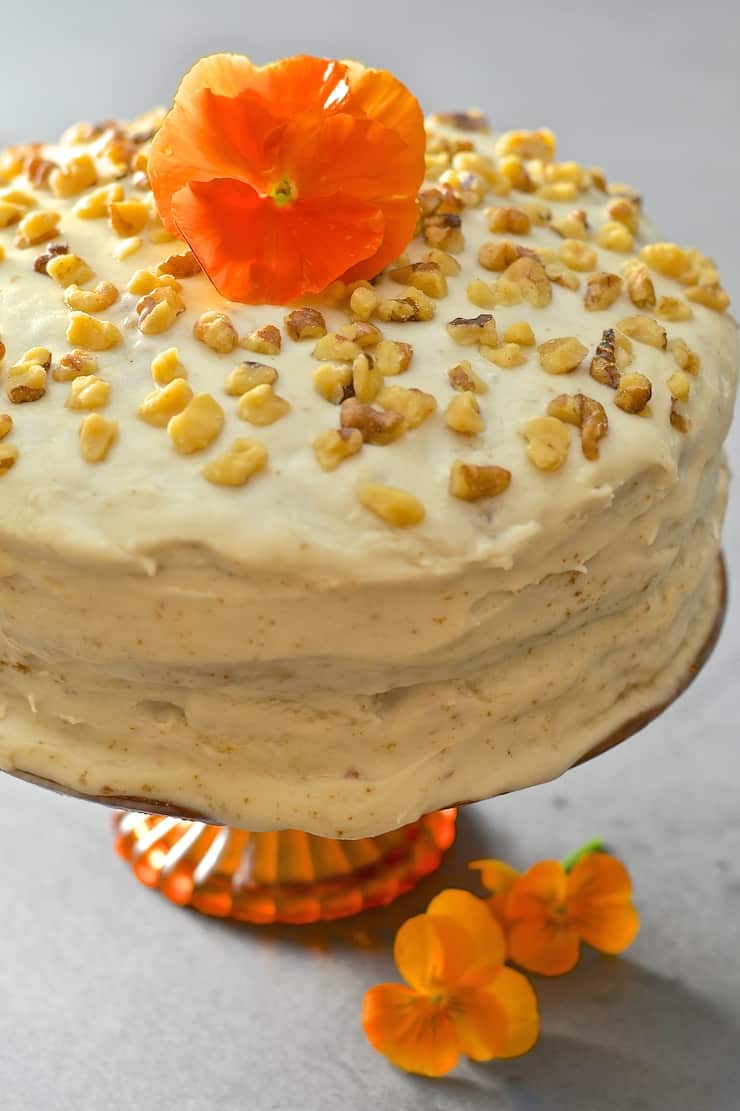 This Maple Walnut Vegan Sweet Potato Cake looks far more impressive than the effort it takes to make and is perfect as a celebration cake or just as a decadent treat. We all need those every so often and no-one will ever guess that it is actually full of healthy ingredients or that it is dairy, egg and oil free. I can hardly believe it myself and I created it!
This recipe makes a two layer cake but if you want to make a smaller version then just halve the recipe and make a single layer or cook it in a loaf pan. Directions are given below.
As I always like to stretch my birthdays out for as long as possible, Friday's post will also feature cake. You can never have too much cake, right?
I am in the process of curating some of the very best cake recipes from some awesome plant-based bloggers. You should see some of the recipes! I can't wait to share them with you! (Note that my Ultimate Vegan Cake Round Up is now live).
Help me celebrate my blogiversary by making this wonderful Maple Walnut Vegan Sweet Potato Cake and sharing your pictures with me on Instagram. Tag me with #avirtualvegan to be sure I don't miss them. You can also rate the recipe by hitting the yellow stars at the beginning of the recipe card and I would love it if you could comment below too. I love to hear what you have to say and it helps newcomers to A Virtual Vegan see that the recipes are reliable and worth making!
Thank you all for your amazing support throughout my first year of blogging. Reading your lovely comments, feedback and emails makes me smile each and every day!
Recipe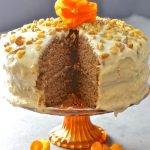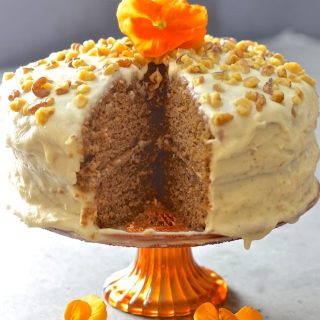 Maple Walnut Vegan Sweet Potato Cake
Author:
Tender, moist nutty sponge sandwiched together with creamy maple infused frosting. Completely dairy, egg & oil free yet perfectly sweet & decadent, this maple walnut cake is total perfection!
Ingredients
For the cake
130g / 1

packed cup

course ground raw walnuts

(you can use walnut pieces or halves and grind them up in a food processor or blender)

390g / 3⅓ cups

spelt flour

235g / 1 cup and 3

tablespoons

coconut sugar

(you can sub this for any granulated brown sugar)

½

teaspoon

salt

2

tablespoons

baking powder

½

teaspoon

baking soda

375mls / 1.5 cups and

1 tablespoon

non dairy milk

(I used my homemade cashew milk but any unsweetened, unflavoured variety is fine )

4

teaspoons

vanilla extract

1

tablespoon

apple cider vinegar

300g / 1.5

cups

cooked sweet potato
For the frosting
1 x 398 - 400ml

can

full fat coconut milk

(just the hard cream and not the watery part) from 1 400ml can of full fat coconut milk (refrigerated for at least 12 hours)

166g / 1⅓

cup

powdered sugar

4

tablespoons

pure maple syrup
INSTRUCTIONS
Begin by making sure that you have a well refrigerated can of full fat coconut milk waiting in the fridge.

Preheat oven to 350° and lightly grease two 8 inch round

cake pan

then line the bottoms with parchment paper circles. (for cooking in different tins see recipe notes).

Add all of the dry ingredients to a large bowl.

In a

blender

(or with a stick blender) blend the milk, sweet potato, vanilla and vinegar well until very smooth.

Pour the liquid into the dry ingredients and stir to combine. Do not over stir. Just enough to combine everything so that you can't see any dry flour. A few little lumps are ok.

Spoon evenly into the prepared cake pans and place on the middle shelf of your pre-heated oven.

Bake for 35 to 40 minutes until a skewer or toothpick inserted into the middle comes out clean. (It might seem like a long cooking time but it needs it due to the moistness of the sweet potato).

Remove from the oven and leave in the tins for 5 - 10 minutes then turn out onto a cooling rack.

Leave to cool completely.

Once the cake is cool, scrape out the cream only from the coconut milk into a chilled bowl.

Add the powdered sugar and maple syrup and beat again until well combined.

If you aren't going to decorate the cake right away refrigerate the cream.

Place the bottom layer of the cake on a cake stand or plate, flat side up.

Use just under half of the frosting and spread it all over. Use a palette knife or a knife and if you have trouble spreading it without breaking the cake up, dip the knife in a glass of water before spreading then try again.

Put on the top layer of the cake, this time flat side down, rounded side up.

Use the remaining frosting to cover the top and sides of the cake.

Scatter a few chopped walnuts on top for decoration.
NOTES
If you wish to cook this cake as a single layer halve the ingredients then follow the rest of the instructions as directed. Cooking time remains the same. If you decide to cook in a loaf pan (half of this recipe fits well in a 8.5inch x 4.5inch loaf pan) then the cooking time will increase to around 50 minutes to one hour. Check with a tooth pick or a skewer. it should come out clean when inserted into the middle of the cake.
NUTRITION
Serving:
1
serving
|
Calories:
505
kcal
|
Carbohydrates:
71
g
|
Protein:
8.2
g
|
Fat:
22
g
|
Sodium:
191
mg
|
Potassium:
629
mg
|
Fiber:
9.5
g
|
Sugar:
31
g
|
Vitamin C:
3.3
mg
|
Calcium:
160
mg
|
Iron:
7.2
mg
Did you make this recipe?
Rate it & leave feedback in the comments section below. I love seeing your remakes too. Tag @avirtualvegan on Instagram! 🌟