Grab and go breakfasts don't get any better than these Cranberry & Coconut Breakfast Cookies. Dense, crunchy, chewy, delicious and bursting with toasty coconut & ruby-red cranberries!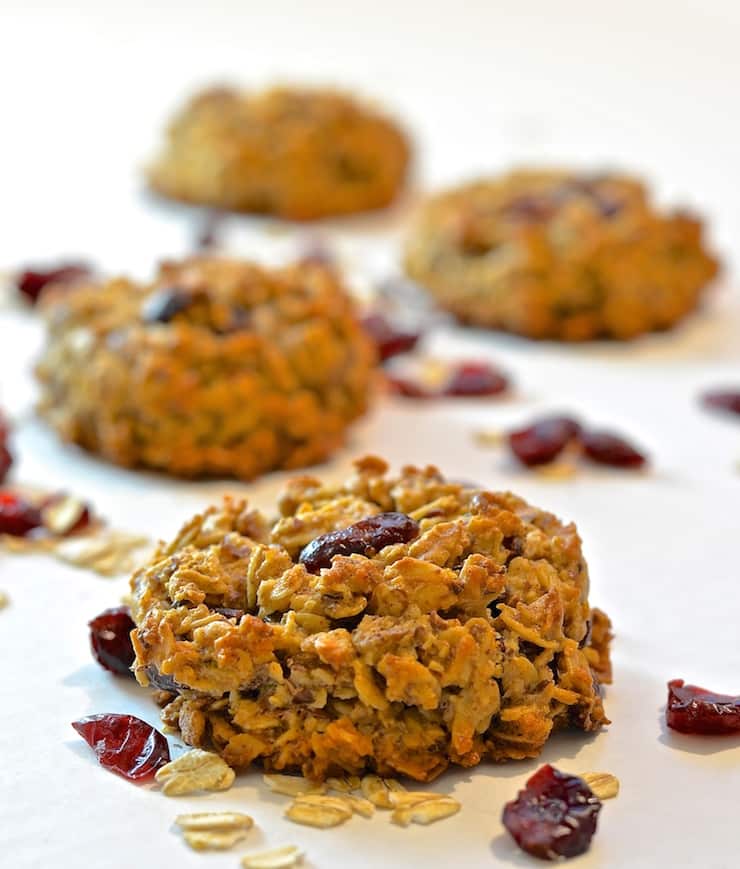 Breakfast is such an important meal, and although I always start the week with good intentions there are always a couple of days when we end up running late and I don't have time to make myself something to eat before I head out. I am sure you have days like this too, or those when the fruit bowl is empty so you can't make your smoothie, or you've run out of milk and can't make your oatmeal. It is on these days that a stash of Cranberry & Coconut Breakfast Cookies can come to the rescue.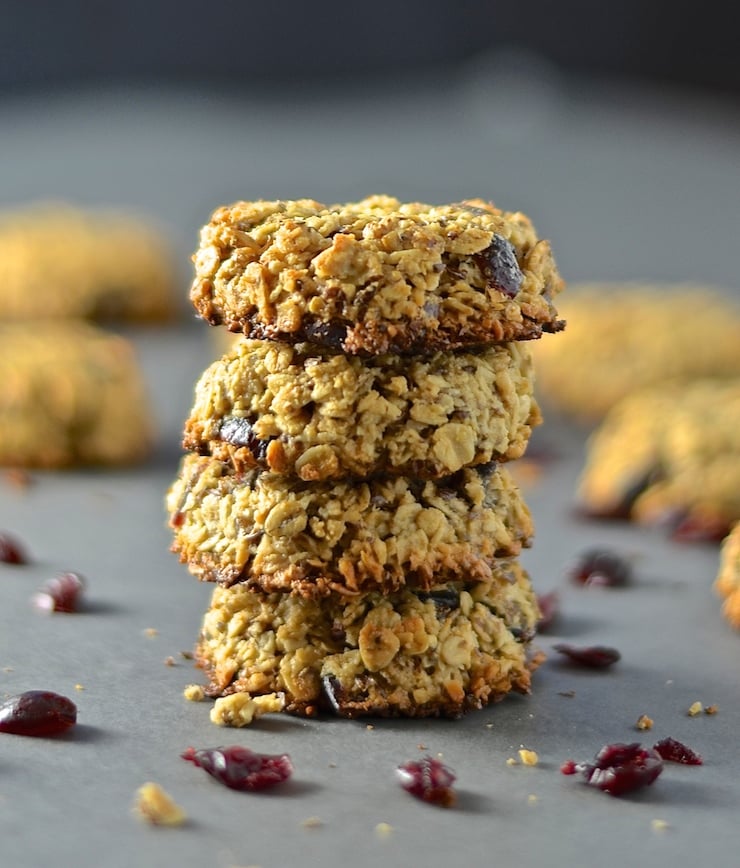 These Cranberry & Coconut Breakfast Cookies have a dense, crunchy and chewy texture and are flecked with beautiful, ruby-red cranberries. They are dairy free, egg free and gluten-free (if you buy certified gluten-free oats) and can also be made nut free (instructions are given in the recipe). They come together so easily and keep really well in a sealed container for at least a week.
Make a batch at the weekend and you can grab one or two as you run out of the door on the way to work or school. They also make a great lunch box addition, after school snack or mid afternoon pick me up. I've even been known to grab a couple for dessert!
Melanie McDonald
Yields 14
Cranberry & Coconut Breakfast Cookies
15 minPrep Time
15 minCook Time
30 minTotal Time
Ingredients
Instructions
Preheat oven to 350°F
Line a large baking sheet with parchment paper or a Silpat
Put the cashew butter, maple syrup and coconut oil in a pan and warm gently over a low heat until it becomes smooth and pourable.
Add all of the dry ingredients to a large bowl (I love this set of bowls and measures and citrus sprayers)
Pour the cashew butter mixture into the dry ingredients and stir very well together. If the mixtures is too dry you can now add a little water a tablespoon at a time. You won't need more than 6.
Now you need to form them into cookie shapes and place on the baking sheet. I packed the mixture tightly into an ice-cream scoop then turned it out, but you can just pick up lumps and squeeze them together hard into balls in your hands if you prefer.
The mixture is quite difficult to work with and sticky. You need to pack/squeeze the mixture together really well. If you struggle just let it cool completely as it then becomes easier. If they fall apart a little on the tray then just squeeze them together again with your fingers.
Once you have the balls formed place them on the sheet and squash the tops down with the back of a fork until they are about 1cm thick. Tidy them up again a little if some bits fall off when you do this.
Bake in the oven for about 15 minutes. They might take a few minutes more or less so keep an eye on them. Take them out when they start going golden brown around the edges and on the bottom.
Let them cool on the tray then store in an airtight container.
6.8
https://avirtualvegan.com/cranberry-breakfast-cookies/
Melanie McDonald | A Virtual Vegan