A complete meal made in one-pot, this Teriyaki Instant Pot Rice will be a great addition to your mid week dinner rotation. It's so easy! Stovetop instructions are included too in case you don't have an Instant Pot.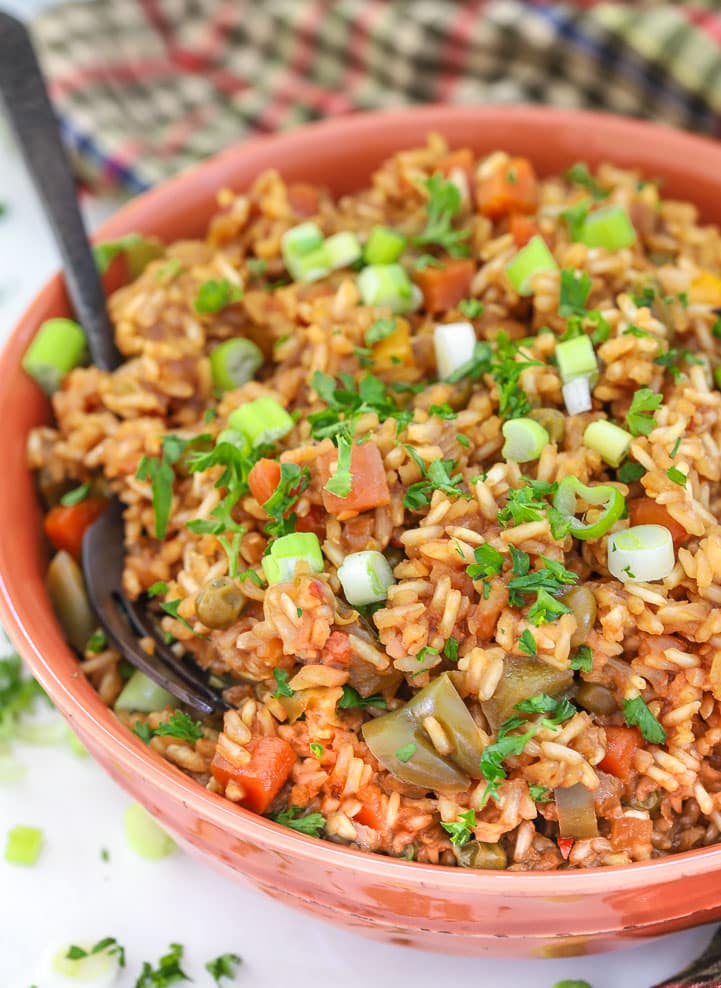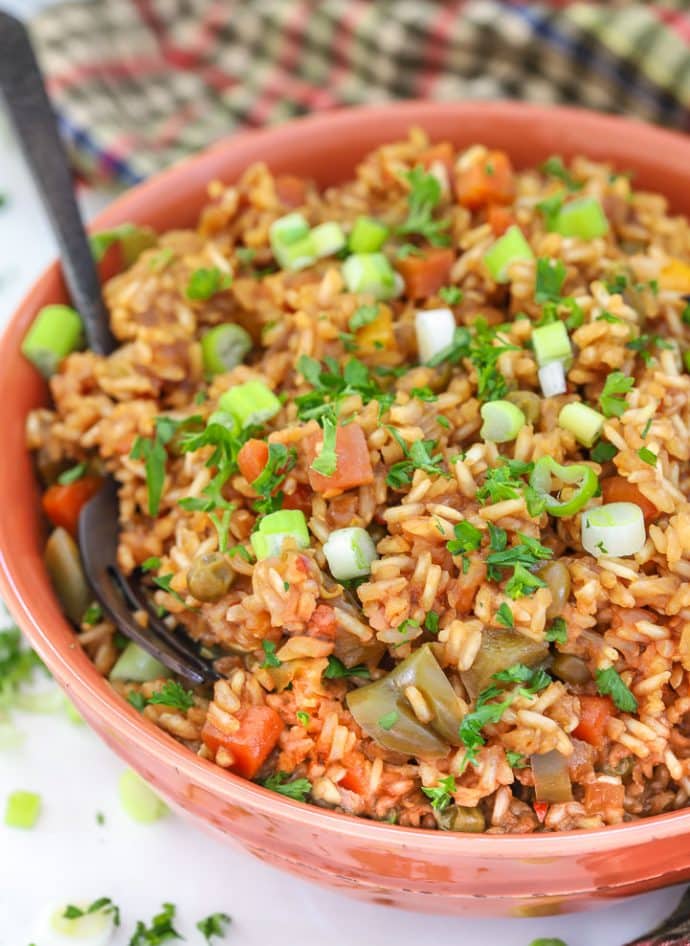 Crazy. That explains my life right now and quick meals like this Teriyaki Instant Pot Rice are what's keeping me sane. It's a quick, no fuss, mid-week meal with very minimal washing up. No accompaniments are needed either, unless you want to be fancy schmancy and add some chopped cilantro and green onions like I did for the photos here.
Wanna know a secret though? In "real" life my food does not look pretty and it does not come with sprinkles of anything.
That couldn't be more true at the moment. I am literally rushed off my feet, working on a special project which I will hopefully be able to announce very soon. I am so excited and can't wait to tell you, but have to keep it zipped for now ????The lovely people on my mailing list will be the first to know the news, so now is a great time to sign up! You can do so here. (my big news has since been announced...I'm writing a cookbook!)
Ok, back to the recipe....
A big ol' bowl of tasty rice is one of my favourite things to eat. My Oven Baked Garlic Mushroom Rice and my One-Pot Spicy Vegetable Rice get made here all the time and now this Teriyaki Instant Pot Rice has been created that will too. They are such straightforward, no fuss, super tasty meals.
And the thing about rice is that it cooks pretty quickly. It's even better when cooked in an Instant Pot because you do not need to watch it at all. No sticking. No stirring. No boiling over. Just set and forget. It even keeps the food warm for you if you aren't quite ready for it when it's done.
I love mine so much. If you haven't heard of them here is what they look like:
You can pick them up in most places that sell small kitchen appliances or from Amazon here.
HOW TO MAKE TERIYAKI INSTANT POT RICE
---
SEE MY VIDEO FOR A VISUAL GUIDE. FOR INGREDIENTS & FULL INSTRUCTIONS PLEASE SEE THE RECIPE CARD AT THE END OF THIS POST
---
Teriyaki Instant Pot Rice is really easy to make in just a few simple steps. Here's how:
STEP 1



Sauté the vegetables (right there in the Instant Pot).
STEP 2



Add some water and soy sauce or coconut aminos.
STEP 3



Add rice wine vinegar, maple syrup and red chili pepper flakes.
STEP 4


Stir then cook. Those are before cooking and after cooking shots ????
WHAT IF I DON'T HAVE AN INSTANT POT?
Never fear. I have included stovetop instructions too and it's still pretty easy. You'll just have to stir it occasionally throughout cooking so the rice doesn't stick.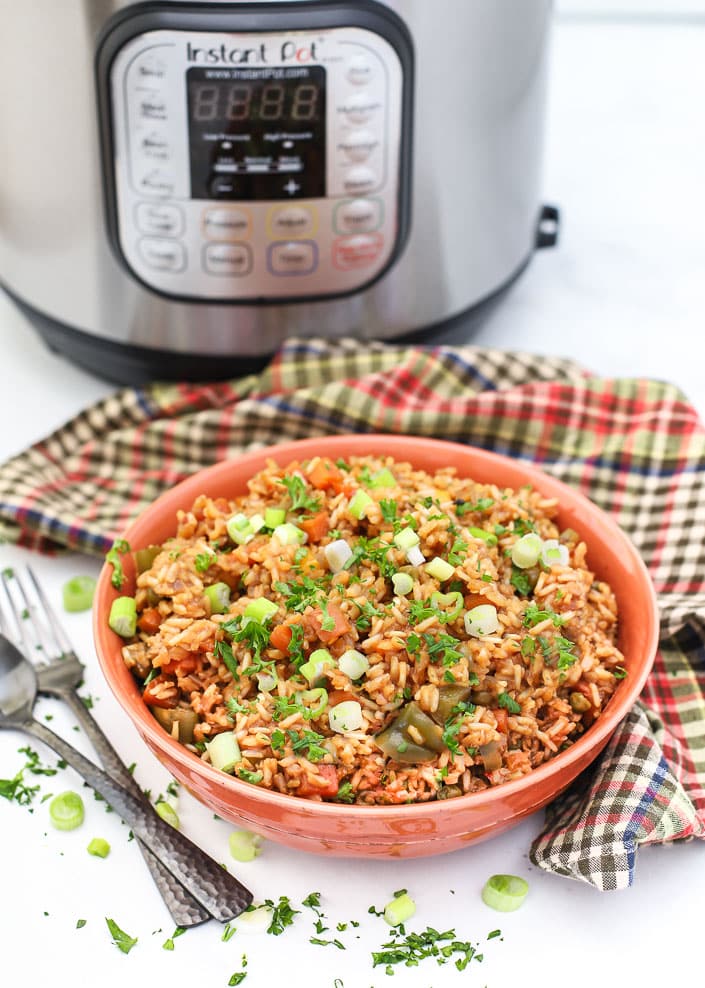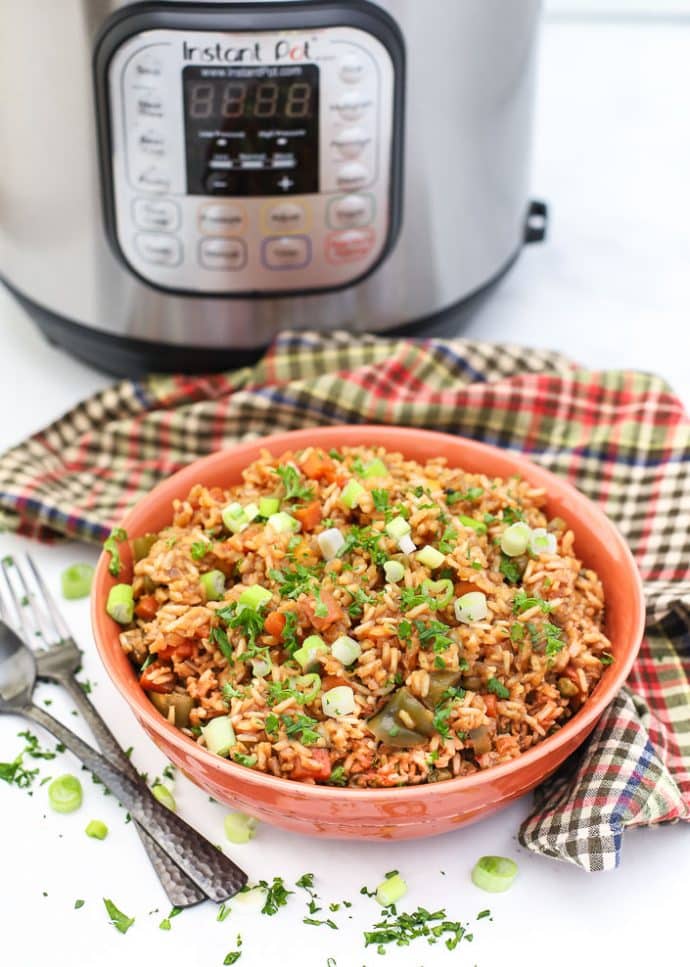 SWITCH THINGS UP!
The beauty of this recipe is that you can use whatever vegetables you have on hand. I used carrots, celery, bell peppers and peas but there are no end of possibilities. Use what I did or add some extras or change it up completely. I sometimes throw some cubes of tofu on the top prior to cooking in the Instant Pot too. It doesn't crisp up. It's more like steamed tofu but it works really well with the teriyaki flavours and adds an extra protein punch.
A NOTE ABOUT THE PEAS
If you have eagle eyes, you might notice that in my video I add the peas with all of the other ingredients in the beginning, but instruct you to add them at the end in the recipe instructions.
When cooked for the entire duration they become really soft and pretty grey looking and unattractive. I don't mind it that way and when it's just us, I do just throw them in. But it is way better if you cook everything else, then once pressure has been released, add the peas and stir. The heat from the rice cooks them in a minute or two and there is no need for any extra cook time.
That is what I meant to do when making the video, but I got carried away when adding the ingredients and if I am totally honest with you, I really didn't want to have to make the whole recipe again just to film that part. I did actually consider picking every pea out of the Instant Pot and cutting out the scene of me adding them, but life is too short so I decided to just live with it ????
I am loving this Teriyaki Instant Pot Rice because it's:
Easy
Quick
No fuss
Hearty
Flavourful
Versatile
& delicious
I can't wait for you to try it!
---
PLEASE NOTE - This recipe has only been tested in a 6 quart Instant Pot Duo. If yours is different then you may need to adjust the recipe slightly for the recipe to work well. If your Instant Pot is bigger than 6 quart then you may need to double the recipe or add more liquid to avoid getting the burn message. If you do get the "burn" message then this article might be useful for you to read.
---
For more Vegan Instant Pot recipes, check out these great options:
And if you love this recipe, please do check out my cookbook, and subscribe to my email list for a fabulous FREE eCookbook featuring my top 10 recipes. Being on the list means you will be first to see my new recipes and you'll be kept in the loop on all things new and exciting too!
Teriyaki Instant Pot rice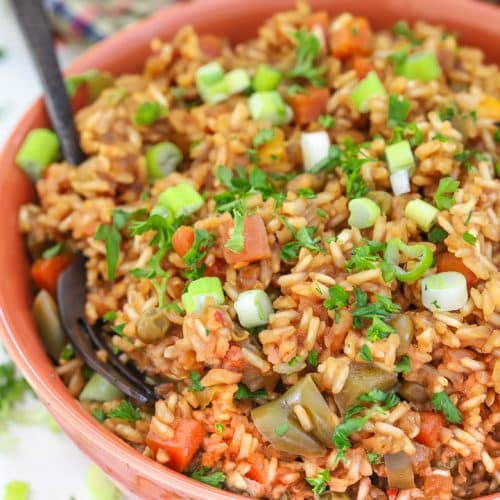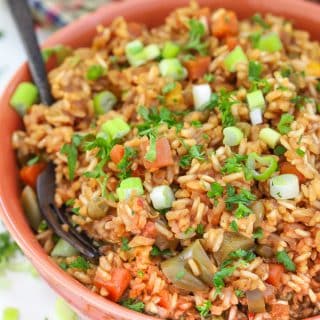 A complete meal made in one-pot, this Teriyaki Instant Pot Rice will be a great addition to your mid week dinner rotation. It's so easy! Stovetop instructions are included too in case you don't have an Instant Pot.
Ingredients
15ml / 1

tablespoon

sesame oil

, optional - use water to sauté to make oil-free

1

medium

onion

, finely chopped

4

cloves

garlic

, chopped finely

2

medium

carrots

, cubed or sliced

2

ribs

celery

, chopped into small peices

2

large

bell peppers

, 2 different colours are nice, chopped into bite sized pieces

380g / 2

cups

brown rice

, or white rice (but take note of the reduced cooking time)

420 ml / 1¾

cups

water

, use 2 cups if cooking on a stove top

80 ml / ⅓

cup

coconut aminos

, or low sodium soy sauce (be sure to use gluten-free soy sauce to make this recipe gluten-free)

60 ml / ¼

cup

rice vinegar

60 ml / ¼

cup

maple syrup

½

teaspoon

red chili flakes

150 g / 1

cup

frozen peas

, used straight from the freezer
INSTRUCTIONS
To make in a 6 quart Instant Pot
Set the Instant Pot to sauté. When it is hot, add the oil (or a few tablespoons of water if you would like the recipe to be oil-free).

Sauté the onions, garlic, carrots and celery for 3 to 4 minutes until the onion is translucent. Turn the Instant Pot off by pressing "keep warm / clear".

Add the bell peppers and rice then stir, then add all of the other ingredients except the peas. Stir really well again and make sure that any grains of rice that are stuck to the sides of the pot above the liquid line are pushed down.

Put the lid on the Instant Pot, turn the vent to the sealed position and set to high pressure for 22 minutes. If you are using white rice, simply turn the vent to the sealed position and press the "RICE" button.

Let the pressure release naturally then open, add the peas and stir before loosely putting the lid back on (you don't need to seal it) and allow it to sit for 1 - 2 minutes so the peas can cook in the residual heat.

Serve immediately.
To make on the stovetop
Heat the oil in a large pan. when hot add the onions, garlic, carrots and celery. Sauté until the onion is translucent, moving frequently.

Then add the bell peppers and all of the other ingredients except the frozen peas. Be sure to use 2 cups of water when using this cooking method. Stir really well, then cover with a lid and cook on medium low until the rice is tender and the liquid has been absorbed (about 40 minutes). Open the lid to give it a stir every 5-10 minutes as the rice might stick a little.

Once the rice is tender, turn off the heat and add the frozen peas. Stir really well, put the lid on and allow to sit for 1 to 2 minutes for the residual heat to cook the peas.

Serve immediately.
NOTES
Leftovers reheat well.
Nutritional information is calculated using coconut aminos. If you use soy sauce the sodium content will be higher.
NUTRITION
Serving:
1
of 4 servings
Calories:
525
kcal
Carbohydrates:
104
g
Protein:
10.5
g
Fat:
6.9
g
Saturated Fat:
1.1
g
Sodium:
449
mg
Fiber:
8.2
g
Sugar:
21
g
Vitamin A:
8000
IU
Vitamin C:
160.1
mg
Calcium:
80
mg
Iron:
2.3
mg
Nutritional information is provided for convenience & as a courtesy. The data is a computer generated estimate so should be used as a guide only.
Tried this recipe?
Rate it & leave your feedback in the comments section below, or tag @avirtualvegan on Instagram and hashtag it #avirtualvegan