When life hands you lemons, make Matcha Lemonade! This is a bold green take on old-fashioned lemonade, with fragrant, grassy matcha deliciousness dissolved into every sweet, slightly mouth-puckering, citrusy sip!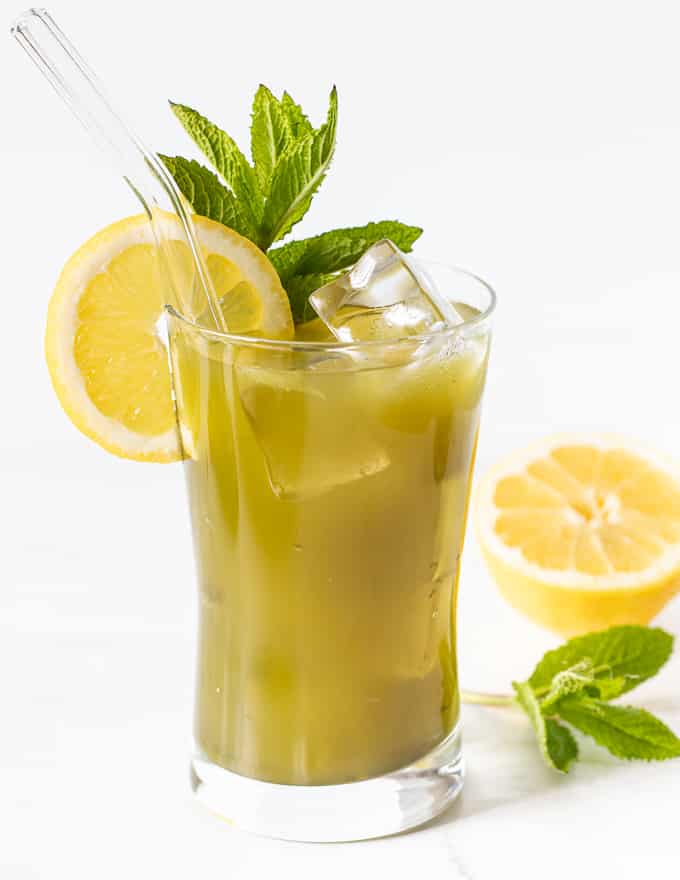 Move over matcha lattes, because there's a new, refreshing summer Matcha Lemonade drink coming on through and it will wake your mouth up in the best possible way!
In this post:
Jump to:
You could say that I am a little bit lemon obsessed. I just love that mouth puckering, citrus flavour and I have sooo many recipes on this site that involve lemons in one way or another. Just recently we've had lemony Avocado Dressing, Lemony Quinoa Cranberry Salad and Lemon Blueberry Loaf and now here's something for you to wash them all down with.
The idea for this recipe started when I had a Matcha Lemonade in a local cafe. I came away really wanting to recreate it. And I did. And here it is. Cheers!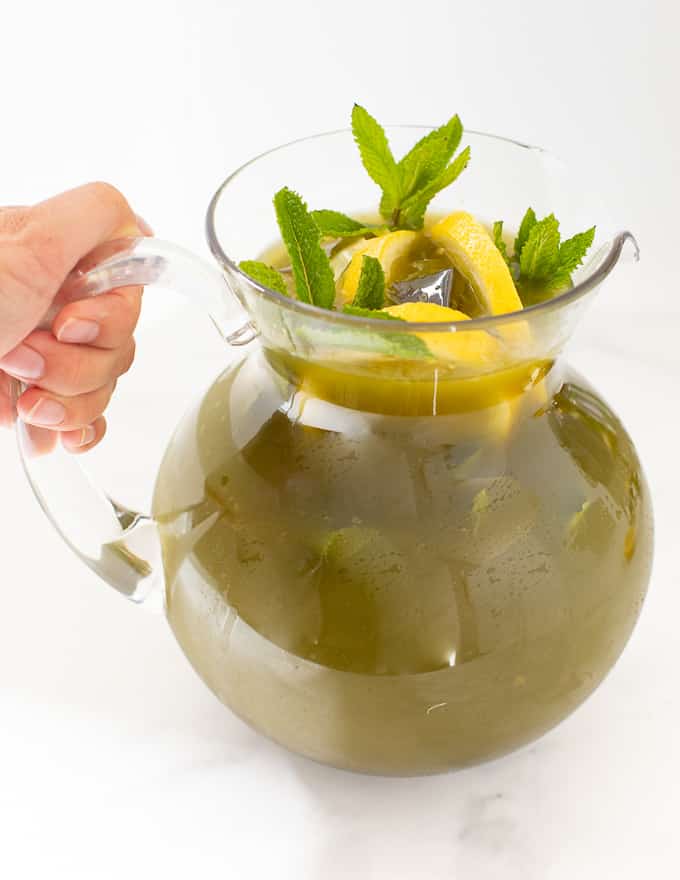 And it's so good! There is one teeny tiny problem though ... When you add matcha to your lemonade it turns it from pretty, lemon yellow to murky, swamp water green.
It's not the most attractive beverage in the world but that lemon and matcha together on your tastebuds is the bomb. So, the saying "don't judge a book by its cover" has never been so true. Trust me on this one and repeat after me:
"does not taste like swamp water"
"does not taste like swamp water"
What does matcha taste like?
Matcha looks a bit like green cocoa powder and it tastes as "green" as it looks. Like a good wine (and me), it's full bodied and complex ;O) . It has a pleasant, earthy, mossy, grassy, slightly citrusy, mildly spinach like flavour and it is just that, that works so well with the lemon in this lemonade.
What is Matcha Lemonade?
Matcha Lemonade is a super refreshing drink made with fresh lemons, sugar, matcha and water. It's a bold green coloured take on old fashioned lemonade, with some of the flavour and health benefits of Japanese green tea dissolved into each sweet, slightly mouth puckering, citrusy sip.
Starbucks Matcha Lemonade has been around for a few years now, and as matcha becomes more and more popular, it's popping up in lots of other cafes too.
What does Matcha Lemonade taste like?
Matcha Lemonade has a strong, zingy, tart lemon flavour that is a little bit mouth puckery and sweet all at the same time, with earthy matcha back notes. It's sweet, it's tart, it's slightly earthy and grassy and it's vibrantly green.
Ingredients
This bold green lemonade drink is very quick and easy to make. Here's what you need: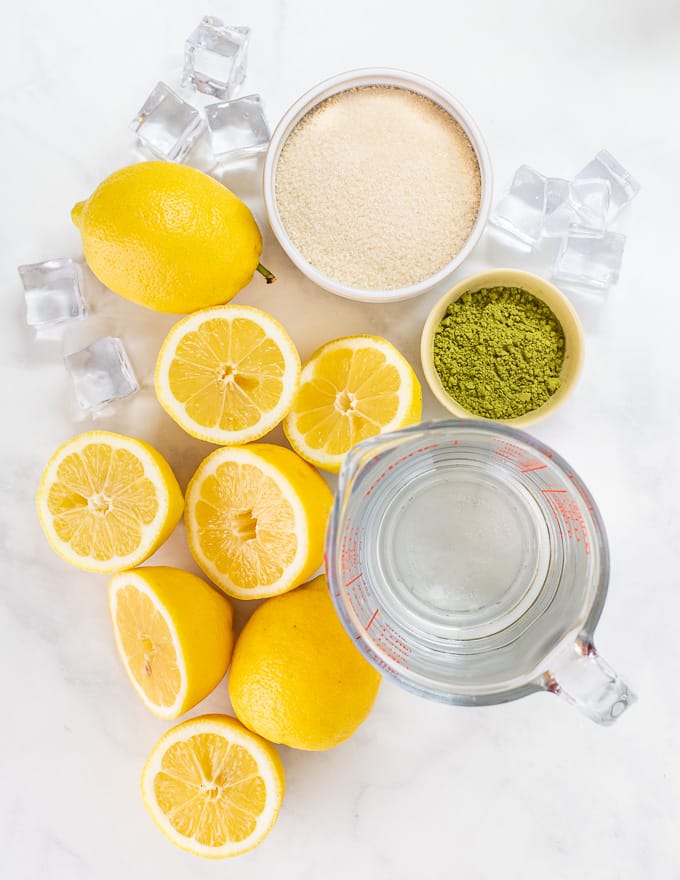 Lemons
Matcha
Water
Sugar
Ice
How to make Matcha Lemonade
And here's how it's done:
Step 1 - Make a really simple, simple syrup. Simple syrup is just a sugar/water solution. All you need to do is put the sugar in a bowl and pour over the boiling water, then whisk or stir until you can no longer see any sugar crystals.
Step 2 - Squeeze the lemons. See my tips below for how to get the most juice possible from them.
Step 3 - Combine the matcha with some water. It's just a case of shaking them together in a jar.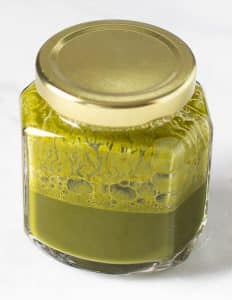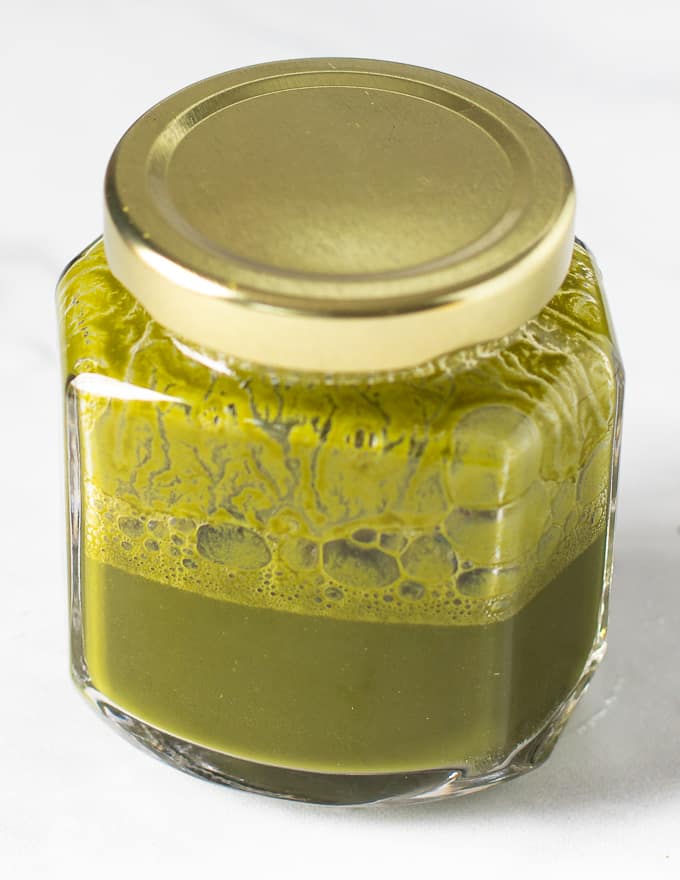 Step 4 - Start filling the pitcher. Pour in the lemon juice, simple syrup and water.
Step 5 - Add the matcha solution. Just pour it in.
Step 6 - Stir it up and garnish. Give it a good stir with a large spoon then feel free to garnish it with some lemon slices and maybe some fresh mint or cucumber.
It's really easy to adjust the sweetness and tartness by adjusting the sugar a bit or adding more or less lemon juice.
How to juice a lemon
Juicing a lemon isn't difficult, but there are some tricks for getting the maximum amount of juice possible from them.
When you buy lemons, hold them in your hands and choose the ones that feel heavier. This generally means they contain more juice.
Don't refrigerate your lemons. Lemons are much juicier at room temperature.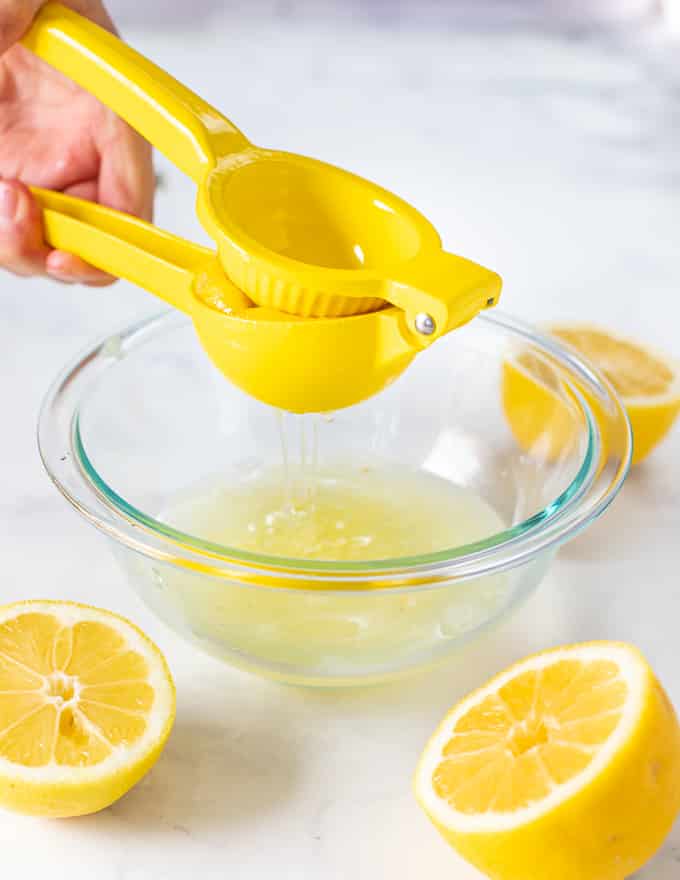 Before you attempt juicing, put your lemon on the counter, and roll it under your hand really hard a few times. This really helps more juice to flow.
Use a lemon squeezer. They don't cost much and are much more effective than just squeezing with your hand.
And a tip for using a lemon squeezer like the one in my pictures: It might seem natural to put the lemon half in the juicer cut side up because of the shape, but it should actually go in cut side down. But, for maximum juice, I squeeze it cut side down, then turn it over and squeeze again to get every single last drop out.
Success Tips
Be sure to use fresh squeezed lemon juice to make your lemonade drink, and not store bought bottled lemon juice. The flavour just doesn't compare and also the nutrients will have dissipated during processing and storage.
Don't use really, super cheap matcha. Buy a middle of the road brand. The cheap ones can be really bitter.
Serve over ice!
Storage
Matcha Lemonade will keep for about a week in the fridge. See below if you are planning to make it fizzy though.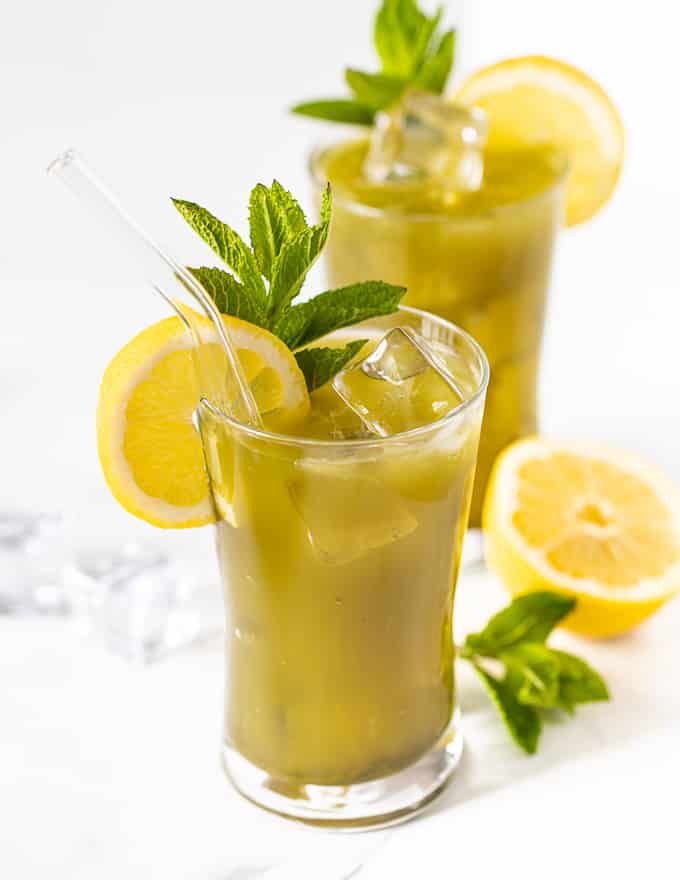 Make it fizzy
It's really easy to make this lemonade drink fizzy. Simply use carbonated water or club soda instead of regular water. If you do this, the lemonade won't keep for so long because the bubbles will go flat, so it's best made and consumed within a few hours, or make all the individual components, store them in the fridge, and mix it up as needed.
Variations and add-ins
This lemonade is kind of perfect just as it is, but here are some ideas for switching it up:
Make straight lemonade - simply omit the matcha!
For the adults in da house .... add a shot of gin to your glass of matcha lemonade. OMG it is so good. I would imagine vodka would be very good too but I haven't had a chance to try it yet. It will happen some time soon though!
Fresh mint - Get a handful or two of leaves and bash them with a rolling pin a few times, then add them to the pitcher and let them steep in the lemonade for at least 30 minutes before enjoying.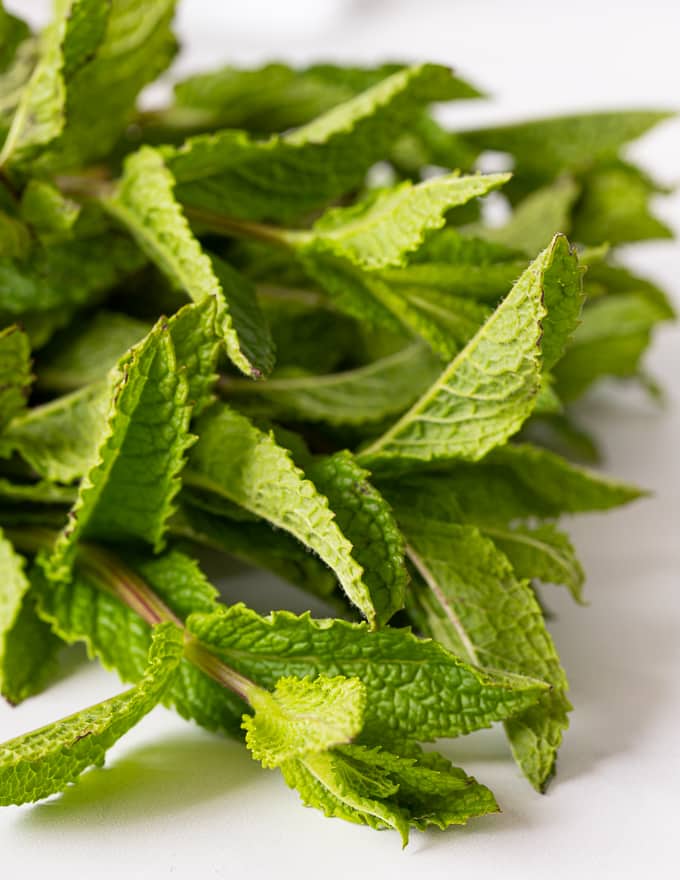 Cucumber - Add some slices of fresh cucumber to the pitcher
Ginger - add a knob of fresh ginger ((about 2 inches) to the pitcher of lemonade and allow to steep for an hour or two then remove before serving
Make popsicles! - Simply pour the finished lemonade into popsicle molds. This is my favourite mold. You've probably seen it before when I made my Lemon Cheesecake Pops: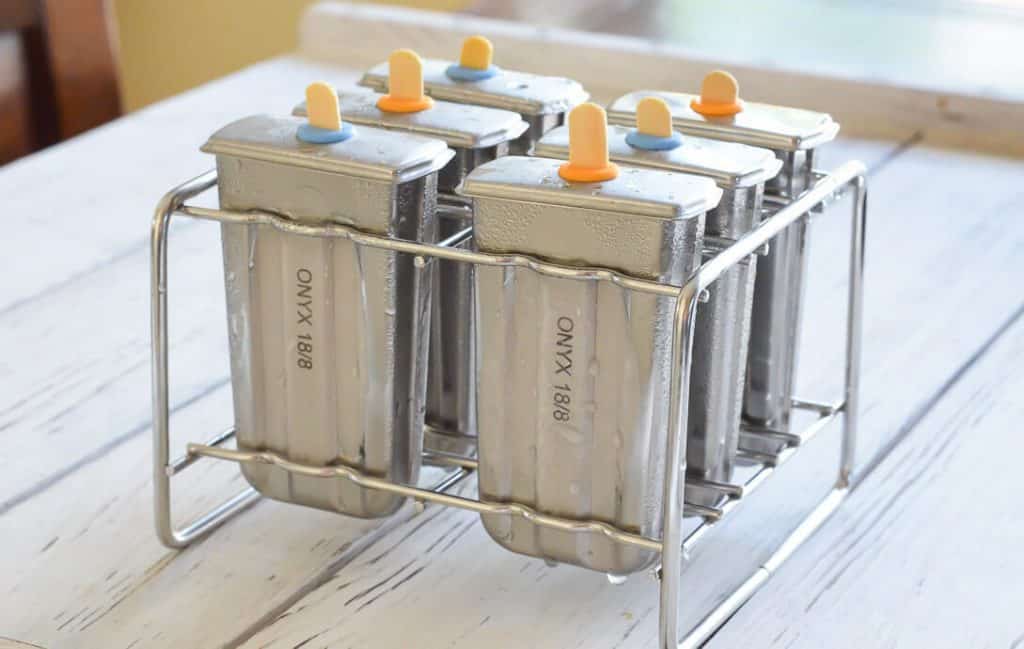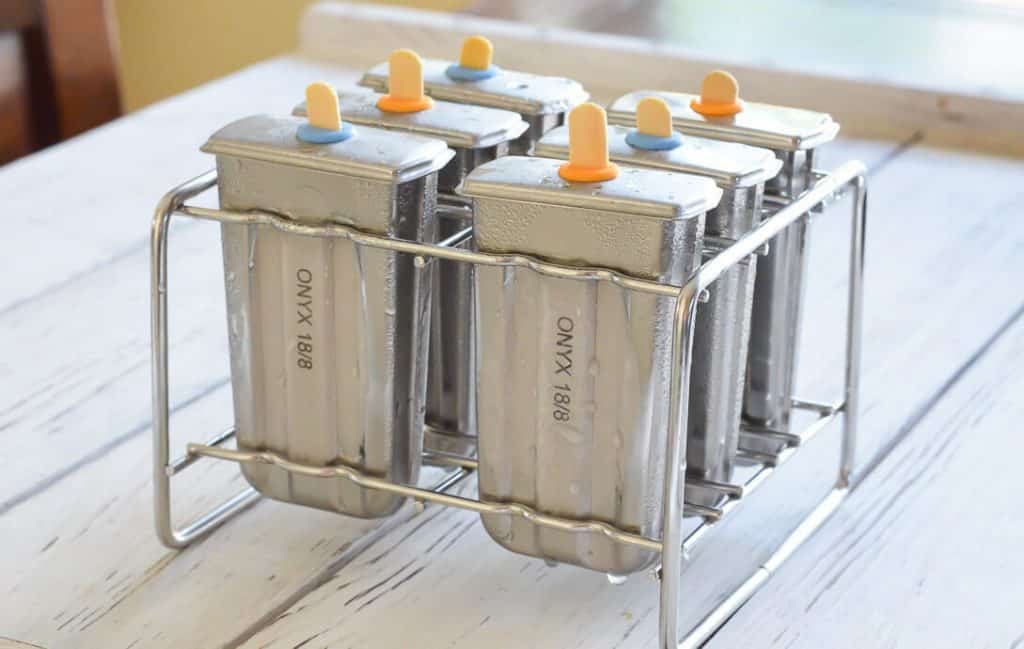 So there we have it. Homemade Matcha Lemonade is about to make your day and your summer amazing!
Recipe Video
Recipe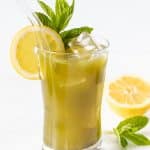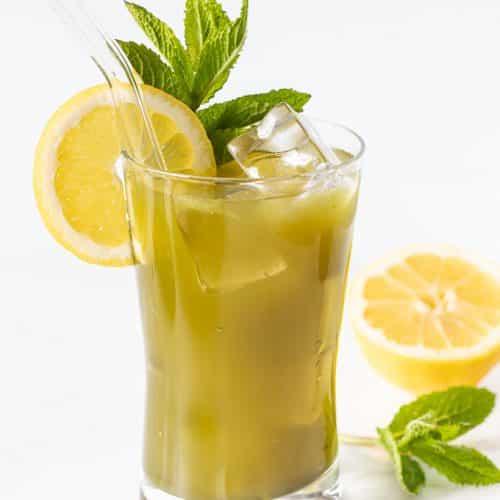 Matcha Lemonade
Author:
When life hands you lemons, make Matcha Lemonade! This is a bold green take on old fashioned lemonade, with fragrant, grassy matcha deliciousness dissolved into every sweet, slightly mouth-puckering, citrusy sip! 
Ingredients
1 cup / 200

g

sugar

, white granulated sugar or cane sugar * (for alternatives see recipe notes)

7⅓ cup / 1760 mls / 60

oz

water

, divided (you might not need it all)

2

tablespoons

matcha

, can be omitted to make regular old fashioned lemonade

1½ cups / 360 mls / 12

oz

lemon juice

, about 6 very large lemons, more if they are smaller. Use freshly squeezed lemon juice and not lemon juice from a bottle.
INSTRUCTIONS
Put the sugar in a small bowl and pour over 1 cup / 240 mls of freshly boiled water. Keep stirring until the sugar granules have dissolved. If your sugar has particularly large crystals and they don't dissolve easily, pour into a small pan and warm gently on the stove for a minute or two until they do. Set aside.

Put ⅓ cup / 80 mls cold water in a jar and add the matcha powder. Put the lid on and shake really well until combined. Set aside.

To a large pitcher that holds at least 2 litres add the lemon juice. Pour in the sugary water solution and then pour in 5 cups / 1200 mls of cold water. Stir well. You can add ice to the pitcher if you like but be aware that it adds volume and you might not fit all of the liquid in unless there is enough capacity for both the ice and the liquid.

Give the matcha solution another quick shake then pour it into the pitcher. Stir again to distribute. Taste and add the remaining 1 cup / 240 mls water if you want to dilute it a little bit more.
NOTES
Sweetness can be adjusted by adding more or less sugar. Tartness can be adjusted by adding more or less lemon juice.
Add more water to dilute if necessary. 
Use carbonated water or club soda in place of regular water to make your lemonade fizzy. 
Matcha Lemonade will keep in the fridge for 1 week. The matcha will naturally settle in the bottom. Just give it a good stir or shake before serving. 
See the post above for some ingredient add-ins that work really well. 
Can be frozen in ice pop molds. 
Excellent when served with gin! *adults only! 
*The sugar in this recipe can be replaced with 1 cup of maple syrup or for a sugar free version you can use stevia. 2 - 4 tablespoons should provide sufficient sweetness but add more to taste if needed. 
NUTRITION
Serving:
200
mls
Calories:
89
kcal
Carbohydrates:
23
g
Protein:
0.5
g
Sodium:
7
mg
Fiber:
0.5
g
Sugar:
20
g
Vitamin A:
250
IU
Vitamin C:
22.3
mg
Calcium:
10
mg
Iron:
0.2
mg
Tried this recipe?
Rate it & leave your feedback in the comments section below!