The ultimate Vegan Lentil Shepherd's Pie featuring rich, flavourful, saucy lentils topped with fluffy, creamy mashed potatoes & baked until deliciously golden brown & crispy. Easy, healthy, comforting and filling!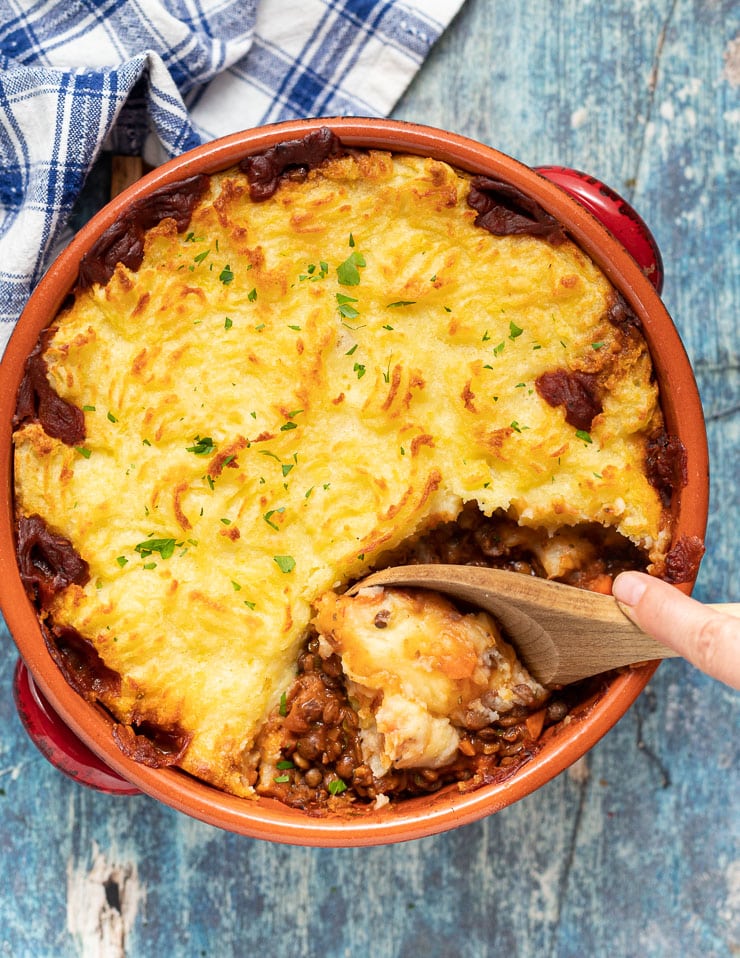 Can we all agree that Shepherd's Pie is the ultimate comfort food? And that doesn't have to change when there is no meat involved. Honestly, it's not needed here. This meatless Lentil Shepherd's Pie is just as good.
Don't let the lentils put you off. They've got a bad rep but just like meat, they take on all the flavours around them. I promise these lentils are the super yummy kind!
We're talking sautéed onions, garlic, herbs and tender lentils in a tasty gravy with real "meaty" depth of flavour, all topped with creamy mashed potato which becomes golden and crispy perfection in the oven.
This Vegan Lentil Shepherd's Pie is rich with lots of flavour, humble, and every bit as luscious and comforting as you would expect a Shepherd's Pie to be. As an added bonus it's really budget friendly and PACKED with protein too.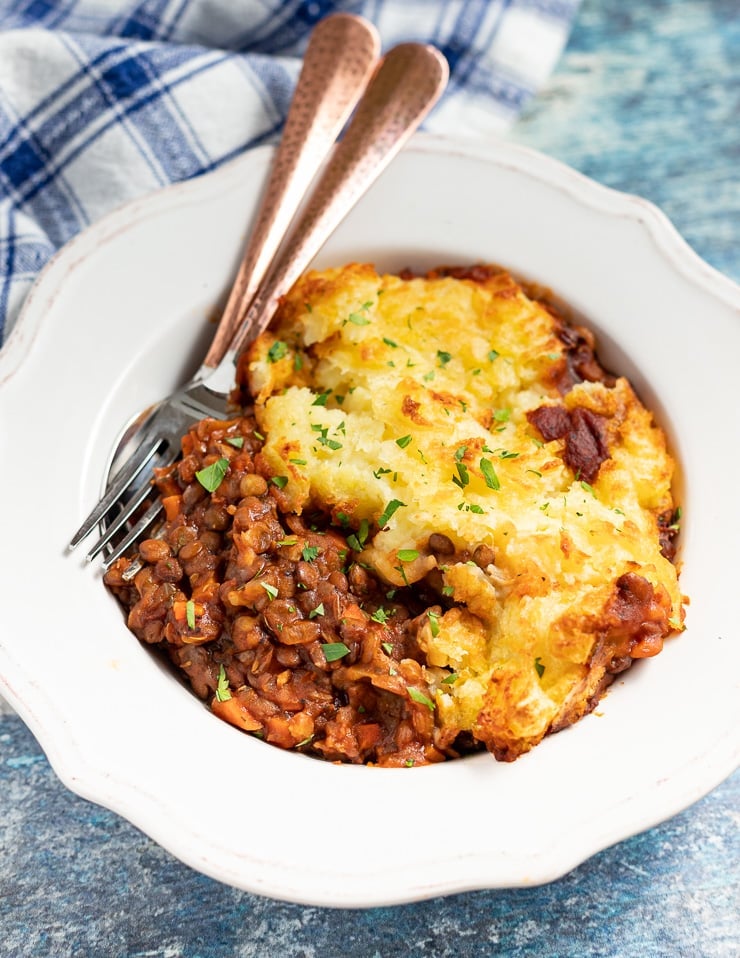 Reasons this Vegan Lentil Shepherd's Pie is everything:
It's the ultimate comfort food
Very budget friendly and healthy
Super tasty
Protein packed
Kid friendly!
It freezes and reheats perfectly
Great as it is but can also be poshed up to make it a bit more special for holidays or date night. Just add some red wine and fresh herbs (see recipe notes).
This is a meal that's all about comfort, so get comfortable, close the curtains, cozy up on the sofa (a borderline compulsory step for meals like this) and binge watch your favourite show while enjoying it!
How to make Lentil Shepherd's Pie
(For detailed measurements and instructions, see the printable recipe card).
Basically we are going to take those humble little lentils and elevate them to "super lentil" status by adding them to a pan of saucy gravy-like goodness. Then top it all off with fluffy mashed potato.
Here is your very low key Vegan Shepherd's Pie making process:
Step 1: Peel and chop the potatoes, cover with water and cook 'til tender.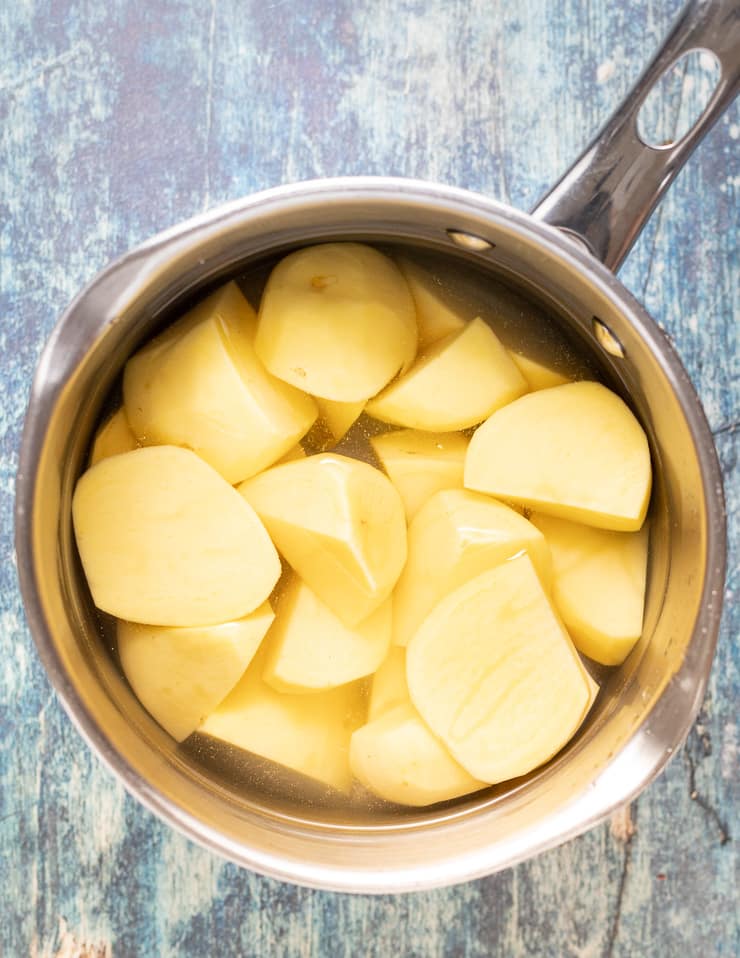 Step 2: Check you have some cooked lentils ready. If not cook some quickly now while the potatoes are boiling. They don't take long at all.
Reason why I mention this? .... Because I forget every-time and end up having to cook them at the last minute!
Step 3: Sauté the onions, garlic and carrots until golden. Very important for flavour!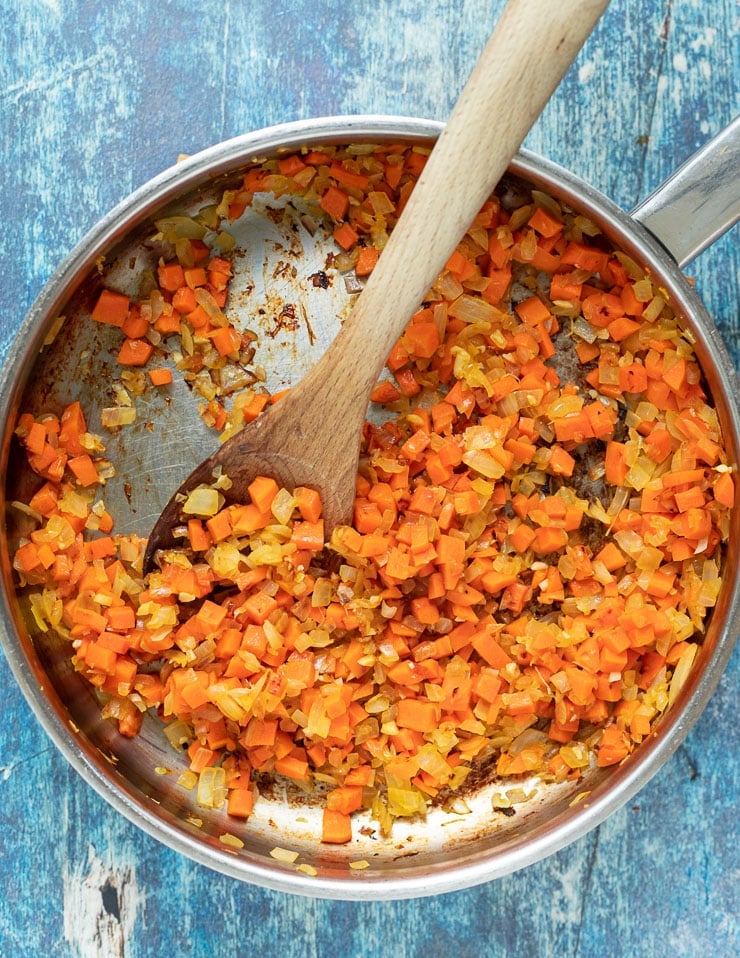 Step 4: Add the herbs, lentils and arrowroot and give it all a stir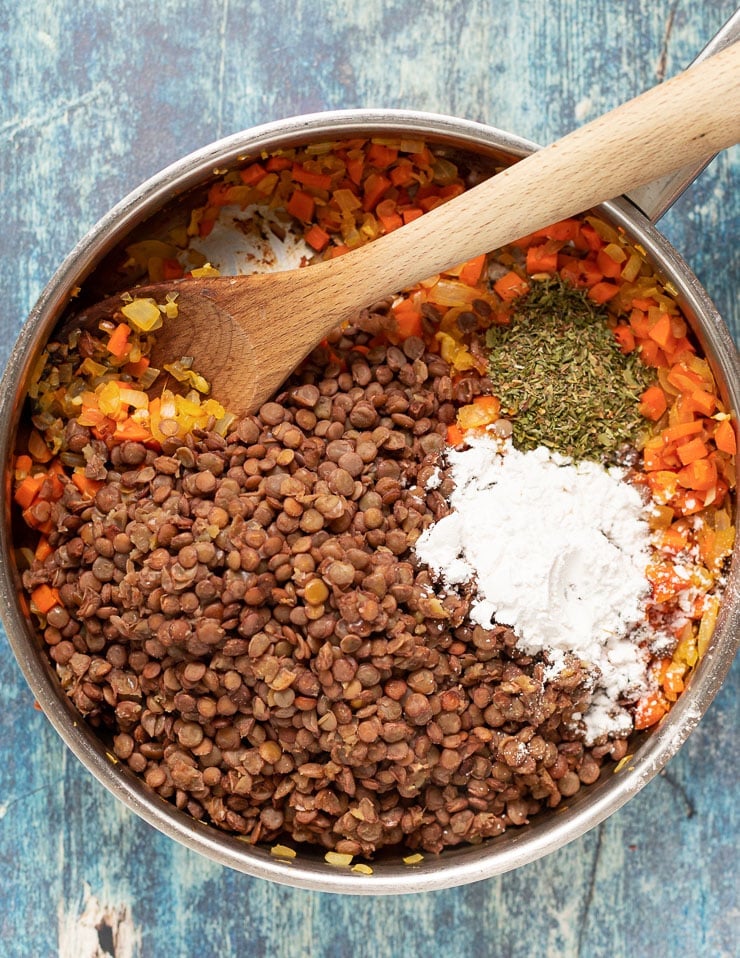 Step 5: Then add the tomatoes and Tamari or soy sauce.
Step 6: Then the stock and stir over the heat until just starting to bubble. Then turn off the heat and season to taste.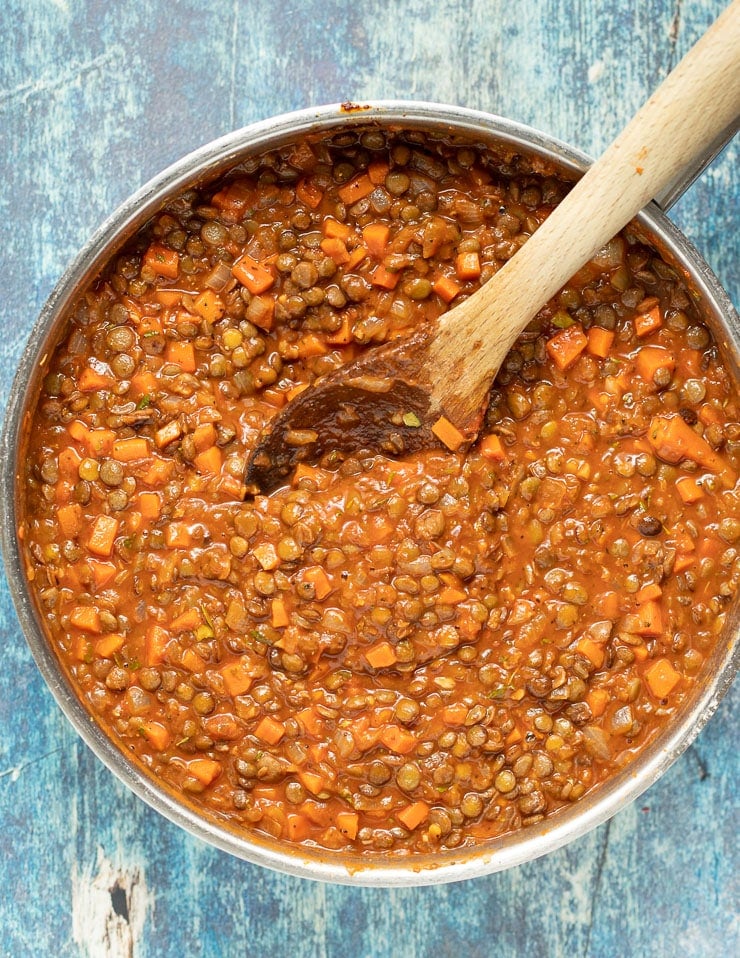 Step 7: Mash the potatoes.
Step 8: Transfer the lentil mixture to an oven proof dish, top with the fluffy mash, then rough up with a fork ... Very important for getting crispy golden bits which I believe are essential for a good vegan Shepherd's Pie!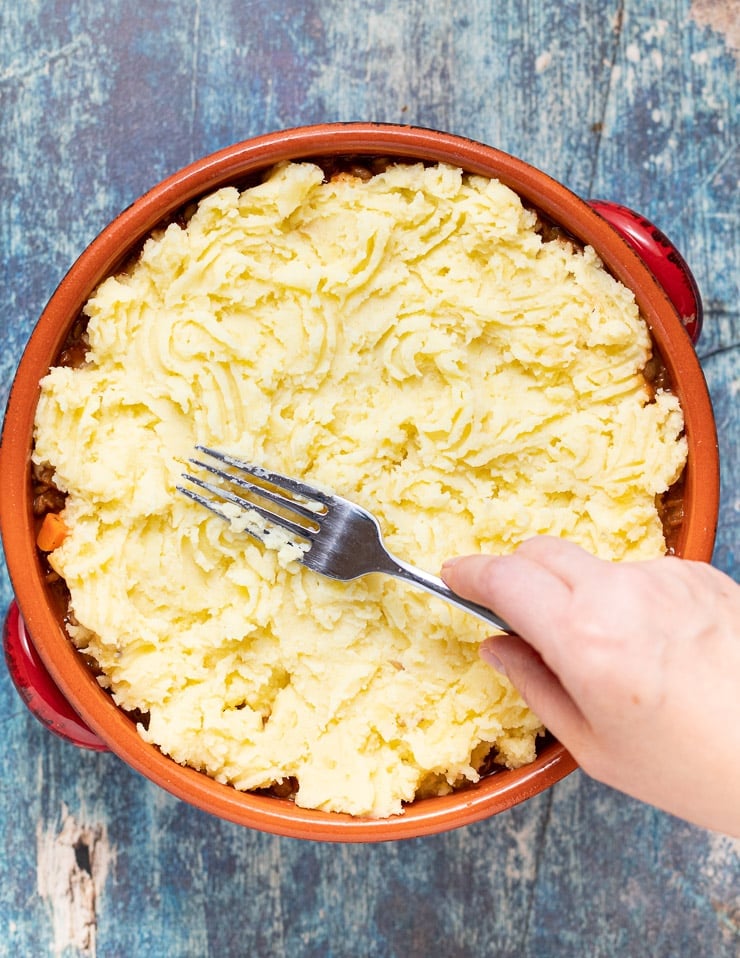 Step 9: Bake, then finish up by broiling (or putting under the grill for the UK people!) for maximum golden crispiness, then take a minute to admire it's beautiful bubbling edges.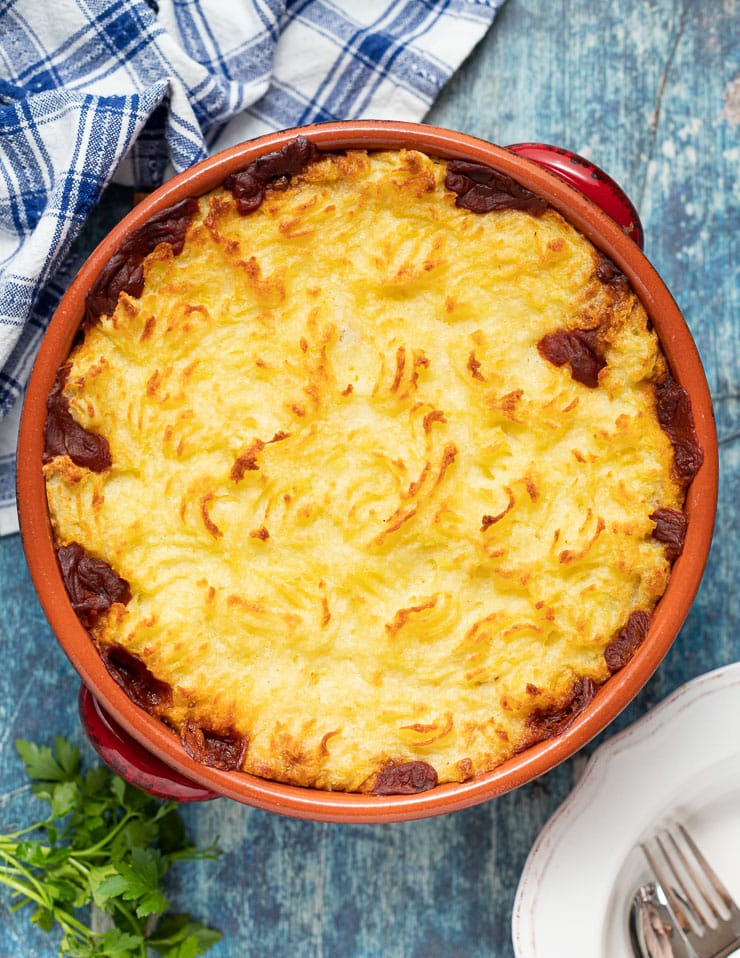 Vegetarian Shepherd's Pie Success Tips
You must use green or brown lentils. Red lentils will not work in this recipe.
Sauté the onions, garlic and carrots until really golden. This is very important for maximum flavour.
Don't skip the Tamari or soy sauce. It is really essential for meaty depth of flavour in this recipe.
Be generous with seasoning. It is so important for enhancing flavour. (Notice the flavour theme going on here .... every single little ingredient/step works to add another layer and that's how it ends up tasting so good and is why you should not skip any of them).
Don't skip letting the potatoes steam themselves dry. Watery potatoes are no-ones friend and will cause them to weep into the filling underneath and not taste as good either.
If you have a stand mixer, throw the boiled potatoes, plant milk and vegan butter in there and beat it together with the paddle attachment rather than using a potato masher. It creates the best mashed potato with zero effort.
Cooling the filling makes the whole spreading of the potato much easier, but to be honest with you, I never wait because I'm too inpatient. Just follow my next tip if you are the same.
Spoon smallish dollops of mashed potato all over, then spread it with a fork. Don't just splodge a whole pan-full of mashed potato in the middle of the filling or you will create a lentil gravy type tsunami!
It's totally optional, but if you aren't WFPB, I highly recommend brushing the top of the mashed potato with oil for maximum golden, crispiness and, you guessed it, another layer of flavour/texture.
Um .... Have a piece of heavily (vegan) buttered bread ready to mop up your plate on finishing ... That's my ultimate comfort food Lentil Shepherd's Pie success tip ;O)
How to serve Lentil Shepherd's Pie
My favourite way to eat my Lentil Shepherd's Pie is with steamed vegetables or roasted red cabbage on one side and a glass of red wine on the other ;O) It's particularly good with green veggies like Brussels sprouts, cabbage, kale, broccoli and peas and with regards wine, a nice fruity Merlot.
Some people serve their shepherd's pie with salad but as much as I like salad, I personally don't think it works as well as vegetables with this dish.
Don't shoot me down in flames for admitting this, but it is also pretty awesome when served with canned baked beans. The comfort food experience increases ten fold and is a combo that is definitely going to be appreciated by kids!
What are the best potatoes for mashed potato?
I can think of zero situations that are not improved by a dreamy pile of fluffy vegan mashed potatoes, but you cannot achieve peak mash excellence without the right potato for the job.
What are the best potatoes for mashing into buttery, rich fluffy mountains?
My potatoes of choice for roasting, mashing, stews, almost everything really, are Yukon Gold potatoes. They aren't grainy, watery or mushy and they have a buttery flavour which is always a good thing. They make excellent mashed potatoes.
I tend to avoid russets because they are a bit tasteless once boiled and mashed.
If you are in the UK Desiree and Maris Pipers are best.
Ways you can adapt this recipe
Posh it up with red wine instead of the stock, and fresh herbs like a good few sprigs each of thyme and rosemary instead of dried herbs. Then brush the mashed potato top with an obscene amount of melted vegan butter. Yep .. Instantly transformed to date night or holiday meal standards!
Use meatless ground round instead of the lentils. Honestly not needed though, unless you have some that needs using up. The lentils are absolutely great in this recipe.
Add some chopped mushrooms at the same time as you add the lentils. If I had a husband who liked them they would be in this for sure!
Sprinkle the top of the pie with shredded vegan cheese before you put it in the oven. Over the top mashed potato deliciousness!
Try using mashed root vegetables instead of potato for a nice change. There is a recipe in my cookbook if you have it.
How to store leftovers
Store leftover Shepherd's Pie covered or in a sealed container in the fridge for 3 to 4 days and reheat in the oven or in a microwave. Leftover can also be frozen.
How to freeze
You can either freeze this recipe directly after assembling and before baking, or freeze it after it has been baked. In both instances, allow to cool completely then wrap very well.
Defrost in the fridge overnight and then bake as per the recipe instructions, 400 °F (200°C) for 30 minutes. If it was cooked prior to freezing and starts colouring too much, simply tent with foil, in the last 10 minutes.
If you try this recipe, let me know how you like it by leaving a comment and rating below! And be sure to join my mailing list for more deliciousness!
Recipe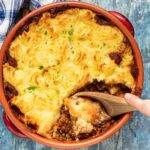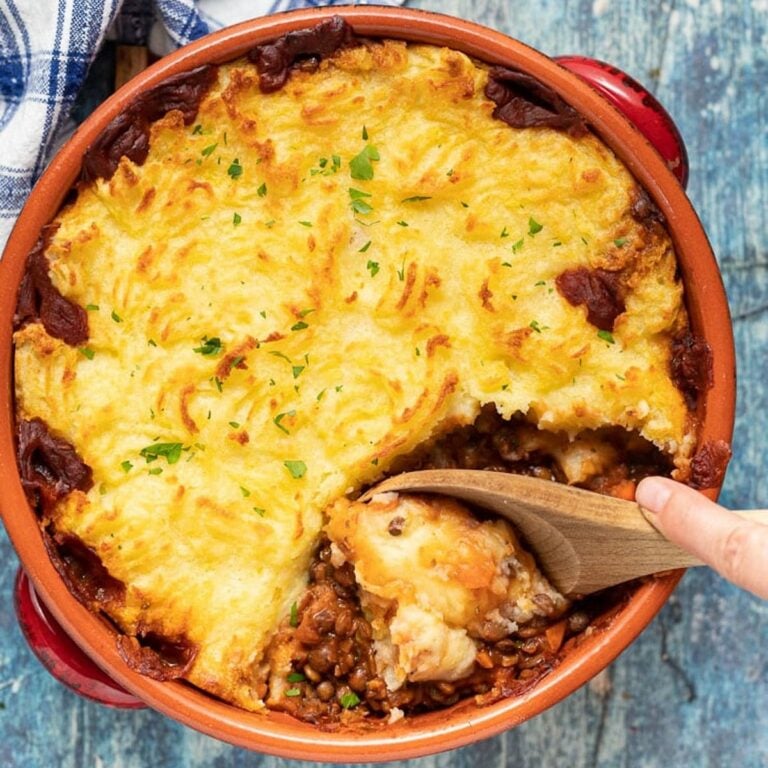 Lentil Shepherd's Pie
Author:
The ultimate Vegan Lentil Shepherd's Pie featuring rich, flavourful, saucy lentils topped with fluffy, creamy mashed potatoes & baked until deliciously golden brown & crispy. Easy, healthy, comforting and filling!
Ingredients
For the mashed potato
1000g / about 6

large

potatoes

, I love Yukon Gold for this

½

teaspoon

salt

⅓ cup / 80

mls

non-dairy milk

, unsweetened

vegan butter

,OPTIONAL. Add as much or little as you like. I usually add a couple of tablespoons. If you omit the butter, add an extra drop of milk to compensate.
For the Shepherd's Pie filling
2

teaspoons

olive oil

(optional - use water to sauté to make the recipe oil-free)

1

medium

onion

, chopped finely

4

cloves

garlic

, chopped finely

1

large

carrot

, peeled & diced

2½

teaspoons

dried herbs

(thyme, rosemary or marjoram all work well, or a combination of them. Mixed Herbs or Italian Mixed Herbs are also fine)

2½ cups / 190

g

canned/cooked green or brown lentils

, (NOT red lentils)

2

tablespoons

arrowroot or cornstarch

, (cornflour in the UK)

3

tablespoons

tamari or soy sauce

, or coconut aminos or liquid aminos

1 cup / 240

mls

canned crushed tomatoes or passata

(if you only have whole or diced tomatoes just blend them up until smooth)

1 cup / 240

mls

mushroom or vegetable stock

1

teaspoon

freshly ground black pepper

, or to taste

1½

teaspoons

sea salt

, or to taste (reduce as necessary if using table salt)
INSTRUCTIONS
Preheat oven to 400° f (200 °C)

Peel the potatoes (or leave the peels on and wash if you prefer), then chop each potato into about 6 pieces. Put the chopped potatoes in a large pan and cover with hot water from a kettle. Add the salt, cover and bring to the boil. Simmer for about 15 minutes until the potatoes are very tender (check with a fork or knife). Drain then return to the pan and leave them alone with the lid off for a few minutes to allow them to steam dry.

Add the milk and optional butter to the pan and mash very well until creamy. Set aside.

While the potatoes are cooking, warm another pan over a medium heat. Add the oil (or use a little water instead to keep it oil-free) and sauté the onions, garlic and carrot until the onions are starting to go golden brown.

Add the herbs, lentils, and arrowroot or cornstarch. Stir well then add the tamari or soy sauce, followed by the tomatoes, and stir well.

Add the stock and stir again. As soon as it is just starting to bubble, turn off the heat, season with salt and pepper and spoon the lentil mixture into an ovenproof dish.

Spoon the mashed potatoes over the top of the lentil mixture, then using a fork spread it out evenly. A few little gaps around the edges are fine. Rough the potato up with the fork (the rough bits create more crispy bits). At this point you can brush it with a little oil or vegan butter for even more crispiness, or just leave it as it is.

Place the dish on a baking tray (to protect the bottom of your oven in case of any leaks), and bake in the oven for 30 minutes. Then pop it under the broiler/grill for a few minutes to make it extra crispy before serving.
NOTES
Replace the stock with red wine and the dried herbs for a few sprigs of fresh thyme and rosemary, for a "poshed" up version. Great for date night or holiday meals! 
NUTRITION
Serving:
1
serving
|
Calories:
316
kcal
|
Carbohydrates:
63
g
|
Protein:
15
g
|
Fat:
2
g
|
Saturated Fat:
1
g
|
Sodium:
1546
mg
|
Potassium:
1870
mg
|
Fiber:
14
g
|
Sugar:
5
g
|
Vitamin A:
2245
IU
|
Vitamin C:
50
mg
|
Calcium:
171
mg
|
Iron:
14
mg
Did you make this recipe?
Rate it & leave feedback in the comments section below. I love seeing your remakes too. Tag @avirtualvegan on Instagram! 🌟
This recipe was originally published on April 1st 2016, but the post was updated and new photos and a video were added on January 3rd 2020. The recipe remains the same.