Soft & fluffy, baked Vegan Raspberry Donuts with a smooth, pretty pink glaze. Infused with sweet raspberry flavour & so delicious! (Don't worry if you don't have a donut pan because they can also be made as muffins!)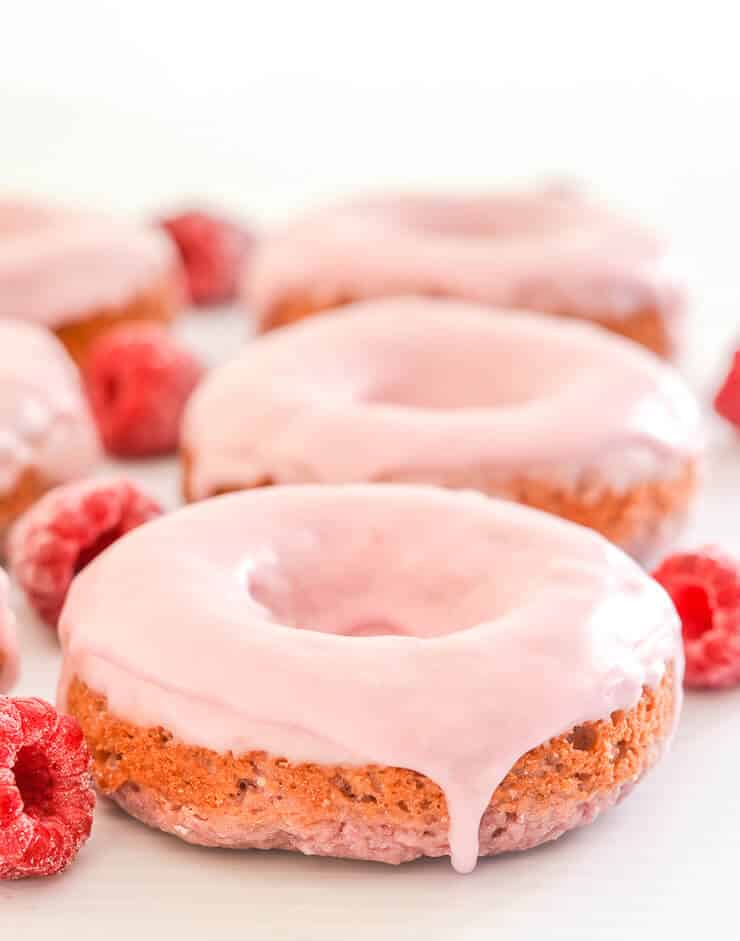 Is anything better than pretty pink donuts? I think not. And here they are just in time for Valentine's Day so you can treat your loved one or yourself! How about some ooey-gooey heart-shaped Vegan Chocolate Caramels too?
Both the batter and the glaze in these Vegan Raspberry Donuts is infused with delicious raspberry flavour. The glaze is a lovely baby pink colour and the donut sponge is also a gentle pink colour. They are so pretty!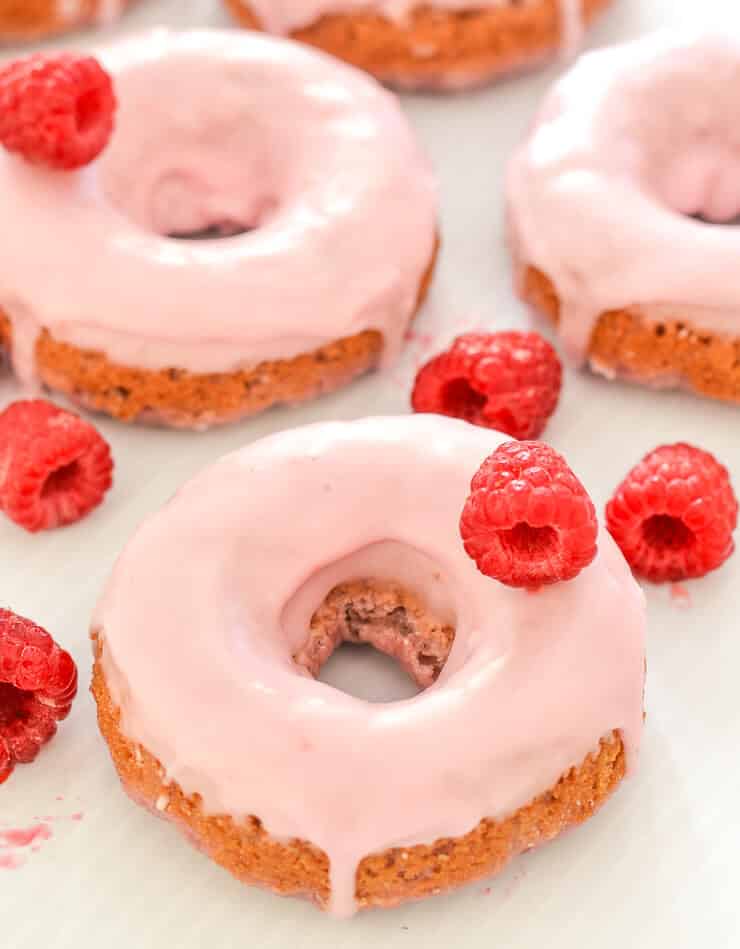 Ingredients
Here is what you need to make Vegan Raspberry Donuts: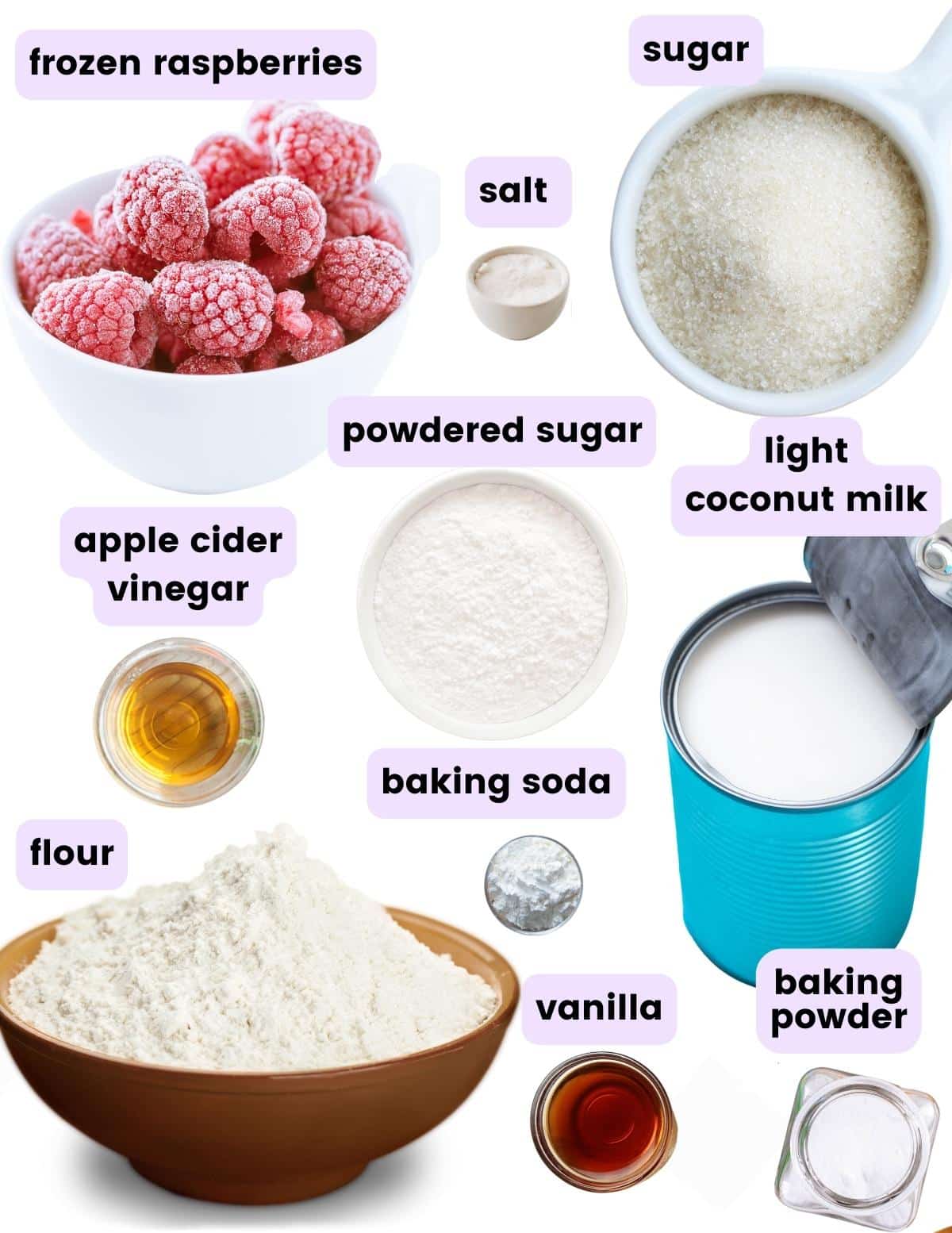 And a few important ingredient notes:
Raspberries - These must be frozen and then defrosted as per the directions. Fresh raspberries will not work in this recipe.
Baking powder - This must be aluminum-free baking powder or your donuts will end up Smurf blue and could even taste very metallic...Yes, I learned this from experience! It happens because the acidic vinegar and raspberries react with the aluminum while baking.
Flour - This should be white flour for perfect flavour, colour, and lightness. I have not tested the recipe with gluten-free flour but it should work fine with a good quality 1-for-1 baking flour that contains xanthan gum.
Sugar - This needs to be white or cane sugar. Darker sugars will affect the colour and flavour of the donuts. All organic sugar is vegan and other easy-to-find sugar brands that are vegan include Wholesome Sweeteners, Florida Crystals, Sugar In The Raw, Rogers, or Red Path.
Light coconut milk - This should be canned light coconut milk. It provides the necessary fat in the batter without giving any coconut flavour. You can use full-fat canned coconut milk instead as long as you are ok with some coconut flavour coming through.
How To Make Vegan Raspberry Donuts
These gorgeous morsels can be whipped up from start to finish in under thirty minutes so are just perfect for a last-minute Valentine's treat.
Here's a quick summary of how we make baked Raspberry Donuts:
Defrost the raspberries and push them through a sieve, separating the seedy pulp from the watery pink liquid. Keep both.
Mix the dry ingredients together in a bowl.
Mix the liquid ingredients together, including a measured portion of the raspberry juice.
Mix the wet with the dry to make a batter and spoon into a greased donut pan then bake.
When they are cool make the glaze and drizzle or dip the donuts.
The donuts don't need any decoration other than the glaze to look good, but if you wanted to, a fresh raspberry or two stuck in the frosting would be lovely. Don't be tempted to use frozen raspberries for decorative purposes, as when they defrost they become soggy and wet and will bleed all over the lovely pink glaze. Sprinkles would look really fun too!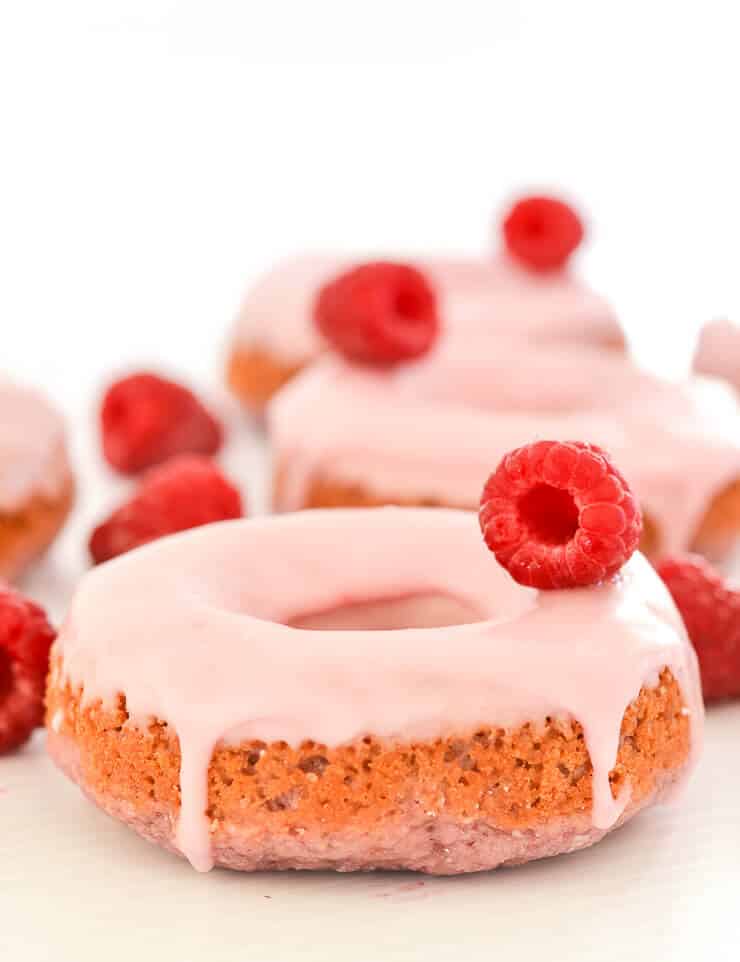 My Favourite Donut Pan
I have learned from bitter experience how heartbreaking it is to have a perfect-looking pan of donuts come out of the oven, only to end up breaking them into pieces while trying to prise them out of the pan.
The moral of the story is, if you don't have a donut pan yet and are thinking of buying one, spend a little bit more and get a decent one that will last. It will save you money and time in the long run.
I highly recommend USA Pan Donut Pans. I've used a few different ones and it's by far the best I've owned.
If you don't have a donut pan and want to make these donuts right now, then make them as muffins. They might need another five minutes or so in the oven as they will be a little deeper, but other than that nothing needs to be changed.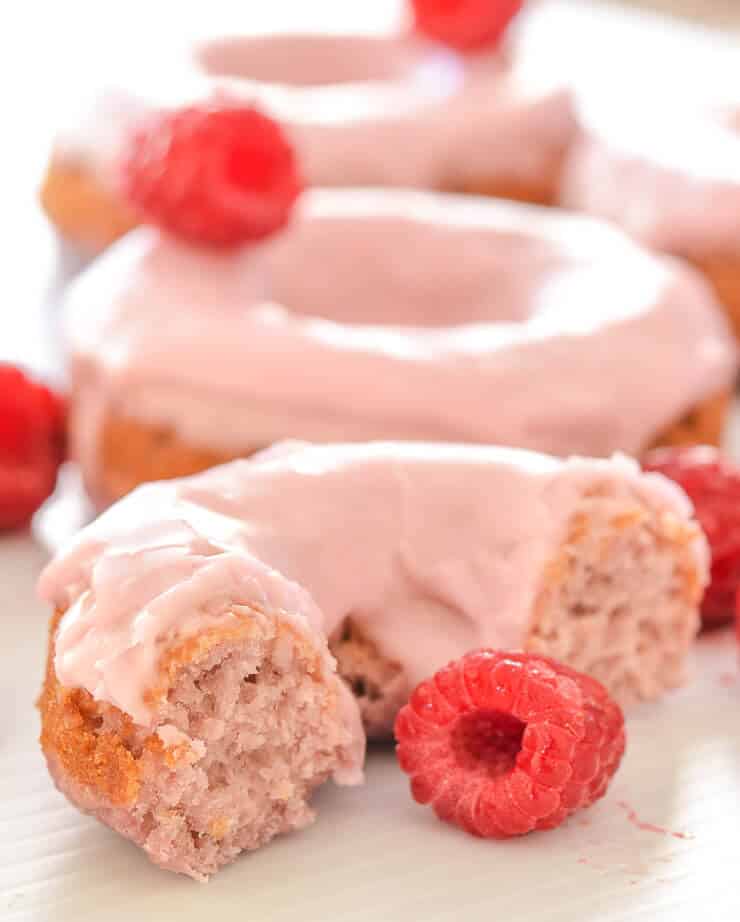 If you try this recipe, let me know how you like it by leaving a comment and rating below! And be sure to join my mailing list for more deliciousness!
Recipe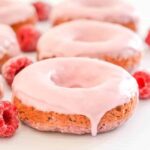 Vegan Raspberry Donuts
Author:
Soft & fluffy, baked Vegan Raspberry Donuts with a smooth, pretty pink glaze. Infused with sweet raspberry flavour & so delicious!
INSTRUCTIONS
Put the frozen raspberries in a shallow bowl and let them defrost. You need any juice that comes out so don't strain it away.

Once defrosted, preheat oven to 350°F and grease a 6-hole donut pan with some oil.

Take the defrosted raspberries and put them in a sieve over a bowl, liquid as well. Push the raspberries through the sieve with the back of a spoon. Keep going until all the liquid has passed through the sieve. Keep the seedy bits resting over the bowl and set aside.

Add the flour, sugar, baking powder, baking soda and salt to a bowl.

In a jug or another small bowl add the light coconut milk, apple cider vinegar, and vanilla extract.

Measure out ⅓ cup (80mls) of the strained raspberry juice and pour it into the jug/bowl with the other liquids. Keep what's left as you'll need it for the glaze.

Fold the wet ingredients into the dry ingredients. Do not over mix.

Spoon the batter into the donut pan being careful not to cover the middle part of it. Work as quickly as you can.

Put in the preheated oven and bake for 17 minutes or until a toothpick inserted comes out clean. If you are using a muffin pan they will take 5 to 10 minutes more.

When ready remove from the oven. Leave in the pan for 10 minutes, then turn out carefully onto a wire rack to cool completely.

Make the glaze by mixing the powdered sugar with the light coconut milk. It will be very thick. Then add a little of the leftover raspberry juice a drop at a time until you get a thick but drizzle-able glaze. If you run out of juice take a look at the seedy pulp you had left over. Give it another quick squeeze with the back of a spoon and you'll likely get a little more juice out. Failing that use a touch more coconut milk to get the texture you need.

Dip the nicely rounded side of each donut face down into the bowl of glaze then return to the cooling rack. After dipping the last donut, start again with the first. We want to double-dip them to get a nice thick glaze. You can drizzle the glaze if you prefer.

Leave the glazed donuts on the cooling rack until the glaze has set.
NOTES
I used the leftover raspberry seedy smush in a smoothie the next day along with what was left of the canned coconut milk.
Store donuts in an airtight container. Best eaten within 2 days. 
NUTRITION
Serving:
1
donut
|
Calories:
268
kcal
|
Carbohydrates:
61
g
|
Protein:
3
g
|
Fat:
2
g
|
Saturated Fat:
1
g
|
Polyunsaturated Fat:
0.2
g
|
Monounsaturated Fat:
0.04
g
|
Sodium:
137
mg
|
Potassium:
141
mg
|
Fiber:
2
g
|
Sugar:
38
g
|
Vitamin A:
6
IU
|
Vitamin C:
5
mg
|
Calcium:
45
mg
|
Iron:
1
mg
Did you make this recipe?
Rate it & leave feedback in the comments section below. I love seeing your remakes too. Tag @avirtualvegan on Instagram! 🌟