This Vegan Paella has the wow factor. It looks seriously impressive & is full of wonderful flavours & textures. It is savoury, hearty & perfect for impressing guests!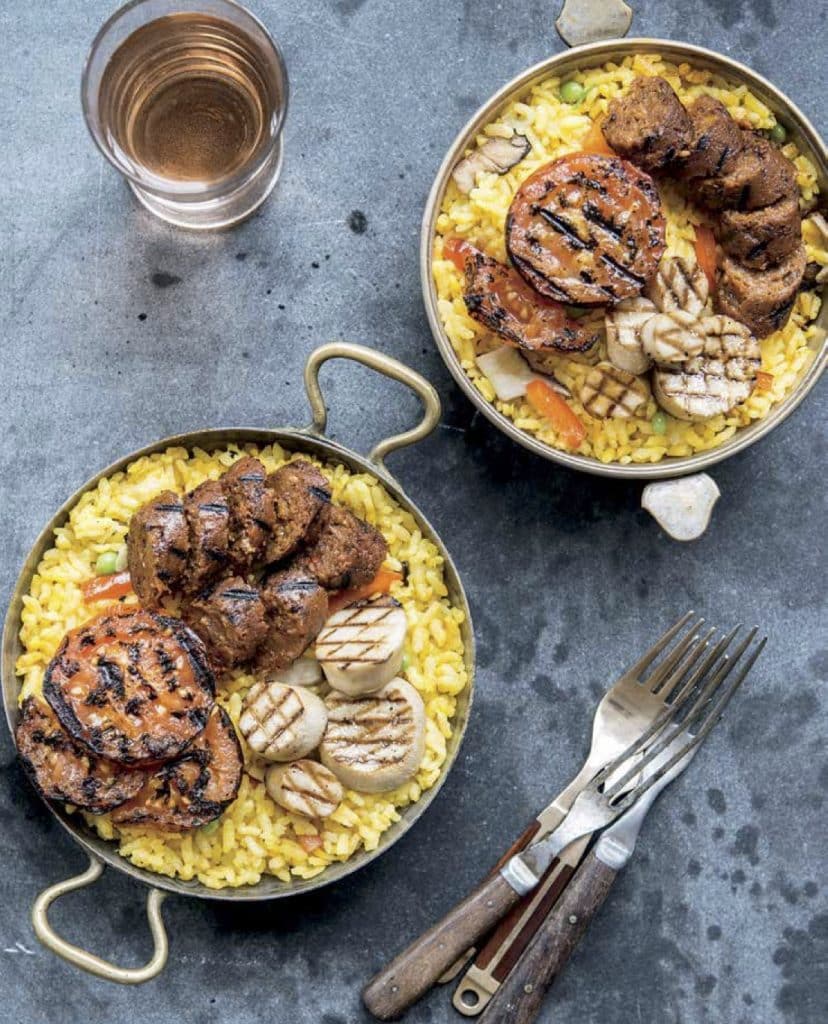 I am sharing this recipe from the book Field Roast: 101 Artisan Vegan Meat Recipes to Cook, Share & Savor with permission from Da Capo Lifelong Books. We are also giving away a copy of the book to a lucky reader. Read on for details!
Traditional Spanish Paella is usually meat and seafood packed, but this Vegan Paella from Field Roast: 101 Artisan Vegan Meat Recipes to Cook, Share & Savor uses trumpet mushrooms, tomatoes and vegan sausage to create a delicious, satisfying and show-stopping meal.
Paella is such a flavour-packed and hearty dish and it really isn't complicated to make. You don't need a fancy paella pan. Just an ordinary skillet will do. It doesn't involve a lot of work and is the perfect meal for entertaining.
FIELD ROAST
I tend to cook most things I eat from scratch myself, but I do occasionally buy ready-made products and I have a real weakness for Field Roast. I love their sausages and burgers and they make a regular appearance on our dinner table.
Field Roast have quite a big range of products including roasts and deli slices but other than the sausages, burgers and Chao Cheese, I have never seen them locally which I am pretty sad about. That's why I was so excited to find that they had published a cookbook.
FIELD ROAST: 101 ARTISAN VEGAN MEAT RECIPES TO COOK, SHARE & SAVOR
Field Roast: 101 Artisan Vegan Meat Recipes to Cook, Share & Savor by Tommy McDonald is a real feast for the senses. It is a beautiful book full of the most amazing vegan recipes and the photographs are just gorgeous. I like pretty books and this one doesn't disappoint. I also like my food to be hearty and full of flavour as you know, and it doesn't get any heartier and flavour-packed than this! I have been pouring over it with my mouth-watering.
In this wonderful book you will learn exactly how to make your own grain-based charcuterie. There are recipes for everything from sausages, roasts, cutlets and grain meat grind, to pâté, burgers and meatloaf as well as recipes that you can use them all in like Chicken Fried Field Roast and Waffles, Mushroom Burgundy Stew, Posole Verde, Tuscan Shepherd's Pie, Southwest Philly Cheesesteak and Holiday Wellington. Plus there are recipes for sides, salads, sauces, stocks, breads, appetizers and desserts too. Everything you need to cook a special, super delicious meal.
This isn't your everyday kind of cookbook. It's more one for special occasions and weekends when you've got a bit of extra time on your hands and want something a bit fancier than usual. It's great for those of us who like a bit of a challenge in the kitchen. I wouldn't recommend it for inexperienced cooks but I would recommend it for anyone who loves grain meats and wants to branch out into making their own.
There is so much in the book that I want to try. I'm probably going to give the Holiday Wellington a shot for Thanksgiving or Christmas and I also have my eye on the Fennel and Garlic Sausage and the Steakhouse Roast with Vegan Demi-Glace. That roast with my Crispy Roasted Potatoes!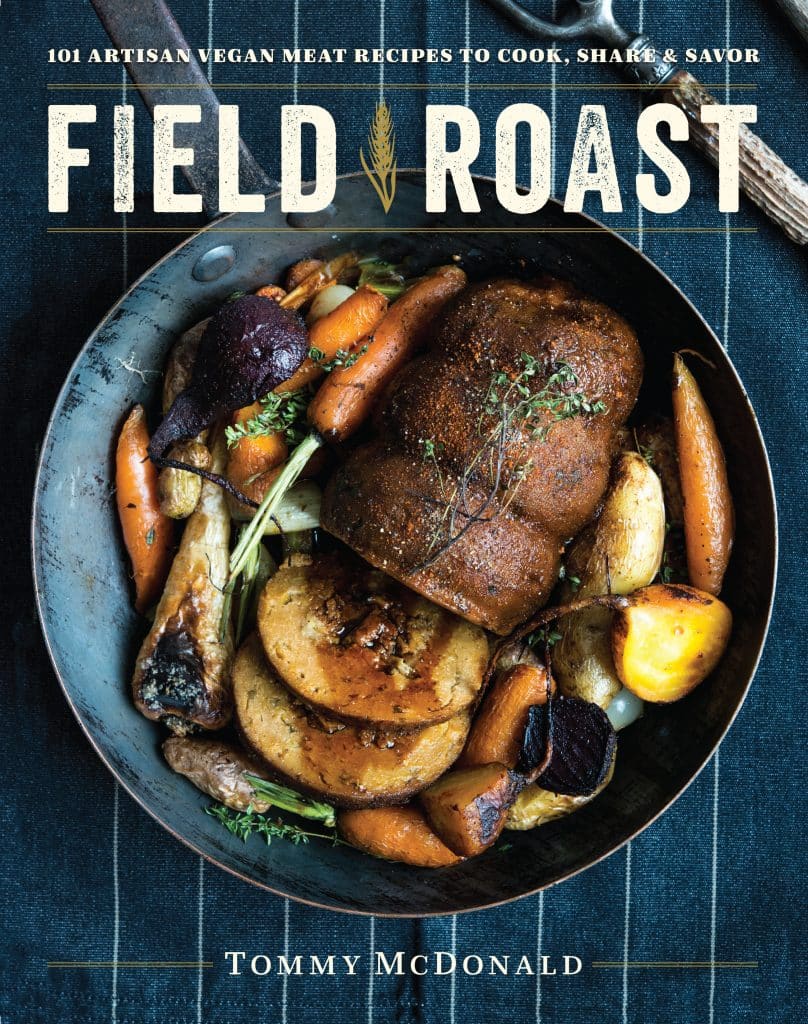 VEGAN PAELLA
I have already made the Vegan Paella that I am sharing with you today and it is so good! Rice dishes are always a winner in our house, as are Field Roast Mexican Chipotle Sausages, trumpet mushrooms and wine so it was kind of an obvious choice for me to start with. I could have made my own Oaxacan Chili-Spiced Sausages from the book to use in the Paella but life has been a bit chaotic here of late. We seem to have saved up everything we need to do, and everywhere we need to go, for September and October, and we don't have much down-time in between. I will be giving those sausages a try once calm returns though, and will probably make this Vegan Paella all over again when I do.
This Vegan Paella uses Arborio Rice which is pretty easy to get hold of in most grocery stores. The rice is combined with white wine, vegetable stock, plenty of garlic, saffron, smoked paprika and onion. Trumpet mushrooms, sausages and tomatoes are grilled while the rice is cooking and piled generously on top then garnished with parsley, peas and lemon wedges. The perfect meal to put down in the centre of the table for everyone to dig into and share!
Paella is such a versatile dish, so don't be afraid to switch it up a bit to suit whatever you have in the fridge. Go wild with the toppings. There are so many things that would work well with it.
If you give the recipe a try, let me know what you think by rating it and leaving a comment below. I would love to know if you enjoy it as much as we did. You can share pics on Instagram too. Use the hash #avirtualvegan. so I don't miss them!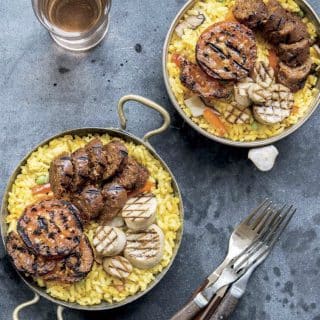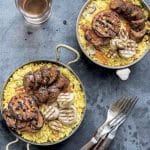 Vegan Paella
Author:
A great party dish and one of my favorite things to cook on my birthday, paella is a one-pot, flavor-packed rice dish that's easy to customize and tailor to your preference. We ofen dress ours up, slicing king trumpet mushrooms and grilling sausage to serve on top—the mush-rooms look a lot like scallops and have a great, meaty texture and flavor. You can treat this recipe as a bit of a template in the sense that any vegetables will fly. Use whatever's in season or easily on hand. I would recommend serving the paella outdoors if the weather permits, preferably with a crisp vinho verde or rosé—or a cold glass of beer.
Ingredients
3½

cups

vegan vegetable stock

¼

cup

olive oil

1

yellow onion

, chopped

5

cloves

garlic

, minced

2

carrots

, peeled and ¼ inch diced

1

large pinch

saffron threads

2

teaspoons

smoked paprika

1

yellow bell pepper

, cut into strips

1

red bell pepper

, cut into strips

3

king trumpet mushrooms

, cleaned, stems cut into ¾ -inch rounds and tops sliced

½

cup

white wine

1

teaspoon

salt

, plus more for seasoning

1½

cups

Arborio rice

2

links

Oaxacan Chili-Spiced Sausage or Field Roast Mexican Chipotle Sausage

3

firm, on the vine tomatoes

, sliced in half

1

teaspoon

freshly ground black pepper

6

sprigs

parsley

, leave removed and roughly chopped

1

cup

English peas

1

lemon

, sliced into wedges
INSTRUCTIONS
In a pan over high heat, bring the stock to a boil, then lower the heat to low.

In a medium-size paella pan or large skillet over medium heat, heat the oil and add the onion, gar- lic, carrot, sa ron, and paprika. Sauté the mixture, stirring occasionally, for 7 minutes. Add the bell peppers, sliced mushroom tops, wine, salt, and rice. Stir to combine, then sauté, stirring occasionally, for another 5 minutes.

Pour the stock over the rice and increase the heat to high. Bring the rice to a boil, then lower the heat to low, while stirring. Cover the pan with foil and allow the rice to cook over low heat for 18 min- utes, then turn o the heat. Leaving the foil on the pan, allow the rice to steam with no heat for another 15 minutes.

While the rice is cooking, brush the sausage, mushroom stem rounds, and tomatoes with oil, and top with additional salt and black pepper. Grill over high heat. The tomatoes will take about 5 min- utes, and should only be grilled on the at side. The sausage and mushrooms will take about 8 min- utes, and should be turned halfway through. Remove the items from the grill, slice the sausage, and cut the tomatoes into quarters.

Remove the cover from the paella and arrange the sausage, mushrooms, and tomatoes on top. Garnish with the parsley, peas, and lemon wedges.



NOTES
 No paella pan at home? A large skillet will work fine - ultimately you just need something that's large and shallow. 
NUTRITION
Serving:
1
serving
Calories:
409
kcal
Carbohydrates:
64
g
Protein:
16.5
g
Fat:
11
g
Sodium:
547
mg
Fiber:
8
g
Sugar:
8
g
Vitamin A:
6200
IU
Vitamin C:
123.8
mg
Calcium:
50
mg
Iron:
3.1
mg
Nutritional information is provided for convenience & as a courtesy. The data is a computer generated estimate so should be used as a guide only.
Tried this recipe?
Rate it & leave your feedback in the comments section below, or tag @avirtualvegan on Instagram and hashtag it #avirtualvegan
Excerpted from Field Roast: 101 Artisan Vegan Meat Recipes to Cook, Share, and Savor by Tommy McDonald. Copyright © 2017. Available from Lifelong Books, an imprint of Perseus Books, LLC, a subsidiary of Hachette Book Group, Inc.