Homemade Smoky Skillet BBQ Baked Beans! These beans are sweet, smoky, sticky food for the soul and they are surprisingly easy to make!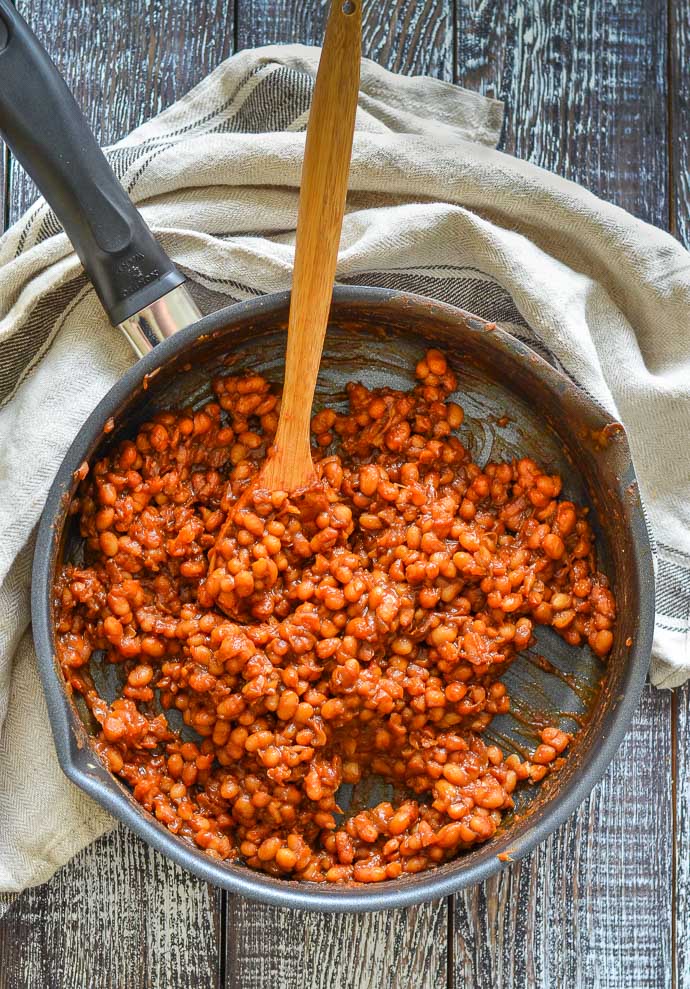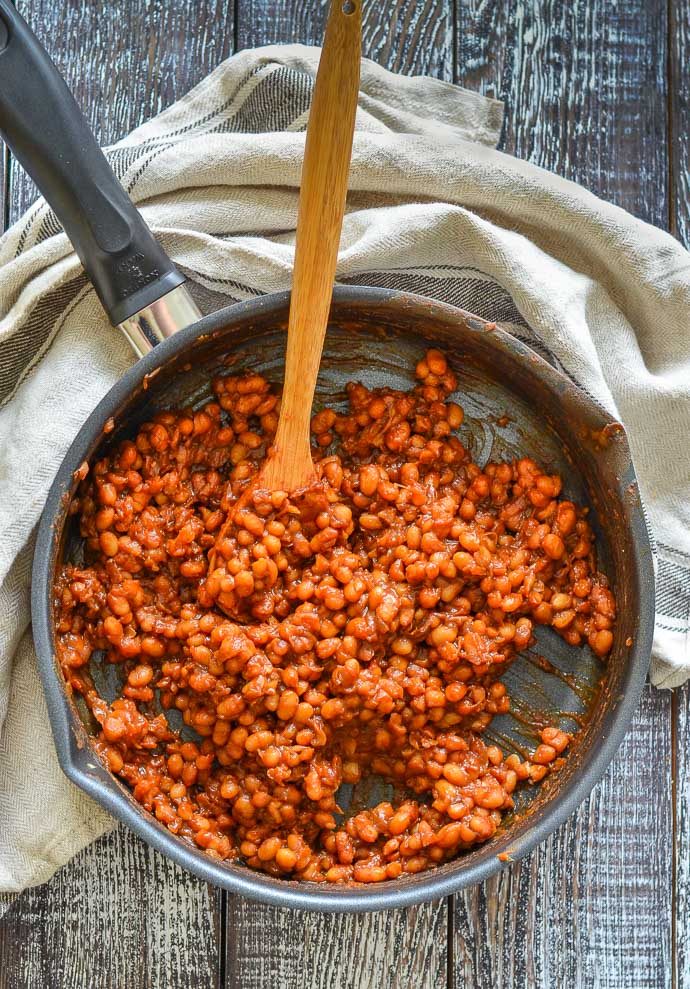 We all need a little soul food from time to time and these BBQ Baked Beans are just the answer, and just like my Pressure Cooker Black Beans they are really easy to make which is always a bonus.
These Smoky Skillet BBQ Baked Beans are one of the many tasty recipes in Linda and Alex Meyer's new book, Great Vegan BBQ Without a Grill.
Linda and Alex are the mother and daughter duo behind the blog Veganosity, and in their book, they have replicated the saucy, smoky and succulent flavours of classic BBQ for plant-based eaters and yet no grill or smoker is required!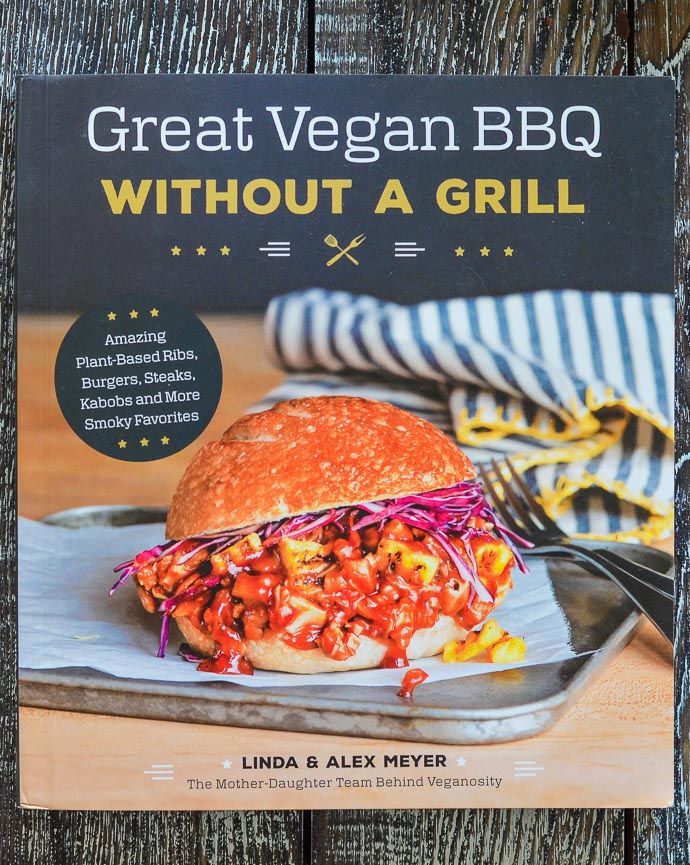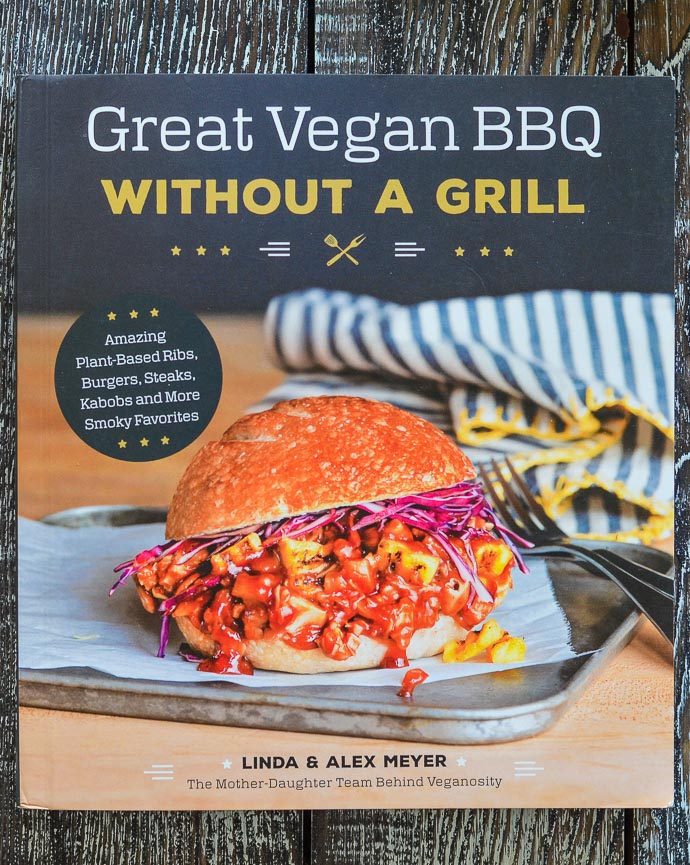 It features all the food that they grew up loving. Food that reminds them of family and tradition. Food that tells their story, like pulled BBQ, spicy black bean burgers, macaroni and cheese, creamy potato salad, classic ribz, jerk chik'n, brisket and the Smoky Skillet BBQ Baked Beans that I am sharing with you today.
They dedicate Great Vegan BBQ Without a Grill, to the loyal readers of their blog, their family and friends and "TO ALL OF THE ANIMALS THAT INSPIRE AND MOTIVATE THEM TO PROMOTE A VEGAN LIFESTYLE: May you one day live without fear"
That really tore at my heart strings and is such a lovely touch ❤️
The book has a great balance of recipes with chapters including:
MEAT FREE BBQ TO SATISFY MEAT EATERS
BURGERS AND SANDWICHES: FROM WAY UP NORTH TO THE DEEP SOUTH
STICK FOOD: BECAUSE EATING FOOD OFF A STICK IS FUN
STUFFED, FOILED AND SMOTHERED; DELECTABLE ENTREES FOR A COZY DINNER
SIDES AND SALADS THAT GO WITH A BARBECUE
BBQ DIPS TO BRING TO THE PARTY
KEEPING IT SAUCY: BBQ SAUCES AND RUBS
Literally everything you need to keep your BBQ loving family and friends happy all year round.
I chose to feature the Smoky Skillet BBQ Baked Beans, despite already having my own Vegan Baked Beans recipe here on the blog.
My recipe uses dried beans and they are cooked really slowly over several hours. This recipe uses canned beans and is ready from start to finish in under one hour. Most of that time is hands off too as they are oven baked in the skillet.
I will be completely honest too and say that I prefer Linda and Alex's version! Mine aren't as sweet and I have a really sweet tooth, plus I love the sticky, jammy texture. They are like stick to your ribs soul food.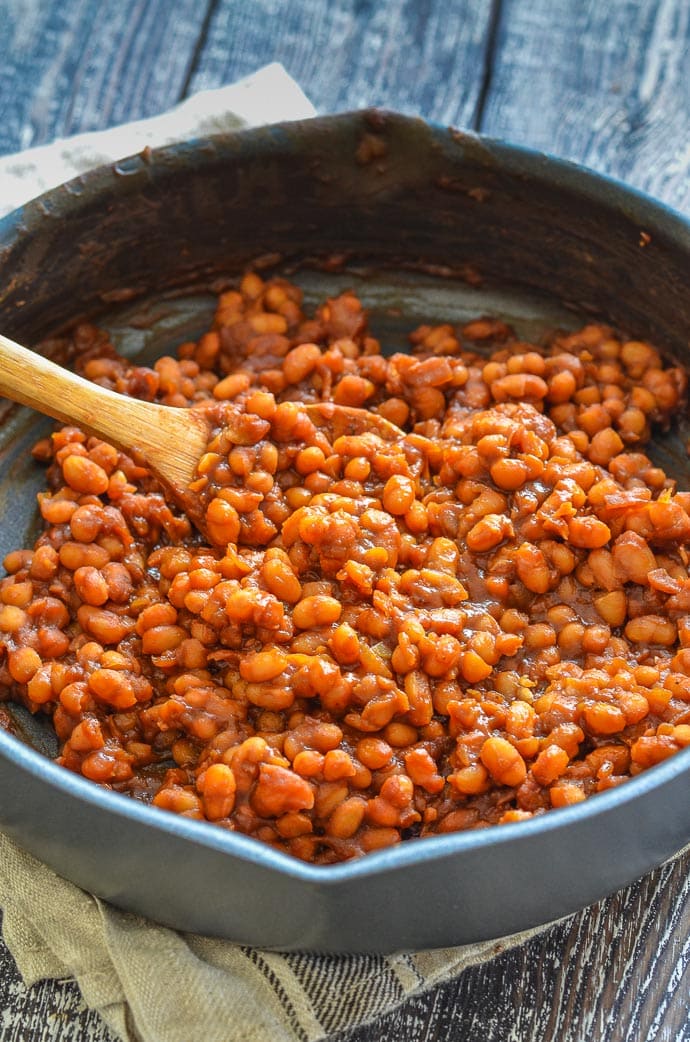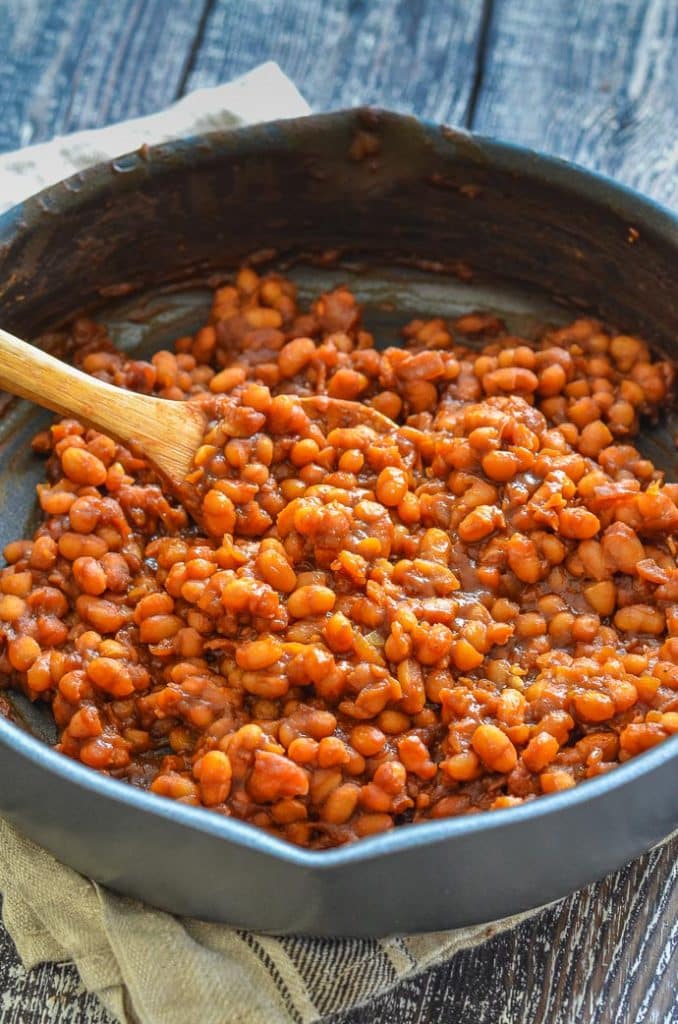 How to make Smoky Skillet BBQ Baked Beans
For detailed measurements and instructions, see the printable recipe card.
These Smoky Skillet BBQ Baked Beans can be ready and on your table in a few easy steps:
Step 1 - Put all of the sauce ingredients in a small bowl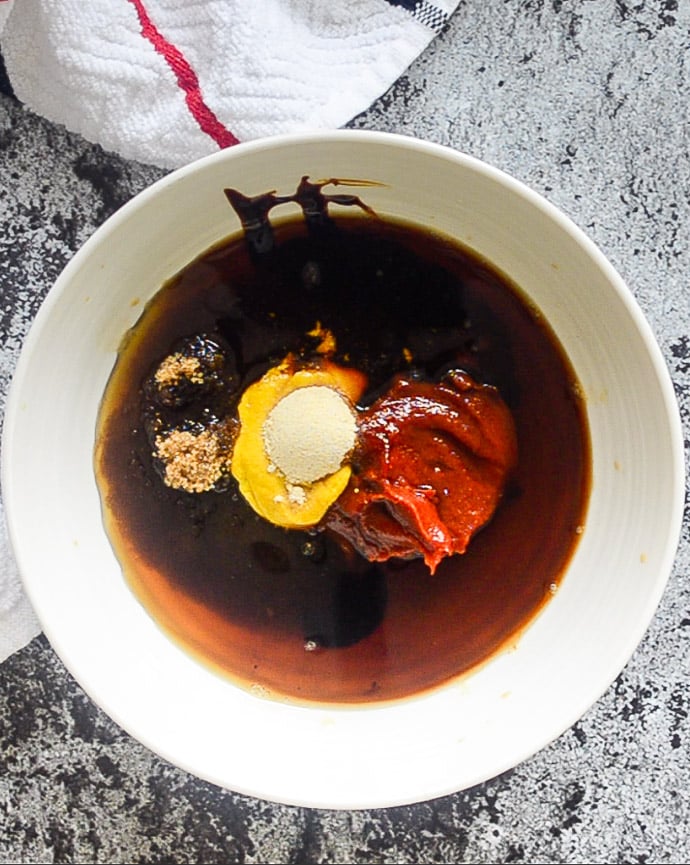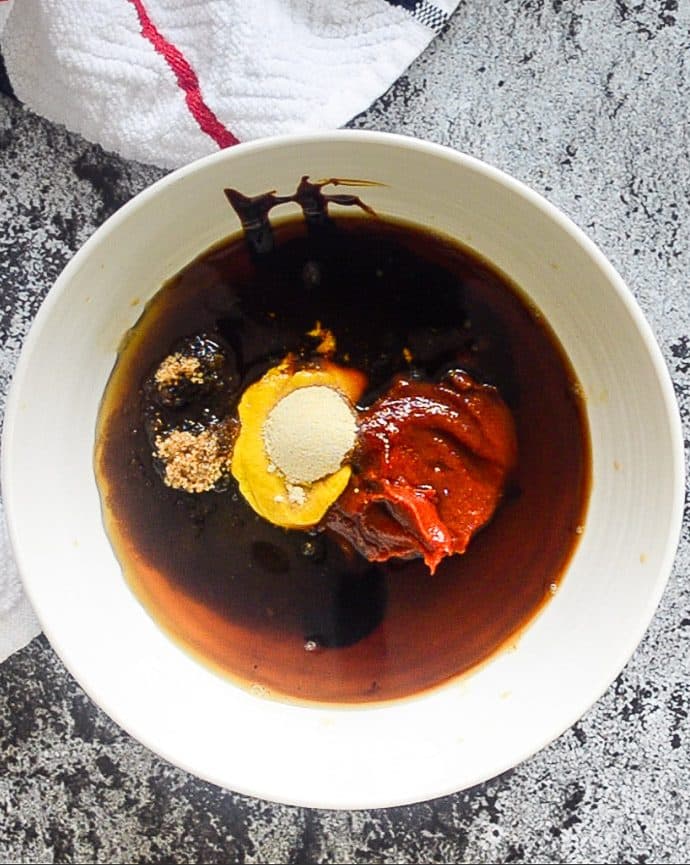 Step 2 - Whisk 'em all up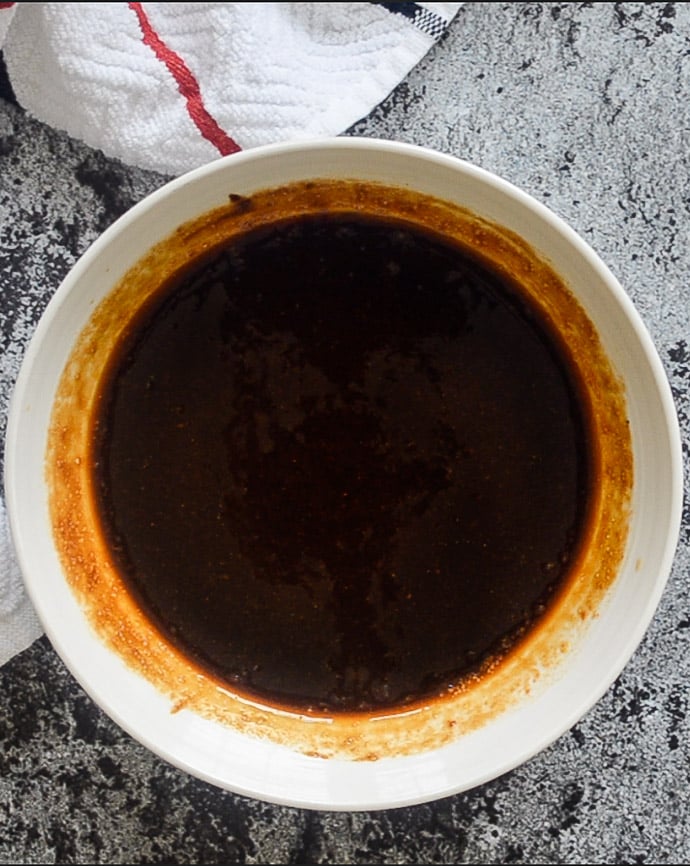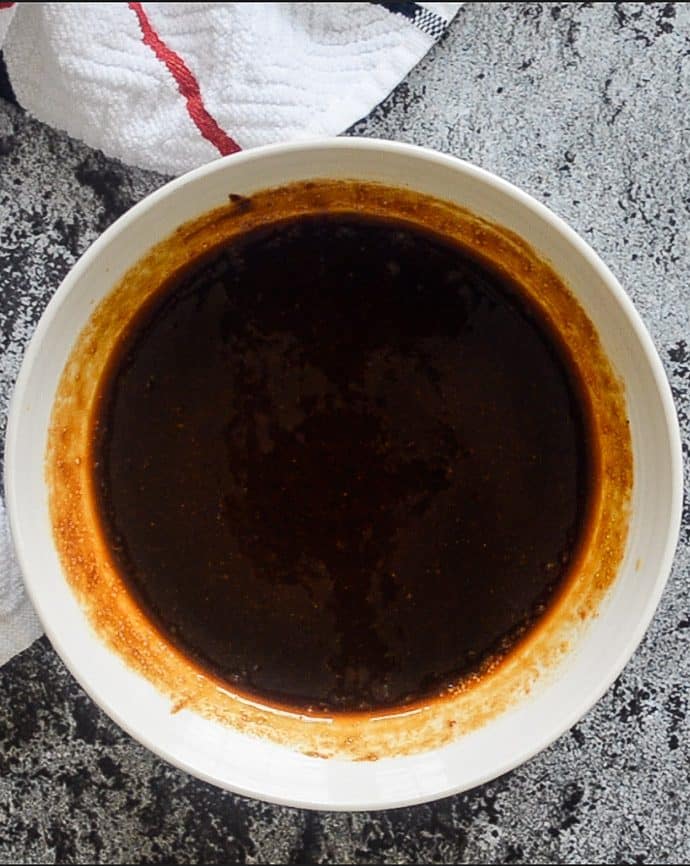 Step 3 - Sauté some onions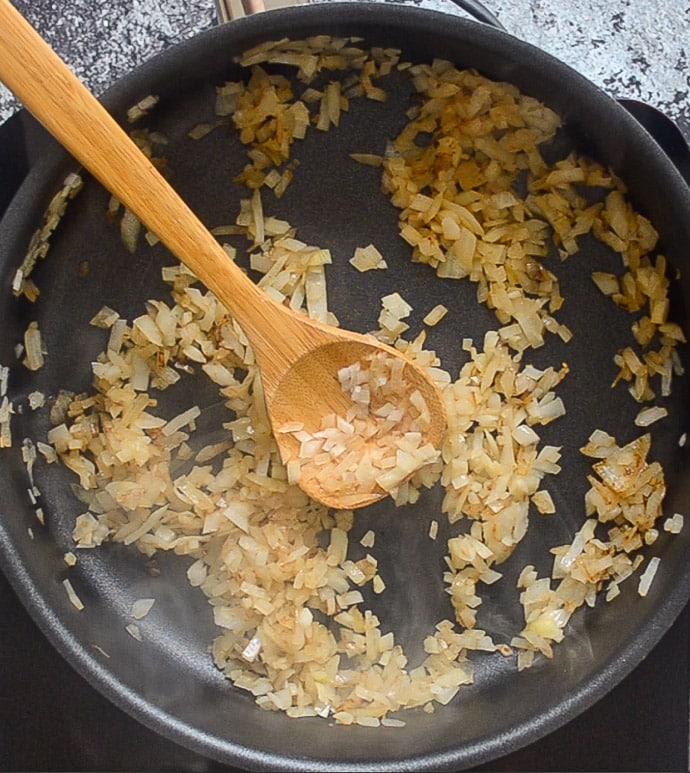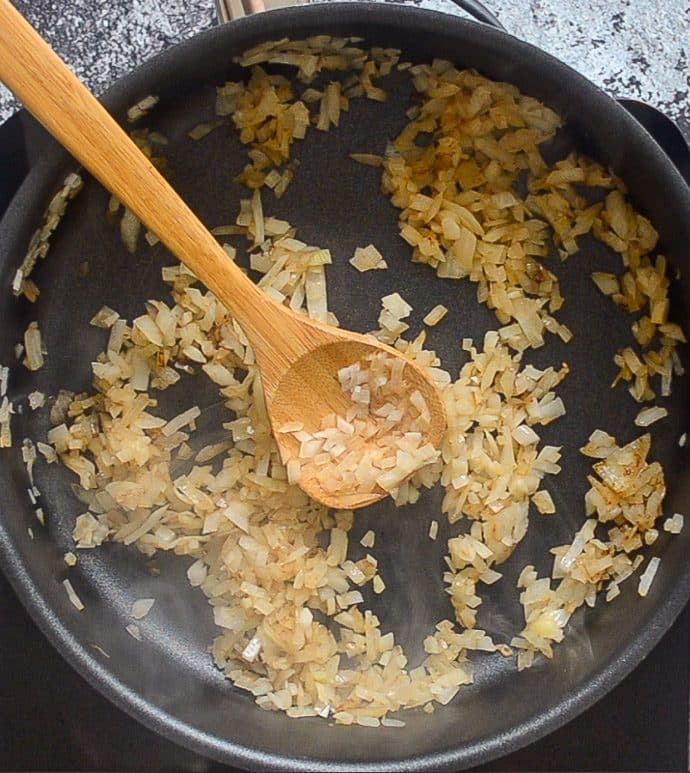 Step 4 - Add the beans (you don't even need to drain them!)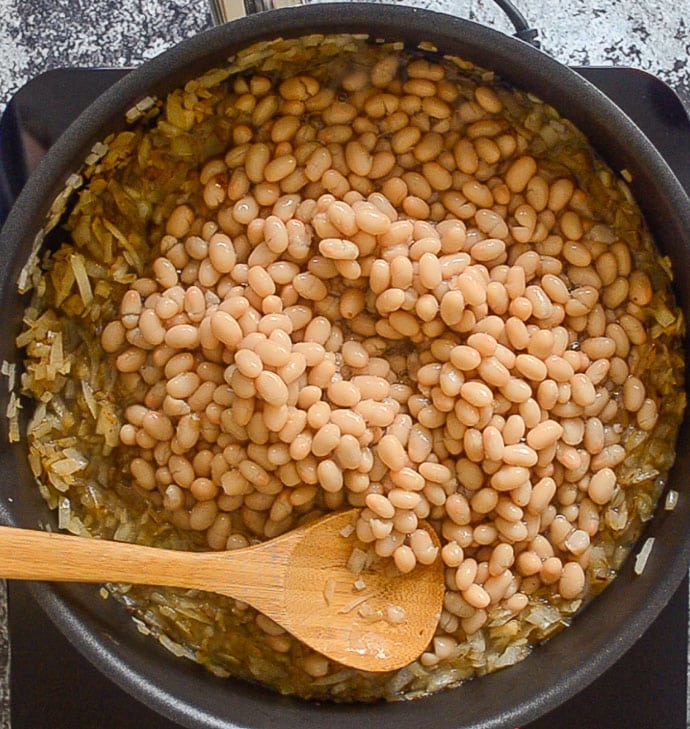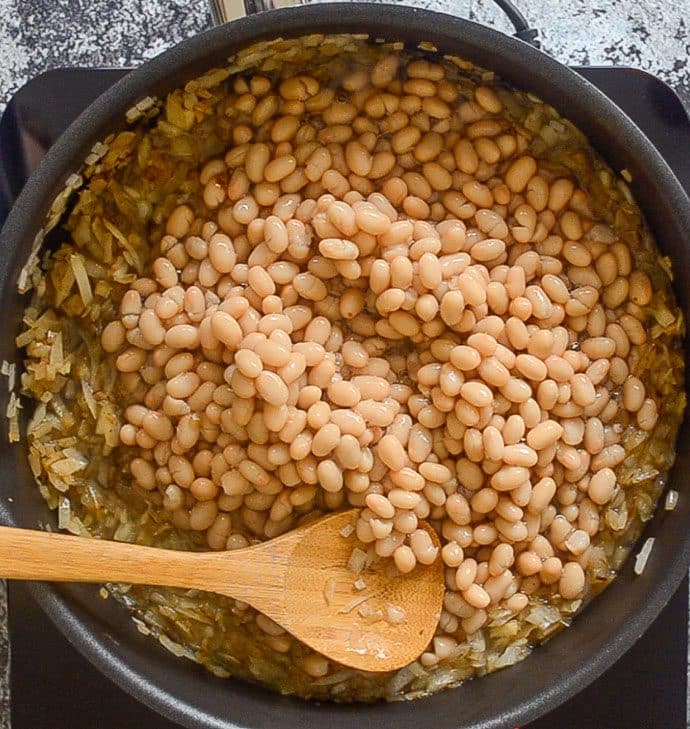 Step 5 - Add the sauce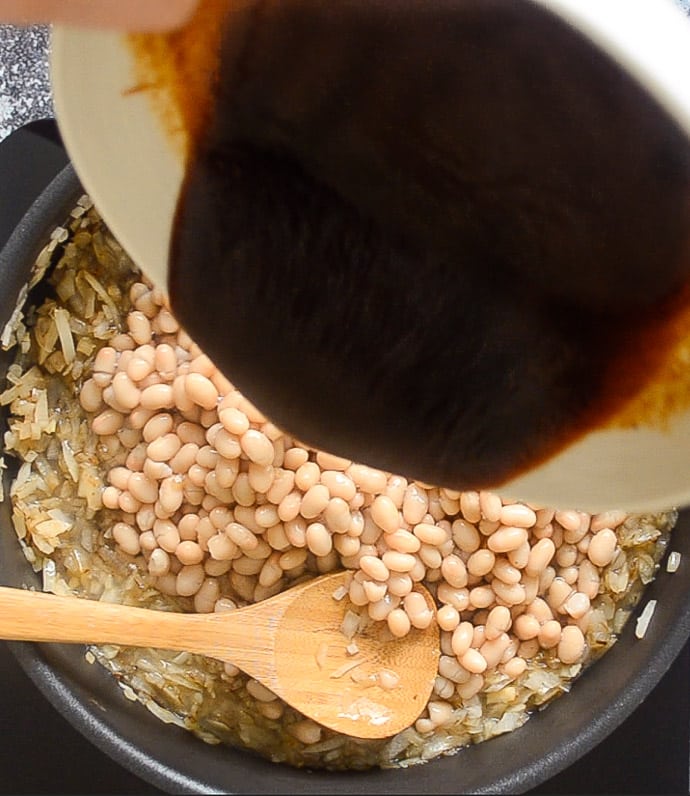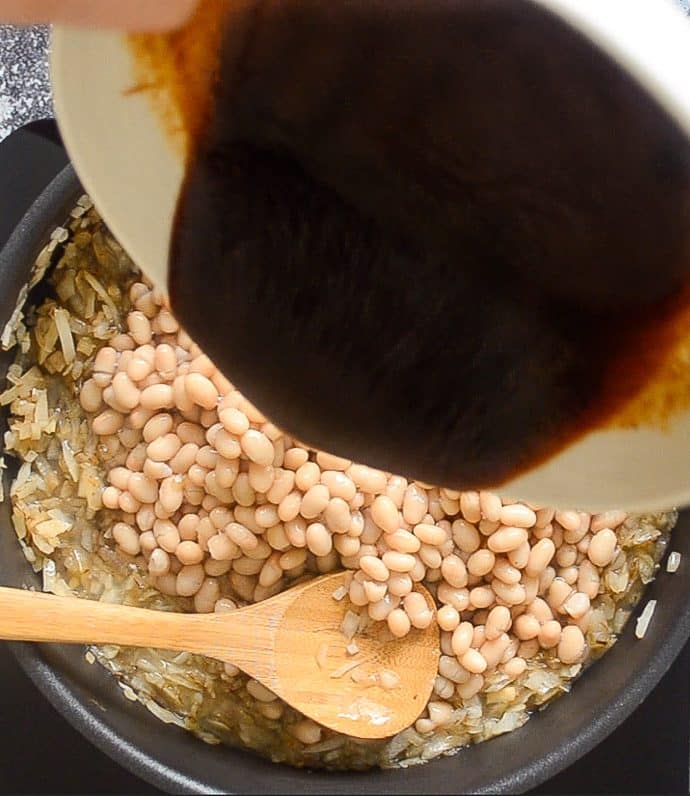 Step 6 - Stir it all up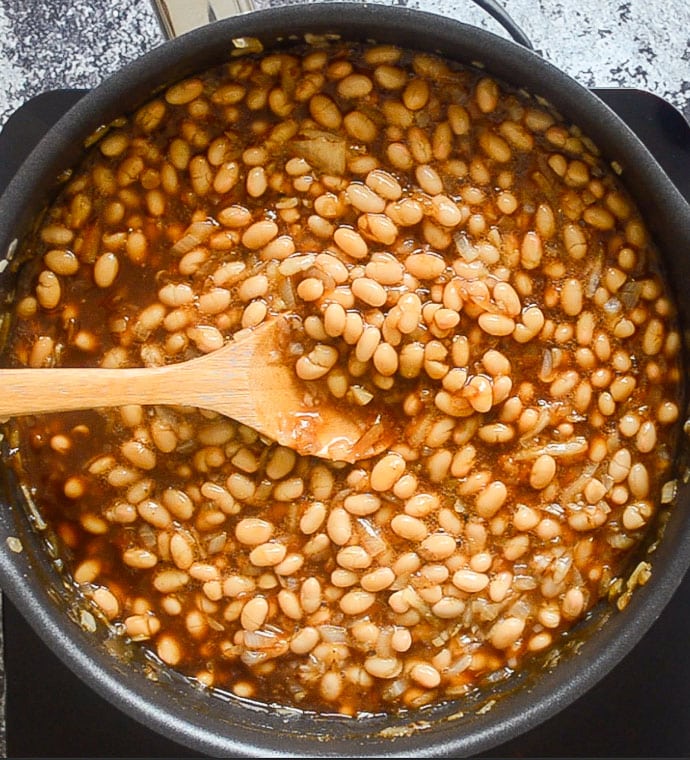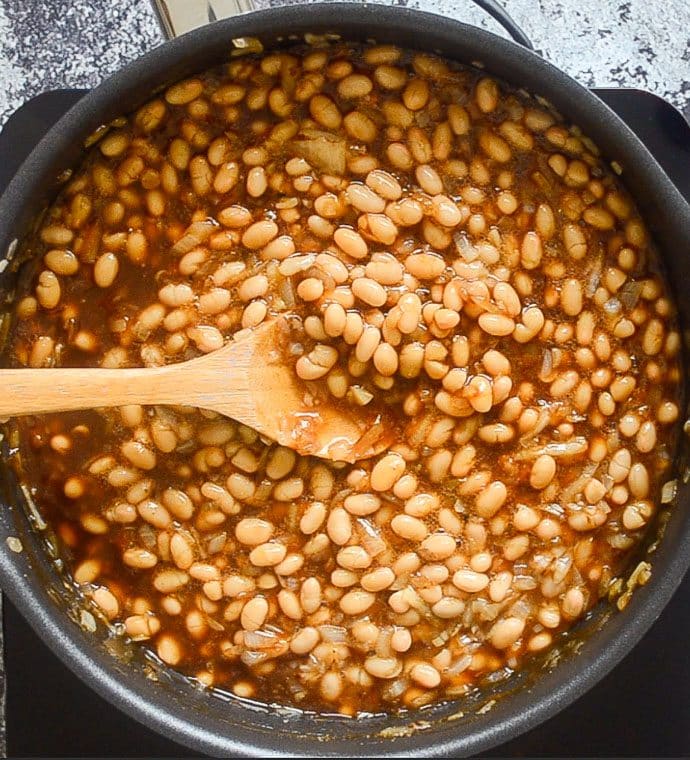 Step 7 - Bake. So much easier than cooking them on the stove-top because you don't even need to stir them!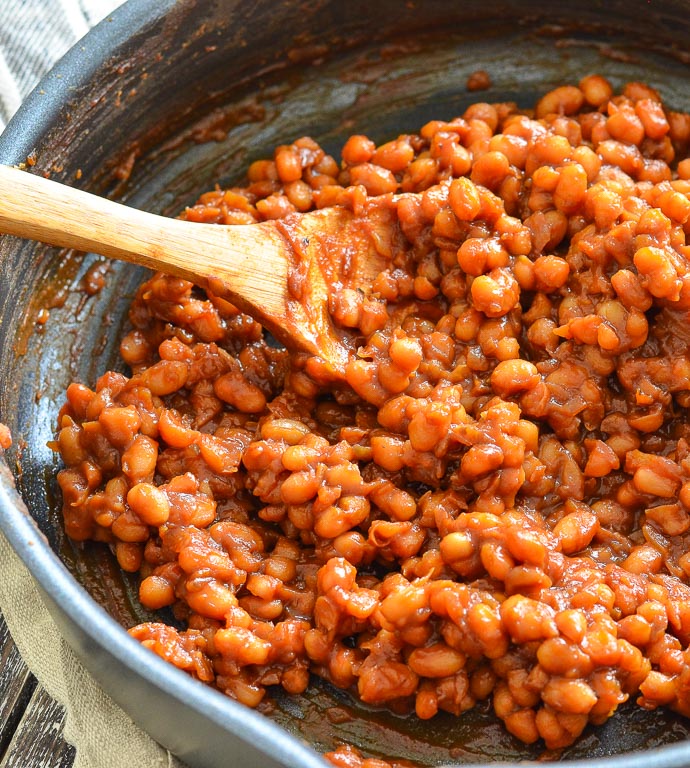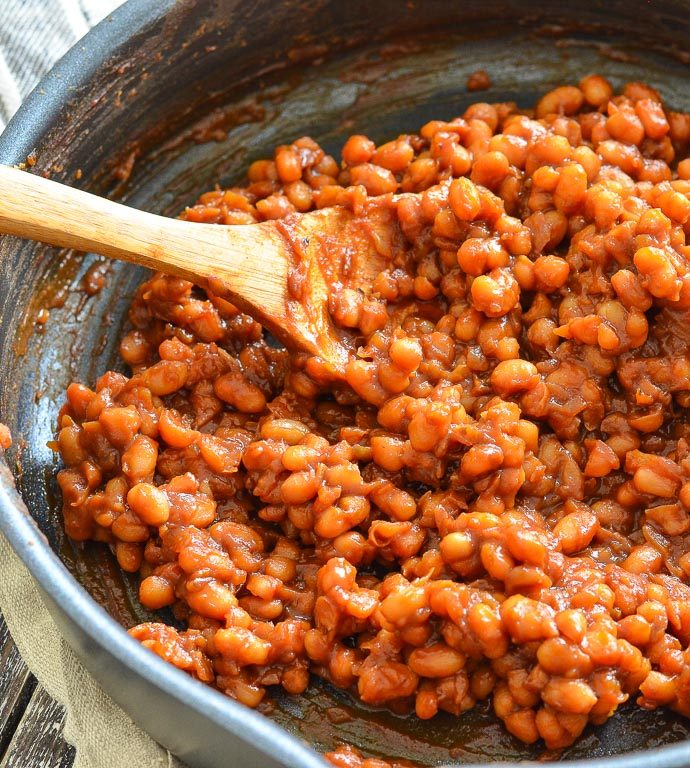 And just look how tender and sticky they emerge!
If you don't own a cast iron skillet
We absolutely loved these BBQ Baked Beans and I wouldn't change the recipe at all, except that I would love to have cooked them in a cast iron skillet as recommended. It really would make a difference to results, but due to a medical condition I am unable to use cast iron pans.
I used the heaviest skillet I own, but to get the beans thick and sticky, I had to cook them much longer than the recipe calls for and they did not get brown, jammy and caramelized like they should. The heat from the cast iron would have done that. It's so annoying and I'm so jealous of all of you cast iron pan owners!
Even without the caramelization, they were still absolutely delish and I will for sure be cooking them regularly here. Just bear in mind that if you do use cast iron, your beans will look pretty different to mine. They will become much darker as the heat caramelizes the sugar in them and they will develop really jammy, caramelized edges. I can only imagine how good they are like that!
So, if you don't own cast iron pans, or you are unlucky enough to suffer from Hemochromatosis like me, then you can still make these Smoky Skillet BBQ Baked Beans. Just cook them on a higher temperature and for a bit longer. I went for 400°F and they took about one hour to get nice and thick and sticky. Keep an eye on them towards the end though just in case.
Next on my list to try are:
Spicy Grilled Corn on the Cob with Cilantro Avocado Sauce
Smoky Tofu Bacon and Pineapple Kabobs
Pulled Shiitake Mushroom BBQ
They all look amazing!
You can grab a copy of the book from all good book stores or from Amazon here.
Did you make this recipe?
Be sure to rate it and leave a review below!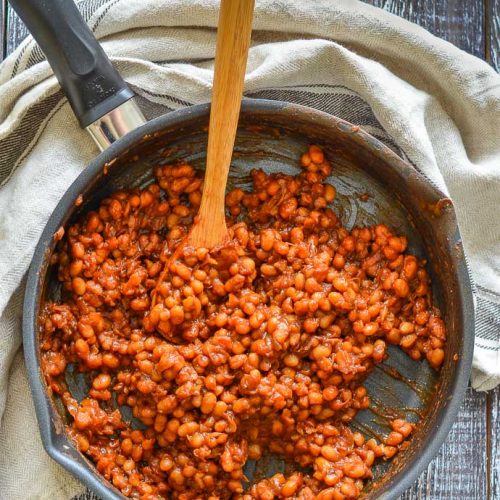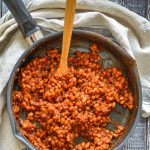 Smoky Skillet BBQ Baked Beans
Author:
After one bite of these you'll never want canned baked beans again. They have just the right amount of sweetness and tenderness that you want in your baked beans. They also have a wonderful smoky flavor, like you'd find in beans with bacon, thanks to the small amount of liquid smoke that we added. We played around with the measurements of the brown sugar and molasses to make them healthier, and not as sweet as what you find in store-bought beans. We're confident that we got it just right. You can make them in a Dutch oven or a casserole dish if you don't have an iron skillet, although iron heats so evenly that you might want to consider investing in one.
Ingredients
60mls / ¼

cup

maple syrup

56g / ¼

cup

brown sugar

30g / 2

tablespoons

tomato paste

15ml / 1

tablespoon

dark molasses

15ml / 1

tablespoon

vegan Worcestershire sauce

1

teaspoon

apple cider vinegar

1

teaspoon

yellow mustard

½

teaspoon

garlic powder

1

teaspoon

liquid smoke

1

teaspoon

extra-virgin olive oil

, or use a few drops of water to sauté with to make oil free

1

medium

yellow onion

, chopped

2

15oz / 425g cans

navy beans

, DO NOT DRAIN
INSTRUCTIONS
Preheat the oven to 350°F

In a small bowl, whisk together the maple syrup, sugar, tomato paste, molasses, Worcestershire sauce, vinegar, mustard, garlic powder and liquid smoke until fully combined.

Heat the oil in a 10-inch (25-cm) cast iron skillet on medium-high heat. When the oil is hot, add the onions and stir to coat in the oil. Cook for approximately 5 to 7 minutes, or until they're slightly caramelized, stirring frequently to avoid scorching.

Reduce the heat to low and add the beans with the liquid in the cans and the maple syrup mixture. Stir until well combined.

Put the cast iron skillet in the oven and bake uncovered on the middle rack for 30 to 45 minutes, or until the beans are thick and the sauce is sticky. The edges of the beans should be caramelized.
NOTES
Recipe reprinted with permission from Page Street Publishing Company and Linda & Alex Meyer of Veganosity.
NUTRITION
Serving:
200
g (⅙ of entire recipe)
Calories:
301
kcal
Carbohydrates:
61
g
Protein:
12.4
g
Fat:
1.7
g
Saturated Fat:
0.3
g
Sodium:
568
mg
Fiber:
15.4
g
Sugar:
21
g
Vitamin A:
100
IU
Vitamin C:
5
mg
Calcium:
160
mg
Iron:
3.8
mg
Nutritional information is provided for convenience & as a courtesy. The data is a computer generated estimate so should be used as a guide only.
Tried this recipe?
Rate it & leave your feedback in the comments section below, or tag @avirtualvegan on Instagram and hashtag it #avirtualvegan