Smoky, smooth tofu, chewy apricot & a colourful salad, tossed with an awesome creamy Asian inspired apricot dressing. Healthy, fresh, vibrant & delicious!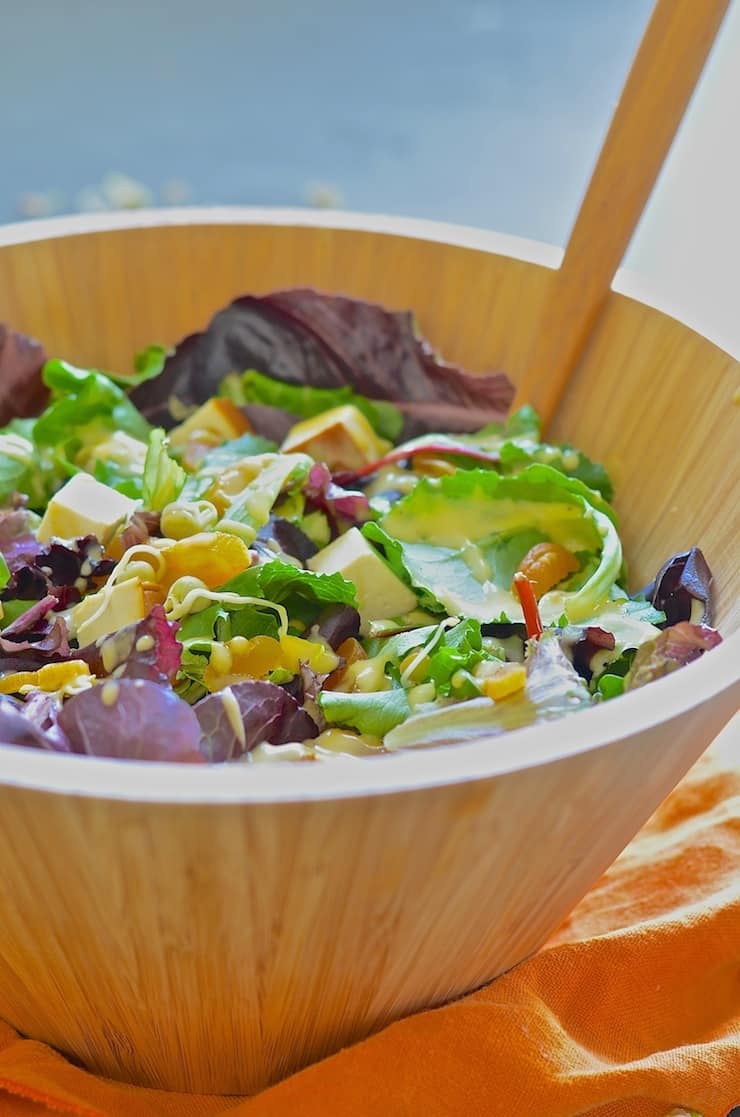 The sun has been shining for the past few weeks and we have been getting out and enjoying it as often as we can. A couple of weekends ago we planned a hike around the historic Kinsol Trestle near Shawnigan Lake.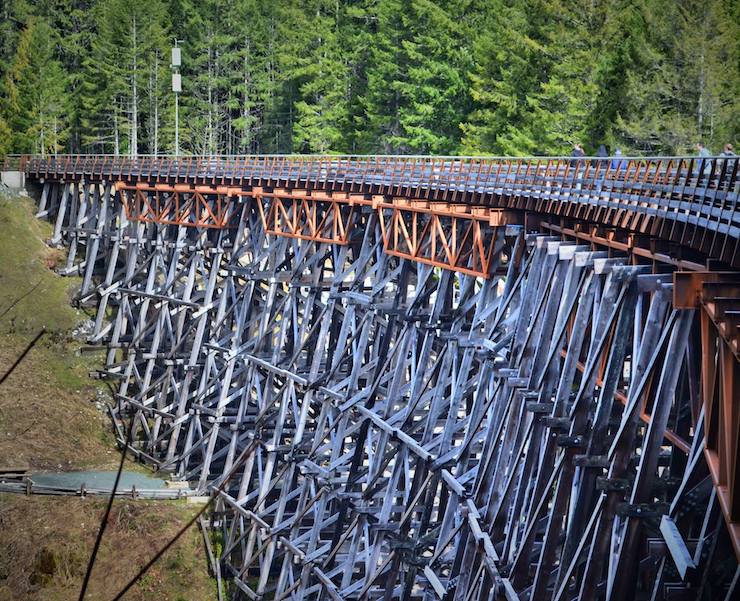 Kinsol Trestle is the largest trestle in the Commonwealth and one of the highest trestles in the world. It's location is just beautiful and is great for exploring.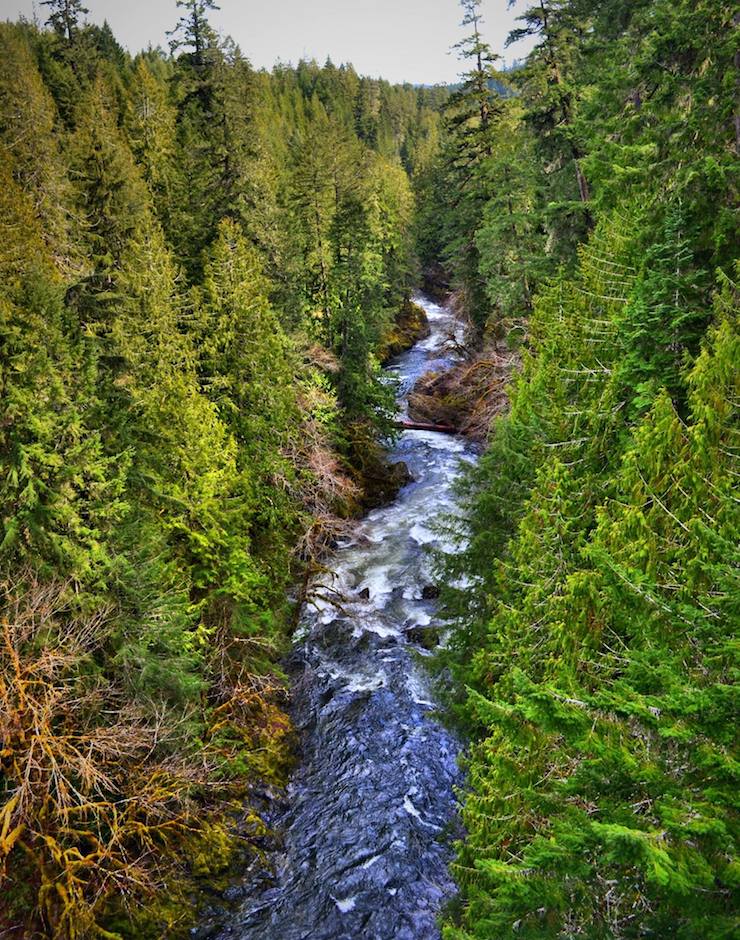 We needed some lunch to take with us but I hadn't been grocery shopping and so made a quick salad with what was left in the fridge.  We took it with us and ate it under the trestle. If you follow me on Instagram you might have seen me post the picture below as we tucked into our Smoked Tofu Apricot Salads.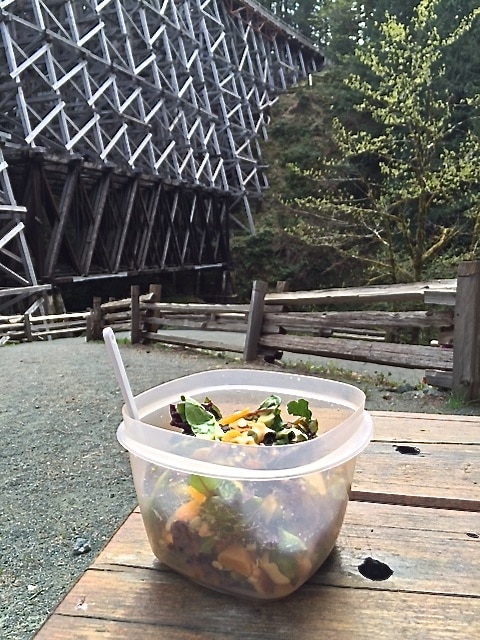 I had a feeling as I made it that it was going to be good (I can never help eating bits and pieces as I go!) but it was only when I started eating it at the trestle that I realized how good it was.
Dried apricots are something that I have never used in a salad before but they are so good in this. Their dense, chewy sweetness adds fabulous texture and compliments the smooth, smoky tofu perfectly.
As well as tasting good they are also incredibly good for you. Although the drying process degrades some vitamins (like vitamin C), other nutrients become more concentrated. Because of this, dried apricots tend to provide higher levels of most nutrients than their fresh counterparts. They are high in fiber, iron, potassium and antioxidants.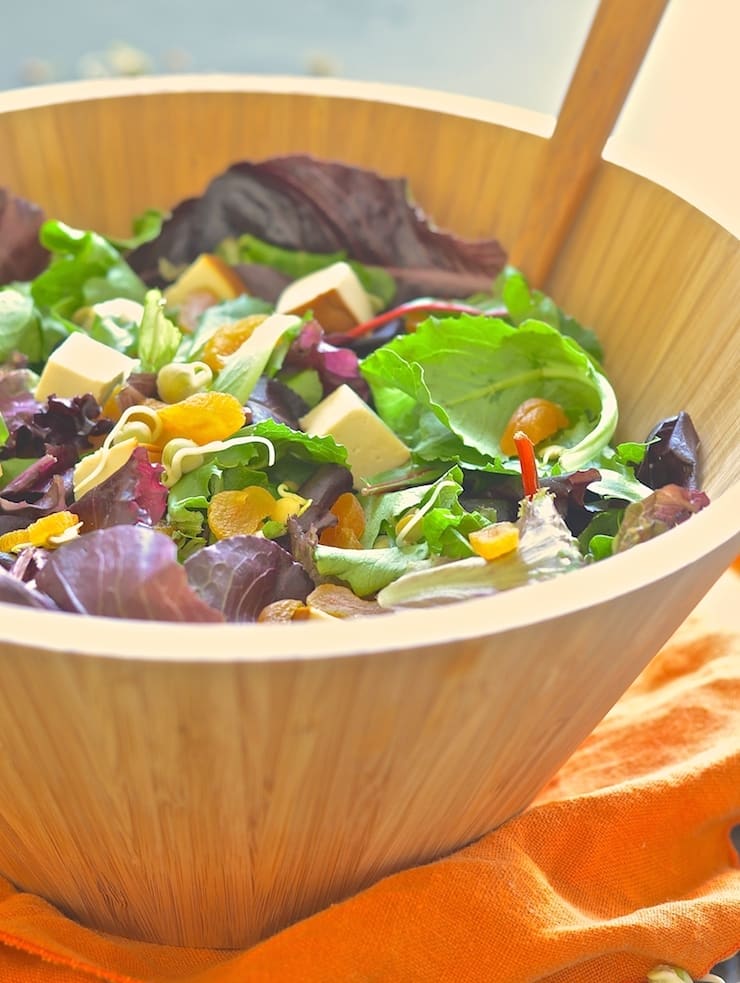 Once thing to watch out for when buying your dried apricots is whether or not they have been treated with sulphur dioxide. Sulphites are used as a preservative and help prevent the growth of bacteria. They also have bleaching and antioxidant properties and help to stop food from discolouring. Sulphites can cause allergic reactions and should be avoided by anyone who suffers from asthma as they can exacerbate the disease.
I try to buy sulphite free dried fruits, but for the purpose of aesthetics and my photographs, I chose to use a sulphured variety this time.  Unsulphured apricots tend to be brown and wouldn't have looked very attractive in my photos. I wanted my apricot pieces and my dressing to have the characteristic yellow/orange colour here and it is totally your choice which variety you use when you make this recipe. Organic dried fruits do not contain sulphur.
Apricots are used in the salad and in the dressing and they give it such a lovely yellow colour, almost as bright as the mango lime purée in Friday's Banana Chia Pudding recipe. The apricots also help to thicken the dressing and make it creamy. The dressing is thick enough to cling beautifully to the salad leaves. Rice wine vinegar, sesame oil and ginger, give it an Asian style flavour which compliments the smoked tofu and the apricot pieces perfectly.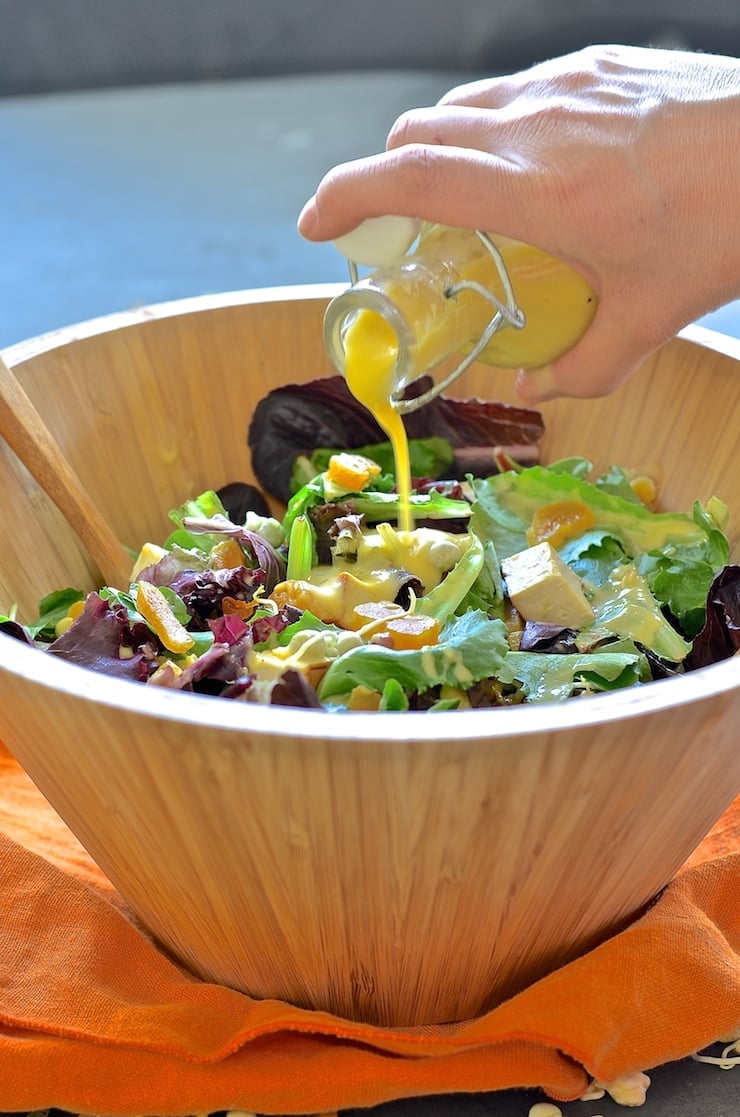 This salad makes a great light lunch or dinner. If you wanted to make it slightly more filling you could toss some cooked rice, noodles or quinoa through it.
Dress only as much salad as you will be eating and store the rest of the dressing in a bottle or jar until it's needed again. By doing this, leftover salad will keep well in the fridge for the life of your salad leaves.
If you try this recipe let me know! Rate it by hitting the yellow stars, comment on it and don't forget to tag a picture #avirtualvegan on Instagram. I would love to see your version!
Smoked Tofu Apricot Salad
Smoky, smooth tofu with a colourful salad, tossed with an awesome creamy Asian inspired apricot dressing. Healthy, fresh, vibrant & delicious!
Print
Pin
Rate
Ingredients
For the dressing
8

dried apricots

, soaked in boiling water for about 15 minutes

2

tablespoons

rice wine vinegar

1

tablespoon

sesame oil

1

tablespoon

nutritional yeast

1/4

teaspoon

dried ginger

1 - 1¼

cup

water

, use the water the apricots were soaking in for extra flavour

salt & pepper to taste
For the salad
1

block

smoked tofu

, cut into small cubes

5 - 6

big handfuls of salad leaves

, use your favourite kind

1/2

cucumber

, chopped

1

cup

dried apricots chopped into slivers

1 cup crunchy mixed sprouted beans ( I use Eat More Sprouts & Greens Mixed Bean Sprouts )

(Optional)
Instructions
For the dressing
Make sure your apricots have been soaked for at least 15 minutes in boiling water.

Drain but reserve the water.

Put the apricots and all of the other salad dressing ingredients into a blender and blend until smooth. Start with less water and add more gradually until the thickness is as desired.
For the salad
In a salad bowl combine all the salad ingredients.

Dress generously with the dressing just prior to serving.
Nutrition
Serving:
1
serving
|
Calories:
270
kcal
|
Carbohydrates:
44
g
|
Protein:
12
g
|
Fat:
8
g
|
Sodium:
301
mg
|
Fiber:
8
g
|
Sugar:
21
g
|
Vitamin A:
103
%
|
Vitamin C:
35
%
|
Calcium:
12
%
|
Iron:
21
%