Luxuriously rich, sweet & creamy, this frosty Salted Caramel Cluster Vegan Shake is the perfect way to chill out and indulge this summer!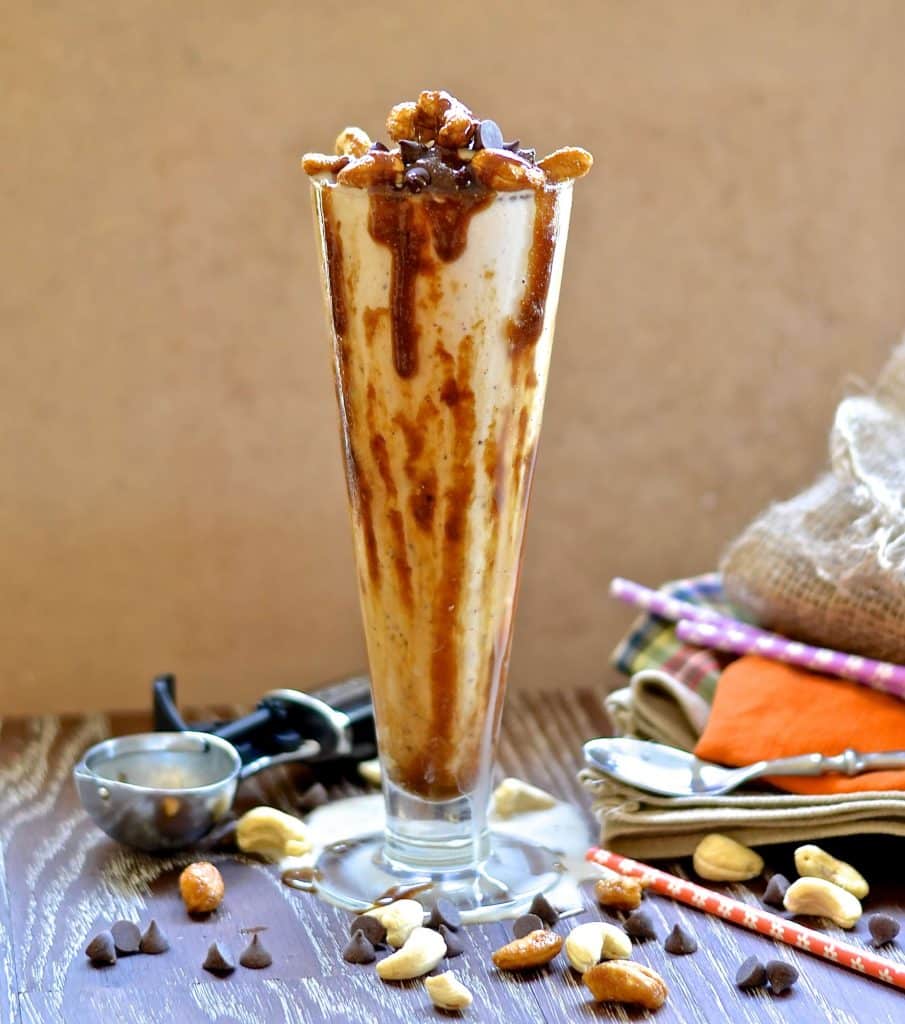 This is a sponsored conversation written by me on behalf of So Delicious. I only ever recommend products that I truly enjoy & use myself & the featured recipe, opinions & text are my own. 
What could be more refreshing on a warm summer day than an icy cold, dreamy, creamy shake? Top that icy cold, dreamy, creamy shake with a hefty drizzle of salted caramel, chocolate chips and candied cashew nuts and you have the most amazing dessert in a glass. Trust me, I had to trial this shake extensively before I shared it with you guys....It's a dirty job but someone has to do it ;o)
On a hot day the last thing you want to do is spend forever in the kitchen fixing something fancy, but although it sounds decadently complicated, this Salted Caramel Cluster Vegan Shake has only 5 ingredients (plus a pinch of salt), and takes no more than 10 minutes to make. That includes the time it takes to make the caramel and the candied nuts. Yes, that's right, in only 10 minutes you could be guzzling this amazing glass of gorgeousness!
The secret to this luxurious shake is So Delicious Salted Caramel Cluster Cashewmilk Frozen Dessert. So Delicious Cashewmilk Frozen Desserts are completely dairy-free, non-GMO project verified, soy free and gluten free. They contain no artificial flavours, colours or sweeteners. So Delicious also has an ongoing commitment to sustainability and ethical working practices. You can read more about their "So Kind Culture" here.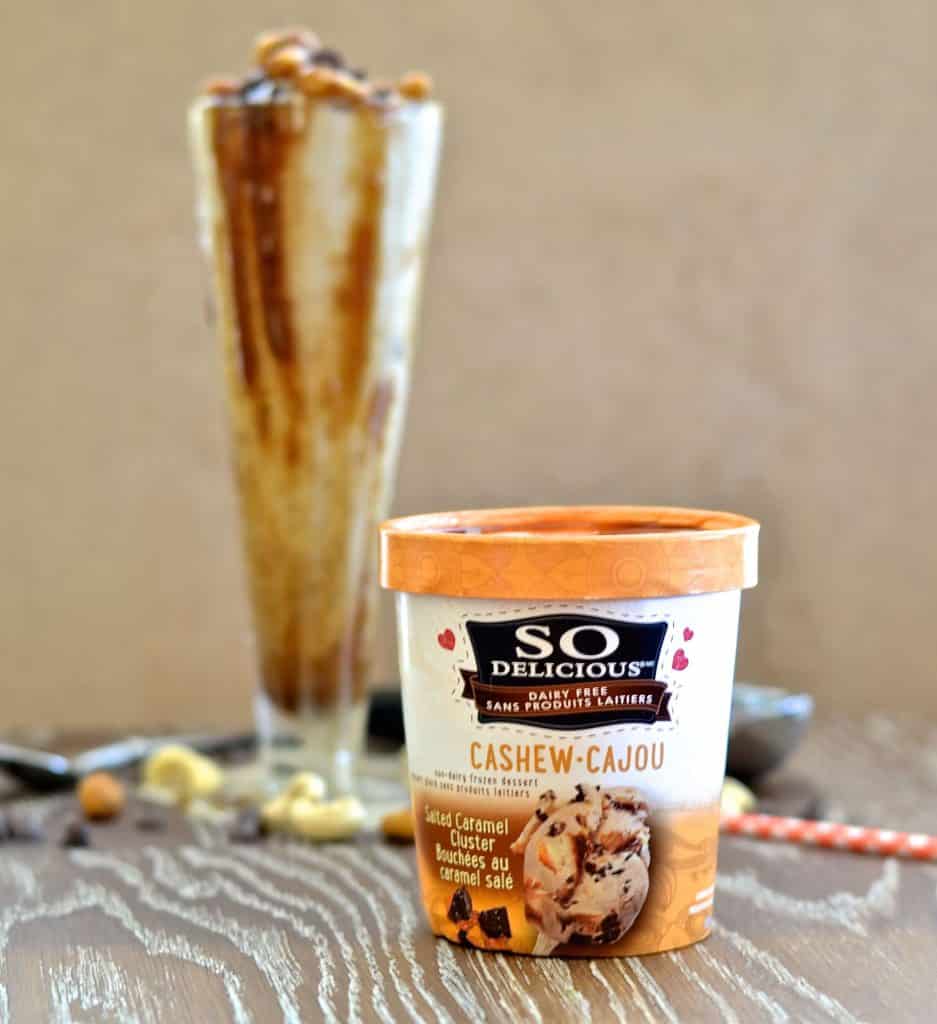 I respect companies that make an effort to work sustainably, especially as they seem to be few and far between, and of course if they have great products too then things are even better. I have tried many dairy-free frozen desserts and the So Delicious cashewmilk ones are by far my favourite. They have absolutely nailed the texture, and the selection of flavours is just out of this world. I have lost many minutes of my life standing in front of a freezer in the grocery store trying to decide which to go for! I love them all, but the salted caramel cluster is the one I end up taking home most often and is the flavour variety I chose to use in my Salted Caramel Cluster Vegan Shake.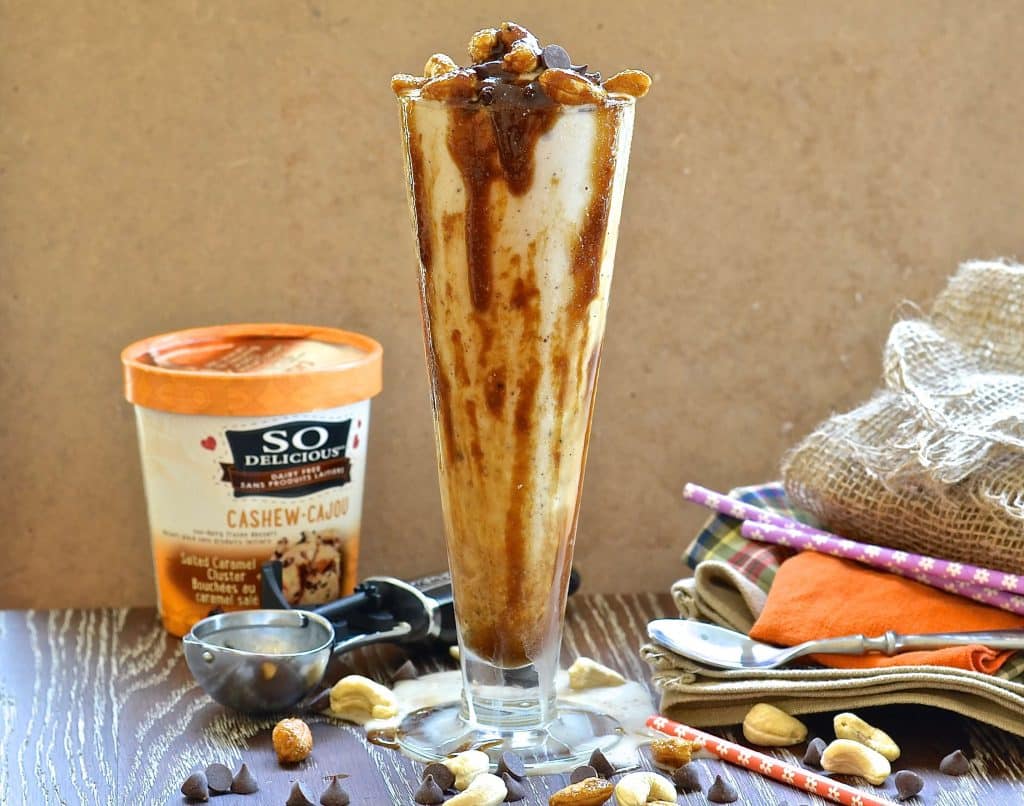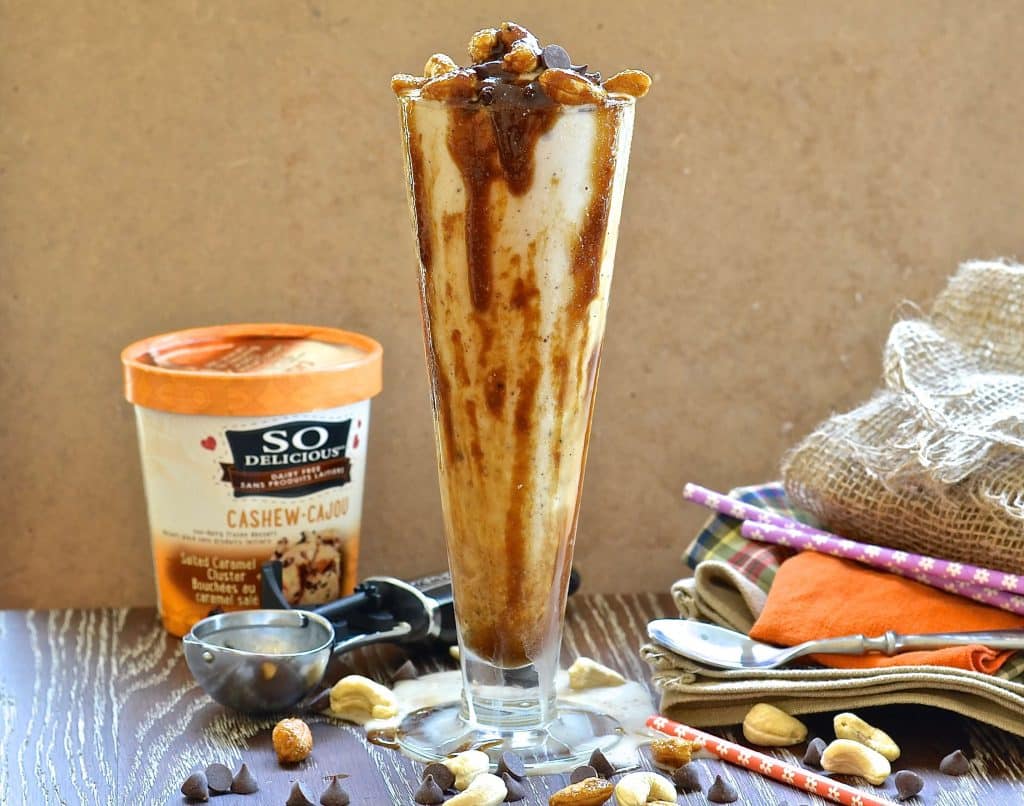 There are a few steps to making this shake but they are all quick and easy and, like I said above, only take about 10 minutes max. First you need to make the salted caramel, and honestly, this is the easiest caramel you will ever make. Ridiculously simple and totally fool proof. Then you make the candied nuts. Sounds difficult but it's not. Just dip them in the caramel and bake for 4 to 5 minutes. Then it's shake time. Blend up a few scoops of deliciously creamy So Delicious Salted Caramel Cluster Cashewmilk Frozen Dessert with some plant-based milk. That's it. Decant, top with all of your goodies and you are good to go!
The Salted Caramel Cluster Frozen Dessert, as the name suggests, is full of oozy salted caramel and chunky chocolate covered  cashews. When blended up with plant-based milk the salted caramel flavour permeates through beautifully. The texture is creamy, smooth and perfectly chilled. For extra decadence I topped my shake with an extra scoop of frozen dessert before drizzling over my salted caramel and topping with the crunchy, candied cashew nuts and a few chocolate chips.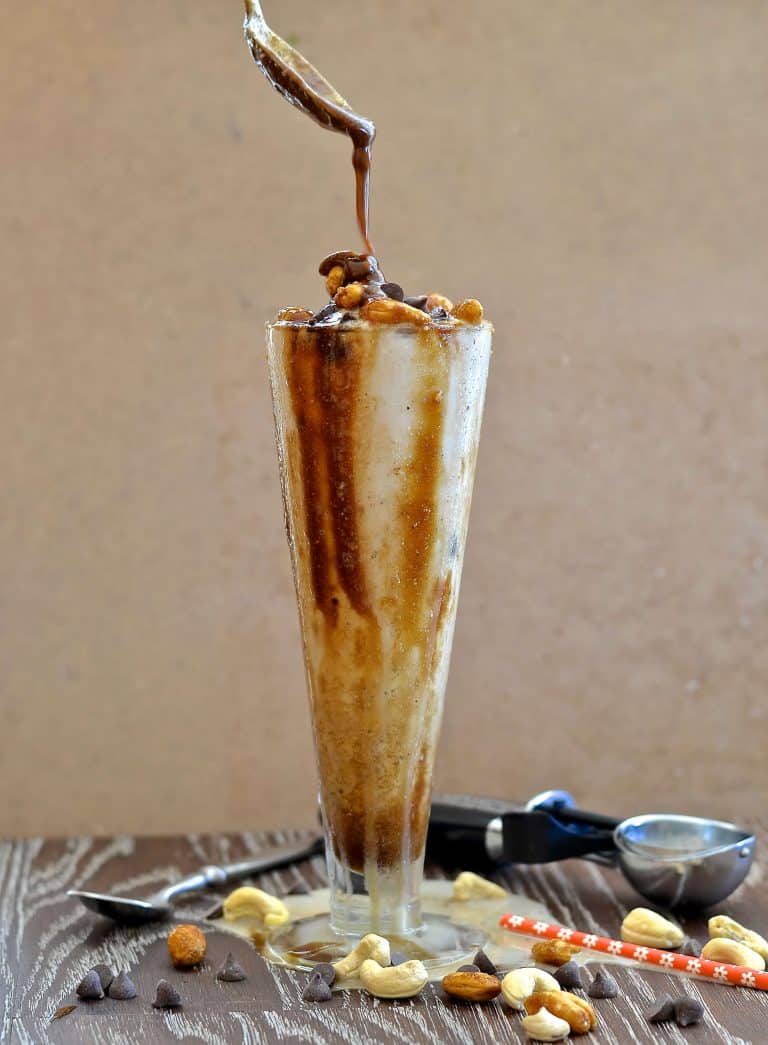 I cannot believe that at the age of 40, I am only just experiencing the downright deliciousness of milkshakes. I didn't ever drink them as a child, which is probably pretty unusual. Although being vegan is still a relatively new thing for me, I have never consumed cow's milk. My parents always tried to get me to drink it but I just never liked the taste and always refused. Perhaps it was a sign of things to come? Now that there is such an array of delicious plant-based milks at my fingertips I will be sure to make up for lost time!
I'd love to know what your favourite So Delicious frozen dessert is. Let me know in the comments below. And, if you try this Salted Caramel Cluster Vegan Shake, please let me know what you think. I love to hear your feedback. You can share your pictures with me on Instagram using the hashtag #avirtualvegan too!
Salted Caramel Cluster Vegan Shake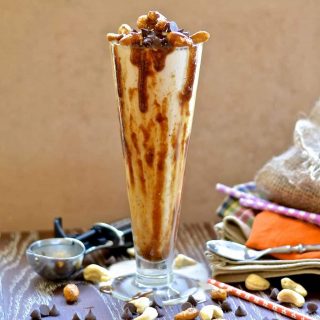 Luxuriously rich, sweet & creamy, this frosty Salted Caramel Cluster Vegan Shake is the perfect way to chill out and indulge this summer!
Ingredients
For the candied nuts
around 6 cashew nuts

(you can use a few more if you like!)

caramel from above
For the shake
3

scoops

So Delicious Cashewmilk Salted Caramel Cluster Frozen Dessert

240mls | 1

cup

of plant-based milk

(I used homemade cashew milk )

A few dairy-free chocolate chips for sprinkling
INSTRUCTIONS
Start by preheating your oven to 350°F

Next make the caramel by putting the coconut sugar and water in a small pan.

Place over a medium heat and cook until the sugar is completely melted and the liquid is just starting to bubble. This only takes a minute or two.

Remove from the heat and stir in the tahini and salt. It will look a little lumpy at first but mash the tahini into it a bit and it will gradually dissolve. If you have problems stirring it in just put it back over the heat for 20 seconds or so.

Once all combined well remove from the heat and allow to cool. It will thicken as it cools and as there is so little of it it doesn't take long at all.

As soon as it is cool enough to handle dip your cashew nuts into the caramel and place on a lined baking sheet. I use a

Silpat

but baking parchment is fine.

Place in the oven and cook for 5 minutes.

Remove and set aside.

Drizzle some of the caramel down the insides of a tall glass, making sure to save some for the topping.

To make the shake pour the milk and the ice-cream into a blender.

Blend until combined and smooth.

Pour into the prepared glass.

If you are feeling extra indulgent like me you can add an extra scoop of

So Delicious Cashewmilk Salted Caramel Cluster Frozen Dessert

to the top of the shake. It will float. if you do this, make sure to leave some room at the top of the glass before adding it as otherwise the shake will spill over the sides of the glass.

Drizzle the remaining caramel over the top of the shake and sprinkle with chocolate chips and candied cashews.

Enjoy at once!
NUTRITION
Serving:
1
large shake
Calories:
740
kcal
Carbohydrates:
103
g
Protein:
13
g
Fat:
35
g
Sodium:
426
mg
Fiber:
4
g
Sugar:
83
g
Vitamin A:
500
IU
Calcium:
560
mg
Iron:
5
mg
Nutritional information is provided for convenience & as a courtesy. The data is a computer generated estimate so should be used as a guide only.
Tried this recipe?
Rate it & leave your feedback in the comments section below, or tag @avirtualvegan on Instagram and hashtag it #avirtualvegan
This is a sponsored conversation written by me on behalf of So Delicious. The opinions and text are all mine. #SoDeliciousDairyFree #ad