Sweet syrupy roasted strawberries served over thick, rich dairy free vanilla bean cream. Extravagantly delicious but so easy to make!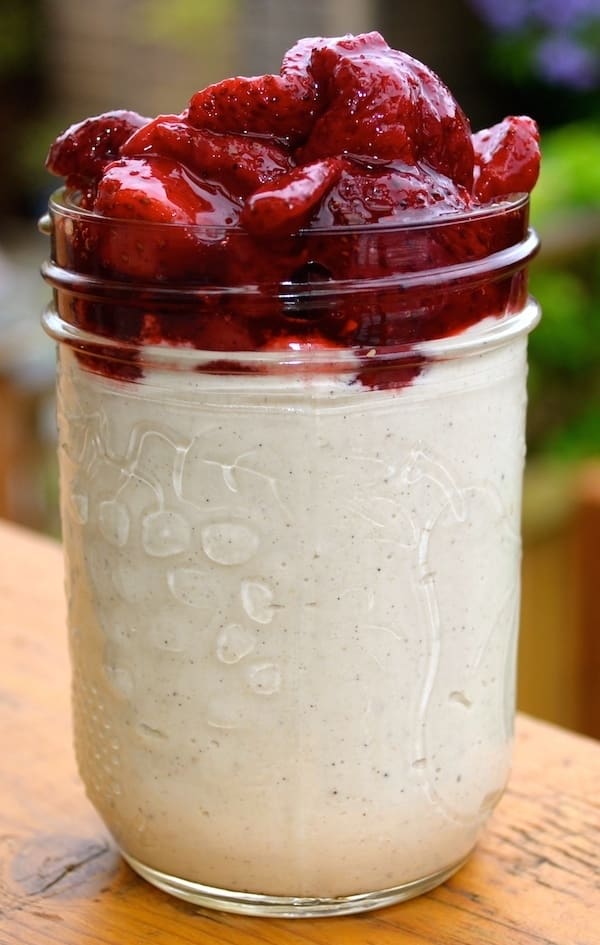 If you have never roasted strawberries before then you need to go do it now!
They are amazing!
I will be honest and say that I had never roasted them myself until a few weeks ago. It hadn't even crossed my mind until I bought  a punnet of strawberries that were a little tasteless as happens sometimes. I was trying to figure out what I could do with them other than throwing them into a smoothie, all whilst roasting some veggies for dinner. Then it dawned on me that I could roast the strawberries too. If roasting vegetables enhances their flavour and makes them much sweeter than they are in their original form then perhaps it would work for strawberries too.
So I did it and OMG they were so good! You know that intense tingly feeling you get in the back of your mouth/jaw occasionally when you eat something really good? Well that happened…
I ate most of them straight off the baking tray but managed to salvage enough to make Roasted Strawberries with Vanilla Bean Cream for dessert.
This Roasted Strawberries with Vanilla Bean Cream dessert is:
Bursting with flavour
Syrupy
Creamy
And I wanted to say 'unctuous' as I kind of like that word, but then I saw this article by the Huffpost entitled "Food Words We Hate" and guess which word is the anti-word of the day?
If you have any of the roasted strawberries left over, they are absolutely great used as a topping for pancakes or waffles! Try them with my Healthy oil-Free Vegan Pancakes For 1  and just subbing the strawberries for the bananas and walnuts!
Yields 2 servings
Roasted Strawberries with Vanilla Bean Cream
Sweet syrupy strawberries served over thick, rich vanilla bean cream
10 minPrep Time
45 minCook Time
55 minTotal Time
Ingredients
For the strawberries

454g (1lb) punnet of fresh strawberries halved or quartered if very large
1/4 cup maple syrup
1/4 teaspoon vanilla bean powder (use vanilla extract if that is all you have but the flavour will not be as good)

For the vanilla bean cream

1 cup soaked raw cashew nuts (measurement is for the dry nuts before soaking / soak for at least 2 hours)
1/2 cup non dairy milk (I used my homemade cashew milk )
1 teaspoon apple cider vinegar
2 tablespoons lemon juice
1tsp vanilla bean powder (can use 1 teaspoon vanilla extract but the flavour will not be as good)
1 tablespoon maple syrup (optional)
Instructions
For the Strawberries

Preheat your oven to 350 degrees F
Wash and allow your strawberries to dry, or pat them dry gently with kitchen paper
Put the strawberries into a bowl and sprinkle over the vanilla bean powder then the maple syrup.
Stir well so they are all coated
Use a good non-stick baking tray or line a tray with a silpat
Pour the strawberry mixture onto the tray and spread them out well.
Place the tray in the oven.
After 30 mins carefully turn each strawberry over. I used a fork and a spoon to do this.
Put back in the oven and cook for another 15 minutes.
Remove from the oven and allow to cool.

For the vanilla bean cream

Add all the ingredients to a blender or food processor.
Blend / process until completely smooth.
Serve the strawberries over the vanilla bean cream or the vanilla bean cream over the strawberries ;O) Your choice!
6.8
https://avirtualvegan.com/roasted-strawberries-with-vanilla-bean-cream/
Melanie McDonald | A Virtual Vegan