This Roasted Pepper Pasta Sauce is bursting with sweet pepper flavour and is so easy to make. Leftovers freeze well or can be diluted and served as soup!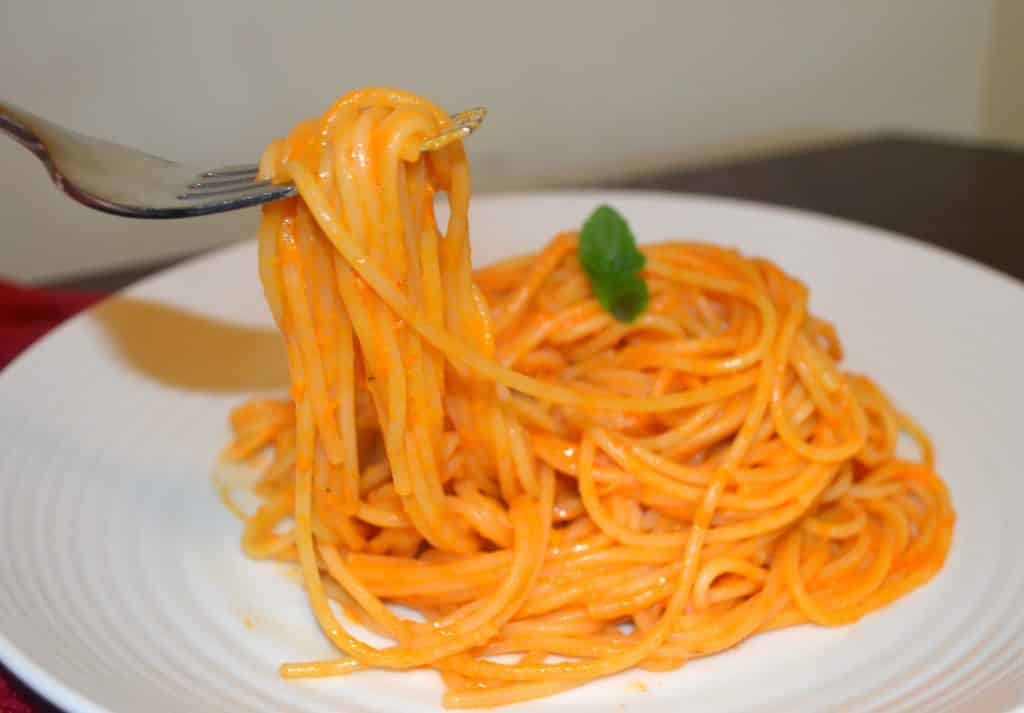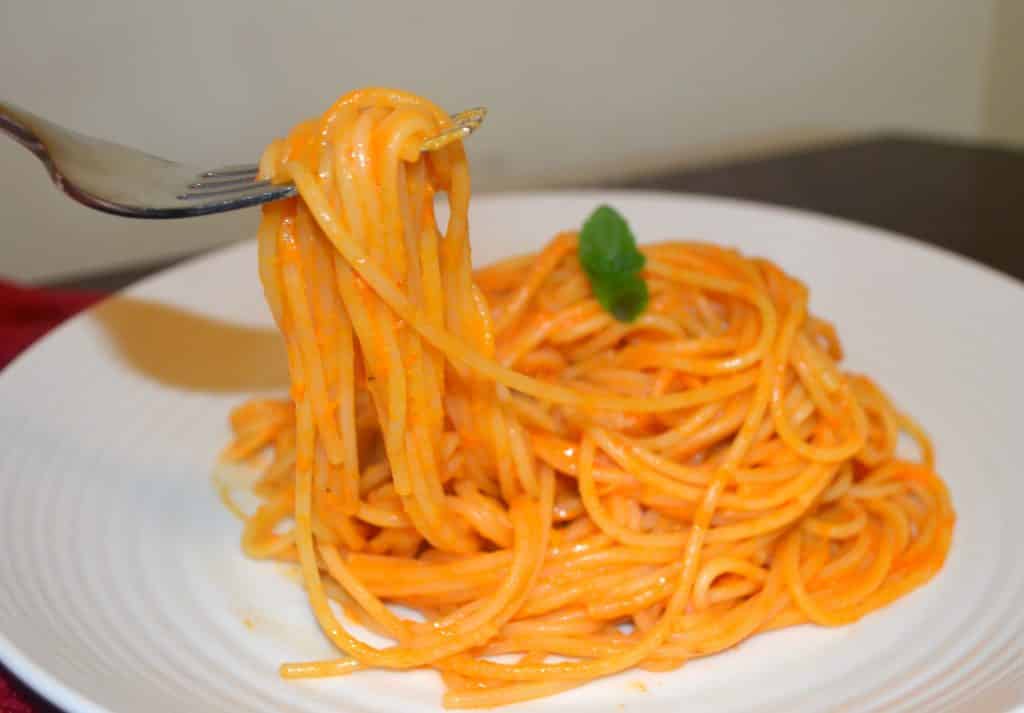 Things have been a bit quiet on the blog for the past few days as I spent a long weekend in Vancouver with my family. We had a great time and I managed to find some great vegan eats as well as a few not so great!
My best find was gelato. Yes, vegan gelato from Bella Gelateria. I love my easy mango banana ice cream but when everyone else is enjoying an award winning gelato in the sunshine you just want to join them. I went into the store fully expecting them to not have anything I could eat, only to be greeted by four flavours which were vegan. How happy was I?  Chocolate gelato in a waffle cone. Perfect on a hot sunny day.
One of the not so great incidents was at a restaurant called Joey Burrard. I ordered Szechuan Edamame Beans which were on their vegetarian menu and which I was told were vegan. The description on the menu said they came with chilli, garlic and soy sauce. They sounded delicious but when they arrived there was no sauce, just a massive pile of steamed beans. Now I love edamame but a bowl of beans is boring even for the biggest bean lover. Apparently the sauce has oyster sauce in it so they did not serve it on my beans. I am very glad that I didn't unknowingly eat the sauce so I can't fault them on that but shouldn't the menu say 'steamed beans' rather than szechuan beans? Thank goodness for Whole Foods on the way home!
Vegan eating out is pretty hit and miss and unless you are lucky it often includes rather a lot of salad, so I was looking forward to getting back in the kitchen, where I can be sure (barring a culinary disaster) that I will get something tasty that I really want to eat.
That was certainly the case tonight with my roasted pepper pasta sauce.
This roasted pepper pasta sauce is so incredibly easy to make and is just bursting with flavour. Throw your vegetables into a roasting pan with some olive oil, herbs and seasoning and roast until very soft. Pour into a blender with some non-dairy milk, nutritional yeast, salt and pepper and blitz.
That's it.
Sauce done.
This recipe makes a lot of roasted pepper pasta sauce. If you don't have a small army to feed please don't worry. Leftovers keep well in the fridge for a few days and also freeze perfectly. My very favourite way to use whats left though is to dilute it with either more non-dairy milk or some veggie stock/water to make a roasted red pepper soup. You then have quick and easy lunches for the next few days. Serve with a big chunk of bread and you're all set.
This recipe does not work in a slow cooker so please do not attempt it that way. I know from personal experience! It needs the oven roasting to be a success.
If you love pasta then you might also enjoy my kale and almond pesto.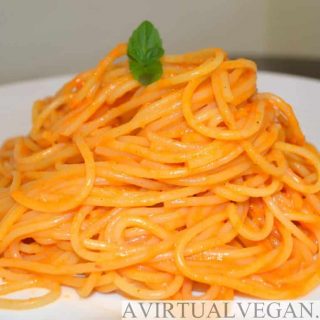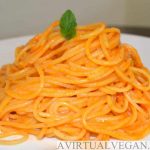 Roasted Pepper Pasta Sauce
Author:
This Roasted Pepper Pasta Sauce is bursting with sweet pepper flavour and is so easy to make.
Ingredients
5

bell peppers

(a mix of colours is good but don't use green as they can be slightly bitter)

1

medium

onion

3

cloves

garlic

120mls / ½

cup

non-dairy milk

3

tablespoons

nutritional yeast

2

tablespoons

olive oil

1

tablespoon

dried oregano

(omit if you don't have any or use mixed dried herbs)

salt and pepper

, to taste
INSTRUCTIONS
Preheat your oven to 400 degrees F.

Cut peppers in half and remove the seeds and stalks.

Peel the onion and cut into large chunks.

Add all of these to a roasting pan.

Drizzle with olive oil,sprinkle all over with oregano, salt and pepper.

Toss together with your hands and make sure everything is coated in oil.

Put in the oven and roast until very soft and starting to colour (mine took about an hour).

Remove the vegetables from the oven and put them all in a

blender

making sure you pour in any remaining juices/oil too.

Add your nutritional yeast and non-dairy milk.

Blitz until completely smooth.

Taste to check the seasoning and add more salt and pepper if necessary.

Pour into a saucepan and warm gently while you cook your spaghetti.

Do not let the sauce boil.

Cook enough pasta for the number of people you are feeding (I use 100-125g of pasta per person depending on how hungry we are) as per the instructions on the packet. You can use gluten free pasta or even

zoodles

if you prefer. I love my

spiralizer

!

Serve immediately.

Cool your leftovers and either freeze or refrigerate.
NUTRITION
Serving:
1
serving
Calories:
73
kcal
Protein:
3
g
Fat:
4
g
Sodium:
20
mg
Fiber:
3
g
Sugar:
3.7
g
Vitamin A:
2350
IU
Vitamin C:
132.8
mg
Calcium:
50
mg
Iron:
0.7
mg
Nutritional information is provided for convenience & as a courtesy. The data is a computer generated estimate so should be used as a guide only.
Tried this recipe?
Rate it & leave your feedback in the comments section below, or tag @avirtualvegan on Instagram and hashtag it #avirtualvegan