This juicy, super tasty Portobello Fajita Salad tastes like summer with a twist! We're talking spicy fajita vegetables, black beans, crispy lettuce and a tangy avocado dressing for an extra pop of flavour. This recipe is from Vegan Yack Attack On The Go and you can enter for a chance to win your very own copy at the end of this post!
This quick and easy Portobello Fajita Salad is the perfect summer recipe.
Healthy, light, quick and super tasty, it makes a great dinner and is also perfect for making ahead or packed lunches.
Just like my Strawberry Spinach Salad, it's super easy to make and it's packed with flavour.
This Portobello Fajita Salad is one of many tasty, developed for real-life recipes in Jackie Sobon's new book, Vegan Yack Attack On The Go.
Jackie is the creator of the blog Vegan Yack Attack and her book includes recipes perfectly suited to vegans who are always on the go and who find it hard to eat well while still maintaining their plant-based lifestyle. People who need options they can make in advance, take with them, or prepare quickly and easily once they get home after a busy day.
Vegan Yack Attack On The Go has all these scenarios covered and more. It's the cookbook you will use over and over again, with recipes developed for real life. Real life on the go!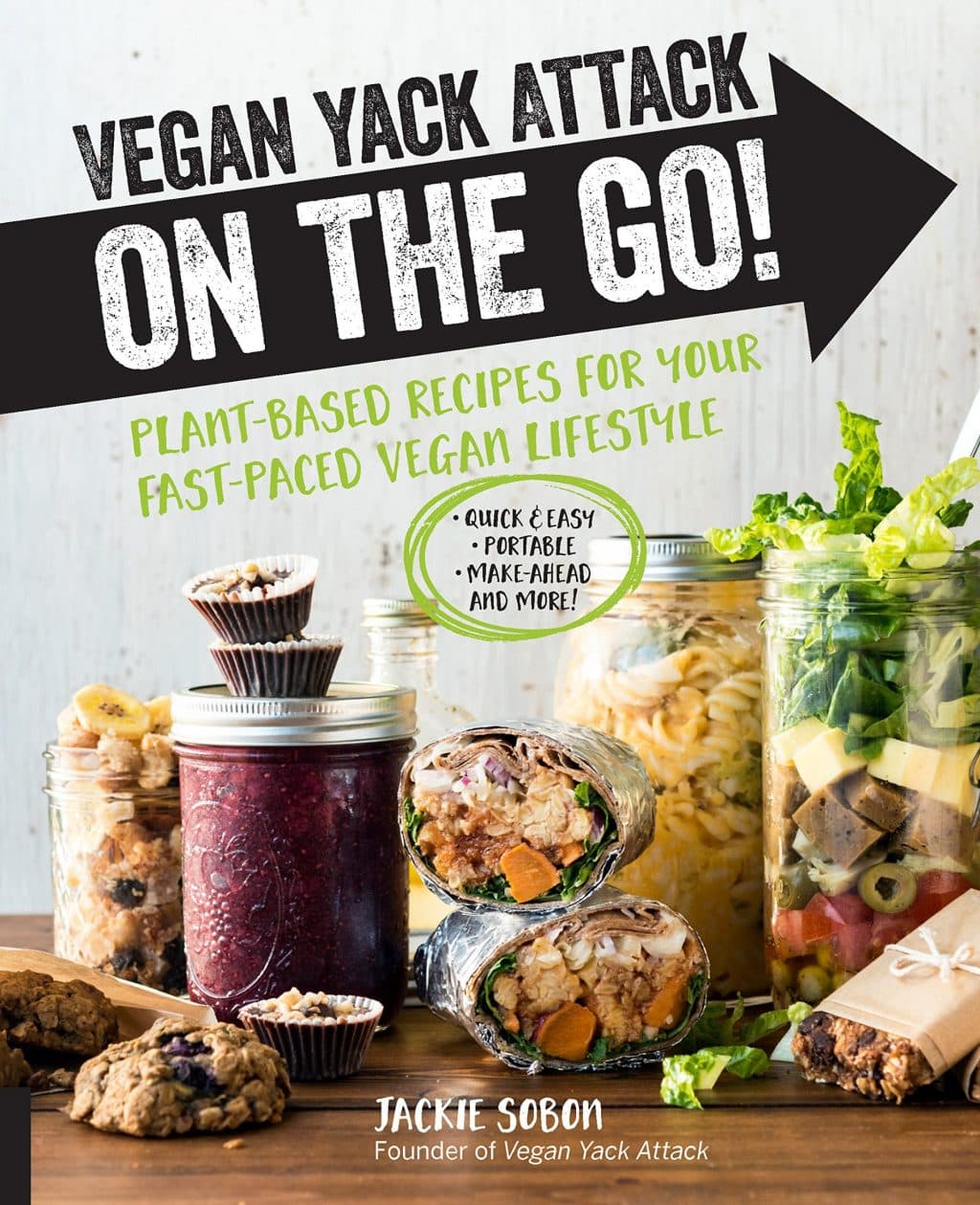 And by the way, I'm not paid for any cookbook promotions or anything, although I do get a free book ????. I just enjoy sharing the books I like with you and giving you a sneak peak of a recipe!
I really like this book and can't wait to explore it fully once I've finished writing my own cookbook, which is currently taking up literally ALL of my time.
Vegan Yack Attack On The Go has a great balance of recipes with chapters including:
Vegan Eating Made easy
Quick Breakfasts, Snacks & Treats
Prep-Ahead Recipes
Lunch Box Stuffers
Meals in 30  Minutes Or Less
Bulk Cooking
Food On The Move
Make Your Own Staples
I chose to feature the Portobello Fajita Salad after running a poll on my Facebook page because I couldn't decide between the recipes I was given to choose from. It was the most requested recipe by far. Plus it can be eaten warm or cold so it's great for making extra so there are leftovers for packed lunched or another day. ????
The Portobello Fajita Salad is a mix of sautéed onions, poblano peppers, bell peppers, jalapenos and portobello mushrooms, atop a bed of fresh crispy romaine lettuce, with black beans and a creamy, tangy avocado dressing. Totally delish!
HOW TO MAKE PORTOBELLO FAJITA SALAD
---
FOR INGREDIENTS & FULL INSTRUCTIONS PLEASE SEE THE RECIPE CARD AT THE END OF THIS POST
---
It's so quick and easy and comes together in less than 30  minutes.
Here's how it's done!
STEP 1
Make the dressing by simply blending up all of the ingredients.
STEP 2
Sauté the vegetables
STEP 3
Assemble on plates and drizzle with dressing to your hearts content!
Super simple. Super tasty and I know you're going to love it!
---
DID YOU MAKE THIS RECIPE?
If you did, be a ☆ and let me know what you think by rating it and commenting below. Tag me on Instagram too. I am @avirtualvegan and my hashtag is #avirtualvegan 
Portobello Fajita Salad
Author:
There is a restaurant that I used to frequent regularly with family that had really good fajita dishes, served with a magical green sauce and fluffy cornbread-like balls on the side. While I don't find myself there anymore, this fajita salad is even better than the dish I remember!
Ingredients
FOR THE AVOCADO DRESSING:
½ cup / 120

g

mashed avocado

¾ cup / 175

ml

water

¼ cup / 60

ml

lime juice

2 tablespoons / 30

ml

olive oil

2 teaspoons / 10

ml

agave nectar

1

clove

garlic

peeled

¼

teaspoon

salt

½ cup / 10

g

fresh cilantro
FOR THE FAJITA SALAD:
1½ tablespoons /25

ml

sunflower oil

1 cup / 120

g

slivered red onion

1

sliced poblano pepper

1 cup / 100

g

1sliced bell pepper

, mixed colors

2 tablespoons / 15

g

sliced jalapeño

8 oz / 225

g

sliced portobello mushrooms

½

teaspoon

salt

⅛

teaspoon

black pepper

8 oz / 225

g

romaine lettuce

, chopped

1 15 oz (425

g) can

black beans

drained and rinsed

¼ cup / 10

g

dried sweet corn

, (optional)
INSTRUCTIONS
TO MAKE THE DRESSING:
Place the avocado, water, lime juice, olive oil, agave nectar, garlic, and salt in a blender. Purée until completely smooth. Add the cilantro and pulse until the leaves are broken up into smaller pieces. Transfer the dressing to a squeeze bottle or jar, and refrigerate.
TO MAKE THE FAJITA SALAD:
In a large pan, warm the oil over medium-high heat. Once hot, add the red onions, poblano pepper, bell peppers, and jalapeño to the pan. Sauté for 5 to 7 minutes, browning the pepper mix on a couple sides and stirring occasionally. Once the onions are nearly translucent, add the mushrooms to the pan. Continue to sauté for 5 minutes, or until the mushrooms have decreased in size and are browned on the edges. Season with salt and pepper.

Divide the lettuce between 4 plates, then top with black beans and fajita veggies. Drizzle dressing over the salad, or serve it on the side. Garnish with the optional dried sweet corn, and serve.
NOTES
You can make this salad ahead of time, with the dressing on the side, and chill the fajita veggies, as they still taste great cold.
NUTRITION
Serving:
1
of 4 servings
Calories:
311
kcal
Carbohydrates:
34
g
Fat:
17.7
g
Saturated Fat:
2.2
g
Sodium:
557
mg
Fiber:
11
g
Sugar:
7
g
Vitamin A:
6250
IU
Vitamin C:
104
mg
Calcium:
60
mg
Iron:
2.7
mg
Nutritional information is provided for convenience & as a courtesy. The data is a computer generated estimate so should be used as a guide only.
Tried this recipe?
Rate it & leave your feedback in the comments section below, or tag @avirtualvegan on Instagram and hashtag it #avirtualvegan