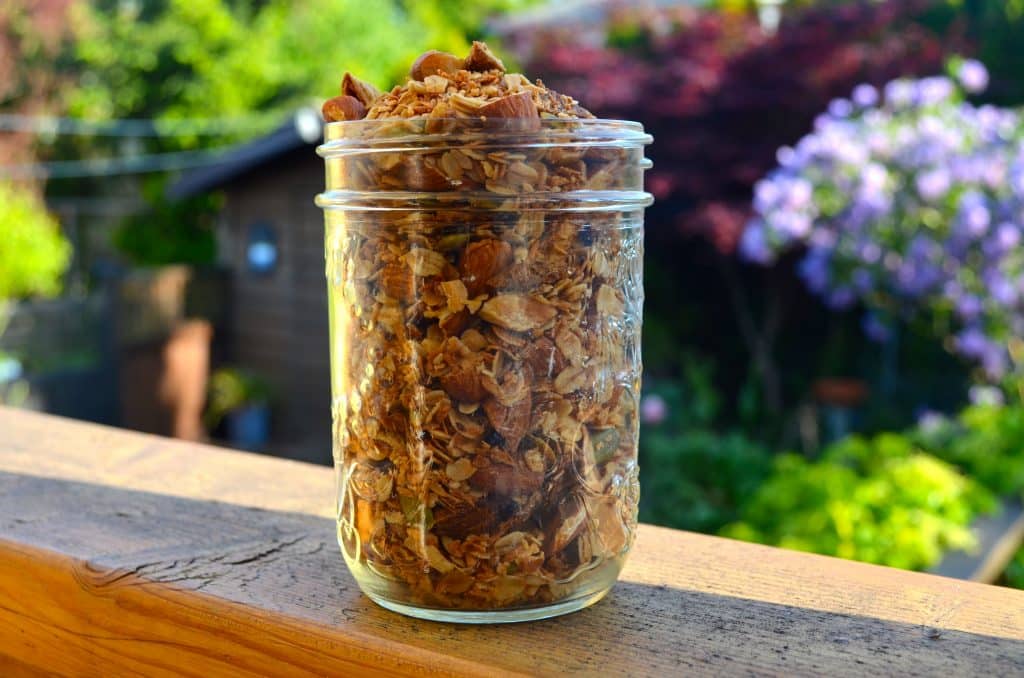 Granola in the grocery stores is often pretty expensive and loaded with sugar. Homemade works out a lot cheaper, its really easy and you can control how much sugar goes into it. A win, win situation!
This Pineapple Coconut Granola is great. You really need to try it!
It is tasty, crunchy and chewy and great for snacks, for breakfast with non – dairy yoghurt (check out my Yogurt Parfait with Granola and Raspberries recipe) or with milk. Cashew Milk is a great accompaniment but if you would like a cheaper option then Oat Milk is a winner.
If you prefer a clumpier granola then you can increase the maple syrup and the coconut oil to half a cup each.
This granola keeps well for a few weeks if stored in an airtight container.
Pineapple Coconut Granola
Crunchy, chewy tropical tasting granola!
10 minPrep Time
30 minCook Time
40 minTotal Time
Ingredients
2 cups rolled oats
1/4 cup pumpkin seeds (pepitas)
1 cup raw almonds
1/2 cup shredded coconut
1/4 cup coconut oil (liquid measurement)
1/4 cup maple syrup
1/4 teaspoon salt
1 cup dried pineapple chopped
Instructions
Preheat your oven to 350 degrees F
Line a large baking tray with parchment paper or a silpat .
Mix all the dry ingredients except the pineapple in a bowl.
Add the liquid coconut oil to the mixture and stir well.
Add the maple syrup to the mixture and stir well again.
Pour out onto your baking sheet and spread out into a thin layer
Bake in your preheated over for 15 mins.
Remove from oven and shake it around a bit then put it back in the oven.
Bake for another 15 minutes.
Remove from the oven and let cool on the tray completely.
Sprinkle over the dried pineapple and transfer to a sealed container for storage, (I use a large mason jar ).
6.8
https://avirtualvegan.com/pineapple-coconut-granola/
Melanie McDonald | A Virtual Vegan
Never Miss A Recipe – Join my mailing list.
Simply add your email and name in the boxes below and click the 'sign me up!' button.