Chocolate & coffee join forces with nutrient-rich, power-giving nuts & seeds in these moist & decadent Mocha Hazelnut Power Balls. A healthy, energy-boosting snack has never tasted so good!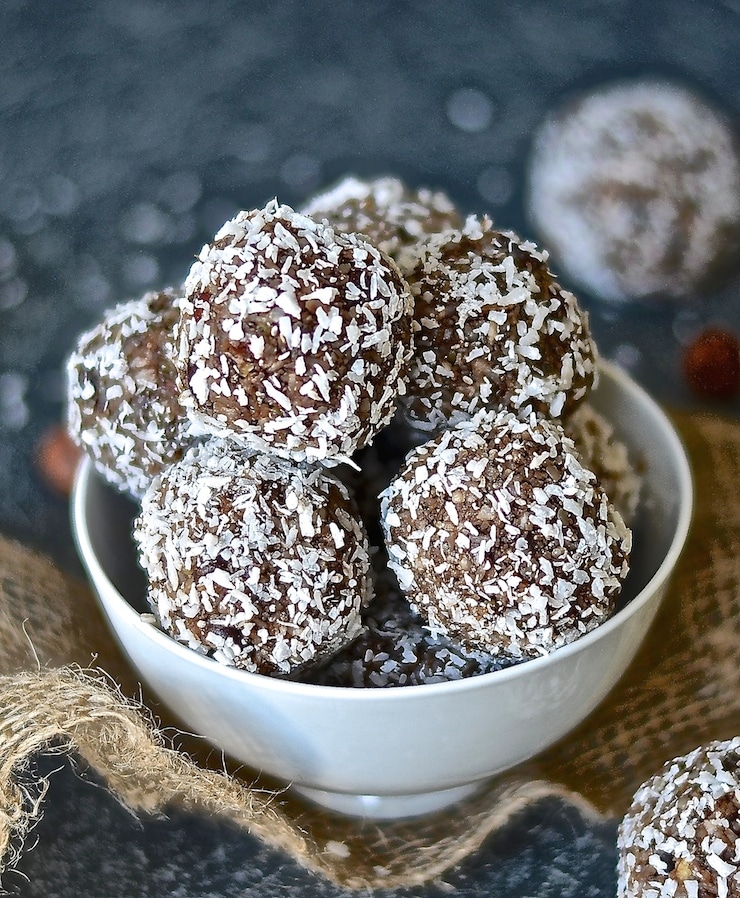 Coffee and chocolate is such a winning combination. Throw a few hazelnuts in the mix too though and you take things up a notch. These Mocha Hazelnut Power Balls are knock the ball out of the park delicious. So good that you can eat them as a decadent treat or as an energy boosting snack pre or post workout.
My Mocha Hazelnut Power Balls are just bursting with healthy ingredients but the two most impressive additions are the hemp and chia seeds. Both of these are nutrient filled power houses.
Hemp seeds are packed with protein, amino acids, essential healthy fats, phytonutrients, omega 3 and omega 6.  They are known to increase energy, improve digestion, lower cholesterol, control blood sugar and can help provide relief from arthritis.
Chia seeds are loaded with protein, calcium, fibre, antioxidants and omega 3.   They help lower the risk of heart disease and Type 2 Diabetes, maintain healthy bones and teeth and aid digestive health.
Each Mocha Hazelnut Power Ball is a super fuelled, energy boosting snack that tastes totally amazing and is good for you.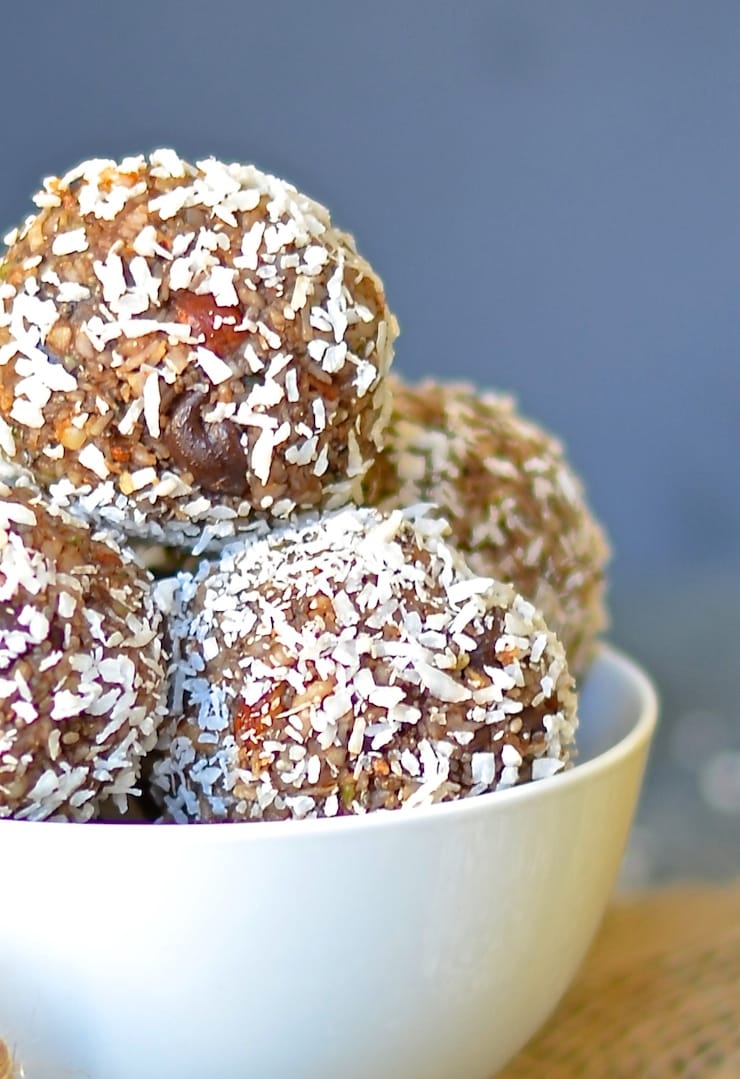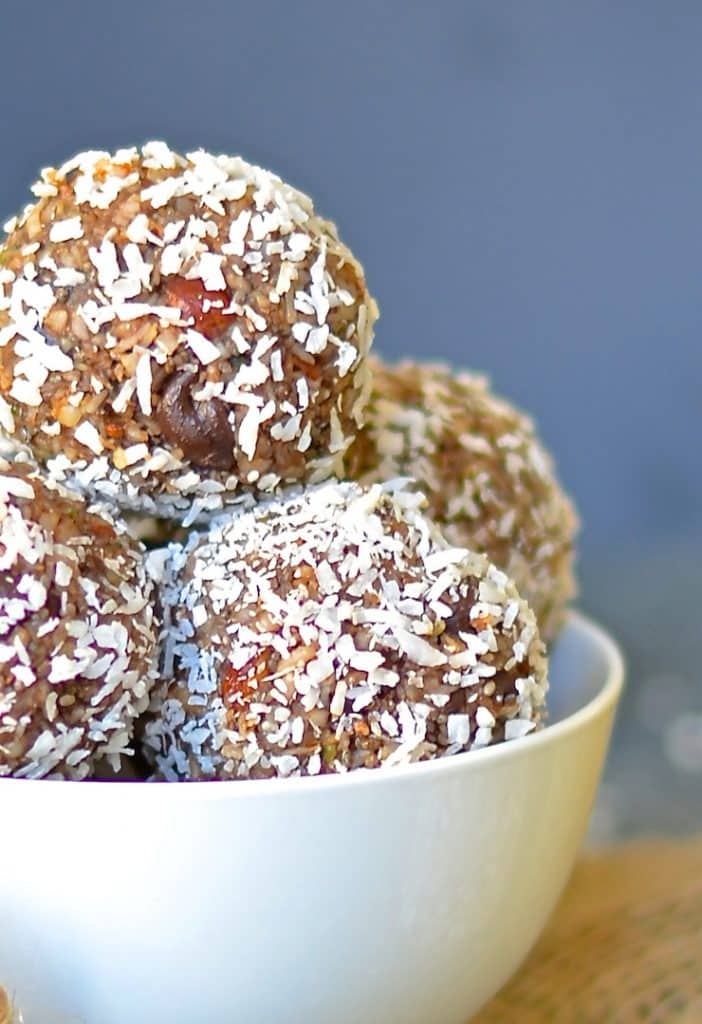 These Mocha Hazelnut Power Balls keep well in the fridge for a few weeks, ready to grab when you are off to the gym or going out on a hike. They also make a great grab and go breakfast on those days when you are short on time and haven't prepared anything else. Each ball is surprisingly filling and one or two will easily tide you over until lunch time.
If you love energy balls, be sure to check out my Peanut Butter Amazeballs too. They were one of the first recipes I ever posted, back when I didn't think anyone would ever read my blog. The photos aren't great but I promise they taste as the name says...Amazeballs!
This blogging thing has been a seriously steep learning curve and it's good to look back on my earlier photos and see how much I have improved. I'm using my camera on manual now and everything....... ;o) I did consider redoing all of the photos but it's kind of nice to have them here so I can look back at my journey and see how far I've come. I hope you guys will stick with me on the rest of my blogging journey!
Let me know what you think of my Mocha Hazelnut Power Balls in the comments below and on my Facebook page, Instagram or Twitter. I love to see your pictures! Make sure you tag me so I don't miss them. I am @avirtualvegan.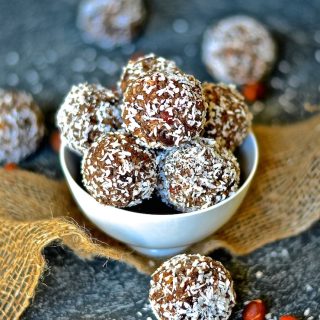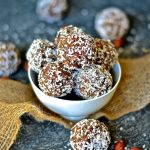 Mocha Hazelnut Power Balls
Author:
Chocolate & coffee join forces with nutrient rich, power giving nuts & seeds in these moist & decadent Mocha Hazelnut Power Balls. A healthy, energy boosting snack has never tasted so good!
Ingredients
2

tablespoons

cocoa

6

tablespoons

cold strong coffee

( I love this Kicking Horse Kick Ass coffee )

1/2

teaspoon

salt

150g | 1

cup

hazelnuts

2½

cups

shredded coconut

80g | 1/2

cup

raw shelled hemp seeds/hearts

80g | 1/2

cup

chia seeds

87g | 1/2

cup

dark chocolate chips

240mls | 1

cup

brown rice syrup

1/4

cup

maple syrup

, up to, (see recipe note)
INSTRUCTIONS
Gradually add the coffee to the cocoa stirring as you go so it doesn't get lumpy

Toast the hazelnuts in a fry pan over a medium heat for a few minutes. Remove from the heat and allow to cool.

Pour the hazelnuts into a bag, secure the end and bash them up with a rolling pin or the bottom of a saucepan. You want lots of different sized chunks.

Add all of the dry ingredients including the broken up hazelnuts to a large bowl (make sure you reserve half a cup of coconut that you will use to roll the finished balls in)

Pour in the brown rice syrup and coffee/cocoa mixture and mix very well.

Add the maple syrup as per the recipes notes.

Stir everything together extremely well. It will be hard work but doesn't take long.

The mixture will be quite sticky.

Now it is time to shape the mixture into balls. You can make them as big or small as you like. I made mine walnut sized.

Grab as much mixture as you want and squeeze together tightly in your hands and roll into a ball. It will be sticky and messy but you can lick your fingers clean when you've finished ;o)

If you find it is too sticky to handle you can put the bowl in the fridge for a while and it will firm up a bit.

Once in a ball shape roll in the reserved coconut and place on a plate or on a tray. Keep them in a single layer so they don't squash.

Continue forming balls until your mixture is gone then cover with cling wrap or put in a lidded container.

If you can manage to leave them alone in the fridge for 24 hours they will firm up nicely.

They will keep in the fridge for a few weeks.
NOTES
Add the maple syrup gradually and as you mix it in taste the mixture. I have a sweet tooth and liked my power balls with the full 1/4 cup but you might prefer them with a bit less, Stop when the mixture tastes sweet enough.
NUTRITION
Serving:
1
ball
Calories:
150
kcal
Carbohydrates:
16
g
Protein:
2.4
g
Fat:
10
g
Sodium:
58
mg
Fiber:
4
g
Sugar:
8
g
Vitamin A:
50
IU
Vitamin C:
0.8
mg
Calcium:
30
mg
Iron:
1.4
mg
Nutritional information is provided for convenience & as a courtesy. The data is a computer generated estimate so should be used as a guide only.
Tried this recipe?
Rate it & leave your feedback in the comments section below, or tag @avirtualvegan on Instagram and hashtag it #avirtualvegan