Ultra creamy italian style green garlic & mushroom risotto. It is so rich and delicious that no-one will believe that it is vegan!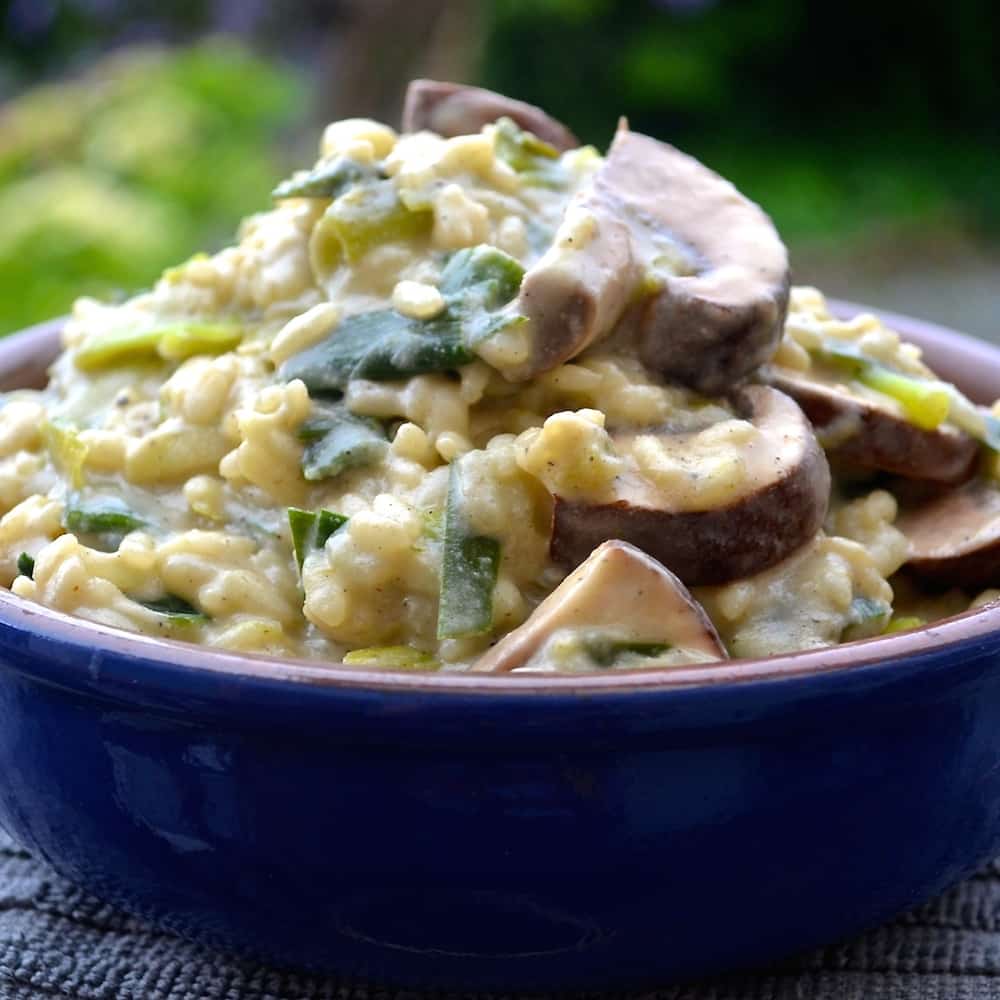 I like to use local seasonal produce in my recipes and what better place to get your produce than a local farmer's market? I am lucky that there are lots around here and even luckier that a new one has just started a few blocks from where I live.
So, last Thursday I went to the local market and picked up some lovely locally grown produce.
The luscious looking green garlic caught my eye immediately and I knew that I could create something great for dinner with it.
Once I returned home and unpacked my beautiful produce I decided that risotto was on the menu that night and quickly got to work.
Green garlic is immature garlic and looks like overgrown green/salad onions. It adds a delicate garlicky flavour to dishes. It seems to be pretty prolific at the markets round here at the moment but if you are unable to get hold of it then garlic scapes or wild garlic can be used instead.
This green garlic and mushroom risotto came together in under thirty minutes and is so creamy that it is hard to believe that it does not contain any added cream, butter or lashings of parmesan cheese like  standard non-vegan risottos. To get this creaminess I used arborio rice. Other types of risotto rice will do but I find arborio gives the best results.
To enhance the creaminess I used some cashew cream flavoured with a little nutritional yeast which gives a slight cheesy flavour. Most grocery stores stock it (sometimes in the bulk bins). I am lucky that I have a lot of local stores that sell vegan supplies but if you don't then you can buy it from Amazon or from VeganSupply.ca if you are in Canada.
Most risottos call for stock as the liquid but I just used water in this recipe as I didn't want to disguise the subtle garlicky flavour of the green garlic. I wanted it to be the star of the show and it certainly was.
Yields 3 - 4 servings
Green Garlic & Mushroom Risotto
Ultra creamy italian style risotto. No-one will believe that it is vegan!
10 minPrep Time
20 minCook Time
30 minTotal Time
Ingredients
1 tablespoon of olive oil
2 large green garlic bulbs & stems chopped
1 packed cup arborio rice
3 cups of boiling water
3 cups sliced crimini mushrooms
1/2 cup (dry measurement) of soaked raw cashew nuts (Soak in cold water for at least an hour or hot water for only 15 minutes).
1/2 cup cold water
2 tablespoons nutritional yeast
salt and pepper
Instructions
Add your olive oil to a large sauté pan. Heat over a medium heat.
When hot add your chopped green garlic and sauté gently for a few minutes.
Add your arborio rice and keep stirring until it is all coated in oil and starting to make crackly noises.
Add your boiling water one cup at a time, stirring constantly. Only add more water once the previous cup has been absorbed.
When you have added all three cups and the third cup is almost but not quite absorbed add your mushrooms and stir.
Turn down low and put a lid on while you make your cashew cream.
Add your soaked cashews to a blender or food processor.
Pour in half a cup of water and the nutritional yeast.
Blitz until completely smooth (this only takes a minute or two).
Remove the lid from your sauté pan and stir in your cashew cream.
Taste and season.
As soon as the mushrooms are tender and the risotto has warmed through following the addition of the cashew cream, it is ready to serve.
6.8
https://avirtualvegan.com/green-garlic-mushroom-risotto/
Melanie McDonald | A Virtual Vegan