With crispy hot falafel and fiery mango chilli sauce, all cooled down with mint raita these Falafel Waffle Burgers are pretty epic!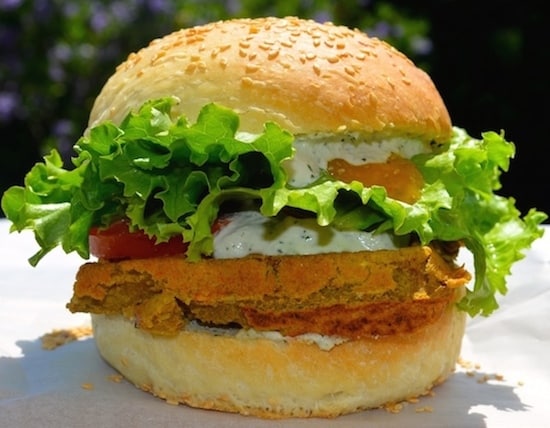 The word in the Twitterverse this morning was that it is National Burger Day today. Why do I always find these things out too late?
Is there some kind of foodie calendar that my fellow bloggers use to keep track of these days? (If you know of any then do please let me know)!
Anyway, I had planned on making falafel before I found out it was National Burger Day. Then whilst browsing Facebook I saw a video of somebody making falafel in their waffle iron.
Aha! Lightbulb moment (they don't happen often so please excuse my excitement)!
Falafel Waffle Burgers!
That way I satisfy my falafel craving and make something appropriate for the day.
First I made my own burger buns (recipe to follow soon), then I made some mango chilli sauce and some mint raita and then I got to work on my falafels. And let me tell you these Falafel Waffle Burgers With Mango Chilli Sauce and Mint Raita are just epic. I don't think I have ever enjoyed a vegan burger so much.
The fresh soft bread with crispy hot falafel and fiery mango chilli sauce, all cooled down with mint raita is so good. As soon as I had finished my epic burger's photo shoot I dived straight in.
I will warn you that they are pretty messy and hard to get your mouth around but that's part of the fun, right?
Because the falafel are made in a waffle iron each falafel will turn out the size of your iron. Make sure that you have bread rolls/buns big enough to fit them in otherwise they will be even more difficult to eat. If you don't have a waffle iron then make patties and fry them over a medium heat in a pan with some oil until golden brown. You can oven bake them too but you never quite seem to get a great nice crispy crust that way.
This might look like a complicated recipe but the mint raita and the mango chilli sauce can be made in advance and stored in the fridge. The falafals reheat really well or are great cold. They also freeze well (place some baking parchment between each one to avoid sticking).
The recipe can easily be halved with no detrimental effect.
If you enjoy burgers then try my very popular Zesty Black Bean Burgers.
Yields 7 falafel waffles
Falafel Waffle Burgers With Mango Chilli Sauce & Mint Raita
Crispy hot falafel and fiery mango chilli sauce, all cooled down with mint raita. This burger is epic!
Ingredients
For the falafel

2 cups of dried garbanzo beans / chickpeas
2 cups cubed butternut squash (roasted)
4 fat garlic cloves
1 tablespoon tahini
2 teaspoons of salt
1/2 teaspoon of pepper
1 teaspoon ground cumin
1/2 teaspoon ground coriander
1 teaspoon ground harissa or harissa paste
2 tablespoon olive oil
juice of a medium lemon
1 - 2 tablespoons of garbanzo bean flour . You might not need this (see directions for more info).
3 tablespoons chopped walnuts

For the Mango Chilli Sauce

1 very ripe mango
1 red chilli (size depend on how hot you like it)
1 tablespoon maple syrup
1 teaspoon chia seeds

For the Mint Raita

1/2 cup raw cashews (dry measurement) soaked for at least a couple of hours in cold water. If you are in a hurry then you can cover them with boiling water for 15 minutes and get the same effect.
1/4 cup water plus a few more tablespoons if necessary
pinch of salt
handful of fresh mint
Instructions
For the falafel

Soak your garbanzo beans overnight.
Once soaked add them to a pan and cover with plenty of water.
Boil for 45 minutes then drain.
While the beans are boiling roast your butternut squash cubes in 1 tablespoon of the olive oil for about 45 mins or until soft. Remove from the oven and let cool.
In a food processor add the cooked garbanzos, the roasted butternut squash, garlic and tahini.
Process until smooth (you might need to do this in 2 or 3 lots depending on how big and powerful your food processor is).
Once smooth transfer to a large bowl.
Sprinkle over the spices and seasoning and mix well (clean hands are easiest here) then add the lemon juice and olive oil. If your mixture is feeling a bit wet add a tablespoon or two of flour. I didn't need to use any. Add the chopped and walnuts and mix until distributed evenly,
Grease your waffle iron well and heat. I have a Cuisinart Waffle Maker and set mine to number 4 (1 setting from the hottest).
Once your waffle iron has reached cooking temperature open and spoon big blobs of your falafel mix into each section. It will be quite firm.
Use a knife to spread and push your mixture down so it is even and smooth all over. Spend a few minutes doing this to get a nice looking result.
Close your waffle iron and cook. If you don't cook them at a high enough temperature then they are difficult to remove.
Once your waffle maker signals it is done remove your waffles and make the next batch in the same way.

For the mango chilli sauce

Pit and cube your mango. Add to a food processor with your chilli, maple syrup and chia seeds.
Blitz then transfer to a container and set aside in the fridge to gel up a little (at least 15 minutes).

For the mint raita

Add your soaked cashews nuts, 1/4 cup of water and salt to a food processor or blender.
Blitz until smooth.
Add more water if you want a thinner result. I kept mine pretty thick to make eating the burger easier.
Add your fresh mint and pulse until chopped and distributed evenly but not completely pulverized.
Let sit in a container in the fridge for at least 15 minutes to let the flavours develop.

For the burger

Cut your bun in half and spread with the raita on both sides.
Add your warm falafel.
Top with some lettuce and tomato.
Drizzle over some mango chilli sauce.
Put the top on, grab a napkin and enjoy!
6.8
https://avirtualvegan.com/falafel-waffle-burgers/
Melanie McDonald | A Virtual Vegan