Perfectly crisp, Double Chocolate Biscotti with Matcha Drizzle. The floral, almost grassy tones of the matcha work so well with the chocolate & I promise that they will not collapse when submerged into your favourite drink!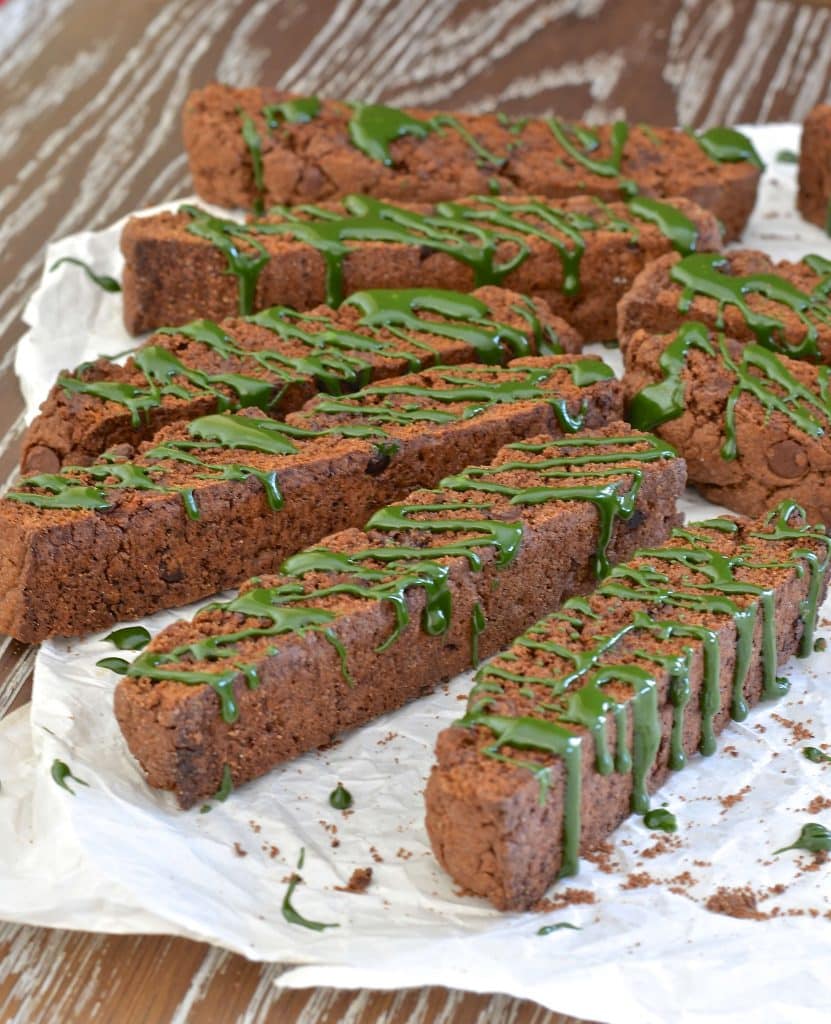 My weekend was full of sunshine, BBQ's and biscotti. Lots of chocolate biscotti.
If you aren't familiar with biscotti, they are a very hard, twice-baked Italian biscuit or cookie. They were originally made so they could be stored for long periods of time without deteriorating and they can be eaten as they are but really come into their own when eaten with and dipped into a drink. They are often served alongside Vin Santo (a fortified wine) in Italy, but work just as well with coffee or tea.
I love chocolate and have some Fudgy Double Chocolate Cookies on the blog already, but biscotti are a real favourite of mine and my husband. We love them dipped in our coffee so it's time I had my own recipe!
I wanted my Double Chocolate Biscotti to be hard but not tooth breakingly so. It took quite a few attempts to get them just right. I finally cracked it on Sunday and the resulting biscotti are hard but not too hard. It is perfectly possible to eat them as they are, but when dipped into a hot drink, they soften up beautifully and the texture is so good. As long as you don't keep them submerged for too long, you won't get any disintegration issues either. No-one wants bits of cookie floating around in their tea or coffee!
I was already experimenting with a double chocolate version of these biscotti when Christian from Lively Matcha contacted me and kindly offered to send me some Ceremonial Matcha to try. I had been planning to create some recipes involving matcha so his offer couldn't have come at a better time.
My little package of Ceremonial Matcha arrived literally as I was taking some biscotti out of the oven. How's that for a sure sign that the two needed to become acquainted?
As soon as the chocolate biscotti had cooled down, I whipped up a simple matcha frosting and got drizzling.
I wanted the matcha flavour to be pretty strong in the frosting so it could stand up to the rich chocolate flavour, hence the lovely forest green colour.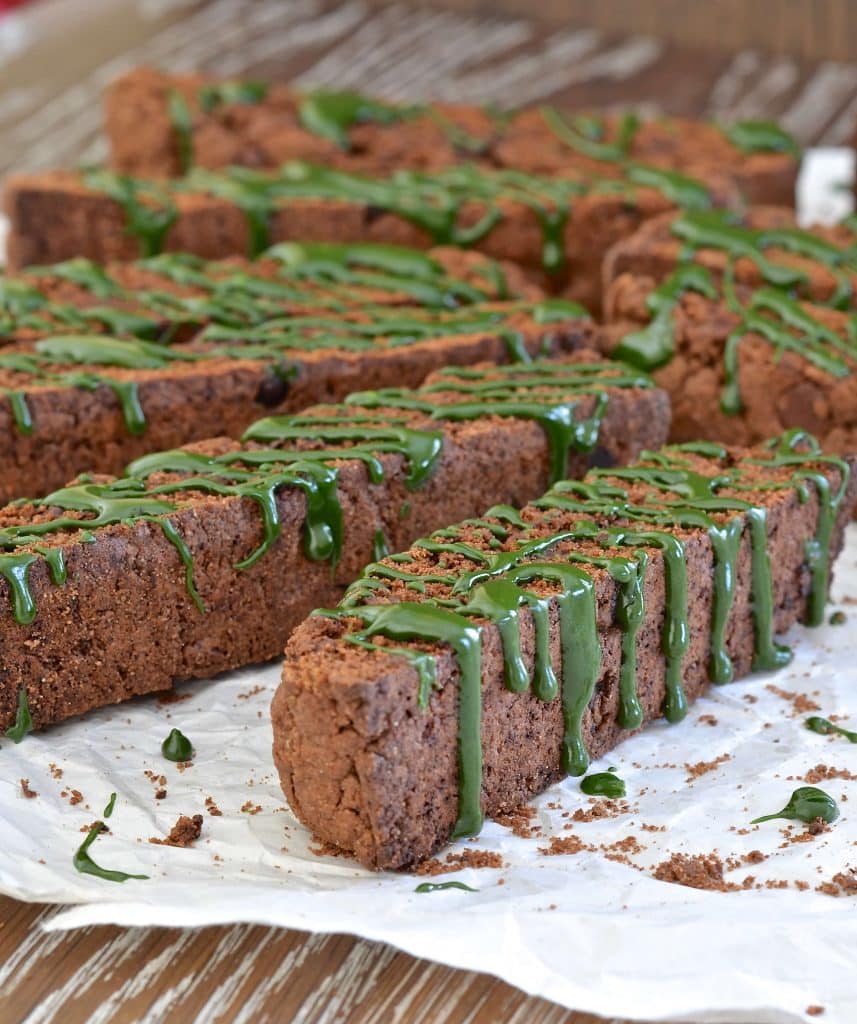 The grassy, almost floral matcha flavour works so well with the chocolate and because it isn't cooked at all it keeps all of it's wonderful nutritional benefits. The brown and the green looks so good together don't they?
Of course I enjoy the recipe creating and cooking side of A Virtual Vegan the most, but the artistic side of it comes in a pretty close second. I quite often spend hours photographing each of my recipes.  Of course the presentation of the food is important but it is surprising how much of a difference a decent backdrop makes to the photo. I am always on the lookout for interesting surfaces and was overjoyed when the kind folks at Oak Bay Broadloom & Fine Floors Ltd gave me some really lovely wooden flooring samples to use as shooting surfaces. I used one of them in my biscotti pictures and am absolutely loving the effect it gives. I can't wait to experiment with the others and want to send my sincere thanks to them for letting me repurpose these gorgeous samples.
If you try these Double Chocolate Biscotti with Matcha Drizzle, please let me know what you think in the comments below. I love to hear your feedback. Share your pictures with me on Instagram too. You can tag me @avirtualvegan and use the hashtag #avirtualvegan so I don't miss them.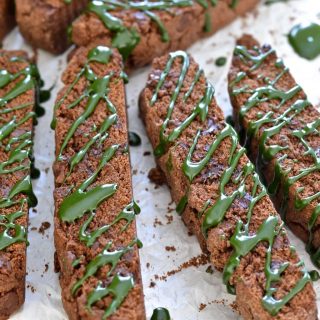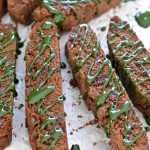 Double Chocolate Matcha Biscotti
Author:
Perfectly crisp, Double Chocolate Matcha Biscotti. The floral, almost grassy tones of the matcha work so well with the chocolate & I promise that they will not collapse when submerged into your favourite drink!
Ingredients
For the biscotti
290g | 2

cups

spelt flour

20g | ¼

cup

cocoa powder

, regular cocoa not Dutch-press cocoa

100g | ¾

cup

coconut sugar

, you can sub for any granulated sugar

1½

teaspoons

baking powder

½

teaspoon

baking soda

½

teaspoon

salt

90g | ½

heaping cup

chocolate chips

, dairy-free, I like to use semi-sweet

60mls | ¼

cup

coconut oil

,measured in liquid form

1

teaspoon

vanilla extract

9

tablespoons

aquafaba

(the liquid from a can of chickpeas)

1

tablespoon

non-dairy milk
For the frosting
55g | ½

cup

natural powdered sugar

1

tablespoon

matcha tea

(can be subbed for cocoa powder if you aren't a matcha lover)

4

teaspoons

aquafaba

(liquid from a can of chickpeas)
INSTRUCTIONS
Preheat oven to 375°F

Add all of the dry ingredients (including the chocolate chips) to a large bowl and stir together.

In a small bowl or jug combine the liquid coconut oil, aquafaba, vanilla extract and milk. Stir well.

Add the liquid to the dry ingredients and stir until combined.

Now it's time to get your hands in there. Knead and squish the mixture a little bit to get it to come together. It is a pretty dry dough and this is important as it is what keeps the biscotti quite hard when cooked.

Turn out of the bowl and form into a long wide log shape. I did this on the baking sheet I was going to use to bake it on so that I didn't have to worry about moving it. Flatten the top a bit with your hands and make sure the thickness is the same all over. Smooth out any cracks around the edges. You want it to be about 1 inch thick.

Bake in the oven for 25 minutes.

Remove and immediately turn the oven down to 350°F. Leave the biscotti log to cool a little on the tray for 10 - 15 minutes. No longer as otherwise it will become too hard to slice.

Slide onto a board and cut into even slices about 3/4 inch thick. I found a pizza cutter the best tool for this job but a sharp knife will be good too. Be careful as it is pretty delicate.

Return the slices to the baking sheet cut side down.

Bake for 10 more minutes.

Remove from the oven and turn over onto the other cut side.

Bake for 5 more minutes.

Remove from the oven, transfer to a cooling rack and leave to cool completely.
For the frosting combine all of the ingredients in a small bowl and stir until completely smooth.
Drizzle over the biscotti and leave to set

Store in an airtight container.
NUTRITION
Serving:
1
biscotti
Calories:
161
kcal
Carbohydrates:
27
g
Protein:
3.3
g
Fat:
5
g
Sodium:
97
mg
Fiber:
3
g
Sugar:
14
g
Calcium:
30
mg
Iron:
1.3
mg
Nutritional information is provided for convenience & as a courtesy. The data is a computer generated estimate so should be used as a guide only.
Tried this recipe?
Rate it & leave your feedback in the comments section below, or tag @avirtualvegan on Instagram and hashtag it #avirtualvegan