Cinnamon maple is a perfect combination and when the flavors get turned into Cinnamon Maple Cookies, eyes will roll in ecstasy. These are big cookies so get your munch on.
Today I am sharing with you a fantastic Cinnamon Maple Cookie recipe from the fabulous Ginny McMeans who you might know from the blog Vegan In The Freezer.
I was very excited to receive an advance copy of her new book The Make Ahead Vegan Cookbook at Christmas. Since then I have been busy making many recipes from it and this is one of my favourites. I just love maple and cinnamon flavours together!
The Make Ahead Vegan Cookbook is full of family friendly recipes which include party pleasers, breakfasts, warming comfort foods, hearty meals, side dishes, sauces, preserves and desserts. There is something for everyone. All of the recipes contain ingredients which are easy to pick up at your local grocery store and they are written clearly and are very easy to follow. What makes this book unique is that all of the recipes are freezable.
Keep reading for details of a giveaway in which you can win a copy of The Make Ahead Vegan Cookbook plus another awesome prize!
Freezing food is such a great time saver and helps make life so much easier. Having a meal that you can take out and reheat at your busiest times can save you from turning to junk food and once your freezer is well stocked, you will know that you can feed your family good, healthy food with minimal time and effort. You can also keep treats and desserts stashed away for those times when you have unexpected visitors or for when you feel like a snack.
Ginny has even dedicated a whole section of the book to 'The nitty gritty of freezing'. Here you can find lots of useful information such as the best containers to use for freezing, how to prepare different foods prior to freezing and a guide to freezer storage times. Whatever you need to know Ginny has got you covered.
Some of my favourite recipes in The Make Ahead Vegan Cookbook are the Cinnamon Maple Cookies that I am featuring here, the Creamy Broccoli Bake, Sweet Potato Chili Logs, Poblano Chile Pinto Bean Soup and Soft Cinnamon-Sugar Pretzel Bites.
To help you decide if The Make Ahead Vegan Cookbook is the book for you, I have included links to a couple more recipes which have recently been shared by some other food bloggers:
Peanut Butter Chocolate Crunch Bars at Two City Vegans 
Chipotle Lentil Patties from Connoisseurus Veg
Ginny is running a giveaway in which one lucky reader  will WIN a signed copy of The Make Ahead Vegan Cookbook and an 18-Piece Assorted Freezer/Oven Safe Container Set by GlassLock. Just follow the instructions in the widget below to enter.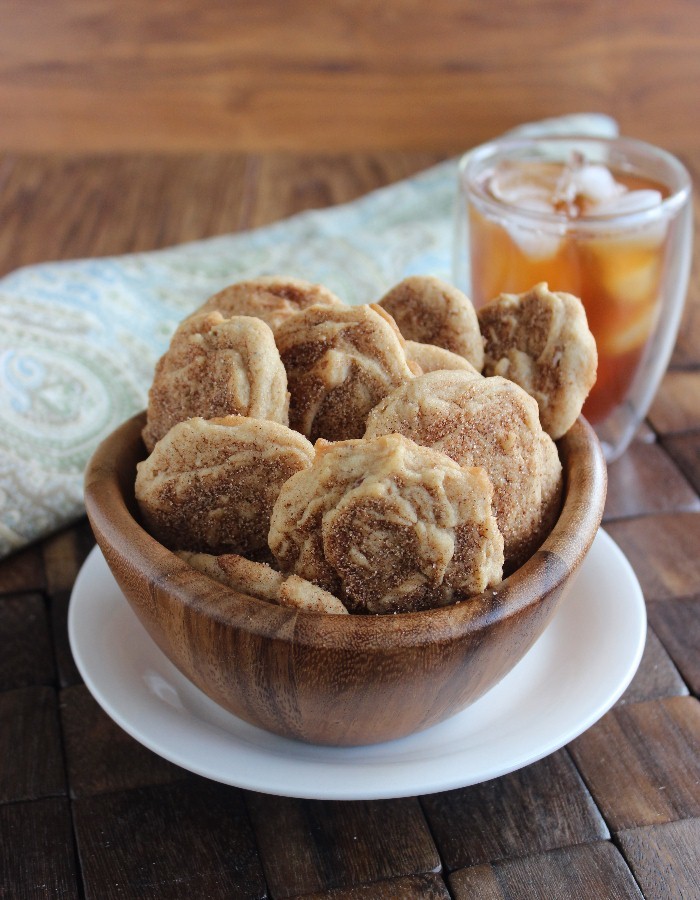 Cinnamon Maple Cookies
Cinnamon maple is a perfect combination and when the flavors get turned into cookies, eyes will roll in ecstasy. These are big cookies so get your munch on.
Instructions
Preheat the oven to 350°F. Lightly grease a cookie sheet with the coconut oil.


In a bowl, combine the flours, baking powder, and salt. Set aside.

Mix the ground cinnamon and sugar together and set aside also.

In a large bowl, with an electric mixer, beat the shortening on medium speed until light and fluffy.

Slowly add the maple syrup and beat until it is well incorporated. Beat in the vanilla.

Add the flour mixture to the maple syrup mixture and mix until just combined. Fold in the pecans.

Drop by heaping tablespoons, 2 inches apart, on the prepared baking sheet. Flatten a bit and sprinkle with the cinnamon-sugar. Bake for 8 to 10 minutes. Remove from the oven and place the cookies on wire racks to cool
Recipe Notes
Storing in the refrigerator:
Will keep in the refrigerator for 4 to 5 days.
Freezing:
Freeze in freezer bags and just take out a few when you want. They defrost almost immediately. Will keep in the freezer for up to 5 months.
Nutrition Facts
Cinnamon Maple Cookies
Amount Per Serving (1 cookie)
Calories 123
Calories from Fat 81
% Daily Value*
Total Fat 9g 14%
Sodium 80mg 3%
Protein 1g 2%
* Percent Daily Values are based on a 2000 calorie diet.
Reprinted with permission from "The Make Ahead Vegan Cookbook" by Ginny Kay McMeans