Artichokes & farro come together beautifully in this super speedy, very nutritious, one-pot Artichoke Farro recipe from Ancient Grains: A Guide to Cooking with Power-Packed Millet, Oats, Spelt, Farro, Sorghum & Teff by Kim Lutz. Read on for the recipe, a review of the book & a chance to win your very own copy!  
Oats and spelt are two grains that I use a lot in my recipes, both because they taste great, give good results and are incredibly nutritious. Oats feature heavily in my Strawberry Baked Oatmeal, Chocolate Tahini Crunch Bars  and Oat Milk. Spelt is the main ingredient in my Healthy Oil-Free Vegan Pancakes for One and Vegan Digestive Biscuits and my Apple Muffins with Cinnamon Streusel and Raspberry Walnut Squares feature both of these wonderful ingredients.
Oats and spelt are two of the more common ancient grains, and although I know them well, I am not very familiar with any others. I have been meaning to try some more ancient grains in my recipes for sometime as I know how stellar their nutritional profile is. I also think it is a shame that they are overshadowed by our society's very heavy reliance on wheat which is almost always very highly processed and consequently very much lacking in nutrition. I will be honest though, and say that I was slightly daunted by using these unfamiliar ancient grains. I had absolutely no idea how to cook or serve millet, teff, farro and sorghum and  Sterling Publishing's offer to send me a copy of Ancient Grains by Kim Lutz couldn't have been better timed!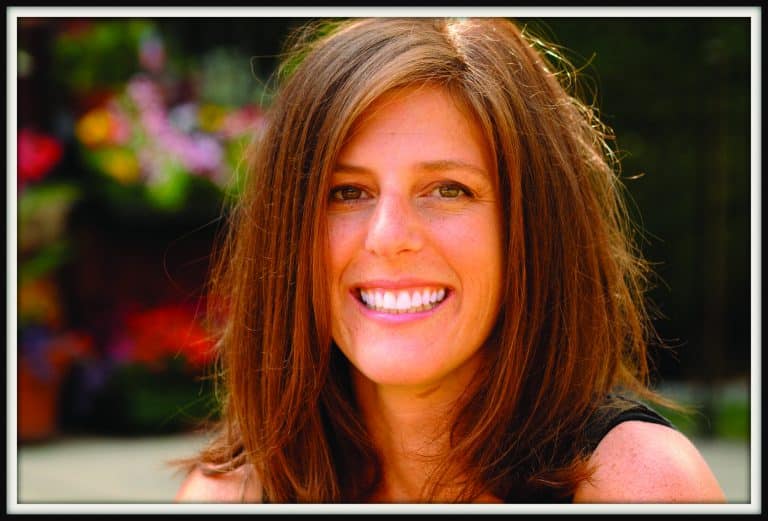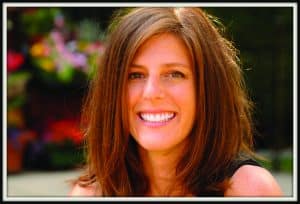 Kim Lutz is the founder of Kim's Welcoming Kitchen and Windy City Cocoa brand of all-natural, dairy-free instant hot cocoa. She is also the author of several books. You might recall my review of the cocoa back in January along with a recipe I created for Windy City Chocolate Pudding.
Ancient Grains starts off with a description of each grain, it's history, nutritional details and basic cooking instructions then goes on to feature recipes using each one. Everything from breakfast through to dessert is covered and the recipes are refreshingly quick, easy and straightforward. The ancient grains are allowed to shine throughout and I was surprised to see just how versatile each of them can be.
In the book you will find recipes such as:  * Creamy Potato Millet Soup * Millet and Poblano Chili * Quick Farro Risotto * Teff-Lentil Sloppy Joes * Chocolate Chip Scones * Peach Mango Muffins * Maple Bourbon Bread Pudding * Sorghum Tacos * Lemon Dill Grain Salad *
I have made the Millet and Poblano Chili, Asparagus Sorghum Saute and the Artichoke Farro recipe which I am featuring here today. I have loved them all and look forward to trying more recipes as time allows.  I also hope to include sorghum, farro, teff and millet in some of my own recipes now that I have had this wonderful introduction.
I have only one criticism of Ancient Grains and that is that there are not enough photographs and of the few there are, most of them are black and white.  I would prefer for all of them to be in colour and for there to be one for each recipe. I think this would make the book look more visually appealing and be more user friendly. This is a minor criticism though, as what is important in a cookbook are the recipes, and Kim certainly follows through with those.
If you would like to try your hand at cooking with ancient grains but aren't sure where to start, then why not enter my giveaway to win your very own copy of Ancient Grains: A Guide to Cooking with Power-Packed Millet, Oats, Spelt, Farro, Sorghum & Teff by Kim Lutz? Just follow the instructions in the widget directly below the recipe and you will be entered into a draw. Once lucky winner will be sent a copy of Ancient Grains by Sterling Publishing, but if you just can't wait to see if you will win, you can buy yourself a copy of Ancient Grains here.
Artichoke Farro (or Sorghum) from Ancient Grains by Kim Lutz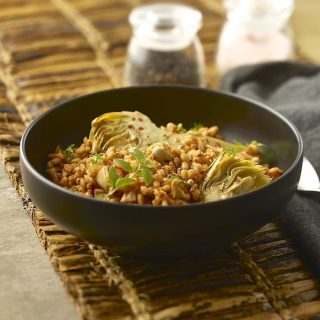 I love fresh artichokes eaten all on their own, and I love frozen or canned artichoke hearts mixed into other dishes. This entrée highlights my beloved artichokes and really lets them shine. Farro has been enjoyed in Italy for thousands of years, so it's a natural partner for artichokes—another Italian favorite. I like to serve Artichoke Farro with ripe, sliced tomatoes on the side and a piece of Spelt Oat Bread (page 72) to sop up any extra liquid.
Ingredients
1

tablespoon

olive oil

80g | ½

cup

onion

, diced

3

cloves

garlic

, minced

6

artichoke hearts

(fresh, frozen and thawed, or canned), diced

¼

teaspoon

salt

1

teaspoon

dried thyme

1

teaspoon

dried basil

1

teaspoon

dried oregano

¼

teaspoon

black pepper

2

tablespoons

tomato paste

¼

to ½ teaspoon red pepper flakes

(optional)

800g | 4

cups

cooked farro

(or sorghum, a gluten-free option) (pages 24 and 22)
INSTRUCTIONS
1. In a large skillet or saute pan, heat the olive oil over medium heat.

2. Add onion and garlic and saute for about 3 minutes, or until softened and fragrant.

3. Add the artichoke hearts, salt, thyme, basil, oregano, black pepper, tomato paste, and red pepper flakes, if desired, and cook, stirring until heated through.

4. Serve the farro (or sorghum) mixed with the artichoke hearts.
NUTRITION
Serving:
1
serving
Calories:
245
kcal
Carbohydrates:
47
g
Protein:
9
g
Fat:
4
g
Sodium:
394
mg
Fiber:
11
g
Sugar:
2.5
g
Vitamin A:
150
IU
Vitamin C:
9.9
mg
Calcium:
50
mg
Iron:
2.9
mg
Tried this recipe?
Rate it & leave your feedback in the comments section below, or tag @avirtualvegan on Instagram and hashtag it #avirtualvegan
Recipe reprinted with permission from Ancient Grains © 2016 by Kim Lutz, Sterling Publishing Co., Inc.  Photography by Bill Milne Photography.


Use the widget below below to enter the giveaway (open to U.S. readers only).  The giveaway will end in one week. Best of luck!